Commentary
Chuck Liddell's dancing diary, Week 4
Updated:
October 12, 2009, 2:14 PM ET
By
Chuck Liddell (as told to Laura Lane)
| Special to Page 2
Editor's note: UFC Hall of Famer Chuck Liddell is taking his skills from the octagon onto the dance floor by competing on ABC's "Dancing With the Stars" (Mondays at 8 p.m. ET and Tuesdays at 9 p.m. ET on ABC). While knockouts might not help Liddell with the samba, if there's one thing the MMA legend knows how to do, it's win. Liddell will be checking in with Laura Lane and Page 2 every week he's still on the show, which -- if he has anything to say about it -- will extend all the way to the finale.
[+] Enlarge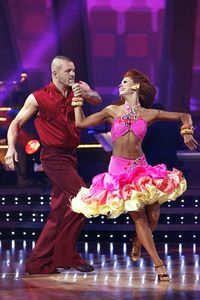 Adam Larkey/ABC/Getty ImagesThe Iceman is still alive, trying to improve his dancing moves every week.
This week I thought I looked like Big Bird, but that's OK. It was fun. If those sleeves were yellow, I would have looked like Big Bird. It was my idea to throw a kick at Len [Goodman, one of the judges] during the samba dance. It was me goofing around in practice, and Anna [Trebunskaya, Liddell's partner] is like, "You really want to do that? I like that." I'm getting better each week. When I first started, they just wanted me to get through the motions and it looked like I was having a seizure. This week, I did all right.
Brad Penny [San Francisco Giants] and Jay Cutler [Chicago Bears] came out to watch me. I'm good friends with Brad Penny. I hang out with him all the time. I've met Jay a few times, and he came out with one of my good friends. Brad thought I did great. I think they were still laughing about my outfit when I talked to them. After my performance last Monday we went out to watch the end of the [Vikings-Packers] football game and got some food at one of the bars at the Roosevelt [Hotel]. I'm a Green Bay fan, but a friend of mine, Jared Allen, who plays for the Vikings, had a great game so it was good to see that. And I have Brett Favre on my fantasy football team.
Tom DeLay [who has dropped out of "DWTS" with stress fractures in both feet] was really hurting backstage. People have said that he wanted the easy way out. That's not true. He had already put in the work that week, so he may as well have sucked it up to do one more dance, and then he pulled out because he didn't want to keep injuring himself and he couldn't put in the time to learn a new dance. I think his reason for pulling out was a smart one.
We practiced Saturday and Sunday night, and at the end of the night Anna said, "Look, we worked as hard as we could have. Your technique is not great. It's not gonna be great, so just go out there and have fun and give me a performance." And I think we succeeded at that. I've just gotta get a little bit better on the technical side of these dancing moves, and maybe we can make a run at this thing. I got a score of 17. It's in the middle, compared to my other two dances.
I think the judges like the fact of how hard I'm trying and how hard I'm working. That's the problem with being good at dancing -- you're supposed to make it look effortless, you're not supposed to make it look like you're trying real hard. Anna was laughing hysterically when she watched the show on TiVo later, because she said now she knows what the judges meant. She started impersonating me at the end. I forget to do my hands, so I kinda have my arms in straight lines and a little bent. She was doing an impersonation of me, and yeah, I kind of looked like a zombie walking through the park. She's pretty good at making fun of me. She has my walk down good.
This week we have the two-step coming up. The two-step is going all right. It's a little harder, because it's a new dance for Anna, too, so she has to learn it and teach it to me. It isn't a typical ballroom dance that they do. It's a little interesting. The spins are hard. She's doing them and I just have to move my arms while she does them.
It's the cowboy two-step, so I'm wearing jeans, boots and a belt. I used to work at a bar back in college that had country dancing one night a week, called The Graduate, in San Luis Obispo. I was a door guy there. Security. We didn't perform, but they would play country music and people would dance, so I have a little bit of an idea what it should be like. We've been in the bottom four every time I think, so I've just got to keep getting the votes from people to stick around, and hopefully we can win one of these dances and get some good scores. So far the fans either love my dancing or love making fun of my dancing, one of the two.
To check out more updates from Chuck, follow his Twitter feed, and to vote for him check out the "DWTS" Web site.