Who's worst ever -- '08 Lions or '76 Bucs?
"I guess, by records, yeah."
-- Detroit Lions coach Rod Marinelli, on whether his team will qualify as the worst ever if it finishes the season 0-16.
Why guess?
With the Lions one (seemingly inevitable) loss away from the second winless season since the AFL-NFL merger, it's time to stop pitting them against current squads, and start pitting them against their only real rivals: the 1976 Tampa Bay Buccaneers, a legendarily hapless 0-14 bunch that has long been the iron pyrite standard for pro football futility.
The Bucs were atrocious. The Lions are horrendous. But which club is the absolute, be-all, end-all, worst squad to ever (dis)grace an NFL field? Which squad deserves a special exhibit in the Hall of Fame's janitorial closet?
From statistics to everything else, Page 2 breaks it down:
Context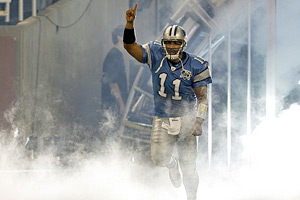 AP Photo/Paul Sancya
Surely that can't be a No. 1 sign being flashed by Lions quarterback Daunte Culpepper. The dry ice,
a la Spinal Tap, is a nice touch, though.
Overview: Although finishing oh-fer an entire professional season is a near-singular accomplishment, historical ineptitude does not exist in a vacuum. There's always a backstory, always a backdrop to epochal woe. How, exactly, did Detroit and Tampa Bay fit into the eras in which they stank?
'76 Bucs: Little was expected of an expansion franchise stocked with retreads (an end-of-the-line Steve Spurrier) and ne'er-weres (rookie left tackle Steve Young was out of football by 1978). Less was delivered. After all, the Seattle Seahawks -- like the Bucs, an expansion team in 1976 -- won two games in their inaugural campaign, one of those against Tampa Bay. The Bucs also started the 1977 season 0-12, making them football's answer to "Indiana Jones and the Kingdom of the Crystal Skull" -- everyone knew they would be bad. But this bad?
'08 Lions: No excuses. Detroit started the 2007 season 6-2 -- remember all that Jon Kitna-for-MVP talk? -- before dropping seven of its final eight games behind a last-place defense. Four new defensive starters were supposed to stop the bleeding; instead, this year's Lions resembled the Russian weightlifter in the old All-Drug Olympics on "Saturday Night Live."
Verdict: The Lions by a game-losing interception in overtime. Like Detroit, the Falcons, Ravens, Broncos, Bears, Dolphins and Jets all finished last season with losing records; unlike the Lions, each team will finish 2008 with a winning record, and at least three will advance to the playoffs. Besides, from free agency to the salary cap to better coaching to more thorough scouting, today's NFL is built for competitive parity -- making a winless season that much more difficult to accomplish. So to speak.
Performance

Overview: Just how bad are these teams statistically?
'76 Bucs: Tampa Bay didn't score a point until its third game and didn't score a touchdown until its fourth. The Bucs were outscored 412-125 (average margin of defeat 20.5 points) and made only five of 14 field-goal attempts beyond 30 yards … which means they pretty much struggled in all three phases of the game. Don't blame the schedule-makers: half of the teams Tampa Bay played finished with losing records, including 2-12 Buffalo, 2-12 expansion Seattle and the 3-11 New York Jets. Naturally, the Bucs lost close games to the Bills and Seahawks and were blown out 34-0 by the Jets. Ouch.
'08 Lions: The Lions rank dead last in the NFL in total defense through 15 games. They rank 27th in scoring offense and 30th in yards gained. Detroit has allowed a league-worst 444 points, and its average margin of defeat is 15.9 points. Unlike the Bucs, the Lions have faced a reasonably difficult schedule, with only four of their games coming against opponents with losing records through 15 games. While four of the Lions' losses were by seven or fewer points (glass half-full), they have been inexplicably bad at home, losing eight games by an average of 22 points (glass cracked, empty, buried in a Saharan sandstorm).
Verdict: Detroit, as Tampa Bay fails to snap the ball for a game-winning field goal attempt before time expires. When the Lions aren't numbingly bad, they're just bad enough to break your heart … and maybe that's worse.
Season highlight

Overview: Every cloud has a silver lining. And then you get hit by lightning.
'76 Bucs: Team won a preseason game against Atlanta. Depending how long each club left its starters in, that could qualify for as much as three-fourths of an actual NFL victory.
'08 Lions: Matt Millen fired. And nobody threw any shoes!
Verdict: Tie. Ecstasy of losing Millen tempered by reality of being stuck with the team he failed to build; joy of winning preseason game leavened by fact that even degenerate gamblers don't take exhibitions seriously.
Season lowlight

Overview: Among addicts and substance abusers, the points in time generally referred to as "rock bottom."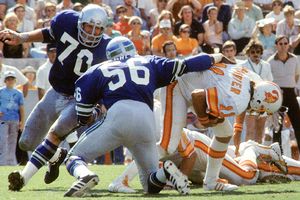 NFL Photos/Getty Images
The '76 Bucs were upended in the "Expansion Bowl" by their first-season brethren, the Seahawks.
'76 Bucs: In a game dubbed "The Expansion Bowl," the Bucs lost to the first-year Seahawks at home, giving crummy Seattle its first franchise victory. Naturally, a last-second Tampa Bay field goal attempt that would have sent the game into overtime was deflected.
'08 Lions: After a 42-7 home loss to New Orleans that made Detroit the first 0-15 team in NFL history, third-string Saints quarterback and former Lions draft bust Joey Harrington noted, "It's weird to think that I was here in the heyday." Given that Detroit was 18-37 with Harrington as a starter, it's even weirder to think that he's right.
Verdict: Tampa Bay by a game-ending goal-line fumble. It's one thing to get bullied by bigger, stronger kids -- but when someone your own size picks on you just the same, you're really doing something wrong.
Signature moments

Overview: The city of Detroit has the Motown sound. The city of Tampa has Mons Venus. Which of their respective NFL teams experienced the better and by "better," we mean "more tragicomically futile" -- symbolic moment?
'76 Bucs: According to a recent Detroit News article, Tampa Bay's players took a wrong turn coming out of their Astrodome visitors locker room in their first regular-season game, getting lost for 20 minutes. Coincidentally, the Bucs fell to the Oilers 20-0.
'76 Bucs (No. 2): Former Tampa Bay lineman Pat Toomay penned the following for Page 2 a few years back. We think it still fits: "Late in the third quarter [of a road loss to Denver], we were up 13-10. It should have been 17-10, but Bucs linebacker Calvin Peterson, having intercepted a pass, was in the clear, sprinting for the end zone, when his bum knee buckled. Untouched, he crumpled in a heap. We settled for a field goal." Oy.
'08 Lions: Quarterback Dan Orlovsky rolling out in his own end zone … without the help of a GPS device. On a positive note, he didn't throw the ball backward into the stands.
'08 Lions (No. 2): The Detroit Free Press reported that Lions coach Rod Marinelli showed his club a team picture, then informed them the photo could end up in the Pro Football Hall of Fame -- as part of a display commemorating the first 0-16 team in pro football history. Meow!
Verdict: Detroit in the kind of rout the Lions usually suffer. Orlovsky's ill-conceived rollout is probably one of the 10 worst plays in professional football history.
Leadership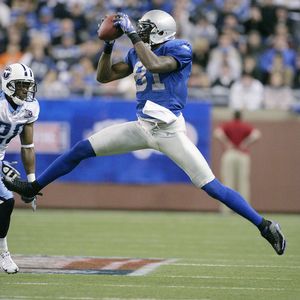 AP Photo/Duane Burleson
No matter how high Calvin Johnson jumps or how fast he runs, the 0-16 albatross is gaining ground.
Overview: Rot starts at the top.
'76 Bucs: Tampa Bay's first draft was directed by Ron Wolf, the future architect of Green Bay's Super Bowl XXXI win; with the No. 1 overall pick, Wolf selected pass-rush demon Lee Roy Selmon, a future Hall of Famer. Not too shabby. On the other hand, coach John McKay started Selmon in only six games. Oops.
'08 Lions: Millen. Ford family. 'Nuff said.
Verdict: Detroit. No contest. Under Millen, the Lions won a league-low 31 games over seven-plus seasons; under the Fords, Millen was allowed to helm the Lions to just 31 victories over seven-plus seasons. Blame the head chef, blame the restaurateur.
Coach quippage

Overview: Pro football coaches are notoriously dull speakers, mostly because they have something to lose every time they step up to a mike. Remove that fear, however …
'76 Bucs: After a loss, McKay was asked about his team's execution. His now-legendary response? Depending on the source, "I'm all for it" or "I think it's a good idea." (The Bucs were such fabled losers that the line between myth and fact has blurred.) … Overtime bonus: When Tampa Bay got its first-ever win after an 0-12 start to the 1977 season, McKay reportedly -- perhaps apocryphally -- quipped, "Three or four plane crashes and we're in the playoffs!"
'08 Lions: Squaring his professed belief in self and team despite an 0-13 record, Marinelli told reporters, "I believe in the invisible."
Verdict: Tampa Bay via second-chance two-point conversion after Detroit prevents the game from ending by having too many men on the field. Marinelli admirably sounds like Linus waiting for the triumphant arrival of the Great Pumpkin, but McKay's zinger is one of sports' all-time great one-liners.
Uniforms

Overview: Never mind grisly game film which team looked more pathetic in warm-ups?
'76 Bucs: Although Page 2 personally supports Tampa Bay's famous Creamsicle-inspired orange-and-white getups -- particularly saucy 'n' debonair mascot Bucco Bruce -- we understand that we're in a very, very small minority.
'08 Lions: Sweet colors and classic logo have never been the problem. Having Andre Ware and Scott Mitchell calling signals in said sweet colors and classic logo is another story.
Verdict: Tampa Bay, going away. Few uniforms have ever prompted more ridicule, and it's hard to argue the facts: Since the Bucs' 1997 uniform change, the team has won a Super Bowl and been a perennial playoff contender, far removed from the sherbet-looking squad that posted 12 consecutive double-digit-loss seasons from 1983 to 1994.
Community outreach

Overview: Which club did more for the fans?
'76 Bucs: Bucco Bruce always had a wink for the ladies.
'08 Lions: In a 20-16 home loss to Minnesota, Detroit center Dominic Raiola had a bird for Lions fans … and later refused to apologize.
Verdict: Detroit in a forfeit. For Lions season-ticket holders, the team's entire season is sort of like one giant obscene gesture. Perhaps Raiola was on to something.
Talent

Overview: Which team did less with more?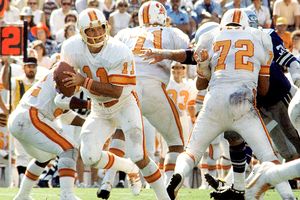 NFL Photos/Getty Images
Before Steve Spurrier was the "old ball coach," he quarterbacked the historically futile '76 Buccaneers.
'76 Bucs: Tampa Bay fielded the No. 1 overall pick in the draft, future Hall of Famer Lee Roy Selmon. The Bucs also started a Heisman Trophy winner at quarterback. Of course, it was the Heisman winner from 1966, Spurrier, who had been kicked to the curb by the 49ers. After that, the decline was precipitous.
'08 Lions: The Lions boast a bevy of recent high draft picks. Alas, they're Millen picks. On the bright side, Drew Henson is an integral part of the company softball team. Also, the Lions boast a future Hall of Famer in wide receiver Calvin Johnson. At least according to some people.
Verdict: The '76 Bucs were a mishmash of castoffs and greenhorns (nine rookie starters). Detroit offers a mishmash of experienced castoffs and 80 percent off on a Roy Williams Fathead! Advantage, Lions.
Cursed?

Overview: Do supernatural forces conspire to keep either franchise from winning?
'76 Bucs: There was nothing unnatural about the Bucs' losing. It was entirely organic. However, a curse of sorts exists in reverse -- no team that has lost to Tampa Bay has gone on to win the Super Bowl that season.
'08 Lions: After leading the Lions to three NFL titles in the 1950s, quarterback Bobby Layne was traded to the Steelers during the '58 season and supposedly said Detroit "would not win for 50 years."
Verdict: Detroit in a landslide. The Lions are poised to commemorate the 50th anniversary of Layne's curse with a pristine, untouched win column, begging the question: Did Layne slur his words and really mean one-hundred and fifty years?
Fun facts

Overview: Random goofy tidbits.
'76 Bucs: McKay called three plays that weren't in his team's playbook in the exhibition opener. Presumably, they were from his days at USC. Spurrier was forced to improvise. … The Bucs selected McKay's son, Johnny, in the expansion draft, and he started at wide receiver in all but one regular-season game. He went on to become the GM of the Los Angeles Xtreme, which won the only championship in the late, great XFL. … Tampa Bay's defensive backs coach in '76 was Wayne Fontes, who went on to become the winningest (and losingest) head coach in Lions history.
'08 Lions: Dwight Smith returned two interceptions for touchdowns in Super Bowl XXXVII for, you guessed it, Tampa Bay. … Ryan Nece is the son of Hall of Famer Ronnie Lott. Nece already has suffered more defeats this season (15) than Lott endured in his final four seasons with the 49ers (12). … The quarterback who arguably gave the Lions their best chance to win, Jon Kitna, was placed on injured reserve against his will on Oct. 14.
Verdict: Tampa Bay. Six degrees of He Hate Me trumps everything else.
Conclusion

The Bucs are statistically worse, but the Lions are poised to lose two additional games. Tampa Bay was an inexperienced expansion team with less talent, but Detroit is making a run at unblemished imperfection in the salary-cap era, which is arguably far more difficult than what the Creamsicles managed to, um, not accomplish.
Anyway, enough with the sober analysis. By dint of our categorical showdown, the Lions top the Bucs for worst-ever status … and yet, like Marinelli, we believe in the invisible -- specifically, the invisible nothing of an empty win column. As we learned in grade school arithmetic, you can't divide by zero. So throw out the score and abdicate the crown*: This matchup ends in a scoreless tie, because it just wouldn't be right to sully either franchise's historic ineptitude with even a symbolic victory.
* (Note: First and last time the word "crown" will be used in association with either club).