By Jeff Merron
Page 2
When we think of sports heroes, we think, "They couldn't have won without him."
So goats are the flip side: "We couldn't have lost without him."
Both are huge overstatements, of course. We can only guess what would have happened if Jeff Jaeger, say, had been kicking for the Bills instead of Scott Norwood back in January of 1991. And who knows what would've changed if John Kasay had nailed his kickoff late in the fourth quarter last year and put the Pats at the 20. Maybe Tom Brady would have marched New England 57 yards instead of 37, and the result would have been the same.
Football is a team sport. Your team can come through and save you from goat immortality. (Ask Leon Lett and Garo Yepremian.) Or your team can play so poorly that your terrible performance is just another drop in a super meltdown. (Ask Tony Eason.) And so on.
That said, some of these goats simply are deserving. Because life, especially on the big Super Bowl stage, isn't always fair.
10. Fred "The Hammer" Williamson, Chiefs, Super Bowl I
Kansas City cornerback Fred Williamson boasted before the game that he'd be all over Packers receivers Boyd Dowler and Carroll Dale. "Two hammers to Dowler, one to Dale should be enough," he said.
Well, not quite. Dowler injured his shoulder while blocking early in the game. His replacement, the hungover, semi-retired Max McGee, burned The Hammer and his mates for seven catches, 138 yards, and two TDs. Dale caught four passes for 59 yards. Williamson was credited with a whopping three tackles.
And he was crushed, knocked out and carried off on a stretcher after he brought down Packers rookie Donnie Anderson in the fourth quarter. "I don't remember a thing," Williamson said. "Did I make the tackle?"
9. John Kasay, Panthers, Super Bowl XXXVIII
You remember ... With just over a minute left in last year's big game, Kasay kicked an extra point to tie it up at 29 at the end of a stunning seven-play, 63-yard drive led by Jake Delhomme. On the ensuing kickoff, though, Kasay kicked the ball out of bounds, allowing the Patriots to start their final drive on the 40. Six plays and 37 yards were enough to give Adam Vinatieri a shot from 41 yards away with nine seconds left. Game over.
8. Earl Morrall, Colts, Super Bowl III
Earl Morrall might have done as much to put the AFL on the map as Broadway Joe did. Although he was the NFL's MVP that season, filling in for Johnny Unitas, Morrall was brutally terrible in the Super Bowl. He completed only six of 17 passes for 71 yards. Worst of all, he was picked off three times in the second quarter, all three when the Colts had the ball in Jets territory, and twice within the red zone.
Those lost opportunities more than accounted for the Colts' nine-point margin of defeat.
The last interception, on the last play of the first half, came on a well-executed flea-flicker that totally fooled the Jets. Colts wide receiver Jimmy Orr, the primary receiver on the play, was all alone near the Jets' goal line, an easy target for Morrall.
Curt Gowdy went nuts calling the play in the NBC booth: "Jimmy Orr's wide open! There's nobody near him!"
If only Morrall had seen him. He didn't, and threw instead in the direction of fullback Jerry Hill and into the hands of Jets safety Jim Hudson.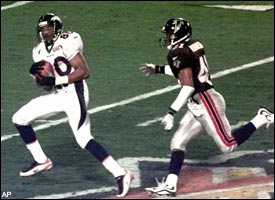 Eugene Robinson got burnt, in the Super Bowl and the night before.
7. Eugene Robinson, Falcons, Super Bowl XXXIII
The night before the Super Bowl, the Falcons' starting safety -- known for his community work and deep religious faith -- was arrested on a charge of soliciting an undercover police officer for oral sex. Coach Dan Reeves started him anyway, but Robinson got burned deep twice, including an 80-yard touchdown to Rod Smith that put Denver in control, 17-3, on the way to a 34-19 win.
6. Lewis Billups, Bengals, Super Bowl XXIII
You remember "The Drive." Do you remember "The Dropped Pick"? The Bengals had just scored on Stanford Jennings' 93-yard kickoff return to go up 13-6 over San Francisco late in the third quarter. The Niners started their next drive on their own 15. Then came Joe Montana-to-Jerry Rice for 31 yards, followed by Montana-to-Roger Craig for 40. On first and 10 on the Bengals' 14, Montana threw to John Taylor in the end zone -- but hit Billups instead. Who dropped it. We're not big fans of the "almost intercepted" call, because either it is or it isn't -- or it should have been. This one falls into that last category.
On the next play, Montana hit Jerry Rice for the TD that tied the game at 13.
"I once had a picture of the play," the Bengals' head coach, Sam Wyche, told USA Today a few years ago. "Lewis was there with his fingers spread, looking right at the ball. It was like a person trying to catch a balloon. It wouldn't stick. If he catches it, we kneel down and the game is ours."
5. Thurman Thomas, Bills, Super Bowl XXVIII
At halftime, it looked as if the Bills would finally pull one out.
Three years, three losses, two straight poor performances by star running back Thurman Thomas -- they all would be forgotten if Buffalo could hold onto the 13-6 lead it held over the Cowboys midway through the game at the Georgia Dome.
But hope was quickly quashed shortly after the second half began, when a Thomas fumble was picked up by James Washington and returned for a 46-yard TD to tie the game. "We were really moving the ball," said Bills QB Jim Kelly. "When something like that happens, it hurts, and that was a big turning point."
It was Thomas' second fumble of the game -- the first coming in the first quarter and leading to a Cowboys field goal.
The Cowboys won, 30-13. Thomas rushed for 37 yards on 16 carries.
4. Thurman Thomas, Bills, Super Bowl XXVI
I know, I know. It seems like we're piling on Thurman and the Bills, but it's for a good reason. In the Bills' second straight SB defeat, this one at the hands of the Redskins, Thomas began the game in the worst possible way: While the Bills were starting their first drive, Thomas was on the sideline, frantically searching for his lost helmet. The two plays he missed happened to be running plays, and he was supposed to be the ball carrier.
Thomas ended the day with 13 yards on 10 carries, and the Bills lost 37-24.
Shortly before the game, Thomas had complained about not getting enough attention despite being named MVP.
3. Neil O'Donnell, Steelers, Super Bowl XXX
O'Donnell's final numbers weren't that bad -- 28-for-49 for 239 yards (a meager 4.8 yards per attempt) -- but two of the worst throws in Super Bowl history earned him a spot on this list. Both ended up in the hands of Cowboys CB Larry Brown.
No. 1: The Steelers trailed the Cowboys 13-7. On third-and-nine from their own 48, O'Donnell threw right to Brown, a misfire that wasn't within 10 yards of the nearest Steelers receiver. Brown returned the pick 44 yards to the Pittsburgh 18; and 38 seconds later, Emmitt Smith ran in from the 1 for a 20-7 Cowboys lead.
No. 2: Trailing 20-17, the Steelers had the ball on their own 32 with 4:15 to go in the game. On second-and-10, O'Donnell again tossed it to Brown, who caught it on the Steelers' 39 and ran 33 yards to set up another Smith TD. Dallas went on to a 27-17 victory.
2. Jackie Smith, Cowboys, Super Bowl XIII
Smith, a great tight end in the 1960s and early 1970s, announced his retirement in 1977 after he'd caught only eight passes in his final two years with the Cardinals. After Super Bowl XIII at the Orange Bowl, he probably wished he'd stayed retired. Instead, the former Cardinal (and future Hall of Famer) agreed to one more year, with Dallas. He didn't catch a single pass during the regular season, but came through with three big grabs (one for a TD) in the Cowboys' 27-20 divisional playoff win over Atlanta.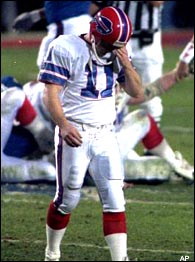 'Nuff said.
In the third quarter of the Super Bowl against Pittsburgh, the Cowboys trailed 21-14 when they started a drive from the Steelers' 42. Eight plays later, on third-and-three from the 10, Smith got wide open in the end zone. Roger Staubach lobbed it right to him in the chest -- and he dropped it. The Cowboys settled for three points instead of seven. The difference turned out to be crucial, as the Steelers held off a late rally to win 35-31.
1. Scott Norwood, Bills, Super Bowl XXV
Wide right.
Also receiving votes:
Craig Morton, Broncos, Super Bowl VII (You know it's bad when coach replaces you with Norris Weese.)
Joe Theismann, Redskins, Super Bowl XVIII (Bad performance exemplified by silly screen pass intercepted by Jack Squirek for a TD.)
Bill Callahan, Raiders, Super Bowl XXXVII (D'oh! I forgot to change the plays!)
Barret Robbins, Raiders, Super Bowl XXXVII (Troubled All-Pro center goes AWOL, misses game. Least of his worries now.)
Stanley Wilson, Bengals, Super Bowl XXIII (Orange haze: escapes arrest after cocaine blitz night before game, missed game.)