Single page view
By Jeff Merron
Page 2
Browsing through my personal sports book library and chatting with friends, writers and editors, I was surprised to discover how few sports books have truly inspired controversy. Sure, lots of athlete/authors can get lips flapping for a few days (see: Johnson, Keyshawn; Wells, David; Rodman, Dennis; Chamberlain, Wilt), but few of those books make a long-term dent in SportsWorld. Will Jose Canseco's "Juiced" be among the all-controversial keepers?
10. "Little Girls in Pretty Boxes" by Joan Ryan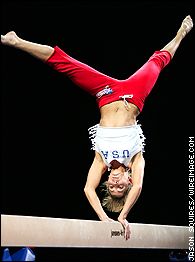 The fascinating world of women's gymnastics was exposed by Joan Ryan.
This 1995 exposé of women's gymnastics and figure skating includes the words "abuse" and "abusive" no fewer than 31 times. Ryan, a sportswriter for the San Francisco Examiner and Chronicle when the book was published, tells the behind-the-scenes stories of girls seeking the gold -- and is harshly critical of gymnastics coaches Bela Karolyi and Steve Nunno (Shannon Miller's coach).
Nunno called the book "garbage." Karolyi said, "She has taken the statements from a few frustrated people who have had negative experiences in our sport and turned it into a generalization. I think it's a crime. She has no business analyzing the work of someone who has put his whole life, heart and integrity into the sport."
But "Little Girls" still inspires Crossfire-style exchanges, even among the Amazon kid reviewers:
One: ALL LIES!!!!!!!!!!!!!!!
Another: IT IS TOTALLY TRUE!!!
That pretty much sums it up.
9. "Friday Night Lights: A Town, a Team, and a Dream" by H.G. Bissinger
Bissinger's devastating account of big-time high school football in Odessa, Texas, was sanitized for the big screen. But the book, which laid bare many of the problems facing Odessa, touched many raw nerves among coaches, parents and fans, to such an extent that Bissinger had to avoid the city because of physical threats.
8. "Dishonored Games: Corruption, Money & Greed at the Olympics" by Vyv Simson and Andrew Jennings
This 1992 indictment of International Olympic Committee president Juan Antonio Samaranch and the Olympic movement under his realm came out just before the Barcelona Games and inspired Samaranch to file suit against the authors for libel. Samaranch and IAAF chief Primo Nebiolo, the authors wrote, "have led the way in the auction of sport and the once-pure five rings to the highest commercial bidders."
The book, initially published in Britain under the title "The Lords of the Ring," also probes Samaranch's fascist past and allegiance to Spanish dictator General Francisco Franco. The charges came under fire in some circles as being irrelevant (if you wanted to succeed in Spain during Franco's rule, there was no alternative), but others argued that being a successful fascist was damning enough.
Samaranch survived the attack and continued as IOC chief until 2001. Nebiolo, who called the book a "salad of silly stupidity," also continued to thrive; the president of the IAAF raised his organization's budget from $50,000 to $40 million during his 18-year reign, which ended when he died in 1999.
7. "Moneyball: The Art of Winning an Unfair Game" by Michael Lewis
The most misunderstood sports books ever, perhaps, beginning with the many writers and baseball insiders who believe A's general manager Billy Beane wrote the book himself as a work of shameless self-promotion.