Single page view
By Jeff Merron
Page 2
Some people love to do mock drafts. At Page 2, there's more of an inclination to mock the draft. So, with the NFL flesh-fest just five days away, we went in search of oddity. Turns out that strange things can happen when draft day rolls around ...
10. If only the games weren't on Sundays
Eli Herring starred at offensive tackle for BYU, and was projected to be drafted somewhere between the first and third rounds in 1995. But Herring literally had a higher calling, and he informed each NFL team that he did not intend to play in the NFL because Sunday is a holy day – not a football-playing day – for devout Mormons.
So, most teams passed on him. But the Raiders (who else?) decided he was worth a try, and took him with their sixth-round selection. Their reasoning: $500,000 a year has a certain "gift from God" quality about it, too.
Herring resisted temptation. But newspaper headline writers did not. For example: "RAIDERS GO FISHING AGAIN ... FOR HERRING"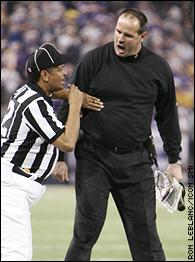 No one would blame Mike Tice for losing his temper after that draft-day debacle.
9. Maybe they should go to a no-huddle war room
In 2003, the Vikings, picking seventh overall, were forced to "pass" on their pick because they let their 15-minute allotment slide. They'd been in the process of talking trade with the Ravens, Jags and Pats, and somehow the clock watcher got distracted. Jacksonville and Carolina then went to their hurry-up pick offenses and got the seventh and eighth choices before the Vikings were able to get their pick in.
"What happened is very bizarre," said Seahawks GM Bob Ferguson. "In 28 years, I've never seen it before."
8. The signal caller who couldn't
Bobby Garrett was a great, All-American quarterback at Stanford in the early 1950s. So the Cleveland Browns, needing a solid QB to take over for the aging Otto Graham, made him the first overall pick in the 1954 draft. Garrett looked like a no-brainer, a big-school player who had put up big numbers.
There wasn't a lot of scouting back then.
Turns out Garrett, as Browns coach Paul Brown found out in training camp, had a big problem. He could throw. And he could play. But within a few weeks he was shipped off to the Packers in a six-man deal that clearly favored Green Bay. Or so the Packers thought.
"He stuttered," former Packers fullback Fred Cone told the Milwaukee Journal-Sentinel. "He couldn't get the plays out in the huddle. We had to crack him on the back so he could spit out the play. He couldn't say words that started with an 's,' like split left or split right.
"That was a real surprise to us. I think Coach Blackbourn was surprised, too. Bobby had a lot of ability and he was a real nice guy. You kind of felt sorry for him. But a quarterback has to get up there and bark out the signals, and he couldn't do it."
Garrett played only nine games in the NFL.
7. The sportswriter who integrated the Redskins
Redskins owner George Preston Marshall didn't want black players on his team. He didn't even try to be subtle about it – he owned the southern NFL market in the 1950s, and aimed to please the vast majority, even if it meant losing.