By Jeff Merron
Page 2
Some people love to do mock drafts. At Page 2, there's more of an inclination to mock the draft. So, with the NFL flesh-fest just five days away, we went in search of oddity. Turns out that strange things can happen when draft day rolls around ...
10. If only the games weren't on Sundays
Eli Herring starred at offensive tackle for BYU, and was projected to be drafted somewhere between the first and third rounds in 1995. But Herring literally had a higher calling, and he informed each NFL team that he did not intend to play in the NFL because Sunday is a holy day – not a football-playing day – for devout Mormons.
So, most teams passed on him. But the Raiders (who else?) decided he was worth a try, and took him with their sixth-round selection. Their reasoning: $500,000 a year has a certain "gift from God" quality about it, too.
Herring resisted temptation. But newspaper headline writers did not. For example: "RAIDERS GO FISHING AGAIN ... FOR HERRING"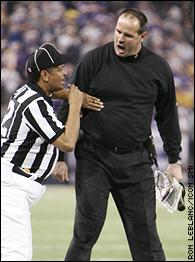 No one would blame Mike Tice for losing his temper after that draft-day debacle.
9. Maybe they should go to a no-huddle war room
In 2003, the Vikings, picking seventh overall, were forced to "pass" on their pick because they let their 15-minute allotment slide. They'd been in the process of talking trade with the Ravens, Jags and Pats, and somehow the clock watcher got distracted. Jacksonville and Carolina then went to their hurry-up pick offenses and got the seventh and eighth choices before the Vikings were able to get their pick in.
"What happened is very bizarre," said Seahawks GM Bob Ferguson. "In 28 years, I've never seen it before."
8. The signal caller who couldn't
Bobby Garrett was a great, All-American quarterback at Stanford in the early 1950s. So the Cleveland Browns, needing a solid QB to take over for the aging Otto Graham, made him the first overall pick in the 1954 draft. Garrett looked like a no-brainer, a big-school player who had put up big numbers.
There wasn't a lot of scouting back then.
Turns out Garrett, as Browns coach Paul Brown found out in training camp, had a big problem. He could throw. And he could play. But within a few weeks he was shipped off to the Packers in a six-man deal that clearly favored Green Bay. Or so the Packers thought.
"He stuttered," former Packers fullback Fred Cone told the Milwaukee Journal-Sentinel. "He couldn't get the plays out in the huddle. We had to crack him on the back so he could spit out the play. He couldn't say words that started with an 's,' like split left or split right.
"That was a real surprise to us. I think Coach Blackbourn was surprised, too. Bobby had a lot of ability and he was a real nice guy. You kind of felt sorry for him. But a quarterback has to get up there and bark out the signals, and he couldn't do it."
Garrett played only nine games in the NFL.
7. The sportswriter who integrated the Redskins
Redskins owner George Preston Marshall didn't want black players on his team. He didn't even try to be subtle about it – he owned the southern NFL market in the 1950s, and aimed to please the vast majority, even if it meant losing.
In 1952, Marshall let the Post's Mo Siegel make one of the Redskins' late-round picks. "Marshall's theory was writers didn't always know as much football as they should," said Siegal, quoted in "The Pro Football Chronicle." "I told him, 'Give me a pick in a later round, and we'll see what I can do.'"
Siegel told him to select Tennessee Tech end Flavious Smith, who, he'd been told by a knowledgeable insider, was black. He relished the opportunity to play a part in Redskins history. Marshall picked Smith in one of the late rounds.
Marshall said, "Congratulations, you've just become the first sportswriter to draft a player." Siegel replied, "Congratulations, George. You've just integrated the Redskins."
Officially, Flavious Smith was not drafted in 1952. It's probable that Marshall convinced NFL commissioner Bert Bell to whitewash the records. But we'll probably never know. Smith didn't hear the story until decades later. And as it turned out, the joke was on both Marshall and Siegel. Smith was white.
6. Why computers will never replace scouts
The Cowboys are well known for pioneering the use of objective stats and computers in evaluating players. The team was truly revolutionary in this regard ... but mistakes, shall we say, were made.
For example, the Boys had had very good fortune with fast wide receivers – Bob Hayes, for example. So it seemed natural for them to go for speedy David McDaniels, a tall wide receiver from Mississippi Valley State. McDaniels could run. He'd clocked a 4.4 40 at his college track.
So the Cowboys picked him in the second round in 1968. Then came training camp. And boy, did McDaniels look slow. Out came the stopwatches. Forty yards: 4.73. Once more: same results.
Turned out the 40 McDaniels ran was really more like a 38.
This wasn't a lost cause for Dallas, though. On Jan. 28, 1969, the Cowboys traded McDaniels to the Eagles for Mike Ditka. "I don't think the Eagles ever asked about his time, and we sure didn't tell them," Dan Reeves told Michael Knisley of the Sporting News back in 1985. "We knew they were looking for a wide receiver. It was after that that Gil Brandt made sure the scouts measured off the full 40 yards."
5. The battle for "Mr. Irrelevant"
Since 1976, the last player chosen in the draft – dubbed "Mr. Irrelevant" – has also been the most-feted draft pick. All thanks to Paul Salata, a former Colts receiver who decided to hold a celebration in Newport Beach, Calif., for the last man drafted. In 1976, Kelvin Kirk became the first to be officially celebrated.
Here it is, the coveted Lowsman Trophy.
The week-long celebration includes a trip to Disneyland, a golf tournament, beach parties, celebs galore and plenty of bikini-clad women. It's a big deal.
And it became a big deal quickly. In 1979, the Steelers had the last pick. The Rams had the next-to-last pick. But the Rams wanted Mr. Irrelevant. They wanted the publicity. They wanted it bad. So they passed and let the Steelers go ahead of them. The Steelers wanted the big, irrelevant party, too, and passed also. Rams' turn. Back and forth it went, with each team refusing to take the next-to-last pick.
Finally, Pete Rozelle put an end to the madness. And he instituted the "Salata Rule," which prohibits teams from passing for the purpose of picking last.
By the way, the Steelers "won" that battle of wills. And Mike Almond became the first draftee to receive the Lowsman Trophy.
4. And from Fort Apache State ...
In 1972, the Atlanta Falcons drafted John Wayne. Yes, that John Wayne. The 6-foot-4-inch Duke had been a pretty fair football player in his day, winning a gridiron scholarship to USC in the late 1920s.
NFL Films caught the draft scene on tape. Round 17: Atlanta Falcons coach Norm Van Brocklin stands up and yells to his staff, "Do we want the roughest, toughest s.o.b. in the draft?!" The response, of course, was affirmative. So Van Brocklin calls NFL HQ and says, "Atlanta picks John Wayne of Fort Apache State."
Pete Rozelle disallowed the pick.
But Wayne should have been allowed to be an honorary draftee. There's this famous Vince Lombardi saying: "Winning isn't everything, it's the only thing." Lombardi stole it. From John Wayne. Who said it in "Trouble Along the Way," a 1953 movie in which Wayne happened to play ... a football coach.
3. George Allen's double dealing
Here's the thing about draft picks: They don't exist anywhere. They're intangible, ordered numbers on a page, pure potential, so abstract that it can be lots of fun to trade them for real, live, breathing players who have names and playing experience and things like that.
Which is why Redskins GM George Allen loved trading draft picks. For example, he loved trading his second-round pick in the 1973 draft. He traded it to the Jets for defensive end Verlon Biggs. Then he traded it again to the Rams for safety Richie Petibon.
He loved trading his third- and fourth-round picks, too. He doubled them up in a deal for Bills defensive end Ron McDole. Then he sent the same bundle of picks to the Chargers for Speedy Duncan.
It took a year for the NFL to notice. The Skins were fined a whopping $5,000 and forced to surrender additional draft picks for the players. Allen said, "There was no intent to deceive," citing his busy life as an excuse. But Pete Rozelle didn't buy it: "It also happened a couple of times when Allen was coach at Los Angeles," he said.
2. Gosh darn it, we want Cal Rossi!
There are many reasons the postwar Redskins enjoyed a long reign of mediocrity. Reason No. 1: The guys running the team weren't the sharpest pencils in the drawer.
Cal Rossi played halfback for UCLA, and he was one of the best – the two-way player was an honorable mention All-American three years in a row, and probably would have been an All-American in 1945, when he rushed for 679 yards in just five games before being called away by the Navy.
After he led the Bruins to an undefeated regular season in 1946 (the Bruins lost to Illinois in the Rose Bowl), the Redskins decided he was their man. With their first-round pick, they made Rossi the ninth selection overall in the 1946 draft. The only problem was that Rossi was still a junior, and ineligible to play in the league.
The Redskins were undeterred. With the No. 3 overall pick in 1947, they again selected Rossi. At which point he told them he had no interest in playing pro football.
1. Darn. It was supposed to be a secret
The Eagles drafted Syracuse fullback Norm Michael in the 18th round of the 1944 draft. Michael didn't find out about this until he read it in the paper – in 1999. There, in agate type, his name appeared in a list of every Syracuse player ever drafted. "That was the first I heard of it," Michael told NFL.com.
"My son sent them a letter after we found out," Michael said. "I think he wanted to see if the Eagles owed me a signing bonus. Think of the interest I could have had. Fifty-seven years' worth."