By Jeff Merron
Page 2
Baseball's not a fair game. We had a news hook for this lineup of the all-time, all-fat major-league team, and the Royals went and messed it up. The hook would be the celebration of Calvin Pickering's return to the Royals after the birth of his first child. Unfortunately, while we were rounding up this list of big guys, the Royals sent the 6-foot-5, 295-pound first baseman down to Triple-A Omaha.
Pickering was hitting only .148 in 27 at-bats, but still, that's a quick demotion for a guy who hit 42 home runs between Triple-A and the majors last season. He should have had a better chance, and, you know, he's going to take a real hit on the meal money.
Note: All listed weights are to be taken with an enormous serving of ... ice cream, potato chips, butter, cupcakes – whatever floats your belly.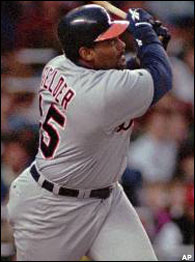 Cecil Fielder didn't need any steroids to his his home runs.
DH: Cecil Fielder (Blue Jays, Tigers, Yankees, Angels, Indians, 1985-1998)
Fielder, a three-time All-Star with the Tigers, was a tremendous slugger from 1990 through 1996. Good thing he could hit 'em over the fence, because he didn't steal his first base until his 1,096th major-league game. When he made the steal in Minnesota, Twins fans went wild and the Twins gave him the base as a memento. "The pressure is off now," Fielder said. "He [manager Buddy Bell] might start moving me a little more now that he has seen me run. Hopefully he won't."
Listed at 6-3, 240, Fielder undoubtedly topped 300 pounds at the end of his career.
Dessert: On David Letterman's "Least Popular Attractions at the Baseball Hall of Fame," this came in at No. 4: "Titanium dugout bench built for Cecil Fielder."
1B: Boog Powell (Orioles, Indians, Dodgers, 1961-1977)
The four-time All-Star and 1970 AL MVP spent much of his career big and muscular. Toward the end, he was big and fat. But keeping the pounds off just didn't suit Boog. After a lousy 1967 season, the O's decided his heft was the problem, and ordered him to report the following spring at 240. "For me, 240 was skinny," he told the Washington Times in 1992. "I'd look like a rail. Well, I came in at 239, barely walking. I was just drained, not eating or drinking. Three days later, I weighed 260."
2B: Ron "Belly" Belliard (Brewers, Rockies, Indians, 1998-present)
When Belliard showed up at spring training in 2000, he weighed 206 pounds on his 5-8 frame. "He looks like a catcher," said scout Larry Haney. Though he vowed to drop 18 pounds by the end of spring training, he didn't. In August, the Milwaukee Journal-Sentinel's Drew Olsen interviewed another scout. "He's definitely bigger than when I saw him in April. He almost looks more like a catcher than a second baseman."
Unfortunately for the Brewers, he also played second base more like a catcher.
SS: Rafael Ramirez (Braves, Astros, 1980-1992)
Shortstop is the toughest position to find a fat guy, but Ramirez takes the honor for this reason: He signed a two-year, $2.2 million contract with the Astros in 1989 that stipulated he be weighed every day; if his monthly average ducked under 187 pounds, he'd get a $12,500 bonus.
3B: Terry Pendleton (Cards, Braves, Marlins, Reds, Royals, 1984-1998)
Pendleton, the 1991 NL MVP and three-time Gold Glover, could move despite his heft (listed at 5-9, 180). But it did draw attention. "Sometimes," wrote Atlanta Journal-Constitution columnist Terence Moore in 1993, "after Pendleton hits the ball, you expect a ball boy to rush to home plate to roll him toward first base."
OF: Robert "Fats" Fothergill (Tigers, White Sox, Red Sox, 1922-1933)
Fothergill, listed at 5-10, 230, had a lifetime .325 batting average but no power, hitting only 36 career homers despite his heft. He also had the dubious distinction of being caught stealing 12 times in 16 attempts during the 1926 season. "He was about as round as he was tall," said Charlie Gehringer.
But Fothergill could hit, and, as he put it in 1930, "I can't hit if I ain't got the power and I ain't got the power if I don't eat. And, when I eat what I like I get fat. When I diet, I don't hit."
But the evidence said otherwise. In 1927, Fothergill, on a strict diet, tore up the AL in the early going, hitting around .450. Then the rest of the AL got wind of his regimen, and taunted him when he came to the plate, describing every type of delicious fatty food they knew he sorely missed. Slowly, they got to him; his weight rose to 247 pounds, and his batting average dropped about 100 points.
One more Fothergill story, as related by Thomas Boswell in the Washington Post: "In 1928, Fat Fothergill, in the agonizing grip of a crash diet – complete with rubber suits and Turkish baths – became infuriated by a third-strike call by Bill Dinneen. The 5-foot-10, 230-pound Fothergill bit the ump in the arm.
"Upon being ejected, Fothergill quipped: 'Okay by me. That's the first bite of meat I've had in a month.'"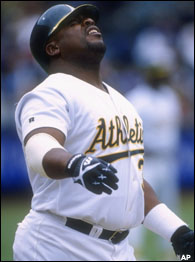 Kevin Mitchell hit .228 in his final year with the A's ... just below his playing weight.
OF: Kevin Mitchell (8 teams, 1984-1998)
Listed height and weight: 5-11, 210 pounds
Kevin Mitchell had ballooned to 255 pounds in 1997, and got even heavier before he finally rolled out of the majors in 1999. How big was the former MVP? Well, he's probably second only to Babe Ruth in food-related injuries. For example, in 1990, he was four days late to spring training because he got injured eating a microwaved donut, requiring root canal work. He also once hit the DL after straining his rib muscles while vomiting. To top it off, Mitchell, according to Tom Verducci in Sports Illustrated, made Cleveland Indians history when he became the first player in franchise history who was unable to complete an 850-yard training run.
We're not sure, but the legendary cupcake injury appears, upon further research, to have actually been the donut injury; we found many references to the cupcake that offer no details, yet we know that the donut icing melted into Mitchell's fillings, which caused that affliction.
Just so you know.
OF: Babe Ruth (Red Sox, Yankees, Braves, 1914-1935)
The Bambino's weight ranged from 198 as a rookie to about 260 when he collapsed in the midst of "the bellyache heard 'round the world," in 1926, and surely higher as he reached the end of his playing days in the mid-1930s. All the stories about Ruth's being a prodigious eater and drinker are true.
Ruth could inspire kindness even from Ty Cobb, who admitted that the Babe "ran OK for a fat man."
C: Frank "Shanty" Hogan (Braves, Giants, Senators, 1925-1937)
Hogan (6-1, 240 pounds) played for John McGraw, who never failed to get on him about his weight. Hogan couldn't lose the pounds, so he got creative: once, ordering pie a la mode at a restaurant, he asked that the bill read "asparagus" instead. One winter, Hogan ballooned to 278 pounds, and Senators owner Clark Griffith told him that he had to lose 50 before spring training. "Oh, the hard winter that mighty Hogan man put in!" said former New York Times sportswriter John Kieran. "Where he used to destroy loaves of bread and pans of hot biscuits and sides of beef and racks of lamb, he crunched a bit of dry toast, nibbled a leaf of lettuce, had half a cup of weak tea and called it – with tears in his eyes – a meal."
Hogan's nickname was inspired by his hut-like figure.
PH: Gates Brown (Tigers, 1963-1975)
Officially, Brown was an outfielder, listed at 5-11, 220. Unofficially, he was a crack pinch-hitter. He holds the record for career pinch-hit at-bats, with 414, and the AL record for career pinch-hits, with 107, and the AL record for most career pinch homers, with 16. This is all relevant to the weight issue.
Gates spent a lot of time on the bench, and was used to being ready for the call at any time. But in an August 1968 game against Cleveland, he was caught ... eating. He'd gone into the clubhouse to grab a couple of hot dogs, and was all ready to eat them when Detroit manager Mayo Smith called him in to pinch hit. He stuffed the dogs down his jersey. Then he doubled, slid in head first, and stood up with a uniform covered with mustard, ketchup, and hot dog and bun chunks all over himself.
This killed the Tiger bench, but Smith fined Gates $100.
P: Mickey Lolich (Tigers, Mets, Padres, 1963-1979)
Lolich, a three-time All-Star who won 217 games and won the 1968 World Series MVP award by pitching three complete game victories, was fat. And he had been his whole career. By 1972, after winning 47 games in a two-year span, he was ready to speak out about the issue. "I guess you could say I'm the redemption of the fat man. A guy will be watching me on TV and see that I don't look in any better shape than he is. 'Hey Maude,' he'll holler. 'Get a load of this guy and he's a 20-game winner.'"
In 1975, in perhaps a pound-for-pound trade, he was swapped to the Mets for Rusty Staub. A few years later, after retiring, he opened up the Mickey Lolich Donut and Pastry Shop.
P: Terry Forster (White Sox, Pirates, Dodgers, Braves, Angels, 1971-1986)
During the 1985 season, when Forster pitched for the Braves, Letterman called the lefty reliever "the fattest man in professional sports ... a balloon ... a fat tub of goo." This barb made Forster a mini-celebrity that summer, and he even went onto the Letterman show to trade barbs with the master.
According to Joe Torre, his manager with the Braves, "Terry used to go jogging in spring training after we played the game, He'd go on this long run in shorts, with a bandanna on. Half the time, he'd come back with mustard on his shirt."
And while Forster was large (listed at 6-3, 210), he was a great athlete – he had a career batting average of .397 in 78 at-bats.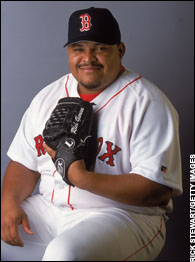 Rich Garces was much-loved during his seven years with the Red Sox.
P: Rich "El Guapo" Garces (Twins, Marlins, Red Sox, 1990-2002)
An El Guapo-sized bullpen cart? We're still waiting ...
P: Charlie Kerfeld (Astros, 1985-1990)
Kerfeld once weighed more than 275 pounds with the Astros, but after a great 1986 campaign was sent down to the minors because of his weight problem. Said Astros GM Dick Wagner, "We've asked him to get a correction in his weight, downward."
Didn't work. In 1988, Kerfeld may have become the only major leaguer ever to join his team's owner on a fat farm.
P: Jumbo Brown (Cubs, Indians, Yankees, Giants, 1925-1941)
Listed at 6-4, 295, until our man Pickering came along, Brown was the only major leaguer who ever came close to a 300-pound listing.
Manager: George Scott
Scott managed the ill-fated Minneapolis Millers of the ill-fated Great Central League in 1994. Our own Jim Caple recalled this nugget from the northern heartland: "[Scott] had to sit outside the dugout because he was too fat to go in it. True story." During the season, Scott served in a variety of management positions, and his own players once went on strike against him.
In July 2004, SI tracked down Scott in Mississippi, where he was coaching his son, Brian, a player at Alcorn State. At the time, Scott told the magazine he was "pushing 270 pounds."
Also receiving votes:
Too numerous to mention
At Page 2 List HQ, we rely on a pretty good set of resources. In human terms, Jim Caple, Rob Neyer, Dave Schoenfield, and Michael Knisley deserve some big props. Indispensable web sites include Baseball-Reference.com BaseballLibrary.com.