By Jeff Merron
Page 2
Mike Mussina's line in last night's game isn't all that pretty -- four earned runs in 6 2/3 innings -- but for 6 1/3 innings it looked like he might pitch a no-hitter, or even a perfect game.
Which got us to thinking about the best-pitched games in LCS history. There've been no perfect games. No no-hitters, even. But there've been plenty of gems and memorable mound matchups.
10. Mussina K's 15 -- and doesn't win (1997 ALCS Game 3, Orioles vs. Indians)
In a four-hour, 51-minute, 12-inning game with a bizarre ending, Mike Mussina set an LCS record by striking out 15 Indians in only seven innings, aided by the late-afternoon shadows in Cleveland. Mussina struck out the side in the first, fourth, and sixth, and gave up only three hits. Meanwhile, Orel Hershiser was having a great afternoon, too, striking out seven in seven innings of four-hit ball.
LCS Listmania!
Some other LCS-related lists we've run on Page 2:
The Indians won the game 2-1 in the bottom of the 12th when Marquis Grissom stole home. Omar Vizquel, attempting a suicide squeeze, missed the ball, but O's catcher Lenny Webster didn't give chase when the ball went by him, thinking that Vizquel had tipped it.
9. "Old" rookie fans 14 (1983 ALCS Game 2, Orioles vs. White Sox)
Mike Boddicker, 26, had spent years in the minors before going 16-8 with a 2.77 ERA in 1983, his rookie season. Then he showed his regular-season performance was no fluke, fanning 14 while shutting out the White Sox. Boddicker's performance wasn't the prettiest -- he allowed five hits, walked two, and hit two batters -- but he whiffed Harold Baines three times and Carlton Fisk twice.
8. Livan and Eric fan 15 (1997 NLCS Game 5, Marlins vs. Braves)
One day after Mike Mussina set the LCS record of 15 strikeouts, 22-year-old rookie Livan Hernandez, pitching his first playoff game, also struck out 15 Braves to outpitch Greg Maddux and beat the Braves, 2-1.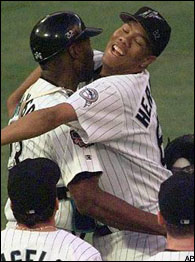 Braves fans still wake up in cold sweats over Eric Gregg's strike zone.
Maddux gave up just four hits and one walk in seven innings, but it wasn't enough. Hernandez allowed only three hits and two walks in a complete game. "The kid didn't make any mistakes," Braves Manager Bobby Cox said. "He just did not make any."
The kid also got some help from home-plate umpire Eric Gregg, who famously enlarged the strike zone by about a foot on both sides of the plate.
7. Cueller and Holtzman in 11-inning duel (1973 ALCS Game 3, A's vs. Orioles)
Thanks to Bert Campaneris, who hit a walk-off homer to lead off the bottom of the 11th, Ken Holtzman got the 2-1 win over the Orioles in a great pitcher's duel in Oakland. Holtzman gave up only three hits and one walk while striking out six in 11 full innings. Mike Cueller's four-hit, 11-K performance -- he was throwing a tremendous screwball -- wasn't quite enough.
6. Blue's two-hitter tops Palmer's 4-hitter (1974 ALCS Game 4, A's vs. Orioles)
After 14 straight postseason appearances without a victory, Vida Blue came through for the A's with a spectacular performance in Baltimore. Blue struck out seven, allowed only two hits, walked none, and didn't let a single Oriole advance past first. Jim Palmer gave up only four hits and walked one -- but, unfortunately for Palmer, one of the hits was a solo blast by Sal Bando in the fourth. "He threw as hard as you can for nine innings," said A's manager Alvin Dark of Blue. "I never saw anyone better. He blew the ball pat them all nine innings, and threw only five or six curveballs while he was doing it."
5. Matlack two-hits Reds (1973 NLCS Game 2, Mets vs. Reds)
Only Andy Kosco was able to figure out Jon Matlack -- he got the only two hits for the Reds and also walked. Meanwhile, the Mets rookie managed to keep the top of the Cincinnati order -- Pete Rose, Joe Morgan, Tony Perez, and Johnny Bench -- completely off the basepaths at Riverfront. Matlack struck out nine and walked two.
4. Scott baffles Mets (1986 NLCS Game 1, Astros vs. Mets)
Scott, who'd thrown a no-hitter two weeks earlier to clinch the division title for the Astros, struck out 14 and beat Dwight Gooden, 1-0. Scott snuffed rally after rally with his masterful splitter. He allowed only five hits and one walk to overcome an Astros offense hobbled by ... Mike Scott. At the plate, the pitcher was hapless, striking out with the bases loaded in the second, hitting into a double play with the bases loaded in the fourth, and striking out with two men on in the sixth.
3. McNally's 11 inning 3-hitter (1969 ALCS Game 2, Orioles vs. Twins)
Facing the best offensive team in the American League -- the Twins featured Rod Carew, who led the league in hitting, and Harmon Killebrew, who'd led the AL with 49 dingers and 140 RBI -- Dave McNally surrendered his last hit in the fourth inning in winning 1-0. He struck out 11 and walked 5 on a gloomy afternoon in Baltimore's Memorial Stadium. Between the fourth and 11th innings, McNally retired 21 of 22 batters.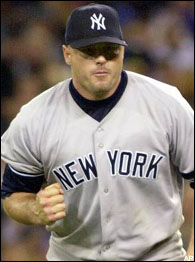 Clemens erased some of his postseason demons with his Game 4 performance in 2000.
2. Beckett two-hits Cubs (2003 NLCS Game 5, Marlins vs. Cubs)
Josh Beckett baffled the Cubs, striking out 11, allowing only two hits, and walking only one in a 4-0 win that kept the Marlins alive in the series. Not a single Cub advanced past first, and only four Cubs hit the ball out of the infield.
1. Clemens one-hits Mariners (2000 ALCS Game 4, Yankees vs. Mariners)
Roger Clemens carried a no-hitter into the seventh inning, gave up a double to Al Martin, then shut the M's down the rest of the way. The Rockets struck out 15 to tie the LCS K mark.
"I don't know if Clemens can pitch better than that," said Martin. "He threw me one 92 mile-per-hour forkball that dropped a foot."
Also receiving votes:
Atlanta's Steve Avery beats Pirates 1-0 (8 innings, 3 hits) in Game 6 of 1991 NLCS (John Smoltz won Game 7 with 4-0 6-hitter).
L.A.'s Orel Hershiser beats Mets with 5-hit shutout in Game 7 of 1988 NLCS.
Dave Dravecky two-hits the Cards (1987 NLCS Game 2, San Francisco vs. St. Louis).