By Jeff Merron
Page 2
Who among the current young crop of coaches will, in 10 or 20 years or so, take his place among this group of coaching immortals? Jon Gruden? Just two years ago, he was a genius. Brian Billick? Bill Belichick? Maybe. Maybe. Maybe.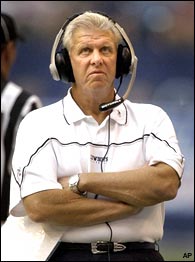 Bill Parcells' latest project? The Dallas Cowboys.
10. Bill Parcells (tie)
The Tuna's a turnaround artist with two Super Bowl wins and another Super Bowl appearance to his credit. He's got a solid (but not spectacular) 159-113-1 overall record (not counting 2004). He's a rebuilder and a motivator, in an era when both are more difficult to accomplish than ever.
10. George Allen (tie)
In his 12 seasons as had coach of the Rams and Redskins, Allen never had a losing season. Seven times his teams made the playoffs. Twice he led the Rams to division titles. And he took the 1972 Skins all he way to Super Bowl VII, when Mr. Shula & Co. got in the way of his best shot at an NFL championship. Twice Allen was named NFL Coach of the Year.
Allen finished his coaching career in 1977 with a lifetime regular-season record of 116-47-5, but had a disappointing 2-5 postseason record.
9. John Madden
Madden is truly one of a kind: a great head coach who changed careers and then became a great announcer. If you only know him as the bus-riding, hardware-hawking Telestrator thaumaturge, dig this: in his 10 years at the helm of the Raiders (1969-78) Oakland racked up 112 wins, 39 losses, and seven ties in the regular season and postseason. That comes out to a .731 winning percentage, second only to Vince Lombardi.
THE SHOW
Want to chat with Jeff Merron about his list? Join The Show on Monday at 2 p.m. Eastern.
During that decade, Oakland missed the playoffs only twice, and the
worst
Raiders record during Madden's tenure was 9-7.
And then there's the team that we probably don't talk about enough: the 1976 Raiders, who went 13-1 in the regular season, slammed the Steelers 24-7 for the AFC title, and vanquished the Vikings in Super Bowl XI, 32-14. (The Raiders won 13 straight in 1976 and then another four in a row to start the 1977 season, a 17-game winning streak.)
8. Chuck Noll
Noll was head coach of Pittsburgh from 1969 to 1991, leading the Steelers to 16 winning seasons and 12 playoff appearances. Most important, though, was that Noll guided Pittsburgh to four Super Bowl wins in a six-season span from 1974-79, an achievement that will probably never be topped. His lifetime record, including postseason: 209-156-1.
7. George Halas
You know him as Jack Warden, who played Halas as a curmudgeon-with-a-heart in "Brian's Song." Life didn't seem like it could get any sweeter for Papa Bear after he won the MVP in the 1919 Rose Bowl, but it did -- he founded the Decatur Staleys, who became the Bears in 1922. Halas was a player, coach and owner for 63 years, and compiled a 321-142-31 record in the 40 seasons he served as head coach. Along the way he led the Bears to six NFL titles.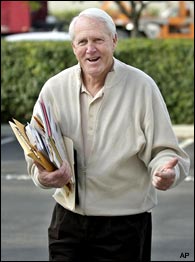 Bill Walsh's legacy lives on through the West Coast offense.
6. Bill Walsh
Walsh coached the San Francisco 49ers to three Super Bowl victories; in 10 years as head coach (1979-88), he compiled a regular season record of 92-59-1 and a playoff record of 10-4. Walsh took some of his own ideas, merged them with those of Paul Brown, got the right players to run it, and created the West Coast offense. He was named NFL Coach of the Decade for the 1980s.
5. Joe Gibbs
Gibbs gets the props for all the right reasons: in the age of parity, he took the Redskins to three Super Bowl victories with three different QBs (Joe Theismann, Doug Williams, and Mark Rypien) running his offense.
During his 12-year run with the Redskins from 1981-1992, he went 124-60 during the regular season and a remarkable 16-5 in the postseason. Only once did his Skins have a losing season, going 7-9 in 1988.
4. Tom Landry
Landry, the first head coach of the Cowboys, had a 28-year run in Dallas that included 20 straight winning seasons (1966-86). He compiled a lifetime 250-162-6 regular-season record and a 20-16 postseason mark. Along the way he led the Boys to 13 NFC East titles, five NFC titles, and two Super Bowl championships. Among his best trend-setting moves: developing the flex defense, bringing back the shotgun, and introducing the motion offense.
3. Don Shula
He was consistent: In 33 years as an NFL head coach -- first with the Colts in the 1960s and then for 26 years with the Dolphins -- only two times did Shula coach a team that finished below .500.
He could win the big games: Six of Shula's teams made it to the Super Bowl, and two came away victorious.
He endured: No other coach in NFL history has won more games; including the playoffs, Shula went 347-173-6, a .665 winning percentage.
He could be spectacularly great: In 1972 and 1973, the two Dolphins' Super Bowl-winning seasons (including the perfect season), Miami went a remarkable 32-2.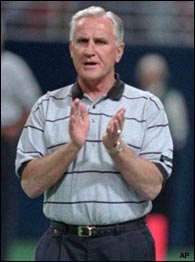 Don Shula is the only coach to lead his team to a perfect season.
2. Paul Brown
Brown was the mastermind behind two great NFL franchises; he got the Cleveland Browns going in 1946 in the AAFC, and took control of he expansion Bengals in 1968. Along the way, Brown's Browns won four AAFC titles and then three NFL championships when they became part of the league in 1950. In 17 years as the head coach of the Browns, he had only one losing season, compiling a 167-53-8 record. Then in eight seasons as head coach of the Bengals, he led the team to three playoff berths. His final NFL coaching record, beginning in 1950, was 166-100-6.
Brown was more than a winner: he was gutsy, signing two black players, Marion Motley and Bill Willis, to play for the Browns in 1946. He also taught Bill Walsh the key ingredients of the West Coast offense, which he'd employed successfully with Otto Graham at QB in the 1940s and 1950s.
1. Vince Lombardi
How great was Vince Lombardi? In 1968, when Richard Nixon gave the press one more chance to kick him around, he considered asking Lombardi to be his running mate. Vince for Veep? Hard to imagine him playing second fiddle to anyone (and even harder to imagine him being a Republican).
By that time, obviously, Lombardi was a legend. When he took over the Packers in 1959 the team was terrible (1-10-1 in 1958); when he departed after nine seasons, he left behind one of the greatest dynasties in NFL history. He'd led the Pack to five NFL championships, including three in a row between 1965-67, led the Pack to wins in Super Bowls I and II (tougher than you'd think: how do you get a team up for a championship game when they already thought they won it in the NFL title game?), and finished his NFL career with an overall 105-35-6 record.
Also receiving votes:
Earl (Curly) Lambeau
Bud Grant
Marv Levy
Steve Owen
Hank Stram