By Jeff Merron
Page 2
What makes for a great owner? The No. 1 criteria is a desire to win. No. 2 is loyalty -- to the hometown, to the fans, to the players. No 3 is good old success.
10. Ewing Kaufman (Royals)
Kaufman owned the expansion Royals from 1969 until his death in 1993. By 1976, he had built a great new stadium and an extraordinarily popular team. KC was his town, and the beloved Mr. K spent, big time, to ensure a winning franchise.
9. Miles Wolff (Durham Bulls)
In 1980, Wolff spent a few grand to bring baseball back to Durham, N.C. Wolff promoted the Bulls' great old ballpark and built the best attendance in Single A ball. He deserves much of the credit for reinvigorating minor league baseball.
8. Peter Magowan (San Francisco Giants)
In 1992, Magowan bought the Giants and reinvigorated a team with lots of problems. He hired good baseball people and left them alone. He built Pac Bell. He brought Barry to town. Magowan saved baseball in San Francisco, and made it greater than ever imaginable.
7. Ted Turner (Braves)
Turner bought the Braves in 1976 and brilliantly used WTBS to make tons of dough off the team. Which he then reinvested in the Braves. His long-term dynasty-building strategy worked.
6. Jack Kent Cooke (Redskins)
Cooke became majority owner of the Redskins in 1974. In 1981, he hired Joe Gibbs as head coach. Two years later, the Redskins won the Super Bowl. Cooke took a so-so franchise and made it into a great one, and did it with style.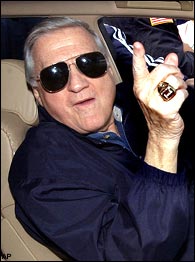 The Boss has done a lot to make Yankee fans happy over the years.
5. George Steinbrenner (Yankees)
The bottom line is he wants the Yankees to win, and he'll do whatever it takes. If we had a "worst owners" list, he'd make that, too.
4. Mark Cuban (Mavericks)
The ultimate fan-as-owner, Cuban made the Mavs into winners, spending $$$ to take the team to the playoffs for the first time in 11 years in his first year as owner, in 2000-01.
3. Jerry Buss (L.A. Lakers)
Buss, a real-estate tycoon, bought the Lakers and the Forum in 1979. His razzle-dazzle formula led to a surge in attendance and eight NBA championships.
2. Wellington Mara (New York Giants)
Wellington assumed ownership in 1959, when his father, Tim, died. The Giants have seen many good years, and many lean ones. But throughout, Mara has been a mensch -- patient, graceful, compassionate, and generous.
1. Packers fans around the world
In 1922, Green Bay sold shares to its football club, and the Packers remain (and will, under current NFL rules) the only team in football to be publicly owned. About 1,900 fans own shares of Packers stock, which is, in a sense, worthless. It can't be sold, it can only be passed down to family or sold back to the Packers. So, ownership is about one thing, pure and simple: loyalty. When the team needs to raise extra cash, it can sell more shares, and fans line up for a chance to "invest" in their team's future.