By Jeff Merron
Page 2 staff
A-Rod for Soriano. While it seems like a very good deal for the Yankees, it's also a pretty good deal for the Rangers, picking up one of the best young players in baseball for a lot less than they were paying Rodriguez. But if A-Rod produces for years to come, and the Yankees win a few more World Series, then it could turn out to be one of the Bombers' best trades ever.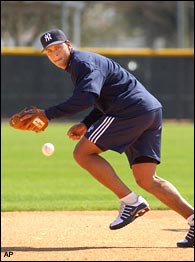 Will the A-Rod trade one day join this list? Time will tell.
But probably not. Over the past century, the Yankees have made some pretty spectacular deals.
10. Oct. 11, 1946: Allie Reynolds from Indians for Joe Gordon and Eddie Bockman
Reynolds had been a good pitcher for the Indians, leading the AL in strikeouts in 1943 and making the All-Star team in 1945. With the Yankees, though, he blossomed, going 131-60 over eight seasons, while racking up 49 saves. He played on six World Series winners, and went 7-2 in the Fall Classic. In 1951, he threw two no-hitters, and in 1952 he led the league in both ERA and strikeouts.
Joe Gordon, a second baseman who was the 1942 AL MVP, did have three fine seasons for the Indians -- including 1948, when he hit .280 with 32 home runs and 124 RBI for Cleveland's World Series champs. But he retired after the 1950 season.
9. Dec. 7, 1995: Tino Martinez, Jeff Nelson and Jim Mecir from Mariners for Sterling Hitchcock and Russ Davis
In his six seasons with the Yankees, from 1996 to 2001, Martinez was terrific, blasting 175 home runs and driving in 690 runs. He was a mainstay of the late-1990s Yankee dynasty. Nelson was great as a setup man for Mariano Rivera, averaging 61 appearances during five seasons in New York with a fine ERA.
For those two quality players, the Bombers gave up Hitchcock, a below-average journeyman pitcher, and Davis, a third baseman who never reached his potential with the M's.
8. Dec. 11, 1975: Willie Randolph, Ken Brett and Dock Ellis from Pirates for Doc Medich
In Medich, the Yankees didn't give up much; he went 49-40 in his three full seasons in the Bronx, and was an average pitcher. After leaving the Yankees, he went on to have an average career with several teams.
For mediocrity, the Yankees got Randolph, who became their regular second baseman for 13 seasons and was a five-time All-Star. Randolph could get on base (he led the league in walks in 1980 and was usually in the top 10), steal (he stole 30+ each season between 1978-1980), and he always had a solid, if unspectacular, batting average.
They also got Dock Ellis, who gave them one terrific season in 1976, going 17-8 with a 3.19 ERA before the Yankees dealt him to Texas in 1977.
7. Nov. 3, 1992: Paul O'Neill from Reds for Roberto Kelly and Joe DeBerry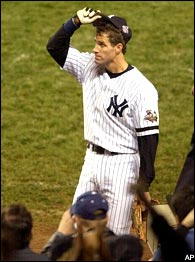 Paul O'Neill became one of the all-time beloved Yankees after being traded by Cincinnati to New York.
O'Neill. an outfielder, was good, but not great, with the Reds -- his batting average topped out at .276, and his best power season came in 1991, when he hit 28 homers and drove in 91 runs. By the time he played his first game as a Yankee, he was already 30 years old.
But with the Yanks, O'Neill flourished. He hit .300+ his first six seasons, and had 100+ RBI four years in a row. In 1994, he led the AL in batting with a .359 average. As a Bomber, he was a four-time All-Star. When he retired after the 2001 season, O'Neill had the fifth-highest career average in Yankee history: .317.
The Reds weren't totally trounced in the deal -- Kelly hit .300+ for them and made the All-Star team, but he was in Cincy for less than a year and became a baseball vagabond, playing for Atlanta, Los Angeles, Minnesota, Seattle and Texas before returning, briefly, to the Yankees in 2001.
Joe DeBerry never made it to the majors.
6. Feb. 24, 1948: Ed Lopat from White Sox for Aaron Robinson, Fred Bradley and Bill Wight
The Yankees gave up almost nothing for Lopat, who in four seasons with the White Sox had established himself as a very good starter.
With the Yankees, Lopat went from very good to great. In 7+ seasons in the Bronx, he won 113 games and lost only 59, and could be counted on to be among the AL leaders in complete games, shutouts, ERA, complete games and innings pitched. He was always one of the best control pitchers in the game.
In the Yankees' five straight World Series wins between 1949 and 1953, Lopat also came through, going 4-1 with a 2.70 ERA in seven starts.
Wight, a pitcher who was the big prize for the White Sox, would have an unremarkable 12-year career in the majors; he had one lousy year and two very good ones in Chicago before being traded to the Red Sox.
5. May 6, 1930: Red Ruffing from Red Sox for Cedric Durst and $50,000
Three days after he turned 26, Red Ruffing got the greatest birthday present in the world -- he was traded from the Red Sox, who'd settled into the celler during Ruffing's five full seasons in Boston, to the mighty Yankees.
It's one of the greatest turnaround stories in baseball history -- not only did Ruffing go from the worst team to the best team, he also went from being a bad pitcher to a great one. In his five seasons in Boston, the right-hander was a miserable 39-96. In New York, he went 15-5 in 1930 (after starting the season 0-3 with the BoSox), and would average 15 wins a season during his 15 years with the Yankees, running up four 20-win seasons in a row in the late 1930s. He was a six-time All-Star, finished in the top eight in MVP voting three times, pitched in seven World Series (the Yanks won six of them), and had a World Series record of 7-2 with a 2.63 ERA.
Ruffing was also one of the greatest hitting pitchers ever, hitting over .300 eight times and compiling a .269 liftetime batting average.
Durst played 102 games for the Red Sox in 1930 and never played in the majors again.
4. March 22, 1972: Sparky Lyle from Red Sox for Danny Cater and Mario Guerrero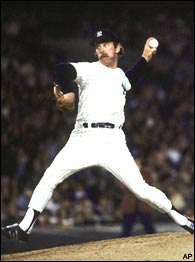 Sparky Lyle -- one of the many players the Yankees have stolen from the Red Sox.
Lyle was Boston's relief ace from his sophomore campaign in 1968 until he was traded to the Yankees during spring training in 1972. In four straight years with the BoSox, he finished in the top seven in the AL in saves.
Cater could hit for average -- in a good year -- but didn't do much else. And Guerrero, who pounded seven home runs in eight major-league seasons, was a throw-in.
In other words, the Yankees stole Lyle. He pitched seven seasons in the Bronx, going 57-40 with a 2.41 ERA while compiling 141 saves. He was a three-time All-Star and led the AL in saves twice. In his first season with the Yankees, he had a miniscule 1.92 ERA and finished third in the MVP voting, which no doubt made Bostonians wince.
Oh -- Lyle also won the AL Cy Young Award in 1977, the first AL reliever to do so.
3. Nov. 27, 1972: Graig Nettles and Gerry Moses from Indians for John Ellis, Charlie Spikes, Rusty Torres and Jerry Kenny
In 11 seasons in the Bronx, Nettles was a six-time All-Star, won Gold Gloves in 1977 and 1978, and was a key to the Yankees' World Series titles in 1977 and 1978. During that time, he hit 240 home runs, leading the AL in 1976 with 32. He'd go on to set an AL record for third basemen by hitting 319 home runs.
You could argue that the Yankees wouldn't have won it all in 1977 without Nettles. He hit .255 with 37 home runs and 107 RBI, finishing the season with a .496 slugging percentage. Those slugging numbers were all career highs.
In return the Yankees didn't give up much. Kenny played in just a handful of games for the Indians. Torres battled to hit over the Mendoza line -- and lost. Ellis played three decent seasons in Cleveland before he was dealt to the Rangers. Spikes hit 45 homers and drove in 153 runs in his first two seasons with Cleveland, but his career headed way, way south after that.
2. Dec. 11, 1959: Roger Maris, Joe DeMaestri, and Kent Hadley from A's for Hank Bauer, Norm Siebern, Don Larsen and Marv Throneberry
In Maris the Yankees got the 1960 and 1961 AL MVP -- and the man who would break Babe Ruth's single-season home-run record in 1961. In 1962, he had another great year, with 33 home runs and 100 RBI. Though Maris's production started to decline in 1963 because of a hand injury, he would play seven seasons for the Yankees and hit 203 home runs for a team that made it to five straight World Series.
For Maris the Yankees gave up Bauer, a three-time All-Star who was well past his prime; he retired after the 1961 season after doing little for the A's. Larsen, a mediocre pitcher despite his famous perfect game, had the worst season of his career in Kansas City, going 1-10 with a 5.38 ERA; he was dealt to the ChiSox in 1961. Marvelous Marv would eventually return to New York as a Met, and he'd gain his everlasting fame at the Polo Grounds.
Seibern was the prize for the A's -- he went on to be a three-time All-Star for Kansas City, and had a great 1962 season, hitting .308 with 25 HR and 117 RBI.
1. Dec. 26, 1919: Babe Ruth from Red Sox for $125K and a $300K loan
The Yankees put off announcing the deal until Jan. 5, 1920, when the Babe agreed to a two-year, $40,000 contract -- double his Red Sox salary.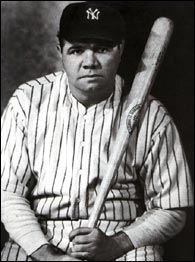 Babe Ruth has haunted Boston ever since.
Boston owner Harry Frazee defended the sale, saying, "Ruth had become simply impossible and the Boston Club could no longer put up with his eccentricities." Some Red Sox fans agreed with Frazee, arguing that the Sox could make up for the loss of Ruth.
But most were appalled. One Boston newspaper featured a photo of a darkened Fenway Park with a sign "Building Lots for Sale."
The Boston Post railed against the deal. "This is not the first time that Boston baseball has been shocked by the sale of a wonderful player -- Cy Young and Tris Speaker went their ways, much to the disgust of the faithful, but the club did not suffer materially. But Ruth is different. He is of a class of ball players that flashes across the firmament once in a great while ... "
And New York? One word: giddy. "The New York club made a ten-strike which will be received with the greatest enthusiasm by Manhattan baseball fans," reported the New York Times.
You know the rest.
ALSO RECEIVING VOTES
Dec. 7, 1973: Lou Piniella and Ken Wright from Royals for Lindy McDaniel
July 28, 1995: David Cone from Blue Jays for minor league pitchers Marty Janzen, Jason Jarvis and Mike Gordon
April 27, 1974: Chris Chambliss, Dick Tidrow and Cecil Upshaw from Indians for Fritz Peterson, Steve Kline, Fred Beene and Tom Busky
Dec. 11, 1975: Mickey Rivers and Ed Figueroa from Angels for Bobby Bonds
Dec. 15, 1920: Waite Hoyt, Mike McNally, Wally Schang and Harry Harper from Red Sox for Del Pratt, Sam Vick, Muddy Ruel and Herb Thormahlen