Single page view
By Jeff Merron
Page 2 staff
The Pistons are down two games to one, and Larry Brown's already thinking about how the Cavs will make their 2005-06 playoff run? Talk about distractions.
It happens, though. There's plenty of drama in the short playoff confrontations, but sometimes more goes on off the court than on. A couple years back, there was a bar brawl involving A's pitcher Tim Hudson, and the BALCO revelation about Jason Giambi. Last year we had Curt Schilling's ankle injury. So where does Brown's decision rank among the all-time postseason distractions? We'd put it pretty high up there, but of course, the jury is still out.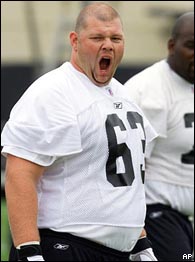 Robbins' pre-Super Bowl problems were an omen for Oakland's rough day.
1. Barret Robbins goes AWOL before Super Bowl XXXVII
Could anything be more distracting than your All-Pro center's disappearing two days before the Super Bowl? Robbins missed many practices during the 2002 season, and head coach Bill Callahan wanted to bench him, but the proposed move was vetoed by owner Al Davis. Some said Robbins appeared withdrawn throughout Super Bowl week, and even though the team tried to watch him, he slipped out – disappearing all day Saturday on a drinking binge in Tijuana and Pacific Beach.
Robbins contacted the team late Saturday, and team officials told him he couldn't play in the Super Bowl. Robbins, suffering from alcohol poisoning, was hospitalized under a suicide watch.
The Raiders lost to the Bucs and Robbins was later treated for bipolar disorder and alcohol abuse.
2. George Brett's hemorrhoids during 1980 World Series
Brett's backside provided some comic relief during the 1980 Phillies-Royals World Series, though not to the third baseman, who first began suffering from hemorrhoids during the ALCS against the Yankees. In fact, he was able to play only five innings of Game 1 in Philly.
But still, the quips were – pardon the pun – endless. Reporters grilled Mike Schmidt on the brand of ointment he sent over to Brett. They asked Schmidt why he had hemorrhoid ointment in the first place, and when the Phillies third baseman admitted he had the condition throughout the 1975 season, he had to suffer questions about whether third basemen were especially prone to the condition.
Then there were jokes about Brett's renegotiating his contract to include a no-slide clause.
"It's not funny," Brett said after Game 1. "I feel disgruntled. Why me? Why not someone else?''
Between Games 2 and 3, Brett had an operation to relieve the condition and was able to finish the series. In six games, he batted .375 with a homer, three RBI, and even a stolen base.
3. Irving Fryar's wife slashes his hand before AFC title game
Four days before the Pats faced the Dolphins in the 1986 AFC Championship Game in Miami, Irving Fryar, a wide receiver and the best punt returner in the NFL, cut two fingers and had his hand put in a cast. Pats general manager Patrick Sullivan said it was a freak accident: "This morning, he was putting a kitchen knife back in the drawer. … It slipped and cut his hand."
Despite the fact that this explanation defied logic, newspapers reported it without comment.