By Jeff Merron
Page 2 staff
The Pistons are down two games to one, and Larry Brown's already thinking about how the Cavs will make their 2005-06 playoff run? Talk about distractions.
It happens, though. There's plenty of drama in the short playoff confrontations, but sometimes more goes on off the court than on. A couple years back, there was a bar brawl involving A's pitcher Tim Hudson, and the BALCO revelation about Jason Giambi. Last year we had Curt Schilling's ankle injury. So where does Brown's decision rank among the all-time postseason distractions? We'd put it pretty high up there, but of course, the jury is still out.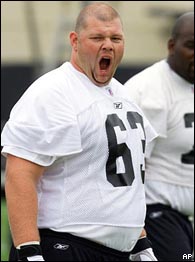 Robbins' pre-Super Bowl problems were an omen for Oakland's rough day.
1. Barret Robbins goes AWOL before Super Bowl XXXVII
Could anything be more distracting than your All-Pro center's disappearing two days before the Super Bowl? Robbins missed many practices during the 2002 season, and head coach Bill Callahan wanted to bench him, but the proposed move was vetoed by owner Al Davis. Some said Robbins appeared withdrawn throughout Super Bowl week, and even though the team tried to watch him, he slipped out – disappearing all day Saturday on a drinking binge in Tijuana and Pacific Beach.
Robbins contacted the team late Saturday, and team officials told him he couldn't play in the Super Bowl. Robbins, suffering from alcohol poisoning, was hospitalized under a suicide watch.
The Raiders lost to the Bucs and Robbins was later treated for bipolar disorder and alcohol abuse.
2. George Brett's hemorrhoids during 1980 World Series
Brett's backside provided some comic relief during the 1980 Phillies-Royals World Series, though not to the third baseman, who first began suffering from hemorrhoids during the ALCS against the Yankees. In fact, he was able to play only five innings of Game 1 in Philly.
But still, the quips were – pardon the pun – endless. Reporters grilled Mike Schmidt on the brand of ointment he sent over to Brett. They asked Schmidt why he had hemorrhoid ointment in the first place, and when the Phillies third baseman admitted he had the condition throughout the 1975 season, he had to suffer questions about whether third basemen were especially prone to the condition.
Then there were jokes about Brett's renegotiating his contract to include a no-slide clause.
"It's not funny," Brett said after Game 1. "I feel disgruntled. Why me? Why not someone else?''
Between Games 2 and 3, Brett had an operation to relieve the condition and was able to finish the series. In six games, he batted .375 with a homer, three RBI, and even a stolen base.
3. Irving Fryar's wife slashes his hand before AFC title game
Four days before the Pats faced the Dolphins in the 1986 AFC Championship Game in Miami, Irving Fryar, a wide receiver and the best punt returner in the NFL, cut two fingers and had his hand put in a cast. Pats general manager Patrick Sullivan said it was a freak accident: "This morning, he was putting a kitchen knife back in the drawer. … It slipped and cut his hand."
Despite the fact that this explanation defied logic, newspapers reported it without comment.
Fryar, who caught 39 passes and scored 10 TDs during the regular season, missed the Dolphins game but did play in the Super Bowl, scoring the Pats' lone TD.
The Boston Globe reported before the Super Bowl that the knife cut, which required six stitches, came during a fight between Fryar and his wife, Jacqueline. He knocked her down, the Globe reported, and she got up and slashed his hand. Both went to the hospital.
Fryar ended up making a remarkable turnaround in his life and enjoyed 17 years in the NFL. He retired in 2000 after 17 seasons, and is the sixth-leading receiver in league history with 851 career receptions.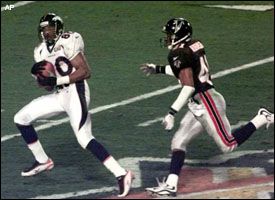 Eugene Robinson got burned by Denver's Rod Smith on this 80-yard TD pass in the second quarter.
4. Eugene Robinson hooks up before Super Bowl XXXIII
On the day before Super Bowl XXXIII in Miami, Falcons cornerback Eugene Robinson humbly accepted the Bart Starr Award from Athletes in Action, honoring his "high moral character." Hours later, an undercover cop posing as a prostitute arrested him after he agreed to exchange cash for oral sex. Robinson, after being bailed out of jail, started the game for the Falcons. But the encounter apparently took a toll. He got beat twice deep, one time by Denver's Rod Smith for an 80-yard TD.
Robinson returned the award, which, by the way, had been awarded to listmate Irving Fryar in 1998.
5. San Francisco quakes during 1989 Bay Series
There are few things more distracting than the ground literally shaking under your feet. That's what happened during the 1989 World Series. Just before Game 3, the first of the Series at Candlestick Park, an earthquake of 7.1 magnitude rocked San Francisco. It killed 67, caused billions of dollars in damage (it destroyed at least 60 buildings, ripped apart a section of the Bay Bridge, and tore up a mile of the Nimitz Freeway), and resulted in the Series' being delayed for 10 days.
6. Gamblers attempt bribe before 1946 NFL Championship
Giants star fullback Merle Hapes admitted, just before the 1946 championship game against the Bears, that he had been offered $2,500 to lose by more than the 10-point spread. Commissioner Bart Bell banned Hapes from playing, but Frank Filchock, the Giants' QB who would later admit to also being offered a bribe, played. Filchock threw six interceptions in the Giants' 24-14 loss.
Legendary Giants coach Steve Owen said his team learned about the bribe attempts just before the game, but said it didn't affect their play. According to the New York Times, "The Giants players in their dressing room before the game at first were stunned by the revelation of the attempted bribery of two of their number. This reaction gave way to indignation and cold rage by game time and they came out fighting mad."
Hapes never played again, and Filchock played in only one more game, four years later for the Baltimore Colts. Neither was accused of accepting a bribe and neither was officially banned.
7. Rumors swirl around Parcells
While leading the Patriots into the 1997 Super Bowl against the Packers, it was clear that Parcells was unhappy and that his situation with owner Bob Kraft had soured. The Jets were looking for a coach and rumors were Parcells was the guy they wanted. Five days after the Patriots lost to the Packers, Parcells did quit and joined the Jets.
8. Terrell Owens' broken leg
When the Eagles' star receiver fractured his leg and suffered a severely sprained ankle late in the 2004 regular season, his playing status became an ongoing issue for the Eagles throughout the playoffs. Remarkably, he returned in time for the Super Bowl and had nine catches for 122 yards in Philly's 24-21 loss to New England.
9. Michael Jordan's Atlantic City relaxation trip
Between Games 1 and 2 of the Eastern Conference finals between the Knicks and the Bulls in 1993, Jordan took a trip to Atlantic City, and according to some reports, was spotted in a casino as late as 2:30 a.m. This with a Bulls shootaround scheduled for 10 a.m. that same morning.
Jordan admitted going to Atlantic City, but said he was just relaxing and got plenty of rest and sleep. "I left [the casino] at 11:04," said Jordan. "[The drive back took] an hour and a half. That's 12:30. I was in bed by 1 o'clock. I got eight hours of sleep. Went to [the shootaround] at 9:45."
Jordan's outing also raised eyebrows because just seven months earlier he admitted having paid James (Slim) Bouler $165,000 to erase gambling debts. It also raised questions about his devotion to his teammates after he went only 12-for-32 in Game 2, missing eight of his last 10 shots as the Knicks won.
MJ's Atlantic City run created a New York-style media frenzy, and was a bit of a distraction to Jordan and his teammates, but Phil Jackson defended Jordan and said he'd continue with his no-curfew policy. And the Bulls won the series.
10. George Allen imposes curfew before Super Bowl VII
Sometimes the greatest distraction can be having no distractions at all, especially during the pressure-packed week preceding the Super Bowl. One example of this: Redskins head coach George Allen's strictures before Super Bowl VII. Redskin Roosevelt Taylor went so far as to say that Allen's curfew was the reason the Redskins lost.
"He screwed up the whole damned week," Taylor said. "We got there being confined by curfew one night a week during the season. We get out there, and there's curfew every night. We had to eat every meal together, you went to practice together, to the press conferences together. George really hated Los Angeles. He got that from George Halas. Halas used to call L.A. the 'sex-pool' of America. George believed it too.
"So the whole week became a boring thing. Even though we worked hard, the boredom carried over to the game. … It sure didn't help us."
Also receiving votes:

Vince Carter attends graduation ceremony at North Carolina on morning of Game 7 of playoff series
Michigan coach Bill Frieder quits just before 1989 NCAA Tournament
Bengals running back Stanley Wilson disappears the night before Super Bowl XXIII and is found in a cocaine stupor by police.
Fix rumors float during 1919 World Series

Note: Most of this list was originally published on Oct. 22, 2003.