By Jeff Merron
Page 2 staff
Fifteen seconds left on the clock. Your team's down by one or two in an NCAA Tournament game. Who would you want to have that last shot, if you had your choice of any college basketball player in history? Easy question, but a hard answer for a coach who has the deepest bench of all time. But we'll make the calls:
10. Austin Carr, Notre Dame
Carr played in only seven Tourney games between 1969 and 1971 -- the Irish never made it to the Final Four during his career -- but there's been no greater pure scorer in Big Dance history. In the first round against Ohio in 1970, he set a Tournament record that still stands, scoring 61 points (25 for 44 and 11 for 14). Then he poured in 52 against Kentucky and 45 against Iowa, for a record average of 52.7 ppg, 11 more than the man who's second in the record books -- Austin Carr (he averaged 41.7 points in 1971). Despite Notre Dame's early exit in 1970, Carr was named the tourney's Most Outstanding Player.
9. Donald Williams, North Carolina
If you're talking three to tie or win, Williams is your man. In the 1993 Final Four he set the record for 3-point percentage in both the semis and the finals, shooting 5 for 7 from behind the arc in both games, and in his 15-game Tournament career, he's third on the all-time list, with 38 3-pointers. Without Williams' perimeter shooting in '93, UNC wouldn't have won it all.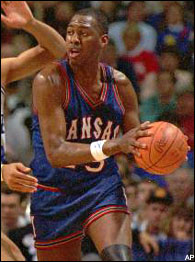 Manning led the unranked Jayhawks to the title in 1988.
8. Danny Manning, Kansas
Kansas was unranked going into the 1988 NCAA Tournament, but the Jayhawks made it to the Final Four, where Manning carried the team to an improbable title. He scored 25 points in the semifinal and 31 points -- including four free throws in the final 14 seconds -- as Kansas surprised Oklahoma 83-79 in the championship. "Manning raised the standard of play to a level rarely approached in college basketball," wrote John Harris in the St. Petersburg Times. He "was undeniably brilliant in the spotlight."
7. Larry Bird, Indiana State
Bird got only one Tournament to show his chops, but that was enough. He dominated the 1979 Dance, leading all scorers with a 27.2 average. DePaul couldn't stop him in the semifinals, as he went 16 for 19 from the floor, scoring 35 points in the Sycamores' 76-74 win. In the Magic final against Michigan State, despite being double-teamed, he single-handedly kept Indiana State in the game.
6. Bill Bradley, Princeton
In nine Tournament games between 1963 and 1965, the Princeton sharpshooter scored 303 points, averaging 33.7 a game -- the third-highest average in Tourney history. He could score from outside, but in a last-second situation, he'd be the man you'd want at the foul line, too, since he was ice come Tournament time, sinking 91 percent of his free throws.
In the 1965 third-place game, he scored 58 points, which remains No. 2 behind Carr's 61. Princeton walloped Wichita State 118-82 in what was Bradley's final college game. "That was the greatest exhibition I ever saw," referee Bob Korte told Bradley after the contest ended. "It was a pleasure to watch, and I wanted to thank you."
5. Glen Rice, Michigan
In 1989, Rice was simply unstoppable, setting a Tournament record with 184 points -- including 27 3-pointers (another record) in six games.
College Hoops: List Mania
Page 2 is all caught up in March Madness! We love our brackets, but we also love our lists. Over the next few weeks, don't miss out on these other top-10 college hoops lists:
Wednesday, March 17: Best Cinderella stories in Tournament history
Wednesday, March 24: Best regional matchup games
Friday, April 2: Best individual performance in the Final Four
Even before the Tournament ended with Michigan beating Seton Hall in OT, Illinois coach Lou Henson couldn't praise Rice enough. "Do you realize how good he is? We've gone through games and barely got that many points. This guy is unbelievable. Back during the year, he did such a great job, so it's hard to imagine he's playing with even more confidence. But you know, he really is. When he gets rolling, he just knows it's going in. I don't know if I've ever seen a player play any better during a stretch of time."
4. Jerry Lucas, Ohio State
Twice the Tournament's Most Outstanding Player, Lucas dominated as few have before or since. In 1961, in the semifinal against Saint Joseph's, he went 10 for 11 from the field, the second-highest shooting percentage in Final Four history. With Lucas, Ohio State played in three straight finals, winning in 1960. And Lucas, in his three seasons as a varsity player, led the nation in field-goal percentage each year: 1960 (.637), 1961 (.623), and 1962 (.611). That kind of reliability and big-game experience is exactly what we want come clutch time.
3. Lew Alcindor, UCLA
This wasn't a tough call, even though Alcindor doesn't have much history as a college buzzer-beater. Here's why: opponents simply didn't get close enough to challenge the Bruins. In his first NCAA Tourney, in 1967, "LewCLA" trounced Houston and Elvin Hayes in the semis, 73-58, and then Dayton, 79 to 64.
In his junior season, the Bruins simply humiliated Hayes's Cougars, 101-69 in the semis, and Alcindor scored 34 points in a 78-55 championship victory over North Carolina. And as a senior, the Bruins again romped in the final, beating Indiana 92-72.
Alcindor was named the tourney's Most Outstanding Player all three years. Despite his lack of last-second college credentials, we've no doubt the agile big man would deliver with the game on the line.
2. Bill Walton, UCLA
Despite being double- and triple-teamed much of the time, Walton holds the record for highest career Tournament field-goal percentage. In 12 games between 1972 and 1974, he shot 109 of 159 from the field, or 68.6 percent. In the 1973 tourney, he hit 45 of 59 from the field. This run included a 21-for-22 performance against Memphis State in the championship game, for a record 44 points, despite the fact he was in foul trouble most of the game.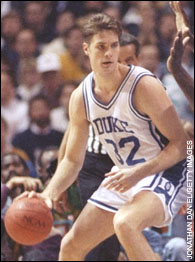 Laettner's clutch shooting helped Duke win back-to-back titles in '91 and '92.
"They just couldn't handle the big fellow from La Mesa, Calif., who zipped back and forth across the lane at the low post as if he was under six feet tall," wrote Gordon S. White Jr. in the New York Times. "He took in high and low passes ... and scored by outreaching his defenders."
1. Christian Laettner, Duke
Come Tournament time, nobody was more reliable than Laettner. In the 1992 East Regional Final against Kentucky, one of the greatest games in college basketball history, he scored the last eight points for Duke, including the game-winning 18-foot jumper to give the Blue Devils a 104-103 OT win. Laettner was perfect all around that day, going 10 for 10 from the field and 10 for 10 from the stripe.
Laettner also hit a jumper from just inside the 3-point line, on a give-and-go as time ran out, to lift Duke to a 79-78 win over Connecticut in the 1990 East Regional final. No question about it: he was a great clutch shooter.
Also receiving votes:
Michael Jordan, North Carolina
Jack Givens, Kentucky
Scott May, Indiana
Kent Benson, Indiana
David Thompson, N.C. State
Sidney Wicks, UCLA
Oscar Robertson, Cincinnati
Jerry West, West Virginia
Wilt Chamberlain, Kansas
Thanks to Chris Fallica for his research assistance.