By Jeff Merron
Page 2
The 2003 Oakland A's, with the Barry Zito/Mark Mulder/Tim Hudson nucleus, had one of the best pitching rotations in recent history. But with Mulder and Hudson gone with the wind, history won't repeat. Meanwhile, it looks like a new fearsome foursome (or threesome or fivesome) is brewing in the Bronx, with Randy Johnson Carl Pavano and Jaret Wright joining Mike Mussina and Kevin Brown.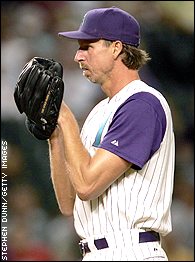 The Big Unit will take the Yankees to new heights on the mound.
Will the 2005 Yankees rotation rank among the best in baseball history? The going won't be easy. To be among the best, you need to be good and deep; three All-Star-caliber starters having All-Star -caliber seasons is the minimum requirement. And a solid (if not great) No. 4 is necessary. A healthy dollop of good luck (few injuries, stars align) helps a whole lot, too.
The focus here is on single-season performance, not reputation or future honors. And to make things a tad more interesting, I've decided to not list an entire slate of 1990s Braves, 1980s Mets, 1970s Orioles, 1960s Dodgers or 1950s Indians rotations that were great year after year.
10. 1964 Chicago White Sox
Gary Peters (20-8, 2.50), Juan Pizarro (19-9, 2.56), Joe Horlen (13-9, 1.88), John Buzhardt (10-8, 2.98)
Peters, Pizarro and Horlen finished 2-3-5 in ERA, and all got votes for AL MVP. The ChiSox finished only a game behind the Yankees (and a game ahead of the Orioles) in a tight pennant race, despite a weak offense. Peters was the only strikeout pitcher in the bunch (his 205 were fourth in the AL), but this was a control staff that was very stingy with the walks and hits.
9. 1927 New York Yankees
Waite Hoyt (22-7, 2.63), Urban Shocker (18-6, 2.84), Herb Pennock (19-8, 3.00), Dutch Ruether (13-6, 3.38), George Pipgras (10-3, 4.11)
Hoyt and Shocker finished 2-3 in ERA, with Pennock 8th. The five starters had a combined 3.13 ERA, more than a run under the 1927 AL average. (Add in the 12 starts of closer Wilcy Moore, who went 19-7 with a 2.28 ERA, and that number would almost certainly drop.) Hoyt and Pennock were future (if marginal) Hall of Famers. The Yankees ran away with the AL pennant with 110 wins and then swept the Pirates in four games in the World Series, surrendering only eight runs.
8. Mid-late 1930s Kansas City Monarchs
Satchel Paige, Hilton Smith, Lefty Bryant, Chet "Dooflackem" Brewer
It's hard to find season-by-season stats, but between 1937 and 1943, the Monarchs won six pennants and boasted perhaps the greatest 1-2 pitching combo in pro baseball history with Hall of Famers Satchel Paige and Hilton Smith. Smith compiled marks of 25-2, 21-3, 25-1 and 22-5 between 1939 and 1942, and many of his contemporaries considered Smith to be as good as, or better than, Paige. Chet Brewer, part of the Monarchs' rotation during some of this period, is also considered one of the best pitchers in Negro League history.
7. 1954 Cleveland Indians
Early Wynn (23-11, 2.73), Mike Garcia (19-8, 2.64), Bob Lemon (23-7, 2.72), Art Houtteman (15-7, 3.35), Bob Feller (13-3, 3.09)
When your team piles up 111 wins, it's inevitable that the starters are going to pile up impressive W-L records. But the wins were deserved: Garcia, Lemon, and Wynn finished 1-3-4 in the league ERA standings, and 1-3-4 in adjusted ERA+. Lemon was first and Wynn third in complete games, and Garcia tied for the AL lead with five shutouts. Their combined ERA was 2.86, compared to a league average of 3.72.
This was an old staff, with an average age of 32, but who wouldn't take an older staff with three future Hall of Famers (Wynn, Lemon and Feller)? The starters got hammered when the Giants swept them in the World Series, but with the Indians' hitters mustering only nine runs, even their best efforts might have been doomed.
6. 1954 New York Giants
Johnny Antonelli (21-7, 2.30), Ruben Gomez (17-9, 2.88), Sal Maglie (14-6, 3.26), Don Liddle (9-4, 3.06), Jim Hearn (8-8, 4.15)
When I think of the 1954 Giants, two players and two things come immediately to mind. Willie Mays and Dusty Rhodes are the players. The Catch and The Sweep are the things. It wasn't until I dug into the numbers that I realized how great this pitching staff was: Antonelli, Gomez and Maglie finished 1-4-8 in ERA, and Liddle and Hearn combined to make a solid fourth starter. Add in an extraordinary World Series performance, and you've got one of the best.
Note: The 1954 Milwaukee Braves also had a crack starting three: Warren Spahn, Lew Burdette,and Gene Conley were right up there with the Giants' top three, and their 4-5 combo of Chet Nichols and Jim Wilson was solid. Which makes 1954 an awesome year for starting rotations.
5. 1966 Los Angeles Dodgers
Sandy Koufax (27-9, 1.73), Don Drysdale (13-16, 3.42), Claude Osteen (17-14, 2.85), Don Sutton (12-12, 2.99)
Won-lost records can be deceiving, eh? Take away Koufax, and you've got a .500 rotation. But you've also got a rotation with a 2.68 ERA, almost a full run under the NL average, four starters who combined for 840 strikeouts, and was the stingiest in surrendering hits. A staff (including relievers) that had both the most K's and the fewest walks in the league. Koufax, Drysdale and Sutton would go on to Cooperstown.
Coda: The Dodgers got swept by the Orioles in the 1966 World Series, scoring only two runs total -- both in Game 1.
4. 1993 Atlanta Braves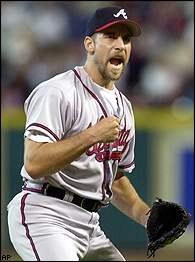 Maddux and Glavine are gone, but John Smoltz is still in Atlanta -- and he'll be rejoining the starting rotation this year.
Greg Maddux (20-10, 2.36), Tom Glavine (22-6, 3.20), Steve Avery (18-6, 2.94), John Smoltz (15-11, 3.62)
Three members of this rotation -- Glavine, Avery and Smoltz -- were named to the 1993 All-Star team; Maddux wasn't an All-Star, but surely the Cy Young Award he received after the season was a consolation.
The Braves' entire staff combined for a league-leading 3.14 ERA, .35 lower than the second-best NL team in 1993. The four combined to throw 972 innings, leaving fifth starter Pete Smith with a measly 14 starts and 90 IP (a good thing, considering Smith's ability). Maddux led the league in ERA, Glavine tied for the league lead in wins, Smoltz was second and Maddux third in K's. The four were among the six NL pitchers who started 35 or 36 games. Maddux led in complete games. Best of all -- this was one of the youngest staffs in baseball, and the core had a future so bright they had to wear shades.
3. 1986 New York Mets
Ron Darling (15-6, 2.81), Dwight Gooden (17-6, 2.84), Sid Fernandez (16-6, 3.52), Bob Ojeda (18-5, 2.57), Rick Aguilera (10-7, 3.88)
Some folks argue the 1985 or the 1988 Mets starters were more solid than the 1986 staff, but I'll pick 1986. Each of the top four starters pitched 200+ innings. Gooden and Fernandez struck out 200 batters apiece. Ojeda, Darling and Gooden had the 2nd-, 3rd- and 5th-lowest ERAs in the NL. Fernandez, Gooden and Darling were among the top 7 in NL strikeouts. Ojeda, Darling and Gooden were all among the league leaders in adjusted ERA+, which accounts for, among other things, ballpark effects. And all four received votes for the Cy Young. Aguilera was a slightly below average pitcher in 1986, his second season, but an Aguilera start was no gimme. (He had the goods: Aguilera would go on to be a three-time All-Star as a reliever with the Twins in the early 1990s.)
2. 1971 Baltimore Orioles
Mike Cueller (20-9, 3.08), Pat Dobson (20-8, 2.90), Jim Palmer (20-9, 2.68), Dave McNally (21-5, 2.68)
The only rotation since the 1920 White Sox to have four 20-game winners, and the wins were clearly deserved -- the four combined for a 2.89 ERA, almost a full run less than the 1971 AL average of 3.87. Palmer, McNally and Dobson finished 3-7-8 in ERA, and all four cracked the top 10 in wins (with McNally taking the winning percentage crown). Not a bad accomplishment, considering the consensus opinion, voiced by McNally: "The only thing [Earl] Weaver knows about pitching is that he couldn't hit it."
1. 1998 Atlanta Braves
Greg Maddux (18-9, 2.22), Tom Glavine (20-6, 2.47), Denny Neagle (16-11, 3.55), Kevin Millwood (17-8, 4.08), John Smoltz (17-3, 2.90)
You could easily argue that the 1996 or 1997 rotation was better, but the difference would be marginal. So let's look at 1998. The Braves' starting five combined for an ERA of 2.97 -- a stunning 1.27 lower than the NL average. They were stingy with hits, walks and homers. Maddux and Glavine had two of the top 10 pitching seasons in the history of the Braves franchise. Maddux, Glavine and Smoltz finished 1-3-6 in ERA. Glavine, the NL's only 20-game winner, captured the NL Cy Young Award, and Maddux and Smoltz tied for fourth in the voting. All five starters were among the top 10 in wins.
Also receiving votes:
1988 Mets: David Cone (20-3, 2.22), Dwight Gooden (18-9, 3.19), Ron Darling (17-9, 3.25), Sid Fernandez (12-10, 3.03), Bob Ojeda (10-13, 2.88)
2003 A's: Barry Zito (14-12, 3.30), Tim Hudson (16-7, 2.70), Ted Lilly (12-10, 4.34), Mark Mulder (15-9, 3.13)
2002 Braves: Tom Glavine (18-11, 2.96), Greg Maddux (16-6, 2.62), Kevin Millwood (18-8, 3.24), Damian Moss (12-6, 3.42)
1929 A's: Lefty Grove (20-6, 2.82), George Earnshaw (24-8, 2.82), Rube Walberg (18-11, 3.59), Jack Quinn (11-9, 3.97)
1954 Braves: Warren Spahn (21-12, 3.14), Lew Burdette (15-14, 2.76), Gene Conley (14-9, 2.96), Chet Nichols (9-11, 4.41), Jim Wilson (8-2, 3.52)
1972 A's: Ken Holtzman (19-11, 2.51), Catfish Hunter (21-7, 2.04), Blue Moon Odom (15-6, 2.50), Vida Blue (6-10, 2.80), Dave Hamilton (6-6, 2.93)