By Jeff Merron
Page 2
There's more of an aura around pre-game national anthems than ever before. There's anticipation about who's going to sing the anthem on Opening Day, at the Super Bowl, before the Indy 500. All the time, the video is rolling, and anthems have become news events and entertainment spectacles in and of themselves. Even if we weren't there in person, even if they weren't broadcast live, we've all had the chance to see the best -- and the worst.
10. Smokey Robinson, World Series (Game 5), Oct. 23, 1986
His rendition at Fenway Park was one of the best ever.
9. Aerosmith, Indianapolis 500, May 27, 2001
Aerosmith lead singer Steven Tyler changed the final line to "home of the Indianapolis 500," drawing the wrath of veterans. He apologized the next day.
8. Bleeding Gums Murphy
In the second season of "The Simpsons," the "Dancin' Homer" episode, Springfield resident and jazz musician Bleeding Gums Murphy played a rendition before a Springfield Isotopes baseball game. It lasted 26 minutes, according to the stadium clock.
7. Carl Lewis, New Jersey Nets home game, January 21, 1993
The great track star ripped off a terrible rendition before a sellout crowd of 20,049 at the Brendan Byrne Meadowlands Arena, there to watch the Bulls play the Nets. His voice cracked while singing "rocket's red glare," after which he ad-libbed "uh-oh" into the lyrics, then paused before the final verse to tell fans "I'll make up for it now." He didn't, mangling the final verse.
6. Whitney Houston, Super Bowl XXV, Jan. 27, 1991
With the first Gulf War looming, she belted out a rendition that sold 750,000 copies in eight days. She was lip-synching.
5. Grover Washington Jr.'s tenor sax renditions for the Philadelphia 76ers
In the early 1980s, Washington, who recorded a song entitled, "Let It Flow (For Dr. J)," was both a good luck charm for the Sixers and one of the greatest national anthem players of all time.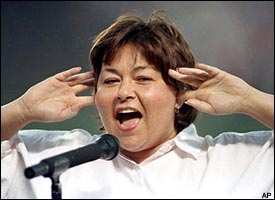 Does anyone even miss Roseanne?
4. Meat Loaf, MLB All-Star Game, July 12, 1994
His moving rendition in front of 59,568 fans at Three Rivers Stadium was widely praised.
3. Natalie Gilbert and Maurice Cheeks, NBA playoffs, April 25, 2003
Natalie Gilbert, 13, forgot the lyrics before an NBA playoff between Portland and Dallas. As she noticeably struggled, Portland coach Maurice Cheeks spontaneously left the bench area to give the girl an assist. He put his arm around her shoulders, and together they sang a duet that moved and inspired the crowd of 20,000 at the Rose Garden.
2. Marvin Gaye, 1983 NBA All-Star Game, Feb. 13, 1983
His soulful, funky, 2:35 rendition had the crowd at the Forum in Inglewood clapping and swaying. VH1 included it as one of the "100 Greatest Rock and Roll Moments on TV."
1. Roseanne Barr, San Diego Padres home game, July 25, 1990
Roseanne's screeching delivery before a Padres-Reds doubleheader, followed by obscene gestures, was so bad it merited comment by President George Bush, who called it "a disgrace."