By Jeff Merron
Page 2
They carry Ferrari price tags, but they're performing like Yugos. Some of these players (actually, just Chipper Jones and Shawn Green) were tough to put on this list, because therešs a pretty good chance that they'll turn things around the second half of the season.
And understand this: We generally agree with Jim Bouton, who said in 1993, "My position is that while the players don't deserve all that money, the owners don't deserve it any more."
10. Roger Cedeno, Cardinals ($5,375,000)
Cedeno, who's still got a year remaining on his four-year, $18 million contract, has been on the DL part of the season with a pulled left hammy, but that doesn't disguise the real problems. Cedeno is a mediocre batter who doesn't hit for power or draw walks. He can't steal bases like he used to. He received a four-game suspension for spraying an umpire during an overheated argument (it's pending appeal). Add to this Cedeno's recent guilty plea to misdemeanor recklessness in a car (sentence: one-year probation, one year sans driver's license). And what have you got? A very expensive backup player.
9. Bret Boone, Mariners ($8,000,000)
After three hypercharged seasons, Boone is, believe it or not, performing just about as well as can be predicted, if you look at his career stats. And that's not $8 million worth of hitting. With a .236 batting average and just 11 homers and 36 RBI, the highest-paid Mariner is a symbol for the weakest-hitting team in the AL.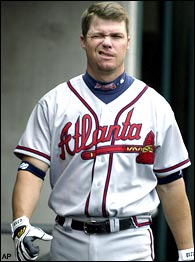 Chipper Jones has seen his batting average plummet this season.
8. Chipper Jones, Braves ($15,333,333)
Not long ago we were writing about how Derek Jeter was going through one of the worst superstar slumps of all time; now it's possible we were looking in the wrong direction. Jones, who's managed to play 61 games despite a DL stint and hamstring injury, is hitting .214, 91 points below his lifetime .305 average. His power numbers are also far below par. The switch-hitter, who sent for his father in June to help with his lefty swing, has also been ineffective from the right side of the plate.
7. Bobby Higginson, Tigers ($8,850,000)
The highest-paid Tiger had a career year in 2000, slugging 30 homers and driving in 102 runs, but hasn't approached those marks since. He hit an anemic .235 with 14 HR and 52 RBI in 2003, and has shown slight improvement this season, having boosted his batting average to .259, but with just 5 HR and 37 RBI.
The Tigers have made a dramatic turnaround from their disastrous 2003 season, but Higginson hasn't led the charge. And don't expect his performance to improve significantly -- Higginson seems to have found his level at the plate after 2000, and that level is mediocre.
6. Chan Ho Park, Rangers ($13,879,164)
The Rangers were so impressed by Park's 3.50 ERA in L.A. in 2001 that they tossed a five-year, $65 million deal at him. What have they gotten? In 2002, 145 innings and a 5.75 ERA. In 2003, 29 innings and a 7.58 ERA. In 2004, a 2-4 record and a 5.80 ERA. His back and hamstring injuries have been limiting, of course, but check out the first line of Stats Inc.'s 2004 outlook for Park: "Park actually may be of more value to the Rangers hurt than healthy." Ouch.
5. Kevin Millwood, Philllies ($11,000,000)
The Phillies picked up Millwood and expected him to be their staff ace, but he clearly doesn't have the goods to be a No. 1 starter. In his first six full seasons, he had one great year (1999, when he went 18-7 with a 2.68 ERA), and really excelled as a No. 4 starter, when he had the benefit of pitching behind Maddux, Glavine, and Smoltz.
This season, he's one of the worst regular starters in the NL, with a 6-5 record and 5.15 ERA. Even if he has a good second half, there's no way he'll get anything close to the 3-year, $30 million offer he rejected from the Phillies in the offseason.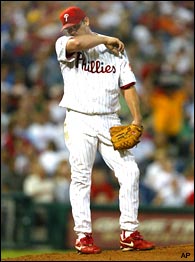 Kevin Millwod has hardly pitched like an ace this year.
In 2002, when the Braves dealt Millwood in exchange for Johnny Estrada, it was clearly a salary dump -- Atlanta was cutting payroll and wasn't willing to pay Millwood the big bucks. Everybody knew the trade was lopsided -- Johnny Estrada? -- and everybody was right, in the entirely wrong way. Estrada has been a rock as the Braves' catcher this season, hitting .333 with 26 doubles, 47 RBI and a .872 OPS. He's the most productive catcher in the NL, and an All-Star. His salary? $312,500.
4. Carlos Delgado, Blue Jays ($19,700,000)
Delgado parlayed his monster 2000 season into a four-year, $68 million deal. He's been DL'ed with a strained rib cage part of the season, but when healthy, he's been awful, hitting .223 with 10 HR, 36 RBI, and a .746 OPS. The Jays should get a whole lot more from the third-highest paid player in the majors.
3. Bartolo Colon, Angels ($11,000,000)
The highest-paid Angel (along with Vlad Guerrero) signed a fat four-year, $51 million contract in December. His 6-8 record and 6.38 ERA this year are entirely deserved; opponents have racked up an impressive .296 batting average against the Angels' "ace."
It's possible Colon will set a new major-league record this season -- for most home runs surrendered by a pitcher. The current mark of 50 is held by Bert Blyleven, who accomplished the feat in 271+ innings in 1986. Colon has given up 27 taters in just 104.1 innings.
Colon has been getting worse as the innings wear on his 5-11, 260-pound frame, something that Angels manager Mike Scioscia has failed to address. But ESPN's Dave Campbell, on a Sunday Night Baseball broadcast, has made his opinion clear: "It doesn't seem politically correct to tell somebody they're fat, but Bartolo Colon is fat, and so is Sidney Ponson.
"They both have a lot of money, and they need to push themselves away from the dinner table. I mean, after all these excuses about mechanics and all this -- well, they have tried to fix their mechanics. Try pushing your butt away from the table."
2. Mike Hampton, Braves ($12,975,288)
A perennial member (or contender) for most overpaid player in baseball, Hampton managed to parlay two great years with the Astros and Mets in 1999 and 2000 into an undeserved fortune. He's finished in the top 10 of Cy Young voting only once in his 11-year career, and although he's always been a slightly above average pitcher, that's certainly not enough to justify his bulging wallet.
Hampton, currently sporting a 4-8 record and a 5.11 ERA, is on the way to having his third horrible season in the past four years. But no matter how poorly he performs, he can look forward to another $55 million over the next four seasons.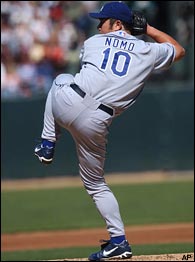 Hideo Nomo had a great start to his major league career, but it's been downhill ever since.
1. Four Dodgers ($44,070,000)
Darren Dreifort ($11,400,000)
Hideo Nomo ($9,000,000)
Shawn Green ($16,666,667)
Todd Hundley ($7,000,000)

The legacy of Kevin Malone -- the worst GM in baseball history? -- continues to sting the Dodgers, as reflected in their four highest-paid players.
Dreifort, on the wings of a decent few months in late 2000, snagged a 5-year, $55 million deal, and after being hobbled by injuries for most of the past three seasons, has returned -- as a reliever who's pitched just 38 innings with a 3.76 ERA.
Nomo's been even worse -- 3-10 with an 8.06 ERA. He's had shoulder problems, but even he dismisses them, saying "I've always experienced little things in my shoulder. I don't think the team should have put me on the DL earlier."
Back on May 22, Shawn Green was doing so poorly that Dodgers manager Jim Tracy benched him, theoretically to let the slumping outfielder "clear his mind." Green cited similar early-season slumps and said, "It helps to take a day off when things aren't going well." It hasn't helped much -- Green's hitting .253 with 10 HR, 41 RBI, and a .734 OPS.
And Hundley? He averaged less than 80 games a season between 1999 and 2003, and is out for this season. Which, considering three semi-seasons when he's hit sub-.190, is a blessing for the Dodgers.
Also receiving votes:
Mike Mussina
Sidney Ponson
Billy Koch