By Jeff Merron
Page 2
A tarp. A 12-year-old boy. Pine tar. A part-time groundskeeper. A 1-in-3,000 home run. And an umpire who kicked himself out -- because he couldn't see.
It's all happened when the league championships have been on the line. So we give you the strangest, the most bizarre, and the most improbable happenings in the 35-year history of the League Championship Series.
10. Grounds crew member rattles Nelson (Yankees vs. Red Sox, 2003 ALCS Game 3)
When Fenway grounds crew member Paul Williams was assigned to work the Yankees bullpen, he took the assignment to heart, rooting hard for the Red Sox and getting the goat of New York reliever Jeff Nelson. They brawled, other Yankees and right fielder Karim Garcia joined in, and after they were separated Williams was on his way to the hospital. According to the police report, he had suffered "injuries to his head, mouth and body (including what appeared to be numerous cleat marks)." According to Nelson, he was defending himself against Williams' spitting and cursing.
9. Whiskey, Rose, and peace (Mets vs. Reds, 1973 NLCS Game 3)
Pete Rose barreled into Buddy Harrelson, covering second, in an attempt to break up a fifth-inning double play, and the two scrappers brawled.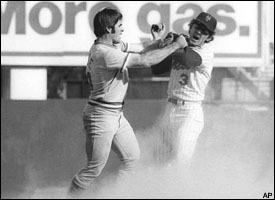 Oddsmakers favored Rose over the scrawny Harrelson.
Benches emptied. Perdo Borbon and Buzz Capra got into their own skirmish.
Borbon found himself, somehow, wearing a Mets cap, and he responded by ripping it in half with his teeth.
Rose, harassed by Mets fans in the left-field stands, left the field when fans threw all kinds of things, including a whiskey bottle, at him. An umpire suggested he relocate to center.
Finally, with the Mets facing a possible forfeit, Yogi Berra, Tom Seaver, Cleon Jones, and Rusty Staub joined Willie Mays in left field. There Mays stood and made a plea for peace. It worked. Game on. Mets won, 9-2.
8. Marvelous Marv Justice (Braves vs. Pirates, 1991 NLCS Game 5)
With the series tied at two games apiece in a scoreless game, Braves outfielder David Justice reached second base on a throwing error leading off the fourth inning. Two outs later, he was still on second. Then Mark Lemke hit a ground single to Barry Bonds in left; Bonds charged and threw, but Justice slid in under the tag at home. Safe.
But not really. Jay Bell had noticed that Justice missed the bag at third. He did all he could to get catcher Don Slaught's attention after the play at the plate. But Slaught didn't notice, because he was too busy arguing the call. He casually tossed the ball to Pirates pitcher Zane Smith, who threw to Bell at third. And Justice was called out. A 7-2-1-6 out.
Justice contended, after the 1-0 loss, that he'd grazed the bag (replays seemed to confirm this). But, said third-base ump Frank Pulli, "I was looking right at third base and Justice missed it by a foot."
7. Jay Howell's pine-tar adventure (Dodgers vs. Mets, 1988 NLCS Game 3)
In slippery wet, cold conditions at Shea, Jay Howell, the Dodgers' ace reliever, decided he'd put some pine tar on his glove to get a better grip. He had a grip on the rules: he knew what he was doing was illegal. Pitching in the eighth inning, he was caught. He was tossed. The Mets, down 4-3, scored five runs in the inning after Howell's ejection to win. Howell would get a three-day suspension.
No player had ever been ejected from a postseason game for cheating. The Shea crowd went wild, shouting, "L.A. Cheats! L.A. Cheats!"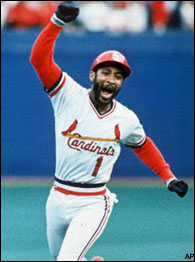 Jack Buck said it best: "Go crazy, folks! Go crazy!"
6. The Wizard's lefty tater (Cardinals vs. Dodgers, 1985 NLCS Game 5)
With the series even at two games apiece and the game tied 2-2, Ozzie Smith, a switch-hitter who'd come to bat left-handed 2,967 times in the majors leagues and had never hit a home run, hit a home run off Dodgers pitcher Tom Niedenfuer for a walkoff, 3-2 Cards victory.
Postgame interview with Cardinals manager Whitey Herzog, as recorded by L.A. Times reporter Mike Downey:
"What are you hoping Ozzie Smith will do when he comes to bat in that situation?"
Herzog: "I'm hoping he hits one out."
"But Ozzie had never hit one out left-handed in his life!"
Herzog: "I know. I been hoping for five years."
5. Knoblauch's blunder (Yankees vs. Indians, 1998 ALCS Game 2)
Game knotted at 1-1 in the top of the 12th, nobody out, Indians pinch-runner Enrique Wilson on first. Travis Fryman bunts. Tino Martinez charges, grabs, and fires to Chuck Knoblauch, covering first. The ball hits Fryman in the back just before he touches first. The ball rolls about 15 feet behind Knoblauch. Wilson's running. Fryman keeps running. Knoblauch stands and points, trying to get an interference call from the home-plate ump.
Pitcher Jeff Nelson yells for Knoblauch to get the ball. Martinez yells at Knoblauch. Everyone in the Yankee dugout yells at Knoblauch. The fans at Yankee stadium are screaming the obvious -- pick up the darned ball! Wilson scored. Fryman made it all the way to third. The Indians went up 2-1, won the game 4-1, and evened the series at one game each.
"It was so loud and so crazy, I didn't have any idea where the ball was," Knoblauch said. "After a little bit, I looked around and saw it back there."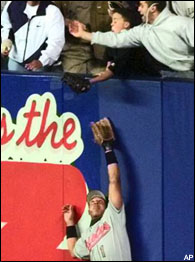 The legend of Derek Jeter began with this "home run."
4. Jeffrey Maier's assist (Yankees vs. Orioles, 1996 ALCS Game 1)
A week after "Jeffrey's Bar Mitzvah World Series," the 12-year-old boy sitting in the Yankee Stadium bleachers caught Derek Jeter's 8th inning fly before O's right fielder Tony Tarasco could get to it. Umpire Rich Garcia, making one of the worst calls in sports history, awarded Jeter the game-tying homer. (Later, after viewing the video, Garcia admitted he "probably would have called fan interference.")
Tarasco couldn't believe what he didn't see. "To me it was like a magic trick because the ball just disappeared out of midair ... Merlin must be in the house."
3. Historic first? Ump admits he can't see (Braves vs. Marlins, 1997 NLCS Game 6)
Veteran ump Frank Pulli, 62, started having problems seeing in the first inning, when, he said of a call he made with Chipper Jones at the plate, "I called it a strike and it was on the ground." After the fourth inning, Pulli talked to the other umps and then NL president Leonard Coleman, telling them of his cloudy vision. He was out of the game.
In an icing-on-the-cake aftermath, Pulli's absence required an ump shift. Eric "Wide right, wide left" Gregg, who'd been mercilessly booed from his right-field position for the first four frames (after his awful performance in Game 5), moved over to left, giving the Turner Field fans in those seats a chance to lay it on Gregg big time.
2. Down goes Zimmer! Down goes Zimmer! (Red Sox vs. Yankees, 2003 ALCS Game 3)
Woody Hayes may have been smiling in his grave, but aside from the infamous moment when the former Ohio State coach attempted to tackle an opposing player, it doesn't get much weirder than this.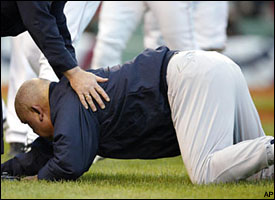 Zimmer went down, but suffered just minor bruises to the ego.
In the bottom of the fourth at Fenway, Don Zimmer, the 72-year-old Yankees bench coach, came charging out of the dugout during a big brawl and went straight for the Red Sox starting pitcher, Pedro Martinez, 31, who tossed him to the turf like a minor annoyance. It took a while for Zimmer to get up, but he only suffered a small cut. The next day he apologized in an emotional press conference.
1. Tarp swallows Vince Coleman (Dodgers vs. Cardinals, 1985 NLCS Game 4)
Two hours before the game, rain starts coming down. The grounds crew at Busch Stadium pushes the button to roll out the 1,200-pound automated tarp. "[Coleman] didn't see what was going on," said Terry Pendleton. "He turned around to toss his glove to a coach, and as he did, the tarp caught his foot. It sort of like swallowed him. It was a scary feeling, because there was nothing you could do but watch."
The tarp pinned the screaming Coleman, and was finally unraveled by six men. He suffered a badly bruised left leg and missed the rest of the LCS and World Series.