By Jeff Merron
Page 2
You'd have thought the Red Sox comeback in the ALCS would have exhausted this year's supply of baseball weirdness. But then, Sunday night, came Curt Schilling, bleeding (literally) what we have to call Boston red from his ankle, along with Bill Mueller's Marvelous Marv-like field play.
This is the stuff that makes baseball a great game.
10. The one with the delivery room (1990, Reds vs. A's)
Under ordinary circumstances, Marge Schott's boozy geography puzzler (see No. 6) would deliver enough weirdness for one World Series. But during the same game, Debbie, the wife of Reds pitcher Tom Browning, was having her own struggle.
With the Reds playing catch-up ball in Game 2, Cincy manager Lou Piniella told his pitching coach, Stan Williams, "Make sure Browning stays here." Lou was aware of Debbie's advanced stage of pregnancy.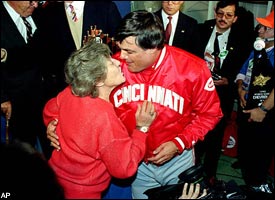 Poor Lou. Look what he had to do.
There had been a false alarm before, and Piniella thought he might need his scheduled Game 3 starter in relief. No go. In the eighth inning, he found out that Browning had left the ballpark to take Debbie, who had gone into labor, to the hospital.
Lou wasn't deterred, and he had his priorities. He had Reds radio broadcasters Marty Brenneman and Joe Nuxhall make an on-air call-out to get Browning to return. He also paged Debbie's pediatrician, saying the impending dad needed to be somewhere else for another sort of delivery.
It turned out to be no issue. The Reds didn't need Browning, and Debbie didn't give birth until after the game ended. "He woulda come back," Piniella said.
9. The one with the scalped tickets (1920, Giants vs. Indians)
Brooklyn pitcher Rube Marquard, who went 10-7 in 1920, was arrested and found guilty of ticket scalping before Game 7 in Cleveland. We're not sure if he actually pocketed the $350 he asked for six ducats, but he told the judge he was "joking" when someone came along and asked him for passes, and that he had bought tickets from another scalper for $275.
Marquard, a future Hall-of-Famer, was fined $1 and court costs, but his World Series share was held back by the National League (he eventually got it) and he incurred the final wrath of Robins president Charles Ebbets, who said, "I am through with him absolutely. He hasn't been released, and if anyone else wants him, he can have him. But Marquard will never again put on a Brooklyn uniform."
Ebbets traded the pitcher to the Reds the following February.
8. The one with the upside-down flag (1992, Braves vs. Blue Jays)
Well, Georgia wouldn't be Georgia if there wasn't a flag dispute, would it? This one began before Game 2 at Fulton County Stadium, a matchup against Toronto during the first international World Series.
The Marine Corps color guard made a small error: It carried the Canadian flag upside down. When the series shifted north of the border, Toronto vendors did a brisk business selling upside-down U.S. flags in the Skydome.
7. The one with the crazy judge (1961, Reds vs. Yankees)
With the Reds set to face off against the Yankees, Pennsylvania Supreme Court Justice Michael Musmanno had one big thing on his mind: the Cold War, and what a headline like "Reds Murder Yanks" might do to the Union. His letter to Reds manager Fred Hutchinson pleading for a name change went unheeded.
"America is in for some terrible scares," wrote Musmanno, imagining that the average newspaper reader was a complete idiot. He added that the team name "Reds" had been a good shorthand for "Redskin" (how times change, huh?), but emphasized that when most U.S. citizens thought of Reds, they thought of "Kruschev's kleptomaniac klansmen."
The Reds had gone by the "Red Legs" moniker between 1954 and 1960. Musmanno's "reasoning" was only slightly behind the times: The name had been changed because of its Communist connotation.
6. The one with the Midwest war in the Far East (1990, Reds vs. A's)
Marge Schott got MLB's permission to talk to the hometown crowd before Game 2. A half-hour before the first pitch, she began her soliloquy on President George Herbert Walker Bush's Iraqi adventure. She dedicated the game to the U.S. troops in "The Middle West." No harm, really -- the speech wasn't televised. Then, while First Lady Barbara Bush was throwing out the first ball, Marge grabbed the microphone and gave another speech, staggering onto the field and calling out a prayer, of sorts, to "help our boys in the Far East."
5. The one with the ump getting his face slapped (1933, Giants vs. Senators)
In Game 4 of the New York-Washington clash, Charlie Moran ejected Heinie Manush in the sixth inning -- for using foul language. Manush, according to one account, also slapped Moran in the face after being called out on a close call at first. That's according to one account.
Baseball-Library.com says that "Manush pulled on the ump's bow tie, held in place with an elastic band, and then let the tie snap back." (Hmmm. Wonder if Jon Stewart considered doing that to Tucker Carlson in their "Crossfire" confrontation last week.) Manush went out in the seventh and took his position in left. He had to be escorted off the field.
Here's Westbrook Pegler's inspired account of the incident for the Chicago Tribune:
"Well, land sakes alive and carry two, the indignation that did stir. Joe Cronin, the Washington manager, who has been advertised as a pious and right living young man who always says 'ma'am' to ladies and 'please' and 'thank you,' came a-whooping out from the post of command hollering swear words which you never will know the text of from your reading of any family newspaper."
4. The one with the fake injury (1973, Mets vs. A's)
A's second baseman Mike Andrews committed two straight errors in the 12th inning of Game 2, which allowed three runs to score and gave the Mets a 10-7 win. A's owner Charlie Finley, always subtle, declared the next day that Andrews had a shoulder injury and should be replaced. He even got the team doctor to attest in ink, and browbeat Andrews into doing the same.
Andrews' mates were irked. They taped his number on their unis while working out prior to Game 3 at Shea Stadium, and talked of a boycott. "There were a lot of guys who were outright angry on the plane coming out here," said Reggie Jackson.
Commish Bowie Kuhn reprimanded and fined Finley for the transparent ruse, and reinstated Andrews, who got a standing O from the Shea crowd during an eighth-inning pinch-hitting appearance in Game 4. He grounded out, but it was a memorable occasion, and not just because it was his last major league at-bat.
"When I heard the crowd roaring, I wondered who they were cheering for," said Andrews. "The guys on the bench said, 'It's for you, champ, now go show them.' I know my eyes were tearing up as I went to the plate. The ovation surprised me. No, Finley didn't stand up with the rest. He didn't even nod."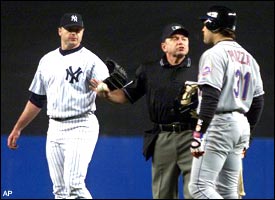 Who will ever forget this incident?
3. The one with the smudge (1969, Mets vs. Orioles)
I'm a Mets fan, so the Cleon Jones incident is seared into memory as just another of the great Game 5 moments. Dave McNally had shut down the Mets through five innings. Jones came to bat in the sixth. McNally threw the first pitch low and inside. Jones scampered in a way designed to convince home plate umpire Lou DiMuro that he had been hit on the foot.
DiMuro ruled that he had not. Then Mets manager Gil Hodges calmly walked out of the dugout, ball in hand. There was a smudge on it that was clearly shoe polish. DiMuro reversed his call. Jones went to first and scored on a Donn Clendenon home run.
A similar incident had happened in 1957 to another Jones -- Nippy of the Milwaukee Braves, who got to first base in Game 4, thanks to a polish-smudged ball, proof that he had been hit.
2. The one with the thrown bat (2000, Mets vs. Yankees)
All we have to do is mention it. Although I sure would like to ask Oliver Sacks (author of "The Man Who Mistook His Wife for a Hat") what the odds are that Roger actually mistook a bat for a ball.
1. The one with the earthquake (1989, Giants vs. A's)
Twenty minutes before Game 3 of the 1989 Bay Series, an earthquake with a magnitude of 7.1 on the Richter scale shook Oakland and San Francisco, causing 67 deaths and the collapse of an Oakland freeway and a section of the Bay Bridge. Nobody in the ballpark was injured, but the series was delayed for 10 days.