By Jeff Merron
Page 2
After the All-Star voting ends, the selecting begins. Although ballot box-stuffing is very poor form, it's hard to fault the fans for voting in their favorites, no matter how bad those players might be. For managers, players and coaches, who've had a say in starting position players, pitchers, and reserves on and off throughout the years, have picked some real clunkers too. And they should know better. Who'll be this year's worst All-Stars? We can't wait.
10. Frankie Zak, Pirates (1944)
The Pirates shortstop, selected to replace Reds shortstop Eddie Miller (another reserve), was a convenient choice, as the game was played at Forbes Field that year. Zak did hit .300 in 1944, but with no homers and only 11 RBI in 160 at bats. Zak played only two more seasons, appearing in just 36 games in 1945 and 1946 with the Pirates.
But there were other, better local candidates: Pirates first baseman Babe Dahlgren, for example, hit .289 with 12 homers and 101 RBI in 1944; and outfielder Jim Russell hit .312 and was among the NL leaders in many offensive categories.
9. Jay Howell, A's (1987)
Howell, a three-time All-Star, had some very good years, but 1987 wasn't one of them. The A's reliever finished the season 3-4 with a 5.89 ERA. He was no workhorse, throwing 44 1/3 innings in just 36 appearances. Hard to figure what AL manager John McNamara was thinking at the halfway point, but maybe he was impressed with a 4.20 ERA and 14 saves through the end of June. Certainly, he didn't need to pick an Athletic -- Mark McGwire was a no-brainer; maybe, with the game in Oakland, he was trying to save the league some travel expenses? In any case, he got what he deserved, as Howell came on to pitch in the 12th with the tie score 0-0 and got the loss when the NL tagged him for two runs in the 13th.
8. Tyler Green, Phillies (1995)
Green pitched three seasons for the Phillies; in 1995, his "career year," he went 8-9 with a 5.31 ERA. NL manager Felipe Alou must have been wowed by Green's 8-4, 2.81 record at the break, but it was all downhill (obviously) for Green after his selection.
But Green didn't see his slide coming. "It's pretty amazing when you consider I was 7-16 in Triple-A year ago," Green said. "I've done a complete turnaround. A lot of it has to do with timing. I've been pitching good at the right time."
There was no shortage of mediocre Phillies on the NL roster that year; Lenny Dykstra was voted in as a starting outfielder, and Alou selected catcher Darren Daulton, second baseman Mickey Morandini, and the sort-of deserving reliever Heathcliff Slocumb (who got the All-Star game victory), as well. The Phillies were riding high in midseason, hitting 19 games above .500 in late June. Then they slid into oblivion, finishing 21 games behind with a 69-75 mark.
7. Eddie Smith, White Sox (1942)
Smith had the dubious distinction of appearing in an All-Star game the same year he led the league in losses, which is probably a unique achievement -- at least. Smith, a White Sox starter, went 7-20 with a 3.98 ERA. The ChiSox were pretty bad in '42 and Smith was their sole All-Star representative -- still, they had much better pitchers on their staff: 41-year-old Ted Lyons, who went 14-6 with a 2.10 ERA, and Johnny Humphries, who finished 12-12 with a 2.68 ERA. Smith was actually a pretty good pitcher who threw into bad luck for 10 seasons.
6. Ellie Rodriguez, Royals (1969)
At the end of June, Rodriguez, a half-time catcher for the expansion Royals, was hitting around .260, with two HRs and 12 RBI ... and he finished the season batting .236 with the same two homers and 20 RBI. In a nine-year career, Rodriguez actually managed to make the All-Star team twice -- he also made it in 1972 with Milwaukee -- despite a lifetime OPS of .664. His main skill at the plate: getting hit by pitches, a category in which he finished in the top 10 five seasons.
5. Roger Pavlik, Rangers (1996)
Another mystery selection -- what was AL manager Mike Hargrove thinking? The Rangers already had a representative, I-Rod, voted in by the fans. Pavlik was only the third-best Rangers starter (at best) -- he finished the season with a 15-8 record and a 5.19 ERA. Ace Ken Hill went 16-10 with a 3.63 ERA; Darren Oliver went 14-6 with a 4.66 ERA.
We took a guess that maybe Pavlik tore up the league in the first half of the season, and we were half right -- Pavlik was 10-2 when Hargrove selected him. But he was very, very lucky, as he managed that record with a 5.16 ERA, above the AL average in 1996.
Chris Perkins of the Dallas Morning News reported that Rangers manager Johnny Oates had come up with a standard reply for those who questioned Pavlik's inclusion on the All-Star roster.
" 'Would you rather have Roger Pavlik's 11-2 record and 4.82 ERA, or Florida pitcher Kevin Brown's 1.85 ERA and 7-6 record?' Oates asks. 'The bottom line is wins and losses.' " (We'll let that comment speak for itself.) Pavlik did get to pitch in the contest at the Vet, giving up two earned runs in two innings.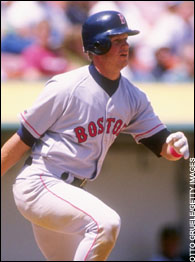 Quit whining, Red Sox fans: It wasn't long ago when Scott Cooper was your only All-Star.
4. Scott Cooper, Red Sox (1993 and 1994)
Possibly the worst two-time All-Star in baseball history, Cooper, a third baseman for the Red Sox, inexplicably made it without ever being in the top 10 of anything, anytime. Cooper was the lone BoSox All-Star selection each year; in seven seasons, he finished with career totals of 33 homers and 211 RBI, and a .723 lifetime OPS.
3. Alfredo Griffin, Blue Jays (1984)
Griffin, a shortstop, had an incredible .546 OPS in 1984. He hit four homers, drove in 30 runs and walked four times in 423 plate appearances. Why did he make the team? John Feinstein, writing from San Francisco, the site of the All-Star game, explained in the Washington Post: "Making the All-Star team the hard way: Major league baseball pays the expenses for each player here and for one guest. In most cases, players bring wives or girlfriends. Damaso Garcia, the Toronto Blue Jays' second baseman, brought his shortstop, Alfredo Griffin. When the Tigers' Alan Trammell hurt his arm and could not play tonight, Manager Joe Altobelli named Griffin to the team, partly because he's a fine player, but mostly because he was here."
2. Billy Hunter, Browns (1953)
Casey Stengel had to select someone to represent the St. Louis Browns, and Satchel Paige, the oldest All-Star ever (47, in theory) was a good choice, both for sentimental and baseball reasons. (Paige was an effective reliever for the Browns in 1953.)
But why also Hunter? The rookie shortstop from Punxsutawney, Pa., did play in every one of the Browns games in '53, but that was his best stat. On the season, he batted .219 with a .259 slugging percentage -- and .219 would turn out to be his career batting average.
Hunter did get into the game, as a pinch-runner for Mickey Mantle. He went on to play six years in the majors, including two seasons with the Yankees (Stengel must have really liked the kid). But his best major-league accomplishment was managing the Texas Rangers to two straight second-place finishes in 1977 and 1978.
1. Mike Williams, Pirates (2003)
Mike Williams, a reliever for the Pirates, deserved to be an All-Star -- in 2002, that is, when he was selected and saved 46 games, the third-highest save total in the majors. When he got the honor in 2003, he at least did it in style, setting a record for the highest ERA ever for an All-Star reliever: 6.29. Going into the Midsummer Classic, his record was 0-3, and he was one of the worst closers in baseball.
The Pirates dumped Williams on Philly late in July. There he managed to lose four games, and he finished the season 1-7 with a 6.14 ERA -- and seven blown saves. Williams was picked up by the Devil Rays in the offseason, but Tampa Bay cut him after he ran up an 18.00 ERA in spring training.
Also receiving votes:
Chris Cannizzaro, Padres, 1969
Steve Swisher, Cubs, 1976
Dave Stenhouse, Senators, 1962
Billy Grabarkewitz, Dodgers, 1970 (honorary All-Obscure selection)
Note: The process has changed over the years -- managers and fans picked in 1933 and 1934; managers picked all the players between 1935-1946; between 1947-57, fans elected the starters and managers picked the pitchers and reserves; between 1958 and 1969, only players, managers, and coaches had a say in who would start or sub. The process used today -- fans voting in all starters except pitchers, with managers selecting pitchers and reserves -- was implemented in 1970.