Single page view
By Jay Lovinger
Page 2
Editor's Note: Jackpot Jay has spent the past year as a poker pro. He has returned from the World Series of Poker and penned one final column for Page 2.
What did I learn from my yearlong odyssey into the weird and wonderful world of poker? What did it all mean?
Good questions. And, after thinking about them for a few days, I realized one thing: Impossible to answer in a single column (though, hopefully, not in a book).
So, instead, I thought I'd end my journey with Jackpot Jay's 10 Commandments of Poker, which should, if you follow them closely, make you a better player, a better person, and a player and person better able to pay your rent and put food on your family's table (though I'd be remiss if I didn't point out that a family can be a terrible hindrance to a serious poker player).
Imagine the following chiseled with a stylus upon two large tablets of stone:
(1) A Man's Got To Know His Limitations

Yes, I stole this one from Clint Eastwood -- or, rather, Dirty Harry in "Magnum Force." (Harry would have made an excellent poker player, don't you think? At the very least, nobody in his right mind would have given him any crap at the table, not even Phil Hellmuth. And that death stare -- by comparison, Phil Ivey looks like Mary Poppins.)
My primary goal when I first started on my journey was not to maximize my winnings (or perhaps more realistically, to minimize my losses), but rather to find interesting situations that would lead to good stories. In other words, I saw myself first as a writer and observer of the human condition (especially my own), and a poker player second. So, as often as possible, I tried to play against the best players around, in games that would produce drama, good anecdotes, or at least a top-notch wiseguy line or two. And if there was a world-class bad beat in there … well, so much the better.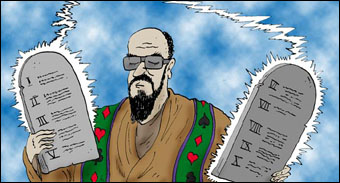 However, if I had been looking for the best result, the first thing I would have done -- and what I plan to do now, in the post-pro portion of my career -- is figure out which version of the game I'm best at -- and which stakes -- and stick with that, at least until I'd built up a bankroll sufficient to withstand the vicissitudes of the goddess Lady Luck.
In my case -- and this will come as no surprise to the observant among my loyal readers -- my future games of choice will be one-table satellites (at which I can hold my own against anybody, I believe) and tournaments that pay all survivors equally, like the Act IIIs at Foxwoods, in which the top 10 percent of finishers all win seats into that casino's World Poker Tour $10,000 buy-in event, or, if they already have seats, $10,000 in real American money.
(2) You Are What You Read

There are many fine players, including some truly great ones, who claim never to have read an instructional poker book. Hey, Meyer Lansky never went to business school either. But if you want to speed up the learning process exponentially, there's no substitute for reading, as long as you read the right books.
If your obsession is no-limit hold 'em tournaments, and if you are going to read only one book (as they say in the book-review trade), make it "Harrington on Hold 'em." Technically, "Harrington on Hold 'em" is two books -- "Volume I: Strategic Play" and "Volume II: The Endgame." Longtime readers may recall that I earlier referred to Volume I as the best poker book ever written. Well, Volume II is better -- a lot better.
How much better? I was sitting with Dan Harrington on a bench outside the Rio poker arena during the first Day One of the main event, and we couldn't get a complete sentence in without fans interrupting to congratulate Harrington on the brilliance of his new book, which had been available in stores for only a couple of days.