Commentary
Uni Watch unveils Winnipeg NHL jerseys
Originally Published:
June 16, 2011
By
Paul Lukas
| Page 2
The NHL season is over, the Boston Bruins are drinking champagne out of the Stanley Cup, and Don Cherry's suits can go back in the closet for a few months.
But there's one important bit of hockey business to tend to: We need to redesign the Thrashers -- or, rather, the team formerly known as the Thrashers. The franchise officially moved from Atlanta to Winnipeg a few weeks ago, but they're going to need a new name, new uniforms, the works.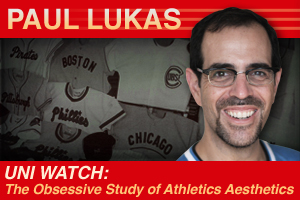 Obviously, there's no way the league is gonna get this right, so Page 2 and Uni Watch recently invited readers to take a stab at it. About 100 of you responded by submitting your best design concepts. That isn't really a big enough sample size to draw firm conclusions or make broad statements about the hockey fan base, but what the hell, we'll do it anyway:
• People miss the Jets. At least a quarter of the entrants suggested that the team be renamed the Jets, and many of them simply proposed reviving the Jets' old design scheme, occasionally with a small tweak (and, in one clever proposal, a somewhat larger tweak). There were also a few concepts that were Jets-related without actually using the word Jets, like the Squadron and the MiGs. This was by far the most popular theme.
• People love moose. Or else they just love alliteration, or maybe they just miss their now-defunct minor league team. Either way, there were lots of Manitoba Moose submissions.
• People know their history. Back in the day, there was a hockey team called the Winnipeg Falcons, which went on to represent Canada in the 1920 Olympics and won the gold medal. This presumably explains the large number of Winnipeg Falcons entries.
• People know their civic symbols. The official bird of Manitoba is the great grey owl (plus there's a Winnipeg golf tournament called the Grey Owl), so that led to a big group of you-know-what.
You can see all of the submissions we received here. We wanted to narrow the field down to a manageable number and have you folks vote on a winner, so Page 2 cartoonist Kurt Snibbe and I sifted through all the entries and came up with five finalists. We've also added Kurt's own entry to the mix, to see how the reader-submitted designs stack up against the work of a professional.
Here, then, are our five finalists, followed by Kurt's design (in each case, you can click on the design to see a larger version of it):
1. Winnipeg Jets, by Chris Giorgio
Lukas says: This was by far my favorite Jets concept, and the only one that really captured the loopy fun of the team's original logo. A winner.
Snibbe says: Great work all around. I'm envious of the lettering, and the color scheme is classic. From a distance it's a little similar to the Oilers' scheme, but not enough to really matter.
---
2. Manitoba Jets, by Justin Morrison
Lukas says: This Jets approach wins points for modernity and simplicity, plus the "Heritage" jersey is a throwback to the old Winnipeg Falcons -- a nice touch. (Justin Morrison, who designed this set, also submitted a full-on Falcons-inspired entry, but I like his Jets concept better.)
Snibbe says: I really like the simple and bold colors, and I like the stripe going the length of the sleeve. The throwback homage to the Falcons is really sweet too.
---
3. Manitoba Falcons, by Tim E. O'Brien
Lukas says: This was the only Falcons entry -- in fact, the only entry, period -- whose logo was inspired by the artwork of Canada's indigenous Haida people. Great concept, great execution.
Snibbe says: Red, gold and blue really pop with this logo. Great execution and a well thought-out concept, giving a nod to both the gold medal-winning Falcons and the original locals.
---
4. Manitoba Polar Bears, by Martin Hick
Lukas says: We received surprisingly few polar bear-themed entries. What I like about this one, aside from how good it looks, is how the logo has the same shape as the Thrashers logo -- a nice way of preserving a little sliver of the franchise's heritage.
Snibbe says: I really like the polar bear concept -- seems like a perfect fit for hockey. I know Manitoba has connections to other names, such as Falcons and Owls, but if you want a clean start, this is how to do it.
---
5. Winnipeg Threshers, by David Versel
Lukas says: OK, so this one is probably a dark-horse candidate, but I like the transition from Thrashers to Threshers, and the silhouette of the guy harvesting wheat with his hockey stick is pure gold. Now they just need an alternate jersey with one of these on the chest.
Snibbe says: A lot of these logo submissions were done in fun, and I really appreciate that. This one made me laugh out loud, then I felt sorry for Thrashers fans, and then I really appreciated the artistry in it.
---
6. Winnipeg Jets, by Kurt Snibbe
Lukas says: Sometimes the simplest little touch can make all the difference. In this case, it's the contrail doubling as the stripe at the bottom of the jersey -- an ingenious little detail. How come nobody ever thought of that before?
Snibbe says: Lukas said I was a professional, but I've never designed a uniform, and I confess to occasionally slacking on the uniform details in some of my illustrations. That said, I went with the Jets. When I think of aviation, I think of earning your wings, so that's the basis of the logo, and I went with the four stripes on the sleeves to resemble a pilot's uni. I needed a jet on my uni and I didn't want another big and bulky stripe on the sweater, so the plane and vapor trail solved that.
---
OK, those are our finalists. Now you get to vote for your winner. The winner will be revealed in the next Uni Watch column, later this month.
---
Honorable Mention: A few other designs that didn't quite make the cut but were still very strong were Adam Hainsfurther's Manitoba Maulers, Glen Carlson's Winnitoba Moosejets (if you can't decide between Winnipeg and Manitoba, or between the Jets and the Moose, this one's for you), Joe Csikos' Manitoba Owls (my favorite of the Owls submissions), Matt Szponar's Winnipeg Voyageurs (I like stripes more than the average fan probably does), and Anna Mulder's Winnipeg Butterflies (love to see those uniform designers starting young). Again, you can see all of the submissions here.
Big thanks to all contributors -- as far as Kurt and I are concerned, you're all professionals.
Meanwhile, over on the Gridiron...
The NFL lockout still hasn't been settled, but there's still some big uniform news on the pro football front, as three Uni Watch readers -- Tim Brulia, Bill Schaefer, and Rob Holecko -- have just launched the Gridiron Uniform Database, by far the most comprehensive football uniform resource ever created. It features excellent renderings of pro football uniforms (sortable by year or by team), all the way back to 1933.
The earlier designs will be a revelation for most fans, since they document an era that most of us have only seen in black-and-white photos. Who knew the Rams used to wear red? Or that the Lions wore red and black? Or that the Packers once wore solid green? (Actually, some of us did know that already, but it's still cool to see it documented in the database.)
The site also has a discussion forum, an informative blog, so it's pretty much one-stop shopping for football uniform info. Kudos to all involved.
Paul Lukas will not miss these uniforms but always kinda liked this one. If you liked this column, you'll probably like his Uni Watch Blog, plus you can follow him on Twitter and Facebook. Want to learn about his Uni Watch Membership Program, be added to his mailing list so you'll always know when a new column has been posted, or just ask him a question? Contact him here.