Single page view
By Paul Lukas
Special to Page 2
Listen up, retro fans. Do you pine for the Astros' rainbow-stripe jerseys? Does your heart go thump-thump-thump at the sight of the Pirates' bumblebee outfits? Do you even have a soft spot in your heart for some of those old Padres monstrosities?
Don't expect to see those designs resurfacing anytime soon. But Uni Watch has it on good authority that another signature style from that period may soon be reappearing on MLB diamonds: the powder blue road uniform. As we speak, there's an MLB team out there pondering the possibility of switching to road blues, probably for 2007.
Of course, the pastel blue hue isn't unique to baseball -- it's also made its mark on football, the NBA, the NHL, and college hoops, among other sports. But it's most closely associated with baseball of a certain era, when the rise of color TV and polyester fabrics led a dozen teams to ditch the traditional road grays in favor of baby blues.
Judging by the mail that's come in on this subject, people out there are absolutely gonzo for the powder blues. Uni Watch is more ambivalent -- the blues looked just right for some teams but were a tragic mistake for others, and their heyday was rife with painfully loud piping and other design fiascoes that Uni Watch has tried hard to forget.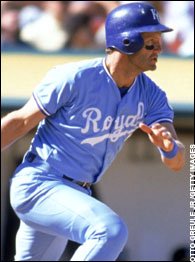 George Brett had a sweet swing. But were K.C.'s powder blue unis just as sweet?
But whether you're a traditionalist or a kitschmeister, you might be surprised to learn powder blues weren't just a '70s and '80s phenomenon. In fact, they debuted way back in 1941, decades before colored polyester was a twinkle in Charles Finley's eye. Let's use that year as the starting point for a powder blue timeline:
1941: The Cubs, having already introduced baseball's first vest jersey a year earlier, cement their status as innovators by unveiling the first powder blue road uni, which makes its debut June 30 in Cincinnati. The new design inspires a positively surreal Sporting News article (generously forwarded by Hall of Fame curator and longtime Uni Watch supporter Tom Shieber), which opines that the uniforms should be a big hit with "lovers of the beautiful" but also asks, "Does [the vest format's] comfort outweigh the blushes of those who have a bloomer girl consciousness when diked out in the radiant knittedwear? Have the Cubs developed a pantywaist inferiority complex?" The author -- uncredited, alas, but clearly a Uni Watch progenitor -- must be onto something (or maybe just on something), for the blue unis are only used through the end of 1942.
1944: With night games growing more common, the Dodgers become the first of several teams to experiment with satin uniforms, which are supposedly more reflective under the lights, providing greater visibility for fans. Brooklyn's version, rendered in sky blue, is quietly abandoned after one season, although the team later tries a white satin home version in 1949. (Uni Watch has yet to locate any trippy Sporting News articles about the satins but is certain one must exist.)
1964: After a 20-year absence, powder blues return, courtesy of the White Sox. The team sticks with the design for three years and then wears a different set of road blues in 1967 and '68.