By Paul Lukas
Special to Page 2
Listen up, retro fans. Do you pine for the Astros' rainbow-stripe jerseys? Does your heart go thump-thump-thump at the sight of the Pirates' bumblebee outfits? Do you even have a soft spot in your heart for some of those old Padres monstrosities?
Don't expect to see those designs resurfacing anytime soon. But Uni Watch has it on good authority that another signature style from that period may soon be reappearing on MLB diamonds: the powder blue road uniform. As we speak, there's an MLB team out there pondering the possibility of switching to road blues, probably for 2007.
Of course, the pastel blue hue isn't unique to baseball -- it's also made its mark on football, the NBA, the NHL, and college hoops, among other sports. But it's most closely associated with baseball of a certain era, when the rise of color TV and polyester fabrics led a dozen teams to ditch the traditional road grays in favor of baby blues.
Judging by the mail that's come in on this subject, people out there are absolutely gonzo for the powder blues. Uni Watch is more ambivalent -- the blues looked just right for some teams but were a tragic mistake for others, and their heyday was rife with painfully loud piping and other design fiascoes that Uni Watch has tried hard to forget.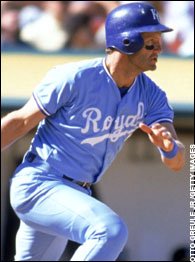 George Brett had a sweet swing. But were K.C.'s powder blue unis just as sweet?
But whether you're a traditionalist or a kitschmeister, you might be surprised to learn powder blues weren't just a '70s and '80s phenomenon. In fact, they debuted way back in 1941, decades before colored polyester was a twinkle in Charles Finley's eye. Let's use that year as the starting point for a powder blue timeline:
1941: The Cubs, having already introduced baseball's first vest jersey a year earlier, cement their status as innovators by unveiling the first powder blue road uni, which makes its debut June 30 in Cincinnati. The new design inspires a positively surreal Sporting News article (generously forwarded by Hall of Fame curator and longtime Uni Watch supporter Tom Shieber), which opines that the uniforms should be a big hit with "lovers of the beautiful" but also asks, "Does [the vest format's] comfort outweigh the blushes of those who have a bloomer girl consciousness when diked out in the radiant knittedwear? Have the Cubs developed a pantywaist inferiority complex?" The author -- uncredited, alas, but clearly a Uni Watch progenitor -- must be onto something (or maybe just on something), for the blue unis are only used through the end of 1942.
1944: With night games growing more common, the Dodgers become the first of several teams to experiment with satin uniforms, which are supposedly more reflective under the lights, providing greater visibility for fans. Brooklyn's version, rendered in sky blue, is quietly abandoned after one season, although the team later tries a white satin home version in 1949. (Uni Watch has yet to locate any trippy Sporting News articles about the satins but is certain one must exist.)
1964: After a 20-year absence, powder blues return, courtesy of the White Sox. The team sticks with the design for three years and then wears a different set of road blues in 1967 and '68.
1968: The film "Yellow Submarine" is released. The story line's villains are known as the Blue Meanies, obviously a cleverly coded warning against the perils of blue baseball uniforms. But the cautionary message goes unheeded because commissioner William Eckert, convinced the Beatles are dangerous radicals, forbids anyone connected with baseball from seeing the movie.
1969: Expansion brings four new teams into existence, two of which -- the Pilots and Expos -- wear blue on the road, marking the first time that two teams have gone blue in the same season.
1972: The White Sox come up with yet another blue design, and the Phillies unveil their first. With the Expos still wearing blue and the Pilots having morphed into the blue-clad Brewers, this brings the count up to four teams. At the season's conclusion, Dick Allen is named AL MVP and Steve Carlton wins the NL Cy Young, further legitimizing the cerulean style.
1973: The Twins and Royals hop on the blue bandwagon, bringing the count up to six.
1975: On March 29, Bob Dylan's "Tangled Up in Blue" hits the pop charts. Its cryptic lyrics are explained two weeks later, when the Rangers and Cardinals take the field in their new road unis, bringing the count up to eight teams. A 12-year-old Canadian boy named Malcolm Gladwell, noting that this constitutes fully one-third of MLB's 24 clubs, is starting to devise the term "tipping point" (or if he's not, he should be).
1977: The Blue Jays and Mariners are born. But by this time, the White Sox have switched to their pajama outfits, so it's a net gain of one for the powder blues.
1978: The count reaches 10 teams, as the Cubs go blue -- complete with reverse pinstripes. A mortified Ernie Banks is overheard saying, "Forget it, let's not even play one."
1980-81: Powder blues reach their high-water mark of 11 teams, as the Braves become the final club to catch blue fever.
1982-89: A slow period of decline, as the Cubs, Rangers, Mariners, Cardinals, Brewers, Twins, Braves, Phillies and Blue Jays all abandon the baby blues. By 1989, the Expos (the only team to have worn road blues during their entire existence) and Royals are the lone indigo holdouts, a status they maintain for three seasons.
1992: The Expos and Royals, finally realizing that the '70s ended more than a decade ago, give in and switch to road grays, bringing the powder blue era to a close -- at least for now.
So which team currently has powder blues on the drawing board? Uni Watch isn't at liberty to say, but here's a hint: A person connected to the project recently remarked, "Light blue would be a such a strong statement for a lame franchise." That should narrow it down to, oh, seven or eight teams.
Why Pierre Can't Read
Anyone else think the NHL totally blew it when revising its logo from this to this? The silver motif is fine, the beveled effect is cool, and Uni Watch doesn't even mind the typeface. But having the lettering flow up instead of down (no doubt intended to make us all believe the league is moving onward and upward, oh boy!) is such a total joke that you've gotta wonder who's running the show over there. Oh, right -- Bettman and Goodenow.
Memo to all involved: Just as our eyes are acculturated to reading from left to right, they're also used to reading from top to bottom. That's why the first line of this article is at the top of the page instead of the bottom, why beauty pageant contestants wear their sashes like this, and why the NHL has uniforms like this and this -- you're not planning to change those designs, are you? (Uni Watch hastens to add that this question is purely rhetorical.) As it stands now, all you've done is reinforce the idea that the NHL is amateur hour. Nice going.
Uni News Ticker
How hard can it be to get everyone on a team to wear the same undershirt color? Plenty hard, apparently, if you're the Mets, who are supposed to wear blue sleeves when donning their blue caps and black sleeves the rest of the time. But nobody bothers to enforce those rules, so you end up with games like last Saturday, in which the team's sleeves were, depending on who you looked at, blue, black, or orange (the latter of which isn't even one of the team's authorized undershirt colors but gained unofficial currency over the past dozen years because of John Franco, who wore orange New York Sanitation Deptartment T-shirts to honor his father, a city garbage man). … Latest MLB team to wear batting practice jerseys for a real game: the Rangers, on July 26. … Another weird case of matching boxing outfits recently, as Bernard Hopkins and Jermain Taylor both wore red trunks, red gloves, and even identical haircuts.
From reader Stephen Gonzales: "On July 16, Zach Day was making his Rockies debut. The second O in Colorado didn't overlap correctly, and it looked like he played for Coloorado." … The Giants retired Gaylord Perry's No. 36 last week. … It's no secret that players like Gary Sheffield put strips of Velcro on their spikes to keep their pants plastered down over their shoetops. But Uni Watch had never seen a photo of the exposed Velcro until reader Mark Mihalik found a pair of Sheffield's spikes listed on a game-used memorabilia site. "Here are the two shots of the Velcro on his actual shoes," he writes, "as well as the ridiculous 'Sheff' hat logo that he has embroidered on his cleats. If I saw a guy with shoes that ugly, with his pants Velcroed to his feet, I'd probably feel the urge to punch him too." … Mihalik is also one of several readers amused by reports of Manny Ramirez wearing Oakley Thumps, which have a a built-in MP3 player, for one inning in a recent game. Red Sox manager Terry Francona tried to defuse the scandal by claiming the glasses didn't have any batteries, but it sure looks like Manny was plugged in. … In a very welcome development, the Blue Jays wore their black road caps for a three-game home series last week, instead of those embarrassing graphite home lids.
Brilliant account on the Helmet Hut Web site regarding Wayne Hardin's stint as head football coach at Navy in the early 1960s. Hardin was known for unveiling confrontational uniform designs for the annual Army/Navy game, such as having "Beat Army" printed across the team's shoulders in 1961, and putting "Drive for Five" on the back of each jersey in 1963, when Navy was going for its fifth straight victory over Army. For the full story, look here, and scroll down to the second question. … The K.C. Royals are reportedly planning a uni overhaul. According to communications VP David Witty, the new look will feature less black, more gold, and the return of conventional jerseys instead of vests. … Speaking of the Royals, James Gunn notes that when they traded Tony Graffanino to the Red Sox last week, Boston's Web site ran a news item featuring a photo of Graffanino wearing what appears to be a misspelled jersey. Some quick Uni Watch photo research turned up another example (apparently not from the same game -- note the disparity in facial hair). We all know the Royals are strapped for cash, but cutting back on jersey lettering seems a bit extreme, no? … And in a very odd development, both Graffanino and Curt Schilling appear to have been issued home jerseys with severely arched lettering, instead of the more gentle arch the Sox usually wear.
Matt Schudel points out that the question of whether the Nationals will honor the Expos' retired numbers has been answered, in the negative: Newly acquired Mike Stanton is wearing No. 30, which the 'Spos retired last year for Tim Raines. … Look for the NBA's New Orleans Hornets to wear throwback jerseys for a few games next season. Will they dress up as the Charlotte Hornets? The New Orleans Jazz? Nope -- the ABA's old New Orleans Bucs (but presumably without the belts). … Logo Creep Alert: You know things have gotten out of hand when the Chief Justice of the United States turns into a Nike billboard. Enough already!
Follow-Ups
Remember those new batting helmets that appeared without warning in the All-Star Game? Deadline and schedule pressures restricted Uni Watch to giving the story only partial coverage last time around, but here's a fuller treatment, courtesy of Rawlings marketing manager Dan Cullinane.
"The new design is similar to the retail version of our Coolflo helmet," he says. "It incorporates some of the design aspects of that while keeping with the silhouette of the basic MLB helmet. We'd been previewing it to teams for the past few months before the All-Star Game, and we found that 80 percent to 90 percent of the players really liked it."
Cullinane says the new helmet's venting makes it about 13 percent lighter than the standard version. As for the sort of reptilian-looking molded crown, of which Uni Watch is none too fond, it's essentially a branding move. "MLB doesn't allow outside logos on headwear," says Cullinane, "so this gives us the opportunity to kinda put our mark on the helmet without actually using the Rawlings logo."
So when will the new lids be showing up in regular-season games? "We have plans to have them worn in 2006, but things aren't settled yet in terms of the rest of this season," he says. "Certain players from certain teams are interested in them, but we don't have a huge inventory of these helmets yet, and there are lots of things that still need to be settled with the MLB office, the players' association, and so on."
Will this design eventually replace the standard helmet? "That would be my hope, yes, although it's way too soon to say," says Cullinane. "MLB generally grandfathers changes in, like they did with the earflap in '83, so it would probably be a gradual thing."
Turning from helmets to caps: As speculated last time around, it turns out that Keith Foulke does indeed remove the button from the top of his cap -- and he's been doing it for a long time. It's easiest to see in photos from his tenure with the A's, since they normally wear yellow cap buttons. So why does Foulke do it? According to this news item, Foulke got in the habit of removing his cap button when he was a kid, "to keep down the risk of other kids giving him a painful pop on the top of the head." No fewer than seven Uni Watch readers report removing their cap buttons for the same reason, and Alex Fritz adds, "Everyone on my high school baseball team removed the button because you had to wear your cap underneath your batting helmet, so the padding inside the top of the helmet pressed down on the button, which was annoying."
Unfortunately, nobody has come through with a photo of early-1980s Mets manager George Bamberger wearing a wad of bubble gum on his cap button. But Ed Synan writes in with the following: "Phil Rizzuto would put gum on his cap button too. If you look at an old picture of him, you'll see his button looks white. That's his gum." And sure enough -- he's right!
And on the seemingly inexhaustible topic of players wearing cabbage leaves under their caps in hot weather, Hall of Fame curator and Uni Watch Lifetime Achievement Award winner Tom Shieber deserves special mention for sending along this newspaper item from 1912, which notes that Cubs pitcher Jim Lavender, faced with a blistering hot afternoon, "used the well known remedy of placing a full sized cabbage leaf between his cap and his brain to ward off or split up the rays of the sun." Can a full-fledged Hall of Fame exhibit devoted to this phenomenon be far behind?
Paul Lukas has never worn cabbage underneath, or bubble gum on top of, his cap. Archives of his early "Uni Watch" columns are available here and here. Got feedback for him, or want to be added to his mailing list? Contact him here.