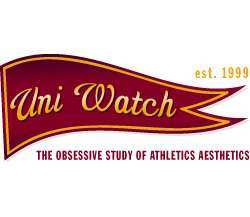 It's too soon to know whether outfielder Ryan Langerhans will have a long or notable career with the Nationals. But let's say, for the sake of argument, that he does, and that the sight of him
in a Nats uniform
becomes a normal, almost self-evident thing over the next four or five years. Old photos of him
in a Braves uni
will probably continue to look pretty natural too, since that's where he
started his career
. But what will always look odd -- and what most people will probably forget about, assuming they ever saw it in the first place -- is the sight of Langerhans
in an A's uniform
. That's because he was traded twice last week, spending only two days on the Oakland roster.
Uni Watch calls this a uniform cameo -- a brief walk-on role that will go down as a visually incongruous footnote to a player's career. Some uni cameos last just a few days, like Langerhans in Oakland or Mike Piazza's momentary 1998 stint with the Marlins. Others may last a season or even longer but can still pack a strong visual punch, like the sight of Brett Favre as a Falcon, or Lou Brock as a Cub -- even if you know they happened, they still look wrong, like a vegetarian wearing a butcher's apron, or George Bush at an ACLU convention. That wrongness, that massive "This does not compute!" factor, highlights the power of a uniform to define our memories and impressions. Even if you know that Pete Rose played a forgettable half-season for the Expos, the actual sight of him in Montreal threads is still pretty jarring.
So what does or doesn't qualify as a uniform cameo? Sometimes it's fairly clear-cut. Alex English as a Mav? Definitely. Joe Namath as a Ram? Duh. But sometimes it's more of a judgment call. Case in point: Roger Clemens won two Cy Young Awards with the Blue Jays, and yet the sight of him in a Toronto uni still looks a bit off, because his Blue Jays tenure ultimately feels like a brief alternate-reality stopover compared to his higher-profile stints with the Red Sox, Yankees, and Astros. So does this qualify as a cameo? The choice, dear reader, is up to you.
This yea-or-nay decision also can be a matter of personal perspective. The Pete Rose situation, for example, might seem perfectly normal to someone who was an Expos fan in the 1980s. And modern players move around so much these days that a short stint with a team doesn't look as weird as it once did -- nobody stays in one place long enough to establish a base-level look in the first place. If Langerhans becomes a latter-day Todd Zeile, playing for a new team every year, that photo of him in A's attire may not look so weird after all.
But whatever standards you apply, uniform cameos break down into four primary categories, like so:
1. The Early-Career Cameo. This type of cameo appearance involves a brief, long-forgotten stint with a team early in the player's career. Favre and Brock are classic examples. Here are some more:
EARLY CAREER
Player
Uniform(s) you're probably thinking of
Uniform(s) you may have forgotten about
Jerome Bettis
Steelers
Rams
Cris Carter
Vikings
Eagles
(plus there was his late-career cameo with the Dolphins)
Dennis Eckersley
Red Sox, A's
Indians (plus he had a mid-career cameo with the Cubs and a late-career cameo with the Cardinals)
Julius Erving
Nets, Sixers
Squires (plus he later played three exhibition games with the Hawks)
Dominik Hasek
Sabres, Senators, Red Wings
Blackhawks
Trevor Hoffman
Padres
Marlins
Ron Jaworski
Eagles
Rams
Randy Johnson
Mariners, Diamondbacks, Yankees
Expos (and don't forget his mid-career cameo with the Astros)
Roger Maris
Yankees, Cardinals
Indians, A's
Pedro Martinez
Expos, Red Sox, Mets
Dodgers
John Riggins
Redskins
Jets
Nolan Ryan
Angels, Astros, Rangers
Mets
Ryne Sandberg
Cubs
Phillies
Curt Schilling
Phillies, Diamondbacks, Red Sox
Astros, Orioles
Ozzie Smith
Cardinals
Padres
Tim Wakefield
Red Sox
Pirates
Steve Young
49ers
Buccaneers
2. The Mid-Career Cameo. This category involves players who make brief, largely insignificant stopovers with a team in the middle of their lengthy careers. Rose and Piazza are textbook cases, and Langerhans might one day become one too. Here are some more:
| | | |
| --- | --- | --- |
| Player | Uniform(s) you're probably thinking of | Uniform(s) you may have forgotten about |
| Kirk Gibson | Tigers, Dodgers | Royals, Pirates |
| Reggie Jackson | A's, Yankees, Angels | Orioles |
| Tony Perez | Reds | Expos, Red Sox, Phillies |
| Scottie Pippen | Bulls, Blazers | Rockets |
| Darryl Strawberry | Mets, Dodgers, Yankees | Giants |
| Ben Wallace | Wizards, Pistons, Bulls | Magic |
| Rasheed Wallace | Blazers, Pistons | Hawks (plus there's his early-career cameo with the Bullets) |
| Maury Wills | Dodgers | Pirates, Expos |
3. The Late-Career Cameo. This is the largest category, and in many cases the saddest one too, since it usually documents a player's ill-advised attempts to hang on for one more season, one more month, one more paycheck. Remember when Fernando Valenzuela seemed to be wearing a new uniform every week, as he bounced from the Angels to the Orioles to the Phillies to the Padres? Actually, you probably don't remember -- that's why those photos look so bizarre, because in our minds Fernando can only be dressed like this. Here are some more late-career cameos you might not recall (or wish you couldn't):
| | | |
| --- | --- | --- |
| Player | Uniform(s) you're probably thinking of | Uniform(s) you may have forgotten about |
| Hank Aaron | Braves | Brewers |
| Earl Campbell | Oilers | Saints |
| Jose Canseco | A's, Rangers | Red Sox, Blue Jays, Devil Rays, Yankees, and White Sox (plus spring training washouts with the Expos and Angels) |
| Steve Carlton | Phillies | Giants, White Sox, Indians, Twins |
| Gary Carter | Expos, Mets | Giants, Dodgers |
| Orlando Cepeda | Giants, Cardinals, Braves | A's, Red Sox |
| Wilt Chamberlain | Warriors, Sixers, Lakers | Conquistadors |
| Ty Cobb | Tigers | A's |
| Larry Csonka | Dolphins | Giants |
| Eric Dickerson | Rams, Colts | Raiders, Falcons |
| Marcel Dionne | Red Wings, Kings | Rangers |
| Tony Dorsett | Cowboys | Broncos |
| Patrick Ewing | Knicks | Sonics, Magic |
| Nellie Fox | White Sox | Colt .45s/Astros |
| Walt Frazier | Knicks | Cavs |
| George Gervin | Spurs | Bulls (plus he had an early-career cameo with the Squires) |
| Eddie George | Oilers, Titans | Cowboys |
| Eddie Giacomin | Rangers | Red Wings |
| Dwight Gooden | Mets, Yankees | Indians, Devil Rays, Astros |
| Hank Greenberg | Tigers | Pirates |
| Wayne Gretzky | Oilers, Kings, Rangers | Blues (and don't forget his early-career cameo with the Indianapolis Racers) |
| Franco Harris | Steelers | Seahawks |
| Keith Hernandez | Cardinals, Mets | Indians |
| Bobby Hull | Blackhawks, Jets | Whalers |
| Harmon Killebrew | Twins | Royals (and don't forget that he also played for the Senators before they moved to Minnesota) |
| Bernie Kosar | Browns | Dolphins, Cowboys |
| Guy Lafleur | Canadiens | Rangers, Nordiques |
| Karl Malone | Jazz | Lakers |
| Juan Marichal | Giants | Dodgers |
| Eddie Mathews | Braves | Tigers, Astros |
| Christy Mathewson | Giants | Reds |
| Art Monk | Redskins | Jets, Eagles |
| Joe Montana | 49ers | Chiefs |
| Dale Murphy | Braves, Phillies | Rockies |
| Phil Niekro | Braves, Yankees | Indians, Blue Jays |
| Hakeem Olajuwon | Rockets | Raptors |
| Bobby Orr | Bruins | Blackhawks |
| Alan Page | Vikings | Bears |
| Robert Parish | Celtics | Hornets, Bulls (plus there's his early-career cameo with the Warriors) |
| William Perry | Bears | Eagles |
| Jerry Rice | 49ers, Raiders | Seahawks, Broncos |
| Babe Ruth | Red Sox, Yankees | Braves (plus he later coached for the Dodgers) |
| Ron Santo | Cubs | White Sox |
| Tom Seaver | Mets, Reds, White Sox | Red Sox |
| O.J. Simpson | Bills | 49ers |
| Emmitt Smith | Cowboys | Cardinals |
| Duke Snider | Dodgers | Mets |
| Warren Spahn | Braves | Mets |
| Jim Taylor | Packers | Saints |
| Thurman Thomas | Bills | Dolphins |
| Brian Trottier | Islanders | Penguins |
| Johnny Unitas | Colts | Chargers |
| Reggie White | Eagles, Packers | Panthers |
4. Unique Cases. There's a small but rarefied cameo category for player/uni pairings that were photographed but never actually materialized on the field of play. Draft day was as close as Eli Manning ever came to wearing a Chargers uniform, for example. And let's face it, it's probably best that this never got past the photo-shoot stage.
Then there are the cross-sport cameos, like John Elway, Michael Jordan or Danny Ainge wearing baseball uniforms. But the coolest example of all involves the Expos mascot, Youppi. After the 'Spos left town, Youppi stayed behind and began suiting up for the Canadiens. Now there's a uniform switcheroo that Uni Watch just can't get used to.
(Special thanks to the readers of the Uni Watch blog, who provided invaluable research assistance in compiling the lists for this column.)
Follow-Up Roundup
Two of last month's columns generated loads of excellent reader responses. The first was Uni Watch's rundown of uniform- and equipment-related superstitions. The most common complaint was that Uni Watch neglected to mention Rip Hamilton's facemask, which he continues to wear out of habit, even though he no longer has any medical need for it. Other suggestions and contributions included the following:
• From Don Smith: "Your article called to mind the 1997 Cleveland Indians. The season had been a bit mediocre, at least by the standards of the mid-'90s Tribe, but then everything changed when the team wore their socks high to honor Jim Thome on his birthday in August. They won, then went on a little roll, and most of the team kept the high-sock look throughout the rest of the season, right up to the fateful game seven of the World Series against the Marlins."
• From Jason Long: "The Oakland University men's hoops team had lost a couple games last season, so the players decided to wear their road shorts with their home jerseys. They won that game, so they kept up the awful-looking combos until they lost."
• From Joshua Rogers: "Jason Terry sleeps in his opponents' shorts the night before a game and wears five (!) socks on each foot."
• From Jonathan Parley: "Brazil, after losing the only World Cup they have ever hosted, in 1950, vowed never again to wear the white shirts they wore in that tournament. The now-familiar yellow has graced the soccer stage ever since." Further details here.
• From Bob Krag: "Arsenal football [soccer] club in London have a longstanding superstition whereby the captain decides on the day of the game whether the team will play in long- or short-sleeved shirts, and all starters and substitutes must then comply. In a memorable Champion's League match from 2004, the team played in long sleeves during the first half, but when the captain wanted to switch to short sleeves at halftime, the entire team did the same. In this video, you will notice that the opposing team has players with both long and short sleeves."
• And from Charles Goetz: "I can't believe you didn't cover the superstition of putting the uniform on in a specific order. Most of the players on my high school hockey team would put their uniforms on in a special way -- left sock first, then right sock, then left shin guard, then right shin guard, etc. One player would not put his helmet on until he actually was on the ice. Another would not put his skates on until the end. The biggest superstition was that if you got a knot in your shoelace, you had to swear at it -- it would come out every time. We went to a Catholic school, so this was a bit challenging, but our coach had his own superstitions and was very understanding."
The other column that prompted an avalanche of response was Uni Watch's lengthy breakdown of the stories behind uniform numbers. As several readers pointed out, the entry for No. 22 really should have included Jordin Tootoo, who wears 22 for obvious reasons. Other suggestions on the numerology front included these:
• From David Cummings: "Anthony Parker of the Raptors wears 18 because of his days playing for Maccabi Tel Aviv [because 18 is the Jewish number 'chai,' signifying life]." Additional details here. Reader Andrew Ecker says he wears 18 for the same reason.
• Brent Schumer pointed Uni Watch toward this page, which finds So Taguchi explaining how he ended up wearing 99: "I was No. 6 in Japan, so naturally my first choice was 6. Well, a guy named Stan Musial had that number retired a long time ago in St. Louis. Once I realized that, I thought, 'Well, I could still be connected to my old No. 6 simply by turning it upside down.' But Enos Slaughter's number was retired, and it happened to be 9. So it occurred to me that I could use my No. 1 from the 2000 Sydney Olympics. They paused and said, 'We're sorry to tell you that Ozzie Smith was No. 1, and that's also retired.' I figured the really high numbers must be readily available and said, 'How about two 6s, No. 66?' Well, that was Rick Ankiel's number! So I asked about turning 6 upside down twice for 99, and finally I had a uniform number. I think everyone was relieved."
• Several readers reminded Uni Watch of the story behind Bill "Spaceman" Lee wearing 37: He wanted to wear 337, because it would spell out "LEE" if he was upside-down. After being told that a three-digit number wasn't going to happen, he settled for 37.
• Speaking of triple digits, check out this factoid from Josh Hakala: "In the MLS, Jeff Cunningham of Real Salt Lake has changed his number every season to match his career goal total. He finished the 2006 season with 90 career goals and, as expected, has worn 90 this year. I'm sure he will score 10 or more goals this season, which means he's going to be requesting a triple-digit number for next season."
• Yet another three-digit salute, this time from Scott Shields: "In 1963 -- the 100th anniversary of West Virginia's statehood -- West Virginia placekicker Chuck Kinder wore number 100 on his jersey." Photos of this, alas, have proven elusive. Little help?
• And finally, from Paul Andersen: "The Royals' top draft pick last year, Luke Hochevar, chose 19 because it signifies one good inning, nine times." Hmmm, given the short outings in this modern era of pitching, shouldn't he have taken 16 instead?
Paul Lukas was a young Mets fan in the early 1970s, so the sight of Willie Mays in a Mets uniform seems perfectly normal to him. His Uni Watch blog, which is updated daily, is here, his answers to Frequently Asked Questions are here, and archives of his columns are available here, here, and here. Got feedback for him, or want to be added to his mailing list so you'll always know when a new column has been posted? Contact him here.