By now, most people realize that Nomar Garciaparra is a creature of habit -- often very strange habits. Even the casual fan is aware that Nomar obsessively fidgets with his batting gloves and does that little shuffle in the batter's box. Slightly more serious fans have long noted his penchant for wearing mismatched sweatbands -- usually black on his lower left forearm and red on his upper right forearm. And if you're a truly hardcore observer, you may have noticed the time he wore adidas shoes with a Reebok tongue, an unprecedented bit of footwear Frankenstein-ism that still leaves Uni Watch marveling in disbelief.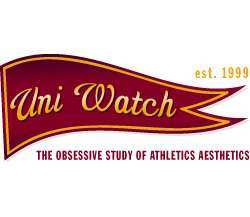 But it turns out Nomar has another uni-related quirk. It involves an excruciatingly minute (and therefore immensely satisfying) detail, one that's been right under our noses for years now without Uni Watch having noticed. In fact,
nobody
appears to have noticed -- except, that is, for reader
Ben Nickerson
, who brought it to Uni Watch's attention a few weeks ago.
In short: Nomar wears a little fairy pin on his left armband.
Or at least that's what it appears to be -- it's hard to say for certain. But there's nothing uncertain about the presence of the pin itself. It's clearly visible as a gleaming glint of gold just above the "T" on Nomar's TPX armband. Once you know it's there, you can't miss it -- it practically jumps out of every photo and video still. And like any good ritual, this one appears to cross all situational boundaries: Nomar's worn it at home, on the road, and in spring training; while playing for the Dodgers, Cubs and Red Sox; and even on the infrequent occasions when his left armband has been red or gray.
So what is it? Nickerson, who first spotted the pin during a brief TV close-up that focused on Nomar's hands, says it looked like a "cherub" (a potentially telling description, as we'll see in a minute), but it's hard to get a definitive view of it in any of the photos. The best shot Uni Watch has been able to turn up is this one -- tantalizing but inconclusive.
So Uni Watch called the Dodgers, and a team spokesperson said Nomar didn't want to talk about the pin -- no surprise there, given the brouhaha that erupted earlier this year over Craig Biggio's cap pin.
But inquiring, uni-watching minds want to know (sorry, Nomar), so the investigation was turned over to ESPN.com photo czar Sean Hintz, who began an intensive search for a high-resolution shot of the pin that he could blow up into an enlarged view. After looking at about 1,000 photos of His Nomarness, Hintz came up with this and -- wait for it -- this.
Sure enough, it does look like a winged cherub or sprite, just like Nickerson said (or, if you squint a little, it resembles a miniature version of the Prometheus sculpture at New York's Rockefeller Center). By fairly remarkable coincidence, a winged cherub pin just happens to be what Manny Ramirez was wearing back on Opening Day of 2006, a bit of "Manny being Manny" accessorization that has never been satisfactorily explained. But now Manny's pin resonates in a whole new way: Could it have been a shout-out to his departed teammate Nomar? Or, given Manny's well-documented penchant for "borrowing" his teammates' gear (described in some detail here), maybe he was wearing one of Nomar's old pins?
Nope, and nope. Readers Justine DeCotis and George Ferrandi tipped Uni Watch wise to the real story: Nomar and Manny are wearing guardian angel pins. "They're the kind of things they carry on the counter at religious goods stores," explains Ferrandi (who ought to know, since she runs a religious statuary restoration business). Nomar appears to be wearing this one, and Manny was wearing this one. Hmmm, do players on the Angels wear guardian angels too? And why wasn't Nomar's guardian angel looking out for him when stuff like this happened?
In any event, Nomar now joins the relatively short list of MLB players who've worn stick pins on their uniforms. In addition to Biggio and Manny, this group includes Joey Cora (here's another view), Reggie Jackson (further details on his waistband pin here), and several members of the 1983 Giants (additional info here). In addition, at least two non-players have worn cap pins: Billy Martin and Bucky Dent.
While Nomar's pin may be the season's biggest uni-related revelation so far, it's not the weirdest uni-centric story. That honor goes to the bizarre tale of Junior Griffey giving a jockstrap to a heckler (details here and here). Other recent MLB tidbits you might have missed from what has been a very active first quarter of the season:
• The Padres held a '70s retro throwback night (which reader Tim Stoops has documented in a nifty slide show).
• Derek Lowe was spotted with a captain's "C" on his jersey, but it turned out to be a prank (details here).
• The Braves called up Jarrod Saltalamacchia, whose 14-letter surname is the longest in MLB history (details on the left side of this page).
• Brad Penny pitched an entire inning with his fly unzipped (details here). And according to this article, Ted Lilly and Lou Piniella "enjoyed a novel bonding moment recently when Lilly informed Piniella that his fly was unzipped during a conference at the mound." Maybe Penny and Piniella had ideas about giving away their jockstraps, too.
Follow-Up Roundup
Last column's rundown of uniform cameo appearances prompted an avalanche of reader feedback. Amid all the communiqués that read, "How could you leave out Michael Jordan in a Wizards uni?" (because he got so much media attention that the sight of him in Wizards attire began to look semi-normal, at least to Uni Watch) and "What about Joe Namath as a Ram?" (he was prominently listed in the introductory text, silly), a few suggestions stood out. To wit:
• Uni Watch listed Johnny Unitas' late-career cameo with the Chargers but neglected to include his early-career cameo with the Steelers. (Thanks to Joe Hartnett for the photo.)
• The list of cross-sport cameos should include Eric Lindros, Ricky Williams, and Chris Weinke in baseball uniforms, and Tom Glavine playing hockey. (Thanks to Andrew Daull, Josh Parker, and Chris Uhle for the tips.)
• Although Uni Watch tried to keep the focus on players, not coaches or managers, it's worth making an exception for the eye-popping sight of Joe DiMaggio coaching for the A's.
• Neal Smith submitted a real mind-blower: O.J. Simpson in a Chargers jersey. What's that all about? A bit of research and a big assist from reader Ben Silverman led Uni Watch to one Tony Phillips, who was the little boy kneeling next to O.J. in that photo. Here's his explanation:
"It was in the winter of 1976 and the Pro Bowl at that time was not played in Honolulu. That year it was played in Seattle. Since that's a poor place to practice in late January, the league arranged to have the players and coaches and their wives spend a week in San Diego in preparation for the game. The Chargers provided the facilities, equipment, and unis. O.J. mostly sat on his helmet [note that it's a red AFC helmet, because regular team helmets weren't worn in the Pro Bowl in those days]. My father was the Director of Player Personnel for the Chargers and I was a proverbial camp rat. If not in school, I was at the stadium or at camp or otherwise busying myself with the football and the world of things thus related."
• And in the realm of theoretical or alternate-universe cameos, check out this submission from Steven Bevacqua: "One of the more unusual cameos I remember was from the demo version of a 2004 MLB video game: A-Rod with the Red Sox. This came out just before the Yankees swooped in with their huge offer."
Finally, big thanks to everyone who responded to Uni Watch's call for photos of West Virginia kicker Chuck Kinder wearing uniform No. 100 (to coincide with the 100th anniversary of West Virginia's statehood). Additional pics and info are available here and here.
Paul Lukas wears a really cool Schlitz brewery worker's identification pin on his denim jacket, and an even cooler Reddy Kilowatt pin on one of his other jackets, but no pins while playing softball. His Uni Watch blog, which is updated daily, is here, his answers to Frequently Asked Questions are here, and archives of his columns are available here, here and here. Got feedback for him, or want to be added to his mailing list so you'll always know when a new column has been posted? Contact him here.