For the most part, athletes are stuck with the uniforms they're given. You think Wade Boggs wanted to dress like a clown? Or that the 1976 White Sox wanted to wear shorts? Even the 1961 Broncos -- arguably the worst-dressed team ever -- didn't get to burn their infamous vertically striped socks until their coach gave them the go-ahead for a public bonfire.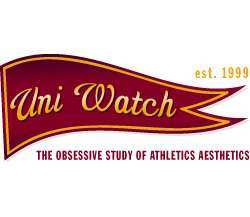 But a quiet rebellion has been brewing in Major League Baseball, where there's been a groundswell of discontent regarding some much-ballyhooed new uniform elements. This sartorial insurrection has so far gone unnoticed in most quarters, but not at Uni Watch HQ, where the proceedings have been monitored with keen interest.
Some quick background: As you may recall, the MLB honchos and their cap supplier, New Era, introduced two new headwear lines this season. First up were those gimmicky batting practice caps, which have those contrast-colored stretch panels that make everyone look like he's got a do-rag under his cap. Then came the new 5950 game caps, which look pretty much like the old ones but are made from polyester instead of wool (supposedly to prevent shrinkage and sweat stains, although the latter claim appears to have been a slight exaggeration), and feature black underbills instead of the old gray (to reduce glare, don'tcha know). But reaction to both caps has been less than enthusiastic.
Let's start with the BP caps. These got off to a rocky start before the line was even introduced, because the Angels refused to go along with the program and chose to stick with their old BP design. As for other teams, the reaction in spring training wasn't good, as various members of the Mariners, Yankees and Braves, among others, weighed in with negative reviews (as did lots of media outlets, Uni Watch included). Some players refused to wear them; others, like Nomar Garciaparra, sort of pretended by coloring in the sides of a regular game cap to simulate the stretch panels (as you can barely see here and here). the rest just gnashed their teeth and grudgingly wore the accursed things. Meanwhile, MLB officials and New Era counseled patience. "Change always takes some getting used to," they said. "Give it time."
More than two months later, the new BP caps appear to be less popular than ever. Show up an hour before game time at Shea Stadium, for example, as Uni Watch recently did, and you won't see a single Mets player wearing the team's official BP caps. The players stopped wearing them last month, opting to wear their blue game caps instead, and it's not hard to see why: Whose headwear looks better in this photo? Or this one? Scan the field during batting practice in other ballparks and you'll routinely find players, coaches and managers eschewing the new lids, including members of the Giants, Red Sox, Devil Rays, Marlins, Cubs, Pirates, Dodgers, Orioles, Cardinals, Rangers, Brewers, Royals and Yankees.
Uni Watch reader David Arnott recently captured the whole situation in a nutshell when he got to Dodger Stadium in time for batting practice and spotted the Brewers' Tony Gwynn Jr. wearing a regular game cap, which led to the following immortal exchange (first published in this installment of the Sportszilla blog):
Arnott [shouting from the first-row railing]: "Won't you get fined for not wearing the BP cap?"
Gwynn [obligingly shouting back]: "Hell no! The manager ain't even wearing it."
Arnott: "What's wrong with the BP cap?"
Gwynn: "They suck!"
Arnott: "How so?"
Gwynn: "They just do."
Nicely put. The new game caps haven't provoked as much animosity, but they haven't caught on with everyone either. Look around MLB diamonds and you'll see lots of gray underbills -- sure signs of players wearing last year's caps. A very partial list of gray-underbill partisans spotted so far this season includes Carlos Delgado, Bronson Arroyo (home and road, so you know it's not just a random thing), Jonathan Papelbon, Aaron Heilman, Eric Gagne, Eric Hinske, Ozzie Guillen, John Maine and Lance Cormier, among many, many others. How bad has it gotten? The Mets called up Ben Johnson from the minors the other day and didn't even give him one of this year's caps for his scoreboard photo; the Yankees even put one of last year's caps on Roger Clemens when announcing his comeback.
So what's the story behind all this? "I don't really want to speak to anything official, because that would come from Major League Baseball," said John DeWaal, New Era's VP for brand communication. "But some of the teams have residual inventory from years past, so that's probably what you're seeing." OK, but given all the hoopla that the new caps received at the season's outset, weren't teams instructed to dispose of their old stock, or give it away to charity or something? "Certainly we encourage that sort of thing, but it's their option to do whatever they want with them, because they own them."
At this point Uni Watch felt a certain kinship with DeWaal, who's probably the only person in America who spends more time focusing on the nuances of underbills than Uni Watch does. Does he cringe every time he sees that telltale bit of gray fabric? "Yeah," he acknowledged, "but I don't see too much of it. Out of nine guys on the field, maybe one will be wearing last year's cap. Maybe you're seeing more of it than I am, but soon you won't see it at all, because the old caps simply won't be available."
As for Major League Baseball, repeated Uni Watch inquiries to the MLB offices went unanswered. Maybe they're embarrassed by the number of players who haven't gotten with the program, or maybe they're just too busy tracking merchandise sales to care about what's actually happening on the field. In case it's the latter, Uni Watch has a hot tip for them: Remember those Spike Lee-directed commercials promoting the new 5950 gamers, which started airing a few months ago? One of the players appearing in the spots, Jose Reyes, may have shilled for the new cap, but he hasn't been wearing it. Maybe he's holding out for a bigger cut of the residuals.
(Special thanks to Uni Watch intern Vince Grzegorek and the readership of the Uni Watch blog for their crucial research contributions.)
That'll Cost You Extra
There's nothing new about a player paying a teammate to get him to give up a uniform number. But when Jerry Porter wanted to change his number from 84 to 81 last week, he was told he'd have to pay someone else: the NFL.
In case you missed this latest case of the merchandising tail wagging the uniform dog, the league presented Porter with a $210,000 tab for his proposed number switcheroo -- supposedly the value of the unsold Porter 84 jerseys that the Raiders and Reebok would be stuck with. An NFL spokesman reportedly suggested that Porter wait a year, "when the supply of unsold shirts would be depleted and the cost would be less."
Uni Watch will say this much for the NFL's line of thought here: It has somehow managed to make the now-infamous Portis/Ohalete lawsuit seem dignified by comparison. Why not take the league's point of view to its logical extreme? If a player is traded, send him an invoice for the cost of any unsold product. If he suffers a career-ending injury, add the price of any surplus jerseys to his hospital bill. Want to change your name because of a religious conversion? Not until all those jerseys with your original name have sold. And just to make things easier when you retire, the league will automatically charge the cost of any unsold jerseys against your pension.
Things are a little more relaxed in the NHL, where Jason Spezza got a new number -- in the middle of the Stanley Cup finals, no less -- and it didn't cost him anything except a two-minute roughing penalty and some noogies from Sammy Pahlsson. To explain: During Saturday's Ducks-Senators game, Spezza and Pahlsson got in a slight tussle, with Spezza's jersey getting torn in the process. So Spezza, who wears No. 19, removed his jersey and retreated to the locker room, where they apparently had trouble finding a new jersey for him -- so he returned wearing Patrick Eaves' No. 44 (Eaves, a healthy scratch, had the night off). Full details, including video links that show the whole thing unfolding in real time, are available here.
The Spezza incident has sent shock waves through the game-used jersey collectors' crowd, where Spezza's torn jersey and the repurposed Eaves jersey instantly became highly coveted items. All of which goes to show that virtually anything sports-related spins off its own little merchandise subculture, no matter what numbers the players are wearing.
Stick Figures
Remember last column's excruciatingly detailed look at Nomar Garciaparra's guardian angel wristband pin, and the similar pin once worn by Manny Ramirez? Turns out they're not the only ones to have worn a little sprite on their uniforms. Lou Merloni appears to have worn a guardian angel pin throughout his career, as seen here, here and here. Since Merloni played in Boston with Nomar and Manny, it seems safe to say that this is a Boston-centric trend. Could the little pins have been the thing that reversed the curse?
Meanwhile, we have some further additions to the list of players who've worn pins on their uniforms. In addition to the previous roster (which featured Nomar, Manny, Craig Biggio, Joey Cora, Reggie Jackson, several members of the 1983 Giants and now Merloni), the list now includes the following:
• Reader Chris Guth nominates former Pirates infielder Jose Lind.
• Reader Joshua Smith notes that Curt Schilling had some sort of pin on the back of his cap, just above the MLB logo, during Game 4 of the 2001 World Series. Uni Watch has been unable to find a clear view of the pin, but given the inscription Schilling also included on his cap that night, an American flag pin seems like a safe bet.
• And Uni Watch intern Vince Grzegorek has turned up this page, which includes the following account of a 1970 BoSox/Indians game: "In game 2 [of a doubleheader in Boston], Indians reliever Dean Chance is told to remove a tiny flag pin on his cap by umpire Ed Runge in compliance with a rule prohibiting glass buttons and metal objects on uniforms because of their glare." Guess they haven't been enforcing that rule too strictly over the past few decades.
And We Won't Accept Groucho Marx as a Member
Tired of friends and family rolling their eyes whenever you talk about sleeve lengths and sock stripes? Want to feel like you're part of a community of people who "get it" when it comes to athletics aesthetics?
Then the new Uni Watch membership program is for you. You'll get a supercool laminated membership card (the back of which can be customized with your choice of uni number and typography style, like the back of a jersey), along with other benefits, and you'll be able to connect with like-minded folks on the Uni Watch membership roster.
Paul Lukas anxiously awaits the advent of postgame interview caps. His Uni Watch blog, which is updated daily, is here, his answers to Frequently Asked Questions are here, and archives of his columns are available here, here, and here. Got feedback for him, or want to be added to his mailing list so you'll always know when a new column has been posted? Contact him here.