Mother's Day was last month, so MLB did what it always does: Players wore pink jersey ribbons and pink armbands. Unless you count Kenny Lofton's decision to wear his armband on his ankle ("For a second there, I thought he was under house arrest," quipped a broadcaster), the whole thing was pretty low-key.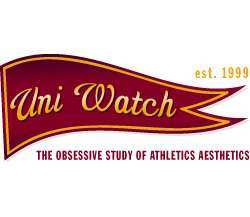 But there's nothing low-key about the minor leagues, where several teams took a slightly more, uh, flamboyant approach:
solid pink jerseys
(or
vests
, as the case might be; there's a full gallery of additional examples
here
).
This is all pretty standard fare in the minors. You want tradition and good taste? Look at the majors (well, usually). But if you want diagonal uni numbers, mismatched uni numbers and anthropomorphized baked goods (among many other cartoon logos), look to the minors, where whacked-out theme jerseys frequently are used as promotional pitches, then auctioned off for charity after the game. Frankly, Uni Watch can't quite envision a fierce bidding war to get a NASCAR-themed Frederick Keys uni or a Hawaiian-style Sacramento River Cats jersey, but you never know, because it all comes down to context: What looks like a questionable gimmick in the majors is just another charming lark down on the farm.
Although it pains Uni Watch to report this, not all these promotions are the result of late-night brainstorming by latter-day Bill Veecks. It turns out there are companies that specialize in theme jerseys (and not just for baseball), so a minor league GM can simply browse through a catalog or click through a Web site, and bingo -- instant Elvis Night.
Fortunately, some teams have gotten a bit more creative, either by coming up with unique uni-related promotions or by putting their own spin on some of the more established themes. Here are some of Uni Watch's recent favorites:
1. The Fresno Grizzlies With game show legend Bob Barker about to retire, the Grizzlies took the occasion earlier this month to stage The Price Is Right Night, highlighted by some truly amazing jerseys. They didn't miss a trick, either: Each jersey started out with a blank name tag that was then Magic Markered with the player's name, just like on the show, and the numbers on the sleeves mimicked the ones on the show's big wheel. A perfect mix of hokey and clever.
2. The Everett Aquasox This Class A Mariners farm affiliate has a good sense of humor to start with, since its logo features a frog catching a fly (get it?). Maybe that's why the team's annual Frogstock promotion, featuring tie-dyed jerseys, always seems fun instead of insipid. Major hilarity a few years back when Jay Buhner was rehabbing with the Sox and ended up having to go tie-dyed. Must have agreed with him -- he now owns a minority stake in the team.
3. The St. Paul Saints For many of us, the first uniforms we wore were in Little League and the Cub Scouts, so why not combine the two? That's what the Saints have done for Scout Night (additional views here and here). And why restrict the pink attire to Mother's Day? On Nurses Appreciation Night, the Saints have worn pink hospital scrubs. Still on this season's promotional schedule: Bad News Bears Night, when the team will wear replica Bears jerseys (with appropriate local sponsorship), and Hard Hats and Swinging Bats Night, which according to team spokesman Mike Nachreiner will find the team "wearing work shirts with their name on the front (think of what a mechanic would wear)."
4. The Lowell Spinners You're a Red Sox farm team that plays in a town called Lowell, Mass. So what do you do when the big club trades for a third baseman named Mike Lowell? You rename yourselves the Mike Lowell Spinners for one night, natch. And if that night happens to coincide with Keith Foulke's rehab assignment, so much the better. Uncharacteristically conceptual for a minor league stunt, but very cool nonetheless.
5. The Lake Elsinore Storm. The Storm already feature one of the game's weirdest cap designs and jersey insignia, so they don't need a full makeover to look eccentric -- they can just accessorize. That's what they've done with their annual Dr. Seuss Night promotion, which finds the players wearing Cat in the Hat-inspired socks (additional pics here, here, here and here), which were thinner-striped this year. For good measure, the concession stands were selling green eggs and ham, the team mascot dressed up as the Grinch and the P.A. announcements were all scripted to rhyme. Too bad there's nobody on the roster named Horton.
Honorable Mention: The Rockford RiverHawks' Danica Patrick Night, featuring racing-inspired autographed jerseys (yes, they were autographed before being worn); the Binghamton Mets' star-spangled jersey insignia, worn for Memorial Day (note the patriotically striped bases, too); the Kane County Cougars' American flag jerseys; the Washington Wild Things' Cubs-inspired throwbacks (based on this); the Stockton Ports' Oakland Raiders jerseys (so pathetically plain, they're sort of endearing); the Nashua Pride's Christmas in July uniforms (a concept also used by the Worcester Tornadoes); the Portland Sea Dogs' annual Field of Dreams Day (when the players not only dress up as the 1920s Portland Eskimos but also, according to reader Mat Strauss, "emerge through a corn field set up along the centerfield wall"); the Trenton Thunder's Superman jerseys; and the Toledo Mud Hens' upcoming Harley-Davidson Night.
Got additional examples? Send 'em here, and Uni Watch will feature the best ones in a follow-up item next month.
Finally, it's worth noting that minor leagues sometimes take creative approaches to their all-star games. For more info on that, look here.
(Special thanks to Kora Manheimer at the Minor League Baseball office, Uni Watch intern Vince Grzegorek, and the readers of the Uni Watch blog for their research assistance.)
And in Other News ...
A few uni-related items you might have missed over the past two weeks:
• After long and careful consideration, the NFL has decided to allow coaches to wear suits, at least for home games.

• You probably know that the Padres periodically break out the camouflage jerseys. But did you know there's a military team that wears full-length camo? Details here.

• The Royals recently made a very subtle acknowledgment of a local tragedy. Full details here.

• Lots of good uni-related action at the College World Series, which is under way in Omaha, Neb. Full coverage here.
Follow-Up Roundup
Recent columns have mentioned former WVU kicker and punter Chuck Kinder, who wore No. 100 in 1963 to celebrate the 100th anniversary of West Virginia's statehood. Now reader Craig Mullen has turned up a TV news clip featuring action footage of Kinder wearing the century number. Great find.
And remember Uni Watch's recent column about players in unfamiliar uniforms? Here's a late-breaking doozy from Norm Johnson: "I was watching the Pirates/Mariners game on June 19, and Mariners announcer Dave Niehaus had an interesting uniform tidbit about the '79 All-Star Game, which was played in the Kingdome. Apparently, Reggie Jackson's Yankees uniform arrived in time for the game itself, but not in time for the American League team picture. According to Niehaus, he posed for the AL team picture in a Mariners jersey!" The best part is how the photographer had Reggie stand next to a Mariners coach, instead of next to the other Yankees, which helped him blend in all incognito-like. Also, note that Rangers coach Pat Corrales, sitting in front of Reggie, was wearing a Cubs cap! Maybe his gear got lost in transit too.
(Extra-special thanks to Steve J. Rogers for providing the photos of this rare uniform cameo appearance.)
Illumination via Lamination
These people all have one of these (which look even cooler when you flip them over). Don't you wish you had one, too? For the full scoop on the Uni Watch membership program, get in touch.
Paul Lukas has had the "Price Is Right" theme music stuck in his head ever since he started working on this column. His Uni Watch blog, which is updated daily, is here; his answers to Frequently Asked Questions are here; and archives of his columns are available here, here and here. Got feedback for him, or want to be added to his mailing list so you'll always know when a new column has been posted? Contact him here.