The MLB All-Star Game is next week, which means uni-obsessed fans will be dusting off all the usual bits of uniform-related All-Star trivia, like the National League's special league insignia jerseys from 1933 (further info here), the many instances when misplaced equipment forced players to wear another team's batting helmet (several of which are listed here) or the odd All-Star habit of wearing white shoes.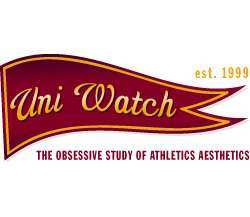 But Uni Watch has stumbled upon another All-Star aberration -- one that apparently has gone unnoticed for more than 70 years and has actively resisted all attempts to explain it. It's an enigma, wrapped in a mystery, covered in several square sheets of wool flannel.
Here's the deal: While researching another column, Uni Watch happened upon MLB's Web page devoted to the 1934 All-Star Game, which, as you can see, includes a link to a short video of newsreel highlights from the game. As historically minded readers will no doubt recall, this is the game in which Carl Hubbell famously struck out Babe Ruth, Lou Gehrig, Jimmie Foxx, Al Simmons and Joe Cronin in succession -- you've probably seen the highlights a few dozen times during rain delays, just as Uni Watch has. But despite the material's familiarity, Uni Watch clicked on the video link, and that's when a new detail practically jumped off the screen: Babe Ruth's uniform number appeared to be on a separate panel of fabric, which must have been pinned onto the back of his jersey.
Upon watching the video again, just to be sure, Uni Watch realized that this uni-numerical quirk wasn't limited to the Babe. In fact, every player whose number is visible in the video was exhibiting this same irregularity.
The crux of the video (which is only 47 seconds long) is the Ruth/Gehrig/Foxx strikeout sequence from the top of the first, with good rear views of all three sluggers. First comes the Bambino, with his number plainly on a distinct piece of fabric. Next is the Iron Horse, with his familiar No. 4 flapping away from the rest of his jersey. And then comes Double X, who swings and misses, revealing yet another number panel.
The view of Foxx is particularly interesting, because he's shown wearing No. 5, instead of his usual No. 3. That got Uni Watch thinking: Ruth, Gehrig and Foxx (whose uniforms all looked perfectly normal from the front, incidentally) were hitting third, fourth and fifth in the American League's batting order, so maybe their numbers were assigned to correspond with their spots in the lineup, which is how uniform numbers were originally assigned just a few years earlier.
But if that's the case, then why would Ruth and Gehrig have needed separate number panels, since their regular uni numbers already matched their spots in the lineup? And if the numbers were based on the batting order, why was the American League's starting pitcher, Lefty Gomez -- who's shown warming up in the video, with his number panel clearly visible -- wearing No. 5? (In case you're wondering: Gomez's regular uniform number that season was 11, and he batted ninth in the A.L.'s All-Star lineup.)
Uni Watch approached several baseball historians with this head-scratcher, all of whom had the same response: "I never noticed that before, and I can't explain it either." But one of them -- Baseball Hall of Fame curator and longtime Uni Watch comrade-in-arms Tom Shieber -- came up with something that, if anything, only adds to the mystery. Shieber found a Washington Post item that was published the day after the game. Written by columnist Paul Gallico and headlined "Hubbell Had Americans Licked, Could Have Gone On and On," it began like so:
"Well, you may close up the books on the great All-Star game of 1934 for me. A slim, tanned fellow with the number 14 pinned to his back has gone trotting off the field toward the locker rooms while a crowd of upward of 50,000 lovers of pure baseball covered his departure with crashing applause and cheers that lingered long after the figure in the cream-white had taken the last pat on the back from the ecstatic bleacherites who leaned far out of the stand by the locker room door in the center field stands to touch the wonderful shoulder of the man who, with two men on base and none out in the first inning, had struck out Ruth, Gehrig and Foxx in succession."
Assuming you can wade through the thicket of Gallico's verbiage (he must have been getting paid by the word), the key phrase is there at the beginning of the second sentence, where he refers to Hubbell's number being "pinned to his back." As Shieber put it when bringing this excerpt to Uni Watch's attention, "I would normally have read 'pinned to his back' as a euphemism. But in light of the visual evidence, I think he really meant that the numbers were pinned on."
But this didn't explain why the players were wearing pinned-on numbers. Moreover, Hubbell's usual number wasn't 14 -- it was 11 (he was, in fact, the first National League player to have his number retired).
Uni Watch then wondered, "Hmmm, did they do the same thing the year before?" Nope. According to this auction page, the actual jersey that Ruth wore in the '33 All-Star Game, complete with a conventional sewn-on number, is shown here. And this view, while not ideal, shows that same jersey in action -- again, nothing unusual about the number.
Then what about the year after? Good rear-view images of the 1935 All-Star game have proven hard to come by, although Uni Watch did find this photo of Lou Gehrig, taken during pregame warm-ups. After a bit of enlargement, it looks like that player on the right edge of the photo doesn't have anything pinned to his back. And although it's tough to say for sure, this gent in the dugout behind Gehrig appears to have a normal sewn-on number as well. Then there's the newsreel highlight footage (accessible via this page), in which two players' numbers are visible, if somewhat grainy-looking: Lefty Gomez appears to have been wearing his usual No. 11, but Jimmie Foxx -- shown here during his home-run trot in the first inning -- was wearing No. 2! Uni Watch originally thought this was yet another plot twist, but it turns out that Foxx wore No. 2 (instead of his usual No. 3) for that season and that season only.
So the numbering protocol in the '34 All-Star Game appears to stand alone and is a subject that clearly merits further study. And that's not the only entry in Uni Watch's cold case files. Back in February, for example, over on the Uni Watch blog, reader Bob Jaye noticed that an old Dodgers spring training photo appeared to show several players with an "S" instead of a uniform number (full details here), a mystery that has so far stumped every historian Uni Watch has approached.
In a perfect world, Uni Watch would plumb the depths of these rabbit holes by chairing a blue-ribbon investigative panel equipped with full subpoena power, top security clearance and an unlimited pizza budget. Until that day comes, if you can help unravel these mysteries, or if you have a uni-related puzzler of your own to contribute, you know what to do.
Meet Me in St. Louis
Speaking of the All-Star Game, Uni Watch will be setting up shop Tuesday evening to view this year's installment of the midsummer classic at McGurks in St. Louis, where all area readers are invited to show up, with or without numbers pinned to their backs. Feel free to stop by, meet other readers, say hi (read: buy Uni Watch a drink), and so on.
Precisely two weeks after that, on July 24, Uni Watch's first international party will convene, this time upstairs at the Imperial Pub and Library in Toronto. Festivities will commence at 8 p.m. Hope to see you there.
Paul Lukas wore No. 2 on the 1976 Blue Point Little League All-Star team (and the number was screen-printed). His Uni Watch blog, which is updated daily, is here, his answers to Frequently Asked Questions are here, and his Page 2 archive is here. Got feedback for him, want to learn about his Uni Watch membership program, or want to be added to his mailing list so you'll always know when a new column has been posted? Contact him here.