Page 2 Uni Watch: Making the Jersey
When you see a uniform with the Reebok logo on the sleeve, you probably figure that Reebok manufactured and assembled every component of the jersey. But that's not how it usually works. Reebok, Nike and most of the other big uniform manufacturers, as well as retail-only brands like Mitchell & Ness, put the main garments together, but the letters, numbers, patches and sometimes the primary logo insignia are often created and applied by a subcontractor. And in many cases, that subcontractor is Liebe Athletic Lettering, located in Chesterfield, Mo., about half an hour outside of St. Louis.
Founded as a basement operation about 80 years ago, Liebe now does work for all the major American sports leagues, the NCAA and loads of smaller athletic organizations. It gets no glory -- no logo on the garment, no tag, no indication that the uniform has passed through its factory. But whether you realize it or not, you see Liebe's work almost any time you watch a game on TV or flip through a rack of jerseys at Modell's.
Uni Watch recently paid a visit to Liebe's headquarters, which turned out to be a uniform enthusiast's dream, with patches, insignia, nameplates and rolls of twill fabric all over the place. As you can imagine, Uni Watch was like the proverbial kid in the candy store.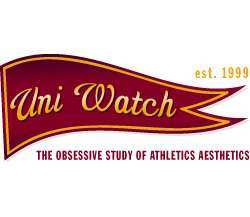 Thanks to the help of a camera crew, some of that candy has been documented in the first-ever Uni Watch video report, which you can stream elsewhere on this page. Here are some images and info that didn't make it into the video:
• Although a lot of Liebe's embroidery is now done by computerized machinery, much of the company's sewing is still done by hand, primarily by women who look like they've been doing it forever. For example, although the main insignia on the Cardinals' jerseys is done by machine (that's just a sample piece of cloth, not an actual jersey), the finishing details, like the dark outlining, are all done manually.
• Back in the pre-digital days, the main embroidery work used to be done by hand too. Each logo had a pattern like this -- basically a sheet of paper or plastic with lots of pinholes. The pattern would be positioned over a jersey, and then a worker would smear some pigment over it, which would pass through the pinholes and replicate the pattern on the fabric. That would be the guide for the sewers to follow.
• Nowadays, sleeve patch designs are digitized and fed into a computer. But as recently as 25 years ago, the designs were blown up to six times their normal size to form a pattern. Every line on these diagrams represents a stitch. The patterns -- gorgeous pieces of artwork in their own right -- aren't used anymore, but they're still floating around in old files, many of them dating back to the '50s and '60s.
• Liebe's letters, numbers and logo appliqués are cut either by a laser cutter or a water jet. Back in the day, however, they used to be die cut, and the company still has drawers and drawers full of stamping dies, which look pleasingly old-school and light-industrial.
And so on. Extra-special thanks to Bill Liebe and his staff (especially the lovely Marcia Meyer, who served as Uni Watch's tour guide throughout the facility) for their hospitality, and for a visit that was as educational as it was enjoyable.
Minor Matters
Last month's roundup of minor league theme jerseys prompted several good reader contributions, highlighted by a missive from reader Fran Fried, who's managed to collect just about every ugly themed jersey that the Fresno Grizzlies have worn (and then auctioned off to "lucky" fans like Fried) over the past several years. In addition to the team's recent "Price Is Right" jerseys, Fried's collection also features jerseys from Jimmy Buffett Night, Metallica Night, Superhero Night, Western Night, Cinco de Mayo and Harley Night, plus he also has one of the team's awesome Fresno Raisin Eaters throwbacks. Uni Watch hereby salutes Fried for his outstanding devotion to highly questionable baseball attire.
Other reader-submitted minor league promotions of note: the Madison Mallards' Hockey Night; the Harrisburg Senators' Parrothead Night; the many teams, including the Buffalo Bisons, who've held a Hawaiian Shirt Night; the Bowie Baysox's Beach Night (are you noticing a pattern here?); the Kansas City T-Bones' Redneck Night (additional views here and here); and the State College Spikes' Ronald McDonald-themed jerseys (to benefit Ronald McDonald House). And remember the story about Jay Buhner rehabbing with the Everett AquaSox during the team's annual Frogstock promotion? Buhner's tie-dyed visage became so locally famous that it became the basis of a bobblehead doll.
(Big thanks to all contributors, including Derek Zoellner, Steve Buffum, Ken Gilbert, Matt Roncone, Jose Frontanes and Mac Hooks.)
O Canada
Next Tuesday, July 24, Uni Watch's first-ever Canadian party will be convening in Toronto. Festivities will commence at 8 p.m. upstairs at the Imperial Pub and Library. Come on down, meet other readers, gripe about those crummy Blue Jays jerseys -- you get the idea. Hope to see you there.
Paul Lukas hopes his next field trip takes him to visit these guys. His Uni Watch blog, which is updated daily, is here, his answers to Frequently Asked Questions are here, and his Page 2 archive is here. Got feedback for him, want to learn about his Uni Watch membership program, or want to be added to his mailing list so you'll always know when a new column has been posted? Contact him here.