In 1991, San Francisco 49ers owner Ed DeBartolo and team president Carmen Policy held a press conference where they announced, among other things, that the team would have a new helmet design. Fan response was swift, and not particularly pleasant. The very next day, the team issued a statement that essentially amounted to, "Um, never mind," and the new helmet was quietly withdrawn (although it was later immortalized as a mini-helmet toy).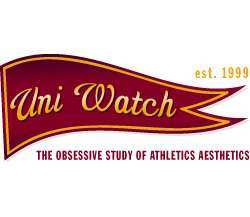 A similar situation unfolded five years later in St. Louis, where the Blues were getting ready to unveil a new alternate uniform that was just a little bit out there. But fans didn't get a chance to respond to this design. When head coach Mike Keenan got a peek at the jersey, he promptly put the kibosh on it.
These are two of the most famous instances of a phenomenon that has long intrigued Uni Watch: the uniform prototype. Sometimes the result of plans that were scuttled at the last minute, sometimes samples prepared by a manufacturer hoping to win a team's business, and sometimes just failed experiments, these stillborn designs offer a glimpse into what might have been -- an alternate uni-verse, so to speak. (They also provide a disquieting glimpse at front office dysfunction. Like, seriously, you know you've got problems in your executive suite when Mike Keenan is the one providing you with a level-headed reality check.)
Sports history is littered with similar examples of uniform prototypes that didn't make the cut, although most fans are unaware of them. Fortunately, Uni Watch is here to shine a bright light down these roads not taken, so we can see how close various teams came to aesthetic disaster (or, in a few cases, glory).
Before getting down to specific cases, however, we should first address a simple question: What qualifies as a prototype? By Uni Watch's reckoning, a mere illustration or mock-up doesn't cut it, especially nowadays, when any clown with Adobe Illustrator can whip up a professional-looking design faster than you can doodle one on a cocktail napkin. A true prototype is one that got far enough down the design pipeline for a sample to be manufactured -- with a few rare exceptions, that's what we'll be looking at here.
One other caveat: While the Niners and Blues examples are relatively public stories with confirmed chronologies, most other prototype tales are far sketchier. Once a batch of unused proto jerseys has been dumped for retail sale at an outlet store, discovered by a collector, traded to another collector, sold on eBay, resold at an auction, traded yet again, and inspired a few knockoff versions along the way (to cite just one typical route a prototype can take on its way from a team boardroom to this column), good luck figuring out exactly when and why it was produced. And the teams are no help, since they prefer to pretend that these abandoned designs never existed in the first place.
So a certain skepticism is de rigueur. Happily, Uni Watch is privileged to have had the assistance of William F. Henderson -- the man behind the essential "MLB Game Worn Jerseys of the Double-Knit Era" -- who generously prepared a series of MLB prototype analyses for this column. So at least we've got some context for the baseball examples that follow.
With those guidelines in mind, here's a partial listing of uniform prototypes that have surfaced over the years, broken down first by sport and then by team:
MLB
Angels: The origins of this prototype design, from the team's Disney-owned era, are unclear. In the words of Rick Subrizio, in whose collection it resides, "The '97' on the back and sleeve would suggest it might have been a prototype for the '97 season, but the MLB logo on the rear collar suggests that it's from 2000 or later. The lettering on back is unlike any I've seen on other Angels jerseys, so I'm not sure what to make of this one." Bill Henderson notes that the Rawlings logo didn't appear on the Halos' left sleeve until 2000, so that jibes with the MLB logo patch's presence (and means the 97 uni number is just a red herring). Probably a sample or design study for a possible 2001 alternate jersey.
Astros: Uni Watch would love to see some developmental versions of Houston's tequila sunrise design from the 1970s, but alas, nothing of that sort has surfaced. So we'll have to settle for this concept from the early '90s (pretty sharp, no?) and this abortive design from a few years ago.
Blue Jays: The Jays considered going to a blue vest back in 1997, but it didn't make the cut. But the Jays' real prototype fiesta took place a few years after that, when the team was developing the design it currently wears. There were several concepts that got discarded along the way, including this one (here's a rear view) and this one. When the new wardrobe was finally unveiled, retail displays included a charcoal/graphite "Toronto" jersey -- with a number on the front, no less -- that never made it onto the diamond, although its impact continues to be felt today. Reader Braden Leibovitch explains:
"The Blue Jays unveiled their new logo and uniforms on Sept. 2, 2003. The plan was for them to wear the graphite road away jersey with graphite pants and a graphite hat the following season. The video game MVP Baseball 2004 showed the solid graphite design as the team's road uniform. Apparently these jerseys were nixed by the MLB because they were too dark (imagine playing a day game in Arlington in those!). But the Jays already had the insignia production finalized, and a ton of graphite replica jerseys had been made. The team's solution was to take the existing insignia wordmarks -- which had a graphite outline, to blend in with the graphite jersey -- and place them on regular gray jerseys. This created a contrasting graphite outline that's still visible on the team's road grays to this day. I'm surprised they haven't changed it, because the original version was such a rush job."
Cardinals: In February 1956, Stan Musial was photographed while modeling the Cards' new home uniform and holding an unfamiliar "St.L"-emblazoned jersey. According to the photo's wire service caption, this was supposed to be the team's road uniform for the upcoming season. But that plan was apparently abandoned sometime over the next two months, because the '56 road uni turned out to be just a gray version of the home design. (Note that this was the only season since 1922 that the Cards didn't wear some version of the "birds on the bat" insignia.)
Devil Rays: The prototype phenomenon also extends to sleeve patches. In 1998, for example, the Rays wore this extra-ugly inaugural-season patch, but at one time they were considering something much more reasonable.
Diamondbacks: As if purple with teal lettering weren't bad enough, at one point the D-backs were considering purple with purple lettering. The mind fairly boggles.
Dodgers: A classy organization like the Dodgers would never dabble with something like a phony vest with contrast-colored sleeves, right? Wrong.
Giants: In 1994, the Giants changed their road jersey design from a simple "SF" logo to black lettering with an orange outline. But they apparently considered doing it the other way around (similar to what the team wore in the mid-1970s).
Mets: The Amazin's were evidently toying with this BP jersey a few years back (rear view available here).
Padres: San Diego switched to its current road insignia in 2004. But they'd been kicking the idea around at least since 1999.
Phillies: Incredibly enough, the Phils have never worn the word "Philadelphia" on any of their uniforms. They were thinking about it in the early 1990s, though.
Red Sox: Remember the special gold-outlined letters and numbers that the Sox used for their World Series ring ceremony in 2005? At one point they were apparently considering silver outlining instead (additional views here, here, here, and here).
White Sox: Chicago's infamous pajama jerseys could have ended up looking like this. And if you think their 1980s beach blanket design was weird, consider this: It could have been worse. After buying the team in 1981, Eddie Einhorn and Jerry Reinsdorf sponsored a contest in which fans were encouraged to help design the team's 1982 uniforms. After wading through about 1,600 submissions, team management chose a handful of finalists, which were manufactured and modeled. As you can see, one of the designs is pretty close to what the team eventually wore in '82 (too bad they didn't go with the striped stirrups featured in the prototype design). A few years later, when the team switched to this road jersey, it originally considered a version with the city name underlined.
NFL
Bengals: This photo shows Bengals founder Paul Brown surrounded by prototype helmet designs prior to the team's 1968 launch (none of which were to his liking, apparently, since the team ended up wearing this). The one he's holding is remarkably similar to the design the club eventually adopted in 1981.
Browns: The subject of endless debate and speculation among helmet historians, this design was developed after the NFL urged the Brownies to come up with a stronger graphic identity. Depending on which source you believe, it may or may not have been worn during the 1965 preseason, but it definitely never appeared in a regular-season game.
Buccaneers: When the Bucs were developing the pewter/red design that they've worn for the past decade, they considered lots of other helmet and logo designs. A photo gallery of discarded options is here, and a short article is available here.
Jaguars: The Jags were originally slated to have a leaping jaguar helmet logo (one version of which showed the full-body jag; another rendition just showed the cat's front end) and a rather innovative jersey design. But when those other Jaguar folks threatened to sue for trademark infringement, the team went back to the drawing board.
Saints: In 1969, New Orleans showed up for preseason games wearing black helmets. Just one slight problem: They'd failed to inform the league office about the switcheroo, leading to a big kerfuffle that resulted in the ebony headwear being shipped off to a junior-level team (full details here, courtesy of the mighty Helmet Hut site). Some might argue that this is more than just a prototype, since the Saints actually wore it on the field, but Uni Watch thinks it qualifies for inclusion in our listing, since preseason games don't really count.
Seahawks: When the Hawks unveiled their new "meaner-looking" helmet logo in 2002, they actually presented two versions of the helmet -- one blue, one silver -- and let their fans vote on which one would be the keeper. The blue version was the overwhelming winner, so the silver version was mothballed.
Texans: The Texans' original uniform scheme called for a white helmet, which was displayed at various media events trumpeting the team's launch. It was later scrapped in favor of the team's now-familiar navy version.
NHL
Capitals: The Caps were all set to switch to this design in 2000, but the plans were scrapped at the last minute.
Nordiques: In the late 1980s, the Nords considered jazzing up their basic design by adding some stripes but never followed through on the concept. Later on, the team was all set to wear this design for the 1995-96 season (here's the white version), but the NHL decreed that they hadn't filed their uni-change paperwork in time, so the plan was reslated for 1996-97. Before that could happen, however, the team moved to Colorado and became the Avalanche (just as well, since the new design would have prompted innumerable Timberwolves jokes).
Senators: When Ottawa fans were lobbying for an NHL franchise in the early '90s, this jersey showed up at press conferences as a proposed inaugural uniform.
Stars: Dallas was planning to wear a gold alternate jersey in 2002, but the idea was abandoned just before the season started.
NBA
Hardcourt prototypes have proven difficult to track down. The closest thing Uni Watch has been able to come up with is the occasional concept drawing (here's another one; further info on that design process here) or unused logo, like these Sixers designs, which were submitted to the team but never adopted.
Got any other prototype designs to share? Heard any good rumors? You know what to do.
Little Green Men Dots
The onset of the NFL's preseason schedule has led to an avalanche of e-mails asking about the green dot now appearing on the back of quarterbacks' helmets. The short version is that the dots indicate which helmets are equipped with radio headsets; a lengthier explanation is here. And a bunch of other NFL preseason observations are available here.
Cold Case File Revisited
Last month's column about the mystery of the 1934 All-Star Game (as dedicated readers will recall, Uni Watch was puzzled by the uniform numbers, which appeared to be pinned on in the newsreel footage of the game) prompted a lot of amateur sleuthing by various readers. Uni Watch isn't yet sold on a definitive explanation, but many questions have now been answered:
• Were the numbers really pinned on? Yes, definitely. Uni Watch had wondered if the newsreel shots were dramatizations done with actors wearing fake unis, but this non-newsreel photo of Arky Vaughn clearly shows that the players wore separate number panels during the game.
• Were some players not wearing their usual uni numbers? Yes. This question came up because the newsreel showed Jimmy Foxx wearing No. 5, instead of his usual No. 3. Turns out this was more the rule than the exception. Reader Mike Meserole, with help from longtime Uni Watch comrade Bill Francis at the Hall of Fame, did some heroic research and compared the players' usual numbers to the numbers they wore in the '34 All-Star Game. You can see results here.
• Why did so many players change their numbers? "Maybe it was because seven of the game's 18 starters, plus two bench players, normally wore No. 3," says Meserole. This speculation appears to be borne out by reader Adam Covington, who happens to be the great-nephew of former big league pitcher Ewell Blackwell. He writes: "Uncle Blackie once explained to me that the leagues decided that no two players were to wear the same uniform number on the same team in the All-Star Game, to avoid confusion for the official scorer and fans (remember, they didn't have giant electronic scoreboards showing the players in those days)." Although Blackwell didn't make his MLB debut until eight years after the '34 All-Star Game, this explanation seems plausible.
• What about Babe Ruth and Lou Gehrig? Uni Watch didn't understand why the Bambino and the Iron Horse needed separate number panels, since their regular uniforms already carried the numbers that they wore in the All-Star Game. Back to Adam Covington: "As I understood it [from Ewell Blackwell], the players were required to furnish uniforms that did not have numbers on them." That sounds a bit fishy to Uni Watch -- uniforms were scarce commodities in those days, and Uni Watch doubts that a separate blank uni would have been manufactured just for one game. A more plausible rationale, which several readers suggested, was that each player had to wear a pinned-on number, even if it matched his regular number, for the sake of visual uniformity.
• Were the revised uni numbers based on the batting orders? Mostly, but not entirely. Mike Meserole's research shows that the starting lineups and uni numbers broke down like this:
NATIONAL
1. Frankie Frisch (uni No. 1), 2B
2. Pie Traynor (No. 2), 3B
3. Joe Medwick (No. 3), LF
4. Kiki Cuyler (No. 5), RF
5. Wally Berger (No. 7), CF
6. Bill Terry (No. 8), 1B
7. Travis Jackson (No. 10), SS
8. Gabby Hartnett (No. 11), C
9. Carl Hubbell (No. 14), P
AMERICAN
1. Charlie Gehringer (No. 1), 2B
2. Heinie Manush (No. 2), LF
3. Babe Ruth (No. 3), RF
4. Lou Gehrig (No. 4), 1B
5. Jimmie Foxx (No. 5), 3B
6. Al Simmons (No. 6), CF
7. Joe Cronin (No. 7), SS
8. Bill Dickey (No. 8), C
9. Lefty Gomez (No. 9), P
• How do you explain Lefty Gomez? This was the most puzzling question of the entire project. In the newsreel footage, the American League's starting pitcher, Lefty Gomez, appeared to be wearing No. 5 -- a real stumper, because Jimmy Foxx was also wearing 5, and Gomez obviously wasn't batting fifth in the lineup. This turned out to be a red herring: Look closely at the newsreel shot and it becomes apparent that Gomez is actually wearing No. 9 (which jibes with Meserole's findings), with the upper-right stroke of the numeral obscured by a flap of fabric.
So there you have it. Major thanks to everyone who helped untangle the threads of this historical mystery.
Meanwhile, as long as we're talking follow-ups, reader Matt Campbell responded to Uni Watch's recent column on minor league baseball theme-night promotional jerseys by sending in over two dozen similar examples from the world of minor league hockey, many of which are truly, um, inspired. You can see a slideshow of his contributions here.
Paul Lukas, a lifelong 49ers fan, might have been forced to reconsider his allegiance if that helmet redesign had gone through. His Uni Watch blog, which is updated daily, is here, his answers to Frequently Asked Questions are here, and his Page 2 archive is here. Got feedback for him, want to learn about his Uni Watch membership program, or want to be added to his mailing list so you'll always know when a new column has been posted? Contact him here.