Last week's column about uniform prototypes led many Uni Watch readers to point out an omission -- or at least that's what they thought it was: "What about the Mavericks' metallic uniforms?" they wrote. "They were worn only once and then taken out of circulation."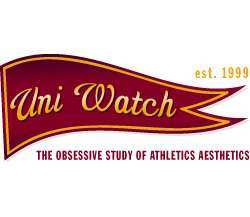 True, the Mavs' silver ensemble remains a landmark in uni-related missteps. The thing is, that design doesn't qualify as a prototype, because it was actually worn in a regular-season game. It does, however, serve as the definitive example of another category, which makes a worthy follow-up to our prototype investigation: uniforms that were worn just a handful of times (or, as in the Mavs' case, just once) and then abandoned. Call it one and done.
Before delving into this topic, let's make clear what we're not talking about: Throwbacks don't count, since they're only intended to be worn once in the first place. Same goes for commemoratives, special-event designs (unique uniforms for a bowl game, for example), MLB's futuristic uniforms from 1999, or anything else that was specifically designed to be a one-off. What we're looking for here is something more rarefied -- uniforms that were intended to be full-fledged components of a team's wardrobe but, for whatever reason, barely got out of the starting gate.
With those parameters in mind, here's a selective timeline of concepts that no doubt seemed like a good idea -- until everyone got a look at them:
1944-48: With night games becoming more common, the Dodgers, Cardinals and Braves experiment with satin uniforms, which are supposedly more reflective under the lights. Unfortunately, they're also stiflingly hot, heavy and difficult to clean, among other difficulties. Each team wears them just a handful of times before the experiment is unceremoniously abandoned.
1971: Brooks Robinson, who's moonlighting as a sporting goods executive while playing third base for the Orioles, convinces team management to have the O's suit up in solid orange uniforms supplied by his company. The team humors him for two games before the solid orange getup is put out to pasture.
1974: The expansion Washington Capitals make their NHL debut wearing white breezers on the road (details here). In addition to looking totally candy-ass, the snow-white shorts also show every single stick and puck mark. After a storm of ridicule, the not-so-pearly whites were replaced by blue shorts.
1976: The White Sox, apparently thinking that untucked pajama tops with huge leisure suit collar points might be too subtle, decide to make a bolder statement by wearing shorts for their Aug. 8 game against the Royals. Thirteen days later (presumably how long it took for their skinned knees to heal), they wear them again against the Orioles. The shorts are then retired, although they later achieve a sort of urban legend status, with many current fans mistakenly believing they were worn for an entire season.
1979: On May 19, the Phillies unveil their new "Saturday Night Special" uniform, which turns out to be solid burgundy. Fan and media reaction is so swift and unforgiving that the monochromatic design is immediately mothballed and never worn again.
1981-82: The Flyers and Whalers experiment with wearing Cooperalls -- basically slacks that make hockey players look like waiters. The NHL bans them in 1983.
1988: On Feb. 28, the Syracuse basketball team shows up in Kentucky wearing blue uniforms. The move doesn't go over well with Kentucky fans (as one observer later remarks, "You'd have thought they were dragging the body of Adolph Rupp around the arena") and the 'Cuse loses besides. Syracuse's Derrick Coleman later recalls, "I remember when we wore blue uniforms at Syracuse and went down to Kentucky and got beat. We never wore them again."
1989: On Jan. 7, the N.C. State basketball team takes the court wearing one-piece unitards, which are so embarrassing that the players wear shorts over them. The bodysuits are worn one more time and then scrapped, with Wolfpack coach Jim Valvano tactfully explaining, "The players complained that the unitards just weren't as comfortable as they think they could be."
1993: The Rockies' wardrobe for their inaugural season includes a black jersey with purple lettering, slated to be worn on Sundays. When the team lost its first two Sunday games by a combined score of 30-10, manager Don Baylor tried to change the team's luck the following Sunday by dressing the team in white, but the Rockies lose again, 12-7. "It wasn't the shirts," Baylor said afterward. "That's pretty obvious." Despite this apparent exoneration, the black jerseys were never worn again.
1994: On Opening Day, the Phillies debut a new blue cap (complete with matching batting helmets), which is intended to be worn for weekday afternoon games. After the team loses its first two games wearing the azure headwear, the caps are deemed bad luck. After a few more games, they're banished forever (although they still turn up on eBay).
1995: The Tigers issue a navy alternate jersey, which is worn just once or twice. Reader Dave Murray explains the jersey's demise: "Before one game, I saw the team president, John McHale, near the dugout and asked him about the navy jerseys, and whether the team would wear them again. He said they wouldn't -- 'They just don't look like the Tigers,' he said. 'If that's the case,' I asked, 'will the team lower the prices of the ones sold in the gift shop?' He smiled and walked away."
1995: On Sept. 2, the Wisconsin football team takes the field wearing a new white-sleeved jersey for the home-opener game against Colorado. When the Badgers lose 43-7, the new jerseys get scapegoated as the source of the team's poor performance, and they're forever banished from Madison.
1995: The Indianapolis Colts come out with a new road uniform, featuring blue pants and white socks. The design lasts three games before the team reverts back to its standard white-on-white road format.
1996: The University of Kentucky hoops team makes an ill-advised color choice, as reader Eric Burtis explains: "They went from the regular Kentucky blue that everybody is familiar with to a sort of faded, almost stonewashed shade of blue. From a distance, it looked kinda like a Carolina blue. Holy crap! Imagine if the Yankees decided to add a little red to their unis and slap a B on their caps. They were only worn once, maybe twice, then never seen again."
1997: The Mets unveil a blue-brimmed white cap. Immediately derided as the ice cream man cap, it's worn a few times early in the season and then mysteriously vanishes.
1997: Meanwhile, the Twins break out a red Sunday jersey, which, in another ice cream analogy, quickly becomes known as the Dairy Queen design. It's worn on April 6 and 27 and is then permanently relocated to the farthest reaches of the team's closet.
1997: The Angels celebrate their first crosstown interleague series against the Dodgers by wearing an alternate jersey with periwinkle sleeves and a matching cap on July 2. After several players voice their disapproval, the design is never seen again.
1997: The Red Sox, supposedly a stronghold of tradition, trot out two alternate caps during the course of the season: one with a white "B" and one with a white crown (additional views here and here). Both caps quickly end up on the scrap heap, but not before they add six more years to the team's World Series curse.
1997: The U. of Minnesota hockey team allows player Casey Hankinson to design the team's jersey, with predictably disastrous results. After a few games, Hankinson's teammates succeed in having the heinous design (which looks even worse from the back) decommissioned.
1999: The Dodgers take their weeklong "Think Blue" promotion a bit too literally, dressing up in blue jerseys and some seriously garish caps (which may explain why a major brawl ensued on the field). Although the "Think Blue" promotion is repeated in subsequent seasons, the special uniforms, mercifully, are not.
2004: The Cameroon soccer team wears a controversial one-piece kit -- essentially a unitard with faux shorts -- at the African Cup of Nations tournament. FIFA, soccer's governing body, decrees that the one-piece bodysuit violates the sport's rules, prompting a lawsuit from the uniform's manufacturer, Puma. After lots of very mature dialogue from all parties, the matter is resolved and the uniforms are retired. (As an aside, this incident should have been included in Uni Watch's recent rundown of uniform police actions.)
2006: After several years of wearing lots of black detailing, the Royals banish black from their wardrobe -- except, oddly, for a black alternate road jersey, which doesn't seem to fit with the team's return to its royal blue roots. The ebony design is worn two or three times on the team's first road trip of the season and then does a disappearing act.
In addition, readers of the Uni Watch blog have suggested several other examples, although these are a bit fuzzier and, for now, lack photographic documentation:
• From Jeremy Burson: "The University of Kentucky basketball team wore silver/gray uniforms for one game against Michigan State in December of 2002. The uniforms were in celebration of UK's 100th anniversary of basketball and were supposed to be worn all season as alternates/third jerseys. However, UK lost that day at home, and the design was never worn again."
• From Tim McCabe: "The Minnesota Gophers men's basketball team wore black jerseys for one game back in the 1996-97 season (similar to the warm-up shirts they wore that year). I don't remember exactly which game."
• From Sebastian Atwater: "On Dec, 2, 2003, the Michigan State basketball team played Duke at the Breslin Center in East Lansing. The Spartans wore silver uniforms for the game and got beaten pretty badly. It was, if I remember correctly, the first and last time these uniforms were worn."
• From Jim Bendat: "Former UCLA basketball coach Jim Harrick had the Bruins wear yellow home uniforms (both jerseys and shorts) for a 1991 game against Louisville. The fan reaction was extremely hostile, and the uniforms were worn just that one time."
• From John Mervilde: "Most people remember the hideous football uniforms Indiana wore during the Cam Cameron era -- black helmets, oval logo, fire engine red. Lesser known is that in Cameron's second home game, against rival Kentucky, Cam trotted the team out in black jerseys with white numbers and names. IU lost 49-7, Cameron reportedly received a tongue-lashing from his old basketball coach Bob Knight about dressing his team in Purdue's colors, and Cam vowed that he would never use the jerseys again."
• From Ken Weimer: "UConn's women's basketball team wore silver jerseys one year while Diana Taurasi was there. They were playing Duke in a nationally televised game, but they wound up getting beat. I don't recall them ever wearing them again."
(Extra-big thanks to longtime Uni Watch comrade Bill Henderson, whose indispensable "MLB Game Worn Jerseys of the Double-Knit Era" was the source for many of the baseball examples cited above, and also to the many Uni Watch blog readers who provided invaluable research assistance.)
Current Events
Before we get lost in all these historical oddities, here's a sampling of uni-related news from the here and now:
• The third letter of the alphabet may be getting a lot of play on NFL uniforms this season. Details here.
• The steady drip, drip, drip of new NHL uniforms continues. The Senators unveiled their new look this week (for details, scroll down to the "Senatorial Protocol" section on this page), and the Red Wings and Islanders came out with their latest designs last week (further info in the "NHL News" section on this page). Next up: the Lightning this weekend and the Canucks next week. Stay tuned.
• Want to help choose an NCAA team's football helmet for the 2008 season? Iowa State is letting fans vote on a choice of three designs.
Paul Lukas attended one of those white-capped Mets games in 1997 and still hasn't fully recovered. His Uni Watch blog, which is updated daily, is here, his answers to Frequently Asked Questions are here, and his Page 2 archive is here. Got feedback for him, want to learn about his Uni Watch membership program, or want to be added to his mailing list so you'll always know when a new column has been posted? Contact him here.