Halloween is still a month away, but the costumes are already out in full force outside major league baseball clubhouses.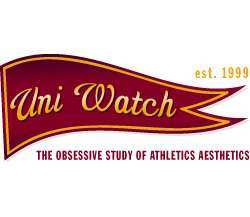 And that, of course, means we're deep in the thick of
rookie hazing
, a time-honored MLB rite of passage in which rookies -- from the lowliest September call-ups to international stars like
Dice-K
-- are forced to
dress up
(or
down
, as the case might be). The stunt is usually executed right before the last road trip of the year, so the rooks have to wear their costumes while
hauling their luggage
out
to the team bus
, at the
airport
(bonus points for teams going to or from Toronto, since the rooks will have to go through customs), and on the plane.
Just about every team gets in on the hazing routine, but it's the Yankees -- their commitment to excellence extending to every corner of the game -- who've set the highest standard in recent years. In 2005, the rookies wore cheerleader outfits, and last year the players had to dress up as George Steinbrenner. This year, they went for a "Wizard of Oz" theme (gleefully documented with dozens of photos here).
MLB's pecking order is enforced in other ways, too. The Reds played a pants prank on rookie Norris Hopper Sunday, removing his signature baggy pants from his locker and replacing them with a tighter, shorter look. "I was taking -- they might rip if I swing," Hopper said afterward. (Further details here.) And then there's the long-standing bullpen bag protocol, which stipulates that the pitcher with the least seniority must pack a pink or purple knapsack with snacks for the rest of the bullpen -- and bring it to the 'pen before the game, in full view of howling fans.
Still, the costume schtick is the classic crowd-pleaser, with a long, rich tradition. While nobody has yet compiled a definitive timeline of hazing history, here are three moments that stand out:
• The Twins took hazing to new heights last season, when they arrived in Cleveland on an off day and found that the Indians-Royals game was still in progress, so they made the rookies -- who'd been forced to dress up back in Minnesota and were still in costume -- go to Jacobs Field and watch the rest of the game.
• Quoting from the excellent 100 Percent Injury Rate blog: "Rangers rookie John Rheinecker forgot his passport and was unable to make a trip to Toronto [last year], so he was sent home. His punishment was that he had to ride BART after a game in Oakland in a penguin suit."
• And there's the time hazing saved a player from injury. That was back in 2004, when Indians pitcher Kyle Denney was dressed as a USC cheerleader, complete with white go-go boots. In a bizarre sequence, Denny was hit in the leg by a stray bullet that pierced the team's bus, with team doctors later proclaiming that his go-go boots may have saved him from greater harm.
So suck it up, rookies. The life you save -- or haze -- may be your own.
Paul Lukas grew up in Blue Point, N.Y., where the time-honored high school stunt was for seniors to throw juniors into the Great South Bay. His Uni Watch blog, which is updated daily, is here, his answers to Frequently Asked Questions are here, and his Page 2 archive is here. Want to learn about his Uni Watch membership program, be added to his mailing list so you'll always know when a new column has been posted, or just ask a question? Contact him here.