What's in a name? Plenty, if it happens to be your name. And on Sept. 5, the name in question belonged to Mets reliever Willie Collazo, who took the mound at Shea Stadium with his moniker misspelled on the back of his jersey.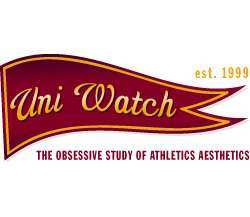 Collazo thus joined the small but growing fraternity of players who've been victimized by that most unseemly yet highly entertaining phenomenon: the uniform typo.
Uni Watch has always loved jersey-borne misspellings, because they function like passive blooper reels. In a sports world in which almost everything feels premeditated and calculated, typos provide a welcome dose of spontaneity. And in an industry that thrives on mythmaking, typos also offer a much-needed reminder the even most perfectly conceived image can be shattered by a simple misplaced vowel, and that a multijillion-dollar industry is only as strong as its most underpaid seamstress' spelling skills.
Best of all, uni typos offer equal opportunity. Everyone is vulnerable, from journeymen to superstars, from the trickiest names (it should be "Francoeur") to the simplest ones. Not even fans are immune.
Happily, we may now be living in the most typo-prone period in uni history -- an era of error, if you will -- because most people now think of spelling as something their computer automatically fixes for them. Since nobody has figured out how to load a spell-check function onto a sewing machine or a heat press, uni typos are sure to continue. Toss in our increasingly "Gotcha!" obsessed culture, a media climate in which everything is documented in excruciating detail (Uni Watch happily pleads guilty), and the increasing barrage of alternate and throwback uniforms (each of which provides more opportunities for additional typos) and you start to realize that working in a uniform sewing shop is probably a lot more stressful than it might initially seem.
"A misspelling is your biggest fear," says Joe Hilseberg, who spent seven years working in the Baltimore shop that does lettering for the Orioles' and Ravens' jerseys. "It's something that should never happen. When I see a mistake like that, I think, 'How many people did that go through and none of them caught it?' Fortunately, no mistake of mine ever got to the seamstress. A couple of times I might have done something like mixing up the 'E' and the 'I' in 'Palmeiro' when I was setting up the letters, but I'd switch them back before they got sewn on."
Fortunately for those of us who enjoy life's little glitches, not everyone in the uniform industry is quite as attentive as Hilseberg. And unless these kids end up in the uni biz, typos will no doubt continue to be a fixture on the uniform landscape. Here are some of Uni Watch's favorites (and no, none of them were Photoshopped):
1. Joe Carter, July 14, 1994. This one, legendary among uni-philes, is an all-time classic: a city's proud name, besmirched for all to see. The big question is why it took until the sixth inning for Carter to notice the mistake and change jerseys.
2. Adam Riggs, Aug. 16, 2003. What's worse than having your city name misspelled? Having your team name misspelled. (Further details on this instant classic are available here.)
3. Matthew Harmon, Sept. 16, 2006. And what's worse than having your team name misspelled? Try having your school name misspelled. And it's one of the U.S. service academies. And it's only four letters long. (It could've been worse: According to the fourth item in this article, the entire Western Illinois basketball team wore "Illinios" on their chests for the first six home games of the 2001-02 season. Unfortunately, photos have so far been elusive. Stay tuned.)
4. Ted Kluszewski, May 8, 1960. The typo scene really opened up in 1960, when the White Sox became the first major sports team to put player names on the backs of uniforms (for details, including some recollections of long-ago typos, look here). Unfortunately for the team's seamstress, the ChiSox roster that year included Big Klu, whose name was basically a typo waiting to happen. And happen it did, during a road trip to New York, where Kluszewski appeared as "Kluszewsxi" -- with a backwards "z" for good measure (all of which prompted The New York Times to engage in a bit of proto-uni-watching).
5. Wayne Gretzky, Oct. 30, 1997. You're the greatest player in the history of the sport, you're playing for the league's marquee franchise, and your name is synonymous with hockey, so you'd think they could at least spell it correctly. But you -- and whomever lettered your jersey -- would be wrong.
6. Ryan Jorgensen, Aug. 26, 2007. As Uni Watch has documented in the past, athletes can be a superstitious bunch. So consider the dilemma Jorgensen recently faced: He hit a first-inning grand slam, but then one of his teammates pointed out that his name was misspelled on his jersey (it should end in "sen," not "son"). So in that situation, do you keep wearing the inaccurate moniker, or do you forsake the jersey that helped you hit a salami? Seems like a tough choice, but not for Jorgensen, who switched to a properly lettered jersey within two innings.
7. Aaron Harang, April 12, 2005. Admit it, you've probably misspelled "Cincinnati" at some point in your life. But probably not like this.
8. Eliezer Alfonzo, June 3, 2006. This would be just a routine typo if not for its backstory, which lends a certain poignancy to the proceedings. Check it out: Alfonzo was a journeyman who'd toiled in the minors for more than a decade before finally getting his call to the bigs. He was supposed to meet the Giants in New York for a game against the Mets, but his flight was canceled because of a thunderstorm. So he took a three-and-a-half-hour limo ride through the downpour and made it to Shea Stadium just in time to learn that the game had been rained out. The next day he showed up to find his name had been penciled into the starting lineup -- and that he'd be making his big league debut with his name misspelled on his jersey (it should end in "zo," not "so"). Undaunted by this slight, he hit a game-winning homer. And his reward? His name was still misspelled the next day. (A's pitcher Joe Slusarski suffered a similar indignity when making his major league debut in 1991. After taking a red-eye flight to make an emergency start, he found his jersey lettered with "Sluzarski." Details here.)
9. Bill Belichick, Sept. 30, 2007. Uniform typos aren't limited to players. And it's somehow fitting that the NFL's resident homeless-looking man would fall victim to sloppy spelling. Here's the deal: Belichick's omnipresent gray sweatshirt is usually emblazoned with "New England Patriots Equipment." But during the Pats' recent Monday night game against the Bengals, the first "E" was missing. Yet another reason for coaches to dress like Mike Nolan.
10. Joakim Noah, Oct. 9, 2007. Here's one Uni Watch hasn't seen before: an intentional typo. No photo, unfortunately, but according to this article, Bulls equipment manager John Ligmanowski recently decided to put a unique spin on rookie hazing by putting "Noha" on the back of Noah's jersey. Good thing nobody thought of this when Robert Fick was a rookie.
Honorable Mention: Fred Robbins of the Giants was saddled with a backwards letter two seasons ago. ... When Jim Fregosi began managing the White Sox in the middle of the 1986 season, his jersey initially read, "Fergosi." Details here. ... David McClure has most likely been dealing with this misspelling his entire life. ... The same probably can't be said, however, for Paul McAnulty. ... When Steve Garvey joined the Padres in 1983, the team's uni supplier initially provided jerseys with "Gravey" on the back, although none of the misspellings ever made it onto the field. Details here. ... Mark Brunell sported a very strange double-typo of sorts back on Sept. 11, 2005, when he wore "Redskin" -- singular instead of plural -- on his jersey and on his rear helmet liner. Despite Uni Watch's dogged inquiries, no explanation has ever emerged. ... Typos happen on equipment, too. ... A surprisingly rich source of typos: the Stanley Cup. For a good breakdown, scroll down to the middle of this page. ... In a related item, when the Oilers won the Cup in 1983, Ken Linseman's name was misspelled as "Linesman" on his championship ring. ... And let's not forget West Virginia's NIT championship T-shirts from earlier this year. ... According to this article, LaDainian Tomlinson has a tattoo of his mother's face on his right arm, accompanied by the words "My Insperation."
It's worth noting, incidentally, that there's at least one team that's never had a uniform misspelling: the Yankees. With a simple logo on the front and no player names on the back, they're typo-proof. And that seems somehow appropriate, because uniform typos are fun, playful and human -- all things that the Yanks refuse to allow themselves to be.
(Special thanks to the many Uni Watch blog readers who contributed info for this column, especially Tom Shieber, Neil Hochman, Eriq Jaffe, Howard Lynch, Neil Kemp, Josh Weiland, Todd Krevanchi, Henry Chan, and intern Vince Grzegorek.)
Paul Lukas routinely sees his name misspelled as "Lucas." His Uni Watch blog, which is updated daily, is here, his answers to Frequently Asked Questions are here, and his Page 2 archive is here. Want to learn about his Uni Watch membership program, be added to his mailing list so you'll always know when a new column has been posted, or just ask a question? Contact him here.