Let's face it: No matter how excited you may be about the buildup to a new sports season, preseason games are a total snooze. Even baseball's annual February lovefest goes stale once the spring training games actually start.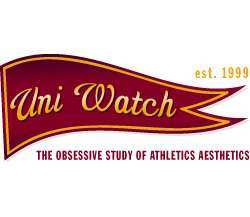 So let's give credit to the NBA brain trust for coming up with a way to make its preseason matchups interesting, at least from a uniform standpoint. Over the past month or so, just like last season, several NBA teams played games in Europe and paid tribute to their host countries on their uniforms. Case in point: When the Celtics and Raptors played in Rome on Oct. 6, the Celtics wore the colors of the
Italian flag
on their
chest insignia
and the Raptors wore Italian colors on their
side panels
. The Raptors later wore
Spanish colors
(matching the
Spanish flag
) when playing an exhibition in Madrid, and the
Grizzlies
did likewise when
playing a Spanish team
.
But enough of these preseason antics. The regular season tips off Tuesday, which can only mean two things: James Dolan is about to say something really stupid (actually, that also happens the other 364 nights of the year) and it's time for Uni Watch's annual rundown of the season's new uniform-related developments. Here's what you can expect to see out on the court:
• The Hawks have undergone a complete overhaul. The new look is generally inoffensive (except maybe for the unnecessary side paneling and the rear neckline logo), but it also lacks character. Like, c'mon, where's the pizzazz? Granted, this is an era in which "pizzazz" is usually interpreted as "loads of really stupid design gimmicks," so Uni Watch should probably be thankful for a uniform as restrained as this one. Still, it feels like something's missing here. Maybe this one will grow on Uni Watch, but for now it feels disappointingly generic.
• Lots of little tweaks for the 76ers, who've changed the trim on their collar, eliminated the striped trim on their armholes, waistband, and shorts cuffs, and added thin red side piping to their jerseys and shorts. You can see the net effect -- cleaner at the edges but a bit busier in the trunk area -- by comparing the old home uni (here, here, and here) to the new (here, here, and here). Same goes for the road design: old (here and here) versus new (here, here, and here). Uni Watch generally doesn't care for side piping but likes how thin and linear the Sixers' new stripes are -- not bad.
• For those of you who follow precious metals, the Wizards have changed their trim color from bronze to gold. It's a subtle shift, especially on the home uniform (old, new), although the new color pops a bit more on the road uni (old, new, new again). Uni Watch counts this as a small but distinct upgrade. Also: During the preseason, player names on the jerseys have been blue at home and gold on the road, but this will be changing to two-color treatments (much like in the past) when the regular season starts.
• Speaking of player names, the monikers on the Bulls' black alternates are changing from white to red outlined with white.
• The Pacers have added a new gold alternate road uni, as seen in this "NBA Live 08" screen shot. This team has always looked good in yellow, so Uni Watch sees the new design as a plus.
• The Heat have switched to a deeper shade of red throughout their uniform program. It's hard to detect in photos, especially once the players start sweating through the fabric (compare last season to this season), but trust Uni Watch on this one, they've gone from this to this (or, for those who like to keep track of such things, from Pantone 187 to Pantone 202).
• There's a big crop of new throwback designs this season, and they share a common theme: celebrating past championships. The title teams whose threads will be on display are the 1987-88 Lakers, 1974-75 Warriors (which unfortunately means that the league's best throwback design has been retired, at least for now), 1982-83 Sixers, 1993-94 Rockets, 1995-96 Bulls, 1972-73 Knicks, and 1956-57 Celtics. The 1988-89 Heat didn't win a championship, but that throwback will be worn to mark the team's 20th season. Look for these to start being worn in early December. Similarly, the 1957-58 Pistons will be showcased as part of the team's 50th-anniversary celebration.
• Speaking of anniversaries, four teams will be wearing anniversary patches: the Lakers (here's how it looks in action), Pistons (in action), Heat (in action), and Bucks (who didn't wear the patch during preseason games -- except, oddly, for Yi Jianlian). Plus the Spurs will have an anniversary patch on their shooting shirts and the Suns are marking their anniversary on the floor of their court.
• No more Oklahoma City games for the Hornets, who are celebrating their full-time return to New Orleans with a new secondary logo, called -- wait for it -- the Fleur de Bee (further details here). It's being worn as a jersey patch.
• The Spurs will wear an O'Brien Trophy jersey patch for their ring ceremony game Tuesday night.
• The league will do another St. Patrick's Day promotion, featuring green uniforms. As in past years, the Knicks, Bulls and Celtics are all participating, but this season there's a new team on board: the Raptors, whose emerald design will mark the city's first Irish-themed uni since the glory days of the Toronto St. Pats -- forerunners of the Maple Leafs.
• Toronto must have a big Italian population too, because the Raptors will be staging an Italian Night on Nov. 18, featuring that flag-themed uniform they wore for that preseason game in Rome.
• Still more ethnic-based marketing: The league will once again do a series of "Noche Latina" games to celebrate Hispanic culture. Last year this entailed putting tiny Latin American national flags on jerseys and shorts; this year there's a new approach, but Uni Watch isn't yet at liberty to talk about it. Let's just say it's a lot less subtle than those little flags.
• Teams will occasionally be wearing road uniforms at home, especially for holiday tie-ins. The Cavs, for example, will wear their orange throwbacks on Halloween, and the Bulls will wear their red road design on Valentine's Day.
Finally, the realm of athletics aesthetics also includes playing surfaces, especially in the NBA, so it's worth noting that several teams have new court designs, including the Blazers, Hawks (shown in action here), Pistons (in action), Nuggets (in action), Rockets (here's another view), Sixers, Celtics, Cavs, Pacers, Grizzlies, Nets, Magic, Clippers and Jazz. Further details and visuals to follow as they become available.
America's Team Revisited
A big shout-out to all the Dallas fans who flooded Uni Watch's in-box with love letters in response to last week's column about the Cowboys' uniform quirks and annoyances. Alas, most of your affectionate missives were far too personal to share in a forum as public as this one, but be assured that Uni Watch has taken your kind words to heart and is looking forward to meeting all of you at the next Cowboys Fan Club meeting (which is being held, of course, at Uni Watch HQ).
Meanwhile, several readers pointed out an additional Cowboys annoyance that Uni Watch neglected to cover: The sleeve stripes on the team's white jersey are outlined in black. This quirk, which dates back to the Landry/Staubach era, makes absolutely zero sense, since no other Dallas uni component is black-outlined. In fact, there's no black anyplace else in the Cowboys' design scheme, which means the black-accented stripes are yet another rogue element. Unique? Very. Annoying? Exceedingly.
State Your Full Name for the Record
Big topic of discussion lately over on the Uni Watch blog has been players who wear their first and last names on their jerseys -- a phenomenon that covers multiple sports and typographic formats. Uni Watch is currently trying to document as many instances of this curiosity as possible. For further details, and to see who's been identified so far, look here and here.
Nobody's Perfetc
Uni Watch's recent examination of uniform misspellings prompted many readers to contribute additional typos. Among the highlights:
• Anthony Perman notes that George Lynch of the Hornets wore "New Orlaens" on his jersey for two consecutive road games in November of 2002.
• Chris Andringa reports that Western Kentucky's Anthony Winchester was saddled with "Kentukcy" during the team's NIT game against South Carolina on March 15, 2006.
• Steve Laga spotted Sabres all-star Brian Campbell with a nameplate typo on April 5, 2007.
• According to Rob Singer, Magic Johnson's name was misspelled at least once as "Jonhson" during the 1987-88 season. "I know this to be a fact," he says, "because I am the owner of that jersey. I also have a misspelled Doug Christie jersey from his rookie year."
• And we conclude with this, from Ray Reigadas: "My sophomore year of high school, my coach ordered my football jersey with my name spelled 'Regaides.' I'd seen my name misspelled in countless ways (and mispronounced even more so), but this was a new one. I couldn't figure out how they got my name so wrong when it was spelled correctly on the roster. I wanted it corrected, but the coach said no dice. Even worse, a couple days later he stopped me during gym class and said I still owed my money for the jersey! Thankfully, we switched to new, nameless jerseys the next season."
Paul Lukas can't say, "Fleur de Bee" with a straight face. His Uni Watch blog, which is updated daily, is here, his answers to Frequently Asked Questions are here, and his Page 2 archive is here. Want to learn about his Uni Watch membership program, be added to his mailing list so you'll always know when a new column has been posted, or just ask a question? Contact him here.

DAILY DIME 2007-08 PREVIEW EDITION

Welcome back, NBA fans! Check out our 30 team previews, 300 forecasts and new Daily Dime.
Atlantic Division
•
Boston Celtics
•
New Jersey Nets
•
New York Knicks
•
Philadelphia 76ers
•
Toronto Raptors
Central Division
•
Chicago Bulls
•
Cleveland Cavaliers
•
Detroit Pistons
•
Indiana Pacers
•
Milwaukee Bucks
Southeast Division
•
Atlanta Hawks
•
Charlotte Bobcats
•
Miami Heat
•
Orlando Magic
•
Washington Wizards
Southwest Division
•
Dallas Mavericks
•
Houston Rockets
•
Memphis Grizzlies
•
New Orleans Hornets
•
San Antonio Spurs
Northwest Division
•
Denver Nuggets
•
Minnesota Timberwolves
•
Portland Trail Blazers
•
Seattle SuperSonics
•
Utah Jazz
Pacific Division
•
Golden State Warriors
•
Los Angeles Clippers
•
Los Angeles Lakers
•
Phoenix Suns
•
Sacramento Kings
ESPN Top Headlines