Every so often there's a uniform everybody talks about. Thirty years ago it was Marquette's untucked jersey. In more recent years, the Golden Eagles' uniforms have become fairly pedestrian, but now the school is about to set tongues wagging again, thanks to this new design.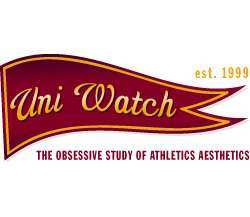 Pretty cool, right? Uni Watch digs the
checkerboard trim
, although maybe they went a bit overboard with those
faux shoulder straps
(especially on the
road jersey
), and Uni Watch could live without the
Big East logo on the back
. Still, toss in the
baby blue alternate
and what looks to be an
awesome throwback
and you've got this year's must-discuss uniform set. (For additional pics, look
here
and
here
.)
Although the Marquette design is loaded with little gewgaws, the trend in college hoops this season is toward simplification. Up and down the country, teams are toning down or even eliminating stripes and piping, and many of them are moving away from those annoying NikeWorld collarbone horns that were so common last season. In fact, the biggest trend this year is the expansion of Nike's other recent design template, the System of Dress (first showcased by several teams during last season's NCAA tourney), which features snug-fitting jerseys with so little ornamentation that they look like simple sleeveless tees.
At least more six teams are adopting the System of Dress this season (they'll be listed in a sec), and that's fine by Uni Watch, since the no-frills jerseys generally look pretty sharp. Granted, the same can't be said about the extra-baggy shorts, but that problem extends to plenty of non-System teams too. Actually, the biggest problem with the System of Dress is the hopelessly awkward name -- who wants to say, "System of Dress" even once in this lifetime? Fortunately, Uni Watch is at the ready with a substitute moniker: Since the System is tight on top and billowy on the bottom, much like a gown, Uni Watch will henceforth refer to it as Frocks for Jocks.
With the season about to get underway in earnest tomorrow night, here's an alphabetical rundown of this season's new looks (with the usual caveat that many schools have undoubtedly flown under Uni Watch's radar, so feel free to send additions and corrections here):
• Uni Watch's favorite color combo is green and gold, so anything going on at Baylor is always of interest. They've got a flashy new design this season -- a big upgrade over last year, especially when viewed from the side (old, new). The rear view, unfortunately, becomes problematic once you look below the waist. Lots of additional pics here.
• The good news at Bowling Green is that this design, which made the Falcons look like a junior high team, is gone; the bad news is that the new design is brown.
• Major upgrade at Central Florida, which will now look like, you know, a basketball team instead of an embarrassment.
• Why would Clemson change from a perfectly fine uniform to NikeWorld horns? Go figure. Also: Note the black memorial strip for the Virginia Tech shootings, which all ACC teams are wearing in various spots.
• Colorado coach Jeff Bzdelik has removed the player names from the jerseys.
• Duke has ditched the black collar and armhole trim and the NikeWorld horns in favor of a more streamlined approach. Here's the rear view.
• If you want to chart a textbook case of eccentricities giving way to bland corporate templating, look no further than Evansville, which in recent years has gone from quirky to classic to, this season, NikeWorld.
• Florida has abandoned the NikeWorld horns and is going with a modified version of the gator-print Frocks for Jocks uni that the team wore one time last season. Here are the new designs: home, side view, rear view, road, and rear view.
• Florida State has added a giant feather pattern down the side of the uniform. No color photos of the home design yet, but you can see black-and-white pics here and here.
• Bit of a side trim tweak for George Washington, which is going from this to this.
• Georgia Tech isn't a Nike school, but it has totally copied the Frocks for Jocks concept of tight jerseys and baggy shorts, evolving from this to this. The shorts striping resembles a fault line, but at least it's relatively thin, so it doesn't look so bad.
• Hawaii has replaced those weird, padded-looking shoulders with a more conventional treatment.
• Illinois-Chicago's old design has been updated with some incendiary side trim, plus it looks like there's a band of color wrapping around the back of the shorts -- yikes. Further details here.
• Iowa has been going without player names in recent years. New coach Todd Lickliter wanted to restore the names to the jerseys, but it wasn't clear if he'd be able to, because the name-free jerseys had already been ordered and the number placement was a bit high, leaving very little space for the names. Looks like they've squeezed the names in, though, using small-ish type.
• Iowa State is celebrating the team's 100th anniversary with a jersey patch. Here's a closer view.
• Like all the other Kansas sports teams, the Jayhawks hoops squad has traded in its old typography for the school's Trajan font (still a controversial move in some quarters). The road jersey looks like this, plus there's a red alternate uni, but don't expect to see it very often -- this article quotes coach Bill Self saying, "I don't like wearing the red very much. … There's no reason we wore red [in an exhibition game] other than we've got to wear them once or twice [for adidas]." Finally, the team will mark the 20th anniversary of the 1988 NCAA title team by wearing '88 throwbacks on Feb. 16 against Colorado.
• No uniform change at Kentucky, but here's an odd tidbit: When Billy Gillispie was coaching at Texas A&M last season, the school logo appeared on his belt buckle. This season he's coaching at Kentucky but appears to be wearing the same A&M buckle.
• Another season, another new design for Louisville, which has toned down the red and added some black, going from this to this. Here's a rear view, which is a big improvement over last year.
• LSU is now in the Frocks for Jocks camp. There will still be three uniforms: home (old, new), road (old, new), and alternate (old, new). All of the new jerseys feature the SEC anniversary logo as a chest patch.
• Mixed bag at Marshall, which previously looked like this and this. The bad news: NikeWorld horns. The good news: "Thundering Herd" on the jerseys, which looks pretty cool.
• Maryland has switched from this to a much cleaner look -- or at least that's how it seems at first. Upon closer inspection, there's some checkerboard trim on the shorts and a seriously weird rear-jersey design. Uni Watch kinda likes it -- feels like an old ABA design. The lone downer: the chest insignia, which is a total snooze.
• Weird situation at Memphis: The piping on last season's uniforms (home, road) was actually in violation of NCAA uni regulations. But because it was adidas' error, the team was allowed to keep wearing the uniform. This season Memphis has a modified version (home, road) with stripes on only one side -- very odd. (The same situation, incidentally, unfolded at Rutgers, where this has been replaced by this; here's a closer view.)
• Miami has adopted Nike's Frocks for Jocks, switching from this to this.
• Minor trim and typography adjustments for Missouri State -- compare the old to the new. Uni Watch hates to say it, but the revised version looks like a high school design.
• North Carolina has ditched the NikeWorld horns in favor of Frocks for Jocks (lots of additional pics here and here). They'll be wearing their Virginia Tech memorial strip at the rear neckline.
• Completely unnecessary revision at Ohio, which is abandoning its perfectly serviceable old design (home, road) and adopting a characterless "modern" design (home, road, alternate, group shot).
• Oklahoma has eliminated all of its jersey trim and gone with a much cleaner look. Not sure if this is technically a Frocks for Jocks design, but it's definitely in the same ballpark.
• Minor tweaks at Ole Miss: The front uni number has changed from red to blue, and the "M" collar patch has been replaced by the SEC anniversary patch.
• Syracuse began wearing Frocks for Jocks during last season's NIT tourney and will keep on doing so this season, plus they've added a blue alternate jersey. Also, the collar logo now has a clear plastic coating -- no photo of that yet, though.
• Texas is yet another school donning Frocks for Jocks. Color-trimmed jersey replaced by snug-fitting minimalist jersey? Check. Over-billowy shorts? Double-check.
• Minor trim touch ups at Texas A&M, which is going from this to this. Here's a closer view of the front and back.
• Teams wear white at home, right? Not at Troy, where the Trojans will be wearing gray -- a big downgrade from last season.
• UCLA, continuing its university-wide celebration of the athletic department's 100 titles in various sports, is wearing a yellow "C" (C = 100, get it?). When first unveiled, the C was just plain yellow, but now a blue outline has been added.
• UConn has gone from this to this. Uni Watch rather likes the flow of the lines (although the wordmark on the shorts is a bit much).
• Surprisingly traditionalist move at UNLV, which has abandoned this look (which Uni Watch rather liked) in favor of this.
• Utah, now being outfitted by adidas instead of Nike, has gone slightly retro, switching from this and this to this and this. They'll also be wearing a 100th-anniversary patch, as you can see in the background of this photo. As always, the Utes will have "Utah" on the back instead of player names, and the new shorts will include the word "Muss" -- a reference to the school's student section. Further details here.
• Villanova has revised its side trim, going from this to this.
• Wake Forest is wearing a gold "Coach" ribbon, in memory of Skip Prosser (plus the Demon Deacons are wearing their Virginia Tech memorial strip on the back).
• Something weird is going on up in Washington, where the team's once-traditional look (home, road) has been supplanted by something that's, well, a little less traditional -- especially when viewed from the side and back. The fabric looks kinda pajama-ish, too -- ugh.
• Imagine the high-level design meeting at Washington State: "Y'know, instead of outlined numbers, let's go with solid numbers." And what about the numbers on the back? "Yeah, make those solid, too."
• Sensible upgrade for Winthrop, which is going from this to this.
• Wisconsin has adjusted its side trim, going from this to this. And in what promises to be a hosiery spectacle par excellence, the Badgers will honor their 1941 championship team by wearing '41 throwbacks on Dec. 3. Uni Watch urges suspensions for any players who don't pull those socks all the way up!
• While most teams are removing or simplifying their trim, Wisconsin-Milwaukee is making theirs a bit busier, going from this to this.
• There's still no way to make brown and gold look good, but Wyoming is getting closer, having improved its look from this to this.
• Xavier's accent color has changed from silver-gray to bronze, plus the Musketeers have eliminated their collar patch and toned down their edge piping.
That should be enough to keep you busy for now. Know of any schools that were left off the list? Send info and links here, and Uni Watch will run updates in subsequent columns.
Finally, the NCAA has adjusted a few of its official uni-related regulations. You can see the new language here.
(Big thanks to everyone who's contributed info in recent weeks, and extra-special thanks to David Sonny, Justin Porter, and new Uni Watch bench coach Bryan Redemske, all of whom provided crucial research assistance.)
Lost and Found
Last week's football game between Virginia Tech and Georgia Tech, which found four Hokies wearing repurposed Yellow Jackets jerseys with handwritten nameplates because their own jerseys turned up missing, was probably the most entertaining uni-related story of the year (for additional details and photos, look here). But it's hardly the first time players have been forced to improvise on the fly after their uniforms were lost or stolen. Uni Watch is busily compiling an extensive timeline of such incidents, which will form the basis of next week's column. See you back here then.
Paul Lukas invites the Nike marketing team to use "Frocks for Jocks" as much as they like. His Uni Watch blog, which is updated daily, is here, his answers to Frequently Asked Questions are here, and his Page 2 archive is here. Want to learn about his Uni Watch membership program, be added to his mailing list so you'll always know when a new column has been posted, or just ask him a question? Contact him here.

Also See
ESPN Top Headlines