By now you've probably heard about the recent incident in which four Virginia Tech players found their jerseys missing just prior to kickoff and had to wear repurposed Georgia Tech jerseys, complete with handwritten nameplates. (For further details and additional photos, look here.)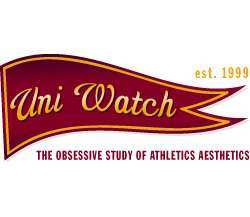 Entertaining? Definitely. Unique? Not even close. Sports history is brimming with similar instances of uniforms that have been lost, stolen, or destroyed, forcing players -- or sometimes entire teams -- to come up with makeshift solutions on the fly. Just two months ago, in fact, Taft High School in Cincinnati had its football uniforms
destroyed in a fire
, which led crosstown rival Colerain High to donate
its uniforms
for Taft to wear. (All's Well That Ends Well Dept.: Local restaurateur Jeff Ruby later
bought Taft new uniforms
.)
As it turns out, misplaced uniforms are nearly as old a phenomenon as uniforms themselves. Uni Watch has spent the past week or so compiling additional examples, the oldest of which goes back nearly a century. Here's a selective breakdown:
1911: An all-star roster of baseball players gathers to play a benefit game for the widow of the late Cleveland pitcher Addie Joss. Among those participating is Ty Cobb of the Tigers, whose trunk gets lost in transit, forcing him to wear a Cleveland uniform (that's him in the front row, third from the right).
1924: The University of Iowa baseball team forfeits a game against Northwestern when its uniforms are lost "on the way to the field."
1945: A minor league playoff game between the Seattle Rainiers and San Francisco Seals is postponed when the Seals' uniforms and equipment fails to arrive at the stadium on time.
1954: The start of a Tigers/Indians game is delayed due to Cleveland's uniforms not being ready at the stadium. The game eventually starts after the uniforms arrive under police escort.
1970: Someone breaks into the visitors' locker room a day before a CFL game between the Winnipeg Blue Bombers and the Edmonton Eskimos, stealing the Blue Bombers' jerseys and some of their helmets. The game goes on with Winnipeg wearing Edmonton road jerseys and, for some players, blank Edmonton helmets. A day later, police find the missing uniforms being worn by a bunch of kids playing touch football in a local park.
1971: The West Virginia Tech hoops team prepares for a game against conference rival West Virginia State. As Tech coach Pete Phillips later writes, "We had looked forward to this first away game in the conference because we were to be adorned in resplendent new uniforms." Unfortunately, he forgets to bring the resplendent uniforms along, forcing the Tech squad to dress in a borrowed set of State unis.
1978: San Antonio's Mike Gale finds his uniform missing prior to a Spurs/Bullets playoff game in Washington. With no backup uni available, he resorts to wearing an inside-out Bullets road uniform.
1979: Reggie Jackson of the Yankees is selected to play in the All-Star Game in Seattle, but his uniform doesn't arrive in time for the American League team portrait, so he wears a numberless Mariners uni for the occasion. His regular uniform shows up in time for the game.
1983: Doug DeCinces' jersey is stolen shortly before an Angels/Orioles game. He ends up wearing a jersey that's blank on the back.
1985: Lou Whitaker forgets to bring his jersey to the All-Star Game, so he obtains a replica jersey from the stadium gift shop. He draws in his number with a Magic Marker but doesn't bother to hand-write his name.
1987: An April game at Wrigley Field is delayed due to the umpires' luggage having been lost in transit. The umps are eventually supplied with sweatpants and other makeshift attire, with Eric Gregg working home plate while wearing a Cubs windbreaker. (Video of this incident is available here, and there's a full breakdown of similar adventures in lost umpires' uniforms here.)
1990: Michael Jordan's jersey is stolen prior to a game in Orlando, so he wears a nameless No. 12 jersey.
1992: John Kruk arrives in San Diego for the All-Star Game workout, but his uniform doesn't. As Kruk later explains to David Letterman, "The pitching coach of the Braves is a real good friend of mine, so I just used his uniform. I figured, you know, he's built like me." Kruk's Phillies uniform shows up in time for the actual game.
1998: During the World Junior Hockey Championships in Finland, Canada and Russia both show up for a quarterfinal game with red uniforms. Russia is the designated home team, so the Canadians are forced to play the first period in Finnish national jerseys until their white jerseys can be driven to the arena.
2002: Syracuse and South Carolina both arrive wearing white uniforms for the NIT championship. Syracuse sends a staffer back to the hotel to fetch the team's orange unis, but he takes too long and the game starts with both teams wearing white, leading to major confusion among the players, fans, and officials. When the orange uniforms arrive midway through the first half, Syracuse players change their jerseys but not their shorts, which is less confusing but considerably more comical. They finally change to solid orange for the second half.
2005: The McNeese State basketball team forgets to bring along its uniforms for a game against Louisiana-Lafayette. ULL initially offers to let McNeese wear ULL's road uniforms, but that idea is scrapped because the road jerseys have the ULL players' names on them. So McNeese ends up playing in ULL practice jerseys instead, creating a Louisiana vs. Louisiana matchup.
2006: After Florida International's luggage gets lost on the way to a basketball game against Wisconsin, the Badgers' equipment staff comes up with generic black uniforms for FIU to wear.
It's not clear when the next case of misplaced uniforms will occur, but it shouldn't take long. After all, it's just one set of lost luggage away.
(Big thanks to everyone who contributed information, especially John English and Doug Mooney, who went above and beyond.)
Nobody's Perfetc, Continued
Remember Uni Watch's recent examination of uniform misspellings (a bunch of which are shown here, with a handful more toward the bottom of this page)? We can add a new example to the list, thanks to Sunday's English Premier League match between Blackburn and Manchester United, which found Blackburn's David Bentley playing with "Betnley" on his back.
College Hoops Update
As expected, last week's rundown of college basketball uni changes had several omissions. The list of schools with new looks this season should also include Akron (old, new), Ball State (old, new), Binghamton (old, new), Colorado (headbands have been banned), Creighton (old, new), Eastern Illinois (old, new), Gonzaga (old, new), Louisiana Tech (old, new), Loyola of Maryland (old, new), Middle Tennessee State (old, new), Nebraska (old, new), New Mexico (old, new, plus new coach Steve Alford has removed the player names from the jerseys), Pitt (old, new), Portland (old, new), Rice (old, new), Sacramento State (old road, new road; home whites are staying the same), Saint Joseph's (player names have been removed from the jerseys), South Florida (old, new), Tulane (old, new), UMass (old, new), Virginia Military Institute (new gold alternates), Western Kentucky (old, new) and Wichita State (old, new).
Know of still more changes? Send info here.
Paul Lukas brings his luggage as carry-on whenever possible. His Uni Watch blog, which is updated daily, is here, his answers to Frequently Asked Questions are here, and his Page 2 archive is here. Want to learn about his Uni Watch membership program, be added to his mailing list so you'll always know when a new column has been posted, or just ask him a question? Contact him here.