America loves football helmets. We obsess over their colors, their logos, their facemasks. We turn them into lamps, snack bowls, and alarm clocks. We collect miniature versions of them, and not-so-miniature versions.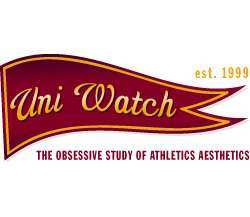 But there's one element of the football helmet that even the most rabid fan typically overlooks -- an element so inconspicuous that it's rarely mentioned, even though you see it hundreds of times whenever you watch a game. It's such a stealth element that most fans don't even know what it's called. And to Uni Watch's knowledge, it has never been the subject of any media attention.
Until now.
Uni Watch is referring to, of course, the nose bumper (sometimes also called a sweatband), the little white panel that sits just above the player's forehead. It may be small, but it's one of the least predictable elements on the field, sometimes featuring the helmet manufacturer's name, sometimes the team name or school name or nickname, sometimes the team logo, sometimes a slogan or inspirational message, and occasionally nothing at all.
Before we delve into these variations, here's some quick historical background: Old-fashioned leather football helmets had soft, padded edges, but the early plastic helmets had hard ridges. This became a problem, especially when facemasks were introduced, because opposing players would often grab onto the mask and pivot the helmet forward, with unfortunate results for the bridge of a player's nose. The solution: the rubber snubber, a little gray cushioned curlicue affixed to the helmet's front rivet. Introduced in the mid-1950s, it was the standard form of proboscis protection for the next two decades.
Like whales shedding their fins and learning to walk on dry land, nose bumper design took an evolutionary leap forward around 1973 with the development of the Wildcat sweatband (so named, according to helmet historian Curtis Worrell, because it was developed by the equipment staff at Northwestern), which was a white cushion that attached to the front of the helmet and wrapped all the way behind the front interior pads. And as you can see by looking at this side-by-side comparison between the snubber and the sweatband, the sweatband's improvements weren't all safety-related: Helmet manufacturers, realizing that the sweatband's white front panel provided a perfect billboard, quickly slapped their company names on this new piece of real estate.
The sweatband-style nose bumper hasn't changed much over the years and is still what most helmets are equipped with today. But the message posted on that front panel now varies a lot depending on the league, the team, and the player.
In the NFL, it's fairly simple: Players wearing a Riddell helmet wear "Riddell." Since Riddell is the league's official headwear sponsor, other helmet manufacturers aren't allowed to put their names on the bumper, so players wearing Schutt or Adams helmets usually wear their team wordmark (which means players standing next to each other often don't match). There are, however, a few exceptions:
• The Giants' nose bumpers have been in a state of constant flux over the past two seasons, thanks to equipment director Joe Skiba, who's established himself as the league's resident mad sweatband scientist. From the mid-1990s through 2005, the team's non-Riddell bumpers were blank, but things started to get interesting in 2006, when Skiba put a blue "ny" logo on the bumper. Then, in Week 10, the logo suddenly went three-dimensional -- Skiba had come up with a raised, rubberized version of the logo (an idea he swiped from the Oregon Ducks, who'd been using a raised "O" on their bumpers). Three weeks later, when the Giants were wearing their red alternate jerseys, Skiba struck again, changing the raised blue logo to a raised red logo (here's a closer view), and also changing the Riddell helmets' bumper decals from blue outlined in red to solid red. The blue motif returned the following week.
This season Skiba has upped the ante, changing the raised "ny" from solid blue to blue outlined in red. That changed to red outlined in blue when the Jints wore their red jerseys a few weeks ago, and Skiba liked that version of the bumper logo so much that he's decided to stick with it. He's also ordered a rubberized version of the Riddell wordmark (instead of just a flat printed version), so the entire team should have 3-D bumpers within another week or two.
• The Redskins have copied the Skiba's 3-D idea this season, wearing a raised "R" logo for their non-Riddell bumpers.
• The Cowboys leave their non-Riddell bumpers blank. Uni Watch believes they're the only NFL team currently employing this approach. Chalk it up as one more Cowboys uniform quirk (many more of which were discussed in this space last month).
The situation is much more varied -- and therefore way more interesting -- in the NCAA, where schools have all sorts of things on their bumpers. The following breakdown isn't even close to being complete, but it provides a good sense of what's out there. So here's a look at the primary NCAA bumper tropes, and some of the schools exemplifying them:
• Team name: The simplest, most basic approach. Used by, among others, LSU, Texas A&M, Iowa State, Baylor, Florida Atlantic, Kentucky, UCLA, Auburn, Houston (it's a little tough to see, but it says, "Cougars") and Boise State (also tough to see, but it says, "Broncos").
• Team nickname: Schools going this route include Oregon State ("Beavs"), Marshall ("Herd"), Georgia ("Dawgs"), Washington (also "Dawgs"), Tennessee ("Vols"), Notre Dame ("Irish"), Texas ("Horns"), Texas Tech ("Raiders"), Colorado ("Buffs"), Nebraska ("Huskers"), Cal ("Bears"), Ole Miss ("Rebs"), Tulsa ("Cane"), Minnesota ("Gophers"), Arkansas ("Hogs"), TCU ("Frogs") and Sam Houston State ("Kats").
• School name: Another straightforward approach, favored by Oklahoma, Kansas, Michigan, Vanderbilt and Penn State.
• School acronym: Sort of a subset of the previous category. Among the adherents: Arizona State, Southern Cal, Southern Methodist, Texas El Paso, Central Florida, Brigham Young and Washington State.
• School nickname: Alabama ("Bama"), Mississippi State (one of several schools that wear "State"), Louisville ("The Ville"), Missouri ("Mizzou"), Louisiana Tech ("Tech"), Wyoming ("Wyo") and Pittsburgh (which is apparently the first team to wear the same wordmark on its jersey, helmet, and nose bumper).
• Logo or letter: Florida (it's tough to see, but that's their gator head logo), Kansas State (even tougher to see, but that's a miniature version of their helmet logo), Syracuse (that's an "S"), Utah (note that the letter is raised) and Oregon (ditto).
• Conference name: Such a boring, cop-out approach, but it's apparently mandated by the ACC (as seen in these pics of Boston College, Miami, Georgia Tech, North Carolina, Virginia Tech, Clemson, Maryland, Wake Forest, Florida State, N.C. State, and Virginia), plus it can also be found in the Big Ten, the Pac-10 and the Big East.
• "Team": When Ron Zook coached at Florida, he emphasized team unity by having the Gators wear "Team" on their bumpers; now that he's at Illinois, the Illini are wearing it to. Other "Team" teams: Murray State and San Diego State (who use a really cool decal design).
• Freestyle: Some teams try to turn their bumpers into inspirational rallying cries. Schools taking this approach include Toledo ("Attack"), McMurry ("Believe"), Temple ("Finish"), and Eastern Michigan ("Pride," although they previously used "Team" -- Uni Watch wonders just how many hours of deliberation went into making that switch).
As for high school teams, covering all the nose bumper variations at that level is beyond Uni Watch's scope. But here are a couple of examples: The Hinsdale Central Red Devils in Illinois wear "PTR" (short for their slogan, "Pound the rock"), and Sutter Union High in California wears "Hit or Sit" (sorry, no photo of the actual helmet). And although visual confirmation is lacking, Uni Watch has received several reports of high school teams wearing "GATA," which, depending on your sensibilities, stands for "Get after them aggressively" or "Get after their a--es." Which just goes to show that a nose bumper's meaning is in the eye of the beholder -- assuming anyone notices enough to behold it in the first place.
Speaking of which, there was a rare commingling of college and pro bumper styles late in the 1989 NFL season and during the subsequent playoffs, when 49ers running backs Roger Craig and Tom Rathman -- both Nebraska alums -- sent a shout-out to their alma mater by wearing "Huskers" on their bumpers for at least five games (similar to when Ohio State alum Terry Glenn wore a buckeye decal on his helmet during a Monday night game last season). It's not clear if either Niner was fined for these shenanigans, but Uni Watch doubts it. That's the beauty of a bumper-related uniform violation: It's likely to be so subtle that the regulatory authorities won't notice.
(Special thanks to Curtis Worrell, Dan Weimann, Brian Willette, Steve Johnston, Chris Willis, Sean Hintz, and Uni Watch bench coach Bryan Redemske for their research assistance.)
How About Them Cowboys, Continued
The Cowboys quirks just keep on coming. Check out this observation by reader Jerad Castillo:
"There appears to be a difference in the size of the star on the sleeves of the Cowboys' blue jersey. Those who actually have sleeves, like Tony Romo and Terrell Owens, have a larger-sized star that appears to be sewn onto the jersey. But others who had shorter, tighter-fitting sleeves, like Marion Barber, Ken Hamlin and linemen, had a smaller star that appeared to be screen-printed."
It's nothing new, of course, for different players to wear different tailoring templates -- Reebok offers distinct cuts for linemen, skill positions, linebackers and so on. And sure, these tailoring variations can sometimes affect a uniform's graphics (the Redskins' sleeve numbers, for example, are much thicker for eligible receivers than they are for linemen and linebackers), but the changing size of the Cowboys' star is the most radical variation Uni Watch has ever seen.
College Hoops Update
OK, one last round of college basketball uniform changes: Bucknell (old, new), Florida Atlantic (old, new, plus coach Rex Walters has removed player names from the jerseys), Fresno State (old, new), Harvard (old home, new home, old road, new road), Niagara (old, new), Northwestern (old, new), St. Bonaventure (old, new), St. Louis (old, new), St. Mary's (old, new), Southern Utah (old home, new home, old road, new road), and Tennessee-Chattanooga (old, new).
Paul Lukas has had quite enough of squinting at that tiny little spot on the front of the helmet, thank you very much. His Uni Watch blog, which is updated daily, is here, his answers to Frequently Asked Questions are here, and his Page 2 archive is here. Want to learn about his Uni Watch membership program, be added to his mailing list so you'll always know when a new column has been posted, or just ask him a question? Contact him here.