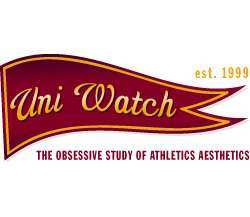 Santa knows a thing or two about uniforms -- why do you think he keeps wearing that red-and-white getup year after year? But sometimes he needs a little help. So if there's uniform-minded person on your Christmas list -- or, perhaps more to the point, if you're a uniform-minded sort and you'd like to give a little guidance to people shopping for
you
-- Uni Watch is here with 10 uni-related gift ideas that are sure to please.
1. Custom-painted electric football teams from CLM Designs. Remember those electric football games with the vibrating field, the teeny little players, and the slightly misleading TV ads? Wouldn't it be cool if you could have a set of players painted up like your high school team, or your favorite obscure college team, or one of the alternate leagues, or a new NFL team like the Houston Texans? Chris Markham, the man behind CLM Designs, can make that dream a reality. Whether your chosen team is from the NFL, the NCAA, the USFL, or pretty much anyplace else, Markham can paint it as long as you can provide some decent photos or other visual reference. Prices range from $30 to $55 for an 11-man team, depending on the complexity of the design. Turnaround time ranges from three to six weeks, but Markham will happily provide a gift certificate or voucher for orders that aren't ready in time for Christmas. Get yourself a few custom-painted teams, score one of the vibrating fields on eBay, and you (or the lucky person on your holiday shopping list) will be all set for the type of scintillating gridiron action shown here:
2. Professional-grade helmet reproductions by Gridiron Memories. Prefer your football-related gifts to be full-size, instead of miniature? Gridiron Memories is the place to go for classic helmet reproductions, authentic in every detail, right down to the thread patterns in the interior web suspensions. They've got a few NFL and WFL helmets, but that's just window dressing -- the heart of the program is the NCAA lineup. Check it out: 16 different U. of Miami designs, 13 from West Virginia, a dozen from Texas A&M, 15 from Colorado, eight from USC, and that's just the tip of the proverbial iceberg. Plus they've got a huge supply of face masks and accessories, so you can design your own custom helmet. Prepare to be blown away once you click here.
3. Goalie mask reproductions. Football isn't the only sport whose protective headgear makes a great gift. If you pine for the days when hockey goalie masks were actually masks, then you need to check out Masks from the Past and VintageMask.com, both of which offer high-quality reproductions of the unique masks of yesteryear.
4. Kent Tekulve T-shirt by Watch Your Back. The dark glasses, the pillbox cap, the inscrutable game face, the rail-thin silhouette preparing to deliver yet another gravity-defying submarine pitch -- that could be only one man. Tekulve's unique silhouette is perfectly captured on this killer T-shirt -- complete with Stargell Stars on the cap! Check it out in Watch Your Back's T-shirt section (which also includes the world's coolest pingpong T-shirt design).
5. Sports commentary T-shirts by No Mas. No Mas impresario Chris Isenberg, a longtime Uni Watch favorite, has a knack for taking team logos and other sports imagery and reconfiguring them into snappy, message-driven tees. Take, for example, his Wilt Chamberlain design, which takes some liberties with the Lakers' logo on the front and riffs on Wilt's self-proclaimed stud status on the back. He's also played with the meanings of the Astros' and Padres' uniforms, found a simple sports-driven way to comment on the Iraq War, and has even come up with Uni Watch's perfect Hanukkah gift.
6. "MLB Game Worn Jerseys of the Double Knit Era (1970-2007)" CD. No sport lends itself to uni-watching as much as baseball, and no guide covers the game's uniforms (at least over the past four decades) as well as this indispensable book-on-CD, which has just been revised to include the 2007 season. Historian William F. Henderson has documented every variation in every design worn by every MLB team since 1970. For each team, there's a list of basic rules of thumb, a chronological chart of primary styles, and then lots of photos showing the progression of each team's jersey since 1970. Plenty of attention is paid to small details and niche areas, including sleeve patches, throwbacks, prototypes, BP jerseys, one-offs, fabrics, undershirts, tagging and typography, and the occasional bit of storytelling helps keep things lively. An essential addition to any Uni Watch reader's library. Order it here.
7. "When It Was a Game" triple-DVD box set from HBO Home Video. If you prefer your baseball uniforms from the pre-1970 era, the three "When It Was a Game" installments offer a mother lode of flannel, stirrups, earflap-free batting helmets, and lots of other uniform details from years gone by. You can get all three volumes packaged together in a handy slipcase for only $18.49 from Amazon.
8. Barry Halper Collection auction catalog from Sotheby's. Barry Halper, who died in 2005, was recognized as the world's foremost collector of baseball memorabilia. In 1999, he put his massive collection up for auction at Sotheby's, where the nearly 2500 lots fetched over $21 million. Although the collection has now been broken up and scattered, the catalog from the auction -- over 900 pages strong -- remains a treasure trove of uni-related info, full of photos and text about game-used jerseys, gloves, bats, caps, ticket stubs, autographs and a lot more. The catalog is out of print, but used and unopened copies are easy to find.
9. Vintage basketball jersey designs from Black Fives. Sure, the NBA's Hardwood Classics jerseys are cool. But if you want real throwbacks, check out the goods at Black Fives, which documents basketball's version of the Negro Leagues. The designs, which were worn by teams like the Independent Pleasure Club, the Scholastic Athletic Association and the St. Christopher Club, have a simple elegance, and right now everything's on sale for only $45. Limited sizes (XXL and up), but a real bargain if you're shopping for someone on the heftier side. Check it out here.
10. Classic NCAA pennant designs by Victory Pennants. Most felt pennants don't feel nice and soft like felt -- they're stiff and unpleasant to the touch, and they easily develop creases if they get bent or folded. But Victory Pennants has produced a high-quality line of classic NCAA designs in 100 percent wool. The result is a set of pennants that are so plush, you practically want to snuggle with them. The lettering and graphics are flocked, not screen-printed, so they have a depth that you can actually see and feel. First-rate all around. See the full pennant lineup here.
And if you need a uni-related stocking stuffer, don't forget the coolest stockings of all: genuine striped baseball stirrups. You can find lots of colors and styles by scrolling down to the middle of this page.
Blast from the powder-blue past
Fans who've been clamoring for powder-blue road uniforms to return to the baseball diamond are in luck: The Blue Jays are bringing back their 1979 road uni, which they'll wear on Fridays -- at home. Plus they've overhauled their road uniform. Full details here.
Follow-Up Roundup
Plenty of follow-up items to catch up on, starting with last month's column about lost or stolen uniforms. Among the responses:
• From Shant Kasparian: "For this year's Major League Lacrosse Championships, the Denver Outlaws were stuck at O'Hare Airport en route to Rochester, N.Y. The team took a bus from Chicago to Rochester due to time constraints, while the majority of their gear was still on the plane back in Chicago. Thus, for their semifinal game, they had to wear their practice vests instead of their full uniforms (and had to borrow all sorts of gear as well)." Additional details and another photo here.
• From Adam Chordock: "In the 1999 NCAA Men's Final Four, Ohio State's Scoonie Penn's No. 12 jersey was never packed and he had to wear the 'blood jersey' [i.e., a generic, nameless jersey, usually reserved for someone who's bled all over his regular jersey]." Further details and another photo here.
• No photos yet, but several readers reported that Daryl "Moose" Johnston lost his Cowboys helmet on the way to the 1994 Pro Bowl and ended up wearing Reggie White's Packers helmet instead.
Meanwhile, there was also a lot of reaction to last week's nose bumper manifesto, including the following:
• Mark Szlachetka notes that the Bills wore "P.J.M." on their bumpers in 1996, in memory of team executive Patrick J. McGroder, who had died the previous winter. This is the only bumper-borne memorial gesture that Uni Watch is aware of.
• Many readers lamented the current situation in the ACC, where teams now wear the conference name. Before the league honchos imposed that rule, many ACC teams had unique bumper slogans and graphics, including Florida State ("Noles"), Virginia ("Hoos" -- tough to see, but it's there) and Maryland (a logo based on the Maryland state flag, like this).
• Nick Zajicek reports that the Lexington Eagles of Lexington, Texas, wear "AAAO" -- short for "Attack aggressively, all-out," which sounds a bit forced to Uni Watch.
• From Jon Steiner: "We had a guy on my high school team who was 6-foot-6, 300 pounds, and ran a sub-5.0 40, but he was so dumb and uncoachable that all he could play was wedgebuster on the kickoff team. He made his own bumper with white tape that read, 'Kill.' The coaches made him take it off."
• The best contribution came from Chris Ode, who informs Uni Watch that Pacific Lutheran, a Division III school in Washington, wears "EMAL," short for "Every man a Lute." Now there's a slogan worth rallying around.
Paul Lukas is making his list and checking it twice. His Uni Watch blog, which is updated daily, is here, his answers to Frequently Asked Questions are here, and his Page 2 archive is here. Want to learn about his Uni Watch membership program, be added to his mailing list so you'll always know when a new column has been posted, or just ask him a question? Contact him here.