Bill Jones: Gumball Helmet Collector Designer
Back when young Uni Watch was knee-high to a knee pad, some of the most popular collectibles among the pee-wee set were gumball machine football helmets. Cheap, easy to find outside any supermarket, and endearingly boxy-looking, they were way better to collect than football cards, which weren't allowed to show team logos back in those days (plus you could stage little helmet wars with your friends).
You probably had a few dozen of the helmets yourself. But that's nothing compared to Bill Jones. He's got a few thousand of them. And here's the kicker: He made most of them himself.
Jones first appeared on Uni Watch's radar in October, when a reader on the Uni Watch blog found a series of Flickr galleries featuring gumball helmet decal designs -- not just for the NFL, but also for arena teams, women's leagues, even prototype designs.
That discovery led Uni Watch back to Jones, a 43-year-old businessman who lives in Austin, Texas. Uni Watch initially figured he was just engaging in the digital equivalent of doodling logos in a notebook, but then Jones explained that he was using these designs to create actual gumball helmets (including some baseball designs), which he displays in his home, with each helmet encased in one of those little cubes that are usually used for displaying golf balls. That's when Uni Watch knew the situation warranted a personal visit. So arrangements were made, flights were booked, and a summit meeting in Austin took place soon thereafter. (You can see the resulting video report on Jones' helmets, and how he makes them, near the top of this page.)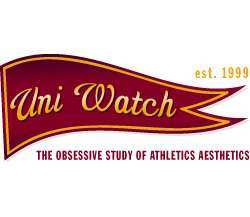 Jones says he had a few gumball helmets when he was a kid, but his current fascination didn't begin until about six years ago, when he stumbled upon a set of custom-made WFL gumball helmets on eBay. "I bid on them and won," he says. "Once I got the helmets, I saw how they'd been made and figured out the process, so I decided to make a USFL set. I was also a big fan of Arena Football, so I wanted to make them too, and that set had multiple variations and throwbacks since so many teams had moved or folded."
Soon he was hooked, doing research to discover new teams he hadn't known about -- European, semi-pro, women's leagues -- just so he could create helmets for them. And he made sure to document every iteration of a team's helmet design. If a tiny tweak was made to the logo, he made a separate helmet to show that; if the helmet color was changed ever so slightly, he showed that too. By combining a collector's mentality with an artisan's craft, he'd essentially created a self-perpetuating collection -- and probably the world's biggest single collection of football helmets (albeit tiny ones).
It's a painstaking process, though. Since gumball helmets are no longer manufactured, Jones buys old sets on eBay, strips off the old decals to create blanks, and repaints them if he needs a custom color. Then he uses Photoshop to create decal sheets, which he cuts into smaller pieces before using an X-acto knife to trim the individual decals. Although it would be simple to cut out the decal as a square or rectangle, he scrupulously adheres to the crescent shape that's always been used on gumball helmets, for authenticity's sake.
Does Jones worry about running out of teams to document? "I used to, but not anymore," he says. "With all the indoor leagues, and the women's leagues, there's always new stuff going on. Plus I've recreated my sons' school team helmets, and I've done some fantasy league projects for a guy I know. He'll call me and say, 'Hey, these are our team names for this season,' and I'll design helmets for them." In a shameless attempt to curry Uni Watch's favor, Jones even created some Uni Watch and ESPN helmets during our video shoot.
Not that any such brownnosing tactics were necessary, of course -- Jones and his single-minded devotion to gridiron headwear are right up Uni Watch's alley. It's hard not to wonder, however, if his wife might take a somewhat less charitable view of his hobby.
"She's actually been very supportive," he says. "When I started doing this, I'd make the helmets and then just put them away in a box, and she'd get mad at me! She'd say, 'You're spending hours working on these things, and then I don't even get to see them.' So she was real insistent that I find a way to display them." She even helped him with the display process.
There's a lesson there for all of us: Behind every good obsessive collector, there's an enabler a supportive partner. Preferably one who doesn't mind unpacking a few dozen cases of little plastic cubes.
Paul Lukas collects old beer ads that show people bowling, vintage recipe booklets with the word "Meat" in the title, and coin-operated gadgets (none of which he makes himself). His Uni Watch blog, which is updated daily, is here, his answers to Frequently Asked Questions are here, and his Page 2 archive is here. Want to learn about his Uni Watch membership program (another great gift idea), be added to his mailing list so you'll always know when a new column has been posted, or just ask him a question? Contact him here.