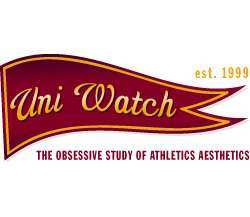 The NFL, notoriously rigid about enforcing leaguewide uniform standards, has been surprisingly flexible about one uni-related element this season: The
Sean Taylor memorial "21" decal
, which all teams wore in Week 13, was made optional for the rest of the season. So some teams have been
wearing it
and others
haven't
. And then there are the Giants, who removed the decal for Week 14 but restored it the following week -- except for offensive lineman Grey Ruegamer, who was Pat Tillman's teammate at Arizona State and doesn't think anyone should be getting a more extended memorial tribute than Tillman got.
The NFL's atypically laissez-faire approach here is no doubt partially due to all the negative publicity surrounding the Pat Tillman situation in 2004 (as you may recall, all teams paid tribute to Tillman by wearing a "40" decal for Week 3, but Broncos QB Jake Plummer wanted to keep wearing it and was threatened with a $30,000 fine if he didn't desist). But it's also a measure of the increasing role of uni-borne memorial gestures. Mourning graphics used to be fairly rare and were usually limited to a black armband, but that's all changed. Nowadays, as soon as the assistant coach's third cousin's mother-in-law dies, everyone immediately starts speculating about whether the team will wear some sort of memorial and what it will look like (well, everyone who reads Uni Watch).
To see how ubiquitous and varied grieving via uniforms has become, look at the response to the April 2007 shootings at Virginia Tech. In the days immediately following the tragedy, Allen Iverson wore a sleeve patch; several MLB teams wore the VT logo on their caps or sleeves; some MLBers even wore VT caps (including Joe Saunders, baseball's only VT grad); several college football teams wore VT helmet logos for their spring scrimmages; and literally dozens of golfers, NASCAR drivers, and other athletes wore VT logos. When the fall sports season began, the Hokies themselves wore a black patch with an orange ribbon, and all other ACC football and basketball teams added small black memorial strips, although there was no uniformity regarding their placement: For football, they appeared primarily on the chest or shoulder; for basketball, here, there, and everywhere. It's like the entire sports world went into "Ich bin ein Hokie" mode.
All of which is a little weird once you stop and think about it. Aside from wearing black to a funeral, most of us don't wear remembrances on our clothing. Ah, but many people used to -- the custom of wearing black crepe or a black mourning band on the left arm goes back centuries in several European cultures, and it was once fairly common in America. In fact, it extended all the way up to the Oval Office: Calvin Coolidge wore an armband after his predecessor, Warren Harding, died, and FDR did likewise -- for an entire year! -- after the death of his mother.
The transition of this custom from civilian life to the playing field began with baseball. According to Hall of Fame historian Tom Shieber, the first memorial to appear on a big league uniform was in 1876, when the St. Louis nine wore a "badge of mourning" (likely black crepe) in memory of former teammate Tom Miller, who'd died of a kidney ailment.
A handful of similar examples followed over the next several decades, but the breakthrough came in 1909, when National League president Harry Pulliam committed suicide, leading all NL teams to don black armbands on their left sleeves. Over the next 60-plus years, the black band would become the game's standard remembrance symbol, with over three dozen iterations. In the early days, when jersey sleeves were long, the band was sometimes worn fairly low and was often extremely thick; as sleeves receded, the bands migrated upward and eventually got thinner.
The next major development came in 1973, when the Pirates memorialized Roberto Clemente by wearing a sleeve patch with his uni number instead of an armband (probably because their jersey design already featured black stripes on both sleeves). This simple gesture opened the floodgates for the wide variety of memorial formats we've seen in more recent years -- initials, first names, last names, full names, nicknames, portraits, quotations and more.
The history of uniform memorials in the other major team sports isn't as well-documented, but here's a brief league-by-league breakdown:
• NFL: Back when football jerseys actually had sleeves, you'd occasionally see a black armband (that one was for Vikings assistant coach Jack Nelson, who died in 1978). Nowadays, helmet decals and chest patches are the standard formats.
• NBA: Basketball is trickier, since there are no sleeves, and real estate on the jersey is at a premium. So the standard memorial motif has usually been a simple black shoulder strip, with chest patches reserved for very special occasions. Unfortunately, the league's best memorial patch -- for George Mikan, in 1999 -- was only worn on the Lakers' and Timberwolves' warm-up suits and shooting shirts, not on their game uniforms.
• NHL: Hockey doesn't appear to have a very deep memorial tradition. The earliest uni remembrance Uni Watch is aware of is the black "31" that the 1985-86 Flyers wore on their left shoulder in memory of Pelle Lindbergh. Jersey patches are more common these days, like the one worn by the 2005-06 Devils after team owner John McMullen passed away.
There's no such thing as a "bad" memorial, of course, as long as the gesture is sincere. But some are definitely better than others. Here are 10 of Uni Watch's favorites (along with some additional info for some of them), some of which made the list because they're clever, some because they're gorgeous, and some just because they're interesting.
1. 2000 DALLAS COWBOYS
After Tom Landry died, the Cowboys saluted him by depicting his trademark fedora as a jersey patch. Brilliantly simple, timelessly dignified, this is the standard against which all other uniform memorials must be judged. Ironically, Landry wouldn't even be allowed to wear his cherished chapeau in today's NFL, because of the regulations requiring coaches to wear officially licensed Reebok products. So in a way, this patch marks the passing of an era as much as the passing of Landry.
Postmortem: Landry isn't the only coach whose haberdashery tastes have been reflected on a memorial patch. When Ottawa Senators coach Roger Neilson died in 2003, the Sens came up with a patch playing off of Neilson's penchant for colorful neckwear. A nice gesture, but Uni Watch doesn't like memorial patch designs with signatures -- feels a little creepy, like the deceased is signing the guestbook at his own funeral, or giving an autograph from beyond the grave.
2. 1998 CHICAGO CUBS
Broadcaster Harry Caray had a unique visage that was ripe for caricature. So when he died in 1998, the Cubbies commissioned a portrait that perfectly captured his spirit in just a few loops and squiggles. It was worn as a sleeve patch throughout the '98 season. An inspired tribute to an inspired character.
Postmortem: The Cubs ended up memorializing another broadcaster that same year: Jack Brickhouse, whose personal catchphrase was worn on the team's other sleeve. More recently, the default design trope for broadcasters' memorials has been the inclusion of an old-timey microphone, as used with varying degrees of success by the A's (to mark the passing of Bill King in 2006), Blue Jays (for Tom Cheek, 2006), and Twins (for Herb Carneal, 2007; note the atypical right-sleeve placement). Not a bad motif, but Uni Watch wishes teams would show a bit of imagination instead of just copying each other.
3. 1989 PHILADELPHIA EAGLES
It's one of those unwritten rules of football: You can slap all kinds of decals on the back of your helmet, but don't mess with the front or sides. The Eagles ignored that dictum, however, when quarterbacks coach Doug Scovil died in December 1989, as they adorned their wings with black electrical tape for the rest of that season, a simple gesture with a powerful impact.
Postmortem: The Eagles had actually worn a front-helmet memorial on one previous occasion. That was on Nov. 13, 1988, when they hosted Pittsburgh and wore an "AJR" decal in honor of the late Steelers owner Art Rooney, who had died earlier that year -- a rare instance of a team going out of its way to memorialize someone from an opposing team. (The Steelers themselves wore an "AJR" jersey patch that entire season. And if you look closely at that photo, you can see that the Cowboys wore the same decal that the Eagles had worn, but they put it on the back of the helmet instead of the front.)
4. 1991 and 1996 IOWA HAWKEYES
Instead of adding something, sometimes it's more effective to take something away. That's what the Iowa football team did on Nov. 3, 1991, the day after a student had gone on a shooting rampage, killing five other students and then himself. The Hawkeyes honored the fallen by removing all the logos, stripes, and other graphics from their helmets for their game against Ohio State. They played with blank helmets again at the 1996 Alamo Bowl, as a tribute to linebacker Mark Mitchell's mother, Diane, who died in an automobile accident on the way to the game.
Postmortem: The NCAA didn't even allow football teams to wear memorial decals or patches until 1998, so Iowa's choices were somewhat limited. Just goes to show that sometimes less really is more.
5. 1986-87 TORONTO MAPLE LEAFS
Then again, sometimes more is more. That was the case in 1986, when the Maple Leafs eulogized former star and longtime team employee King Clancy with a spectacular shoulder patch. Take a close look at this baby: four colors (none of them black!), loads of little iconographic details, magnificent embroidery -- it's a masterpiece. Fit for a king, indeed.
6. 2007 TEXAS LONGHORNS
It's hard to sum up a person's life in a simple graphic icon, but the Horns got it just right with their tribute to Lady Bird Johnson. The former First Lady, who died last July, had devoted much of her life to the planting and preservation of wildflowers, so the team memorialized her with a wildflower helmet decal.
7. 2004-05 PHOENIX SUNS
Black is the traditional color for mourning bands. But when Cotton Fitzsimmons died in 2004, the Suns played off of his name by wearing a white shoulder strip -- unique yet understated. Nicely done.
Postmortem: Other teams have sometimes been forced to use white memorial graphics, thanks to the advent of black alternate jerseys. When White Sox owner Jerry Reinsdorf's longtime assistant Sheri Berto died prior to the 1992 season, for example, the Sox wore a small black diamond on the left sleeves of their home and road jerseys, but the team's black jersey got a white diamond. Same goes for the Blue Jays' Tom Cheek memorial patch, which had to switch from black to white.
8. 1984 CHICAGO BEARS
When George S. Halas died in October 1983, the Bears honored him with a jersey patch -- nice, but arguably a bit garish, no? The following year they took the unprecedented step of continuing to salute Halas for a second season, but not with the patch -- instead, they incorporated his monogram into their left-sleeve striping, where it has remained ever since. The font has changed over the years, and the lettering is now a bit smaller, but the initials are still there. Some might find this perma-memorial ostentatious, but Uni Watch likes how it's become part of the Bears' identity -- sort of the Eternal Flame of uniform remembrances.
Postmortem: To Uni Watch's knowledge, only two other people -- both of them, like Halas, team owners -- have been memorialized for multiple seasons. The Padres wore Ray Kroc's initials from 1984 through 1986. And the Browns have implicitly compared Al Lerner to Halas -- which is really pushing it -- by copying the Bears' approach: When Lerner died in the middle of the 2002 season, the team added a chest patch; the following year, they removed the patch and put Lerner's initials on the left sleeve, where they remain today (look closely and you'll see there's also a script "E" between the "A" and the "L").
9. 1961 CINCINNATI REDS
The advent of vest baseball jerseys presented a remembrance riddle: How do you wear a memorial sleeve band if your jersey doesn't have any sleeves to begin with? The Reds solved this problem by eulogizing team owner Powel Crosley with black piping on their left armhole opening, a unique approach never tried by any team before or since.
Postmortem: The black piping was such a hit that instead of removing it the following year, the Reds simply added corresponding piping on the other side -- not because someone else had died, but simply because they liked the look.
10. 2000 MONTREAL EXPOS
At first glance, the black "9" that the Spos wore on their right sleeves in 2000 looks pretty unremarkable -- until you realize that it's in honor of former Canadiens great Maurice Richard. This is, to Uni Watch's knowledge, the only time an athlete in one sport has been memorialized on the uniform of another sport. It also tells you everything you need to know about the relative status of baseball and hockey in Montreal.
Postmortem: The Canadiens themselves took a much more restrained approach to Richard's memory. They commissioned this jersey patch but only wore it during a pregrame memorial ceremony.
There have been scores of other uni memorials, of course. The following chart, arranged by sport, makes no claim of being comprehensive, but it gives a decent idea of some of the more interesting approaches various teams have taken:
Then there are the players who've gone off the reservation by coming up with their own customized memorial gestures. A selective sampling:
• When Cardinals pitcher Josh Hancock died last year, the Cards added a simple sleeve patch. But that wasn't enough for Tim Hudson of the Braves, who was Hancock's teammate at Auburn. For his first start following Hancock's death, he wore what may be history's biggest memorial initials.
• When another St. Louis pitcher, Darryl Kile, died in 2002, the team put his initials and uni number on a sleeve patch, but Cards pitcher Jason Simontacchi went further by honoring his teammate with a memorial ankle band.
• When Royals executive Joe Burke died in 1992, the team added a "JRB" sleeve patch. But George Brett modified the patch in honor of his father, Jack H. Brett, who had died that same year.
• The Browns didn't memorialize Don Rogers on their uniforms after he died of cocaine poisoning in 1986. But that didn't stop Clarence Weathers from wearing Rogers' uni number on a piece of tape stuck to his helmet. (And yes, Weathers was among the few athletes to wear his full name in the rare double-decker format.)
• After 11 Israeli athletes were killed at the 1972 Olympic Games in Munich, three Oakland A's players -- Ken Holtzman, Mike Epstein, and Reggie Jackson -- marked the occasion by wearing makeshift black armbands on Sept. 6, 1972. No photos, unfortunately.
Finally, there's this: Death is no laughing matter, but one of the best jokes Uni Watch heard in 2007 involved the Blackhawks' current memorial patch for owner William Wirtz. As several observers have noted, it marks the first time in years the Hawks have strung together three consecutive Ws.
Paul Lukas hopes we all have very few deaths to mourn in 2008. His Uni Watch blog, which is updated daily, is here, his answers to Frequently Asked Questions are here, and his Page 2 archive is here. Want to learn about his Uni Watch membership program, be added to his mailing list so you'll always know when a new column has been posted, or just ask him a question? Contact him here.