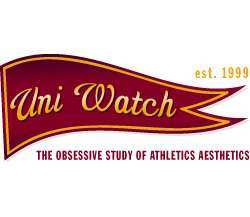 Is there some sort of conservation-of-fabric rule out there on the hard court? Some sort of zero-sum dictum that states, "If thou taketh away over here, thou must addeth back somewhere else"?
Uni Watch is inclined to think so after witnessing two events that took place a few weekends ago: The one you probably heard about was that the Lakers broke out the old-school short shorts; less celebrated, but just as notable, was that Evansville tried to channel a bit of nostalgic karma by reviving its sleeved jerseys, which had been the school's visual trademark back in the day.
Of course, all basketball teams used to wear short shorts, but sleeves are a more rarefied uni element, and Evansville has been the de facto standard-bearer. The school first went the sleeved route in the late 1940s, supposedly because drafty gym conditions led the players to wear T-shirts during practices and coach Arad McCutchan figured they'd be more comfortable sticking with tees for game use. Uni Watch has also heard that McCutchan believed greater fabric coverage would lead to more fouls being called on Evansville's opponents, since skin-on-uni contact is presumably easier for a ref to spot than skin-on-skin contact.
Whatever the rationale, the Purple Aces kept on wearing sleeves through the 1976-77 season, winning five College Division national championships along the way, and were sleeve-clad again from 1986 through 2002. The throwback game a few weeks ago marked their first sleeved appearance since then.
All of which got Uni Watch thinking: Sure, sleeves on the court look kinda dorky, but that's only because we're used to seeing tank tops instead of tees. How did tanks become the standard basketball jersey format, anyway?
"The earliest basketball players were really just gym students, not formal teams," explains Matt Zeysing, a historian at the Basketball Hall of Fame. "They usually wore black gym suits, which they'd also wear for doing calisthenics and things like that. And those didn't have sleeves. The old Spalding equipment guides show tank tops, too. It really hasn't changed much."
A check of the Uni Watch library, which features a wide array of vintage uniform catalogs, confirms Zeysing's point. Early catalogs, like this one, show nothing but tank tops. But T-shirts start showing up around the mid-century point, corresponding with Evansville's sleeved success. This late-'50s catalog, for example, shows several sleeve options (some with stripes or other graphic flourishes), and sleeved designs are also offered in this 1966 catalog, as seen here and here.
Evansville's recent throwback game notwithstanding, Uni Watch isn't aware of any NCAA teams currently wearing sleeves. But quite a few schools used to, including La Salle; Texas A&M (here's another version); Seattle, back in the Elgin Baylor era (here's a rear view); LSU, in the Bob Pettit era; Providence, circa Lenny Wilkins; Tulane; New Mexico State; and Pitt. (Then there's the phenomenon of wearing sleeves under the jersey, but that's another topic for another day.)
Sleeves in the pro ranks have been rarer. To Uni Watch's knowledge, only one NBA team has ever worn tees instead of tanks: the Celtics in the mid- and late 1940s. Some professional teams from basketball's pre-NBA days also went sleeve-clad, most notably the Philadelphia Sphas.
But sleeves have carved out a niche at the high school level, especially in Illinois, where many of the state's top high school teams have collectively established themselves as Sleeve Central. Foremost among them is Proviso East -- sort of the Evansville of the high school ranks -- which has worn sleeves at least since the late 1960s and has stuck with them through a wide variety of uni revisions (additional views here and here). Other past and present sleeved squads from the Land of Lincoln include Batavia, Hinsdale South, Quincy, Thornton and Proviso West. In fact, Uni Watch is aware of only one sleeved high school that isn't in Illinois: Houston Madison, in Texas.
So what's with the Illinois sleeve-o-rama? Nobody seems sure, but Proviso East athletic director Andrew Johnson knows better than to rock the boat. "Some things we can change, some things we can't," he says. "The sleeves have been a tradition at our school since we began. If I buy another uniform and it doesn't have sleeves, they'll run me out on a rail. I'm not going to be the one to try it."
Not that it wouldn't make his life easier from a logistical standpoint. "We deal exclusively with Nike, but Nike doesn't make a sleeved jersey," he says. "So we had a company make a replica of a Nike [design]. We had to get permission from the Nike rep for that." (As an aside, the Lakers had the same problem with their short shorts: They had to get them made by a local supplier because adidas couldn't make them, which makes Uni Watch wonder what would have happened if John Stockton hadn't retired before adidas got the NBA uni contract.)
Uni Watch can't wrap up this topic without mentioning one other notable sleeve-clad hoops team: the Baltimore Colts. You may know them better as an itinerant NFL franchise, but many of the Colts also played on an intramural-style basketball team in the offseason. Here's Johnny U. himself, sporting the team's tee-styled jersey (and exemplifying a certain movie title). Nice to see the full-wraparound shoulder stripes -- if the Colts played basketball today, they'd probably have make the stripes look like this.
(Extra-special thanks to Morris Levin and Jared Wheeler for their research contributions, and to Uni Watch bench coach Bryan Redemske for his reporting assistance.)
Paul Lukas wore a yellow T-shirt with red uniform numbers while playing CYO basketball in fifth grade. His Uni Watch blog, which is updated daily, is here, his answers to Frequently Asked Questions are here, and his Page 2 archive is here. Want to learn about his Uni Watch membership program, be added to his mailing list so you'll always know when a new column has been posted, or just ask him a question? Contact him here.