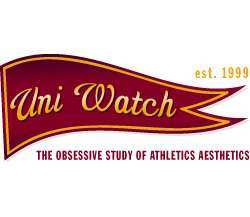 Here's a simple uni-related rule of thumb: A football team's helmet color usually matches the color of some other prominent uniform element -- either the
jersey
, the
pants
, the
stripes and trim
, the
typography
or even the
socks
. The only exceptions are teams whose helmets are white,
black
or
silver
, which are neutral colors that pretty much match up with everything.
So with the Super Bowl almost upon us, consider the case of a certain mystery team, which for demonstration purposes Uni Watch will refer to as "NYG." As you can see here, NYG's road uni is heavy on the red -- red socks, red uni numbers, red sleeve stripes, red captain's patch, red chest insignia. Red nameplates, gloves and shoe trim, too. Even NYG's little Reebok logo is red. So NYG probably wears a red helmet, right?
Wrong. As the more cerebral among you may have deduced, NYG is actually the New York Giants, whose road-uni chromatic scheme has been giving Uni Watch fits for years now. Yeah, there's one red stripe on the helmet, and there's that thin blue stripe on the pants, but at the end of the day what we've got here is a blue helmet on an otherwise red-themed design.
Uni Watch knows what you are thinking. You are thinking, "Hmmm, a blue helmet on a predominantly red uniform -- how much sense does that make?" Uni Watch will tell you: It doesn't make any sense at all. And with the Giants slated to wear their road uni this Sunday (the Patriots are the designated home team and have chosen to wear their blue jersey), this means the Jints will be one of history's most illogically attired Super Bowl teams.
One potential solution would be to give the G-Men a red helmet to match all the red trim. But that doesn't look so hot, and besides, the helmet isn't the problem. A better solution would be to change all the red elements to blue. Isn't that a big improvement? Doesn't it make a lot more sense, especially for a team whose nickname is Big Blue? Check out the two versions side by side and it isn't even a fair fight -- blue wins in a romp.
Historically minded readers are probably saying, "Yeah, but the red-based road design actually harks back to the team's early-1960s attire!" Quite true. Also quite irrelevant, because the blue-over-red design didn't make any sense back then either, only most people couldn't tell because they didn't have color TV.
The red/blue combo might have been defensible back when red had a greater presence on the team's helmet, but not anymore. Face it, the Giants' current road uni is a badly flawed design that needs to be reassessed. No wonder the team had such a good road record this season -- its opponents were probably befuddled by what they saw across the line of scrimmage. At least the team will have a bit of blue on its jerseys this Sunday, thanks to the Super Bowl logo patch (although the patch looks even better on New England's jersey).
As for the Pats, their basic home blues will look fine, as per usual. They've been to the big game so often in recent years that there's little left to analyze regarding their uniforms, but here are a few tidbits to tide you over until kickoff:
• What do New England's two primary helmet logo characters -- Pat Patriot and Flying Elvis -- have in common? Both started out as informal doodles. Pat, a longtime Uni Watch favorite, debuted in a 1959 Boston Globe editorial cartoon by Phil Bissell, while Elvis, of whom Uni Watch is considerably less fond, began as a sketch-pad scribble by designer Stan Evenson and his intern, Ken Loh. Further info on how that scribble made its way onto an NFL helmet can be found here (you may have to register for the link, but it's free and easy, and the story is worth reading).
• Pats fan Victor Thompson sure likes Flying Elvis. How much? So much that he's had the logo tattooed onto his scalp. Full see-it-to-disbelieve-it details in the following video clip:
• Lots of Uni Watch readers have asked why the Patriots have been wearing a "91" helmet decal instead of the Sean Taylor memorial "21" worn by other teams. Quick recap: The Pats have been wearing the 91 all season in memory of Marquise Hill, who drowned last summer. They added the Taylor decal in Week 13, just like every other NFL team. The Taylor decal has been optional since then, and New England is one of several teams that removed it after that first week. (The Giants, for their part, went without the Taylor decal in Week 14 but restored it in Week 15 and have kept wearing it since then.)
• An even greater contingent of readers wants to know why Tom Brady and Kyle Brady don't have first initials on their nameplates. And therein lies an interesting tale: Last spring the Pats signed Kyle Brady, and countless fans who owned Tom Brady jerseys began wondering, "Are they gonna make Tom add a 'T.' to his nameplate? That's the rule, right? But then my authentic jersey with 'Brady' on the back won't match what he's wearing on the field!" A few months later, the NFL changed the rule so that first initials are no longer required for same-surnamed teammates. Coincidence? Uni Watch will let you be the judge.
Finally, about that Super Bowl logo: Is Uni Watch the only one who thinks it looks like a sliding minivan door?
(Special thanks to the charming and talented Kirsten Hively for her Photoshop assistance.)
Sleeve Scene Revisited
Last column's examination of basketball jerseys with sleeves prompted lots of reactions from readers who knew of additional sleeve-clad squads, although only a few were able to provide visual documentation. At the college level, our sleeved list now includes Gonzaga (additional pics here and here), Grand Canyon and Pan American (and yes, that's a kick to the face -- apparently an early version of mixed martial arts). We can also add San Leandro High in California. And Philadelphia's Charles Baker League and Sonny Hill League have strong sleeved traditions, as seen here, here, here and in the first 25 seconds of this Earl Monroe video clip.
As for the pros, Uni Watch had thought that the only sleeved professional team was the late-'40s Celtics, but it turns out there was at least one more: the short-lived St. Louis Bombers (here's another view, and check out the uniform ad on the back of the card!). Uni Watch has also received several reports that the original Baltimore Bullets -- a separate franchise from the Bullets who later morphed into today's Wizards -- wore sleeves in the early 1950s, but photographic evidence has so far proved elusive. Little help?
Death Never Takes a Holiday
Uni Watch's recent survey of uni-borne memorial gestures generated lots of response, too. Let's start by addressing some miscues:
• In addition, the Chiefs have just announced that their Lamar Hunt memorial patch, which they wore this past season, will now become a permanent fixture on the team's jerseys.
• Contrary to what Uni Watch wrote, George Halas, Ray Kroc and Al Lerner are not the only people who've been memorialized for more than one year. Other multiple-season memorial gestures include Marquette's "AL" for Al McGuire (ongoing since 2001), Arizona State's "PT-42" for Pat Tillman (ongoing since 2004), Florida's "A-Ross" patch for Eraste Autin (worn from 2001 through 2004, matching the years of Autin's eligibility) and the Buffalo Bills' "PJM" nose bumper decal for Pat McGroder (1986 and '87). Thanks to all who wrote in to set the record straight.
• Uni Watch also erred when stating that the Expos' "9" sleeve patch for Maurice Richard was the only instance of a team in one sport memorializing a figure from another sport. As many readers noted, the Red Sox wore green jerseys and caps last April in tribute to Red Auerbach.
• Uni Watch had noted how unusual it was for the Eagles to wear an "AJR" decal for Steelers owner Art Rooney -- a rare cross-team remembrance. But Craig Friday points out that Rooney briefly owned the Eagles at one point, which puts the gesture on more logical footing.
• Uni Watch stated that the NCAA didn't officially sanction memorial helmet decals until 1998. But that didn't stop some teams from wearing them anyway. Case in point: the 1983 Auburn squad, which wore a "36" decal for Greg Pratt.
Meanwhile, many readers complained that Uni Watch "neglected" or "overlooked" certain uniform memorials. Sigh. One more time, people: It was never Uni Watch's intention to compile a comprehensive breakdown of every last memorial armband, sleeve patch and helmet decal that's ever been worn (a fool's errand if ever there was one). The idea was simply to list some of the more notable and interesting remembrances. With that proviso in mind, here are some additional examples to supplement the ones in the earlier column:
Don't even get Paul Lukas started on the Giants' red alternate jersey. His Uni Watch blog, which is updated daily, is here, his answers to Frequently Asked Questions are here, and his Page 2 archive is here. Want to learn about his Uni Watch membership program, be added to his mailing list so you'll always know when a new column has been posted, or just ask him a question? Contact him here.

PAGE 2 ON THE SUPER BOWL
Don't miss any of Page 2's hard-hitting Super Bowl coverage as we gird for an epic clash between the Giants and Patriots.
Bill Simmons
•
Postgame: Free fallin' out into nothing
•
Super Bowl XLII preview and pick
•
Awards from the conference championships
Tuesday Morning Quarterback
•
TMQ: Super ending to a tumultuous season
•
Easterbrook: Spygate returns to headlines
•
TMQ: Conditional immortality
•
TMQ: All-Unwanted All-Pros
Notes, jokes and potpourri
•
Super Bowl commercials bingo cards
•
Flem File at the Super Bowl
•
Friday, Feb. 1: News you can't live without
•
Thursday, Jan. 31: News you can't live without
•
Wednesday, Jan. 30: News you can't live without
•
Tuesday, Jan. 29: News you can't live without
•
Monday, Jan. 28: News you can't live without
•
Celebrities make their picks
•
Poll: Tom Brady celebrity photo ops
Insight and wisdom
•
Hill: Super Bowl party report
•
Page 2: Pop culture roundtable
•
Gallo: Boston's five stages of grief
•
Neel: Bittersweet game for Hoover's people
•
Hruby: Page 2 Week in review quiz
•
Uni Watch: Where's all the blue in Big Blue?
•
Milz: What does Gisele's dad think of Tom?
•
Hruby: Super Bowl is hazardous to your health
•
Hill: Moss was right to quit on Raiders
•
Hill: Teflon Tom Brady
•
Page 2: Suggested questions for media day
•
Jackson: Perks for perfect Patriots
•
Hruby: Analyzing the Brady tape
•
Best teams not to win a championship
•
Fleming: Footnoting greatness
•
Gallo: The first 24 hours of hype
•
Page 2 obtains Boston's contract with the devil
•
Snibbe: Championship Sunday by the numbers
•
Garfamudis: Patriots aren't perfect
•
The curse of Mo Lewis
Inside the brain
•
Inside Jared Lorenzen's brain
•
Inside Matt Cassel's brain
•
Inside Tiki Barber's brain
All things Super Bowl
•
Complete ESPN.com coverage
•
From 2007: The Ultimate Super Rankings
E-Ticket
•
Klosterman: All too perfect
•
Neel: Almost immortal
ESPN Top Headlines