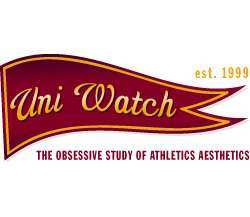 When you go see "Semi-Pro" this weekend, watch as the closing credits scroll by and you'll see someone making his Hollywood debut: "ABA Research Consultant: Arthur Hundhausen."
That simple credit line is the culmination of a lifelong obsession for Hundhausen, a 38-year-old Denver attorney who became an ABA fanatic while growing up in the 1970s and is now probably the world's foremost ABA authority. He owns over 1000 ABA game programs, all of the media guides, and loads of photos, jerseys, and other ephemera. He's cobbled much of this material into his excellent Remember the ABA site, easily the web's definitive resource for all things ABA-related.
Hundhausen talks about the ABA the way other fans talk about their favorite teams. "The ABA had the best talent and the best players," he says. "I'd ask my dad why they didn't play NBA teams, and he'd say, 'Well, they don't have to.' They did play some exhibition games against the NBA, though, and they kicked their butts all over the court. The final year's record was something like 31-17, in the ABA's favor."
THE ABA REVISITED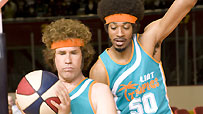 • Lukas:
Remember the ABA
• Alipour:
Being "Semi-Pro"
• Neel:
The ABA spirit lives on
• H-O-R-S-E!:
Bill Walton faces Will Ferrell

Actually, it was
exactly
31-17. That's the type of encyclopedic knowledge and instant recall that made Hundhausen the filmmakers' go-to source for any ABA historical question -- including, of course, questions regarding the uniforms, logos and other graphics used in the movie.
Hundhausen characterizes the ABA's basic aesthetic as "psychedelic '70s with a touch of traditionalism" (you can see both elements in this shot), which is a good way of describing of the transitional period the league occupied. Several factors influenced the ABA look:
• Color. The ABA's lifespan ran from 1967 through 1976, which is precisely when Americans were discarding their old black-and-white TV sets and replacing them with color models. So the league pushed the chromatic envelope whenever possible -- first with its iconic red, white and blue ball, and then with uniforms and logos. Coaches went Technicolor too. Even the refs got into the act, initially wearing red tops and then going with red zebra stripes (an idea borrowed from another renegade league, the AFL).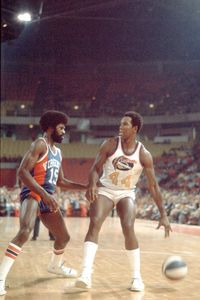 David Gonyea
Big hair plus little shorts added up to a classic ABA look. Denver's Ralph Simpson dribbles against Virginia's Ticky Burden.
•
Underdog-itude.
Like any scrappy upstart, the ABA took some liberties to draw attention. Whether it was putting a player's
first name
,
nickname
or
initials
on the back of his jersey, dressing players in
star-spangled socks
, using some
seriously funky typefaces
, coming up with
unusual promotions
(including, of course, the
first-ever slam dunk contest
) or engaging in some
questionable marketing tactics
, the ABA could never be mistaken for its stodgier, more established rival.
• Limited Resources. "The teams were changing cities all the time," explains Hundhausen. "The Memphis Pros came from New Orleans, where they'd been the New Orleans Buccaneers. Their jerseys had said, 'Bucs,' and they didn't have enough money to get new ones, so they tore off the old lettering and needed a four-letter replacement name. That's how the team became the Pros." Five years, three name changes and one relocation later, the franchise became the Baltimore Claws, with jerseys that were even more makeshift than before. Rinky-dink? Sure. But it kept things interesting and unpredictable, unlike today's heavily scripted, ultra-focus-grouped sports scene.
• The 1970s. There was some, uh, major weirdness going down. Nuff said.
With those influences in mind, Uni Watch asked Hundhausen to list his top ABA picks in several visual categories. Here are his choices and commentary, along with Uni Watch's picks:
ARTHUR'S TOP 10 ABA TEAM LOGOS
1. Denver Nuggets, 1975-76: "What other team would have those physical representations of what they are? I don't know if the pickax is intimidating, exactly, but it's cool."
2. San Diego Sails, 1975: "That logo only lasted two weeks, but I like the sense of motion, the ball -- it just says, 'ABA' to me."
3. Pittsburgh Condors, 1971-72: "That's classic, and they slapped it right on their jerseys. And it's much better than the cartoon condor that they used the year before."
4. Spirits of St. Louis, 1974-76: "That's probably one of the best basketball logos of all time. How could anyone not like that?"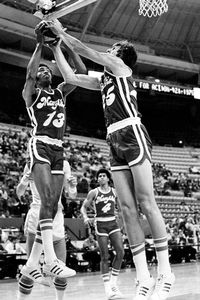 Al Hall photo
Only in the '70s: The Memphis Sounds had some creative ideas about typography. Collis Jones (13) battles his own teammate, Tom Owens, for a rebound.
5. Baltimore Claws, 1975:
"It's like the ball's on a plate, and the lobster, or whatever it is -- some crustacean -- is sitting down to dinner. I love it!"
6. Virginia Squires, 1974-76: "I don't know if anyone else would pick this one, but I like it because I don't think anyone else has ever used those colors together. Classic '70s."
7. Memphis Tams, 1972-74: "That funky little tam-o'-shanter in Oakland A's colors. That's '70s, for sure."
8. Houston Mavericks, 1967-68: "I like this version, where he's jumping through the H, better than the one with the ball, which they used the next year."
9. Miami Floridians, 1970-71: "You've gotta love the guy with the stripe running through him. I also like the version where the stripes form a letter."
10. Oakland Oaks, 1967-69: "A lot of people think this one is silly, but c'mon, a dribbling acorn!"
Uni Watch's picks: Dallas Chaparrals, Denver Rockets, Oakland Oaks, Houston Mavericks, Baltimore Hustlers, New York Nets, Pittsburgh Condors, Miami Floridians, Baltimore Claws, Memphis Sounds.
ARTHUR'S TOP FIVE ABA WARM-UP OUTFITS
1. Miami Floridians, 1970-72: "It's the most understated warm-up I've ever seen. No team name, no player name -- the stripes are enough to tell you it's the Floridians. And it was black before black was popular!"
2. Virginia Squires, 1974-75 (front, back): "Again, I really like the color combination. I also like the one they used the following year, with the little bib on the back."
3. San Diego Conquistadors, 1973-74: "I really like that vertical red stripe."
4. Spirits of St. Louis, 1974-76: "You can't see it in the photo, but the logo on the back actually has glitter on it. It's one of the most awesome warm-ups you've ever seen."
5. Memphis Sounds, 1974-75: "I like that cool music clef just slapped on there, and the font for the names on the back is so unique."
Uni Watch's Picks: New Jersey Americans, Pittsburgh Pipers (front, back), Indiana Pacers, Utah Stars (home, road), Washington Caps (front, back), and Memphis Tams. Also, no discussion of ABA warm-ups would be complete without a mention of Connie Hawkins' 1968-69 jacket.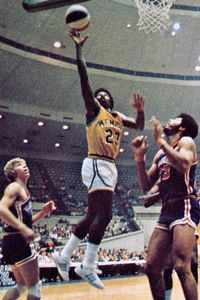 Arthur Hundhausen
Who says the jersey and shorts have to match? Memphis' George Thompson soars above Virginia defenders.
ARTHUR'S TOP 10 ABA UNIFORMS
1. Denver Rockets, 1973-74 (home, road):
"It's hard to see in the photos, but they actually had an image of a rocket
going up the side of the uniform
. The booster portion was on the shorts, and the top part was on the jersey."
2. Denver Nuggets (home, road): "Like I said before, I really like that logo. Also, I own a David Thompson jersey from that year. Back then, most players only got two jerseys for the whole season -- one home and one road -- so the one I have is probably the one he wore that year."
3. Miami Floridians, 1970-72 (home, home in action, road, road in action): "No team name, no logo -- just the uniform number and the stripes. The team owner was also part owner of a huge ad agency, and I think someone at the agency probably wanted to do something creative. I had a chance to buy one of these years ago for about $3,000, which I thought was crazy. Now I wish I'd bought it, because they go for at least $7,000 these days." (A few asides from Uni Watch: The Floridians' orange/magenta stripe motif extended to the team's cheerleaders, bikini-clad ball girls and pennants. Also, it's worth noting that when the Heat wore Floridians throwbacks a few years ago, they didn't have the guts to leave the jerseys lettering-free.)
4. New York Nets, 1972-76 (home, road): "I like the way the stars and stripes had to line up from the shorts to the jersey. When I was a kid, it always bothered me when some players didn't line them up properly. You've got to take the time to look good!"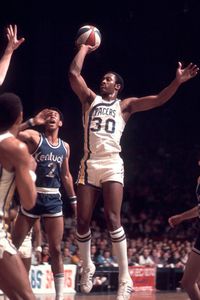 RememberTheABA.com
Stripe-o-rama! George McGinnis and the ABA's red, white, and blue ball soar over Kentucky's Walt Simon (2) and Rick Mount.
5. Indiana Pacers, 1971-74 (home, road):
"I was always fascinated by that
curved stripe
that wrapped around
from the front to the back
. The
Utah Stars
later did something
similar
, which is odd, since the Pacers were their hated rivals." The Pacers' stripe also served as the template for the
featured uniforms
in
"Semi-Pro."
6. Memphis Tams, 1972-74 (home, road, although those designations were flexible): "In 1972, Charlie Finley, who owned the Oakland A's, bought the Memphis Pros. He changed everything -- the team name became the Memphis Tams, and he gave them his favorite color scheme, green, gold and white. And just like with the A's, he had them mix and match the tops and shorts."
7. Pittsburgh Condors, 1971-72: "Again, I really like that logo, and they slapped it right on the shirt."
8. San Diego Conquistadors, 1974-75, home only: "They decided they couldn't fit the whole team name on the jersey, so they just used a old English Q." But Q is in the middle of the word, not at the beginning -- what gives? "They thought C's sounded silly, and Cons sounded like a bunch of criminals, so some reporters came up with Q's, and it stuck." Only in the ABA, people.
9. Spirits of St. Louis, 1974-76 (home, road): "This is probably the most desirable ABA jersey among collectors. And again, you can't really see it on the web, but for the road jersey they used glitter for the logo and numbers -- it sparkles!"
10. Memphis Sounds, 1974-75 (home, road): "You can't beat that cool-looking font."
Uni Watch's Picks: New York Nets, Indiana Pacers, Memphis Sounds, San Diego Conquistadors, Minnesota Muskies, Utah Stars (love that back jersey design), Miami Floridians, Kentucky Colonels, New Jersey Americans (love all that striped trim on the jersey, shorts and socks) and Denver Nuggets.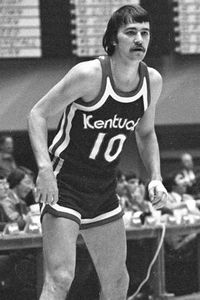 RememberTheABA.com
Lou Dampier of the Kentucky Colonels, sporting what may have been pro basketball's first mullet.
Interesting to see how frequently Uni Watch's faves and Hundhausen's don't match up. Fortunately, the ABA was big enough to accommodate a range of divergent tastes. And here's a bonus category in which Uni Watch knows better than to second-guess the master's picks: Hundhausen's choices for the top five ABA afros, a
hairus maximus
honor roll featuring
Darnell Hillman
,
Michael Jackson
,
Artis Gilmore
,
Julius Erving
and
Randy Denton
("Any white guy who went to the effort who had a big afro like that, you've got to include him on this list").
As for "Semi-Pro," Hundhausen got to attend the premiere out in L.A. and says it's a solid flick. And did he wear an ABA jersey for the occasion? "I was tempted to, but the movie people made it very clear that attendees should wear suits," he says. "Good thing I followed their advice, because nobody in the whole theater was wearing anything from the 1970s -- not even a 1970s suit."
Want to know more about the ABA? Check out this book, this video, and, of course, Hundhausen's Web site.
That '70s Show
The ABA wasn't the only 1970s alterna-league with creative uniform ideas. The short-lived WFL briefly experimented with having players wear different pants designs based on which position they played. By convenient coincidence, this very topic came up for discussion on the Uni Watch blog the other day. For further info and additional photos, look here.
Meanwhile, Over on the Diamond …
Ah, the sights and sounds of spring training: athletes forced to do funny-looking calisthenics and drills while striking naturalistic photo poses and exhibiting world-class skills, lots of nice low uni numbers and baby-faced phenoms, Bartolo Colon looking fat, Billy Wagner acting like a jerk -- it's all so comfortingly familiar.
Uni Watch will have more to say about baseball's rites of spring next time around. Until then, keep your eye on Pirates outfielder Nyjer Morgan, the early front-runner in this year's best hosiery stylings sweepstakes.
Uni Watch road trip
Uni Watch will be in Seattle in a couple weeks, and will be convening a Uni Watch party on the evening of March 14. Venue and time are still to be finalized, but if you want to be kept in the loop, send a note here.
Paul Lukas grew up in the 1970s on Long Island, where he attended several New York Nets games. His Uni Watch blog, which is updated daily, is here, his answers to Frequently Asked Questions are here, and his Page 2 archive is here. Want to learn about his Uni Watch membership program, be added to his mailing list so you'll always know when a new column has been posted, or just ask him a question? Contact him here.