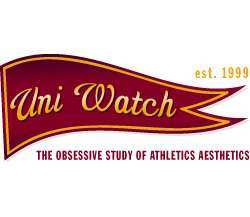 For a good decade or so, Uni Watch has been hearing the same plea from baseball fans of a certain age: "When are powder blue road uniforms coming back?" they ask. "Those were the coolest!"
Take heart, you '70s and '80s nostalgists, for Uni Watch has excellent news for you: Powder blues (a phenomenon Uni Watch explored in depth three summers ago) are returning to MLB diamonds this year -- sort of.
Fact is, fans have been clamoring for certain teams to revive their powder blues for years now, and several teams have been eager to accommodate them. But they've always faced the same problem: What's the point of having a fan-pleasing design that you can only wear on the road?
So the Blue Jays have come up with a solution. Remember their old powder blues, complete with the centered logo and the endearingly cheesy typeface? They're bringing them back this season (well, mostly -- the old design had an elastic waistband, while the throwback version has a belt), but they'll be wearing them for Friday home games. Uni Watch has already flagged Aug. 8 on Toronto's schedule, because the Indians will be in town, which means we could end up seeing this versus this -- yowza (and yes, that photo also shows a new Jays road uni, but we'll deal with that in a few minutes).
The Royals are bringing back their powder blues for selected home dates too, but they don't have the guts to execute the concept properly. They'll be pairing the blue jersey with their usual white home pants, which makes the blue top look like just another solid-colored alternate jersey. Also, note that KC's original blues had white lettering, while the new version has royal blue, which further diminishes the retro effect. Pfeh.
Meanwhile, in nonblue developments:
• By the time you read this, the A's and Red Sox will already have played the first game of the season. They'll also have reaffirmed a dubious quadrennial ritual: Every four years, two teams open the season in Japan and wear commercial advertising on their uniforms. It happened in 2000, when the Mets and Cubs wore AIU sleeve patches and am/pm helmet decals, and again in 2004, when the Ricoh logo was worn by the Yankees and Devil Rays. The A's and Sox actually set a MLB record today by wearing three advertising marks: an EMC sleeve patch for Boston, a Pepsi sleeve patch for Oakland, and a Ricoh helmet decal for both teams. Even the BP jerseys were ad-infested. What a disgrace.
• The Devil Rays have gotten a complete makeover -- new team name (all club employees, including players, are actually being fined a dollar each time they utter "Devil"), new color scheme, new logo and, of course, new uniforms -- the third in the team's brief existence. There's nothing particularly loathsome about the new design, but it's soooooo characterless -- it's totally T.G.I.Baseball. And was the Tampa brain trust really so in love with that chest insignia that it had to use it on the home and road jerseys? Plus Uni Watch thought the team's previous design was one of MLB's the more underrated uniforms. Too bad.
• As noted above, the Blue Jays have ditched their old road jersey and replaced it with this -- a huge upgrade. That awful number typeface has been updated too, although the nameplate lettering is still way too clunky. (Note: Although it's not shown in any of the preceding photos, the new road jersey will also have a sleeve patch.)
• It is Uni Watch's sad duty to announce that the Phillies have scrapped the cool alternate cap they've been wearing for interleague games in recent years. On the plus side, they've unveiled a new throwback alternate uniform, based on the team's late-'40s uni, which will be worn for selected home games. It's flat-out gorgeous, with the exception of one small fly in the ointment: The uni numbers on the original design looked like this, so why is the throwback version going with this?
• The Indians have a new retro-ish alternate uni as well (additional views here, here and here), although it's not based on any specific design the team previously wore. In addition, the silver trim that's been used throughout the Tribe's graphics in recent years has now been jettisoned, which Uni Watch counts as addition by subtraction.
• The A's almost never wear their black alternate jersey and cap, and let's hope that remains the case now that they've changed the lettering and numbering from green to white with green and gold trim (closer looks here and here).
• This year marks the 50th anniversary of the Dodgers and Giants driving a stake through the heart of New York bringing big league baseball to California, so both teams will be wearing sleeve patches to mark the occasion. (Here's an action view of L.A.'s patch.)
• This is also the final season for Shea Stadium, which the Mets are commemorating with a patch. Too bad the embroidered version doesn't preserve much of the detail and nuance from the original design.
• Not to be outdone, the Yankees are wearing two patches: This one, marking Yankee Stadium's last season, will be worn on the left sleeve all year long while this one will be worn on the right sleeve from mid-May (when balloting for the All-Star Game begins) through mid-July (when the game is played).
• While the two New York teams are saying farewell to their stadiums, the Nationals are opening a new ballpark -- which means, of course, a new patch.
• The Twins will wear help celebrate state of Minnesota's sesquicentennial by wearing a sleeve patch based on this design on May 9-12.
• Still more patch news: The Diamondbacks will be wearing a 10th-anniversary patch this season. And in what probably ranks as the year's most subtle uni-related alteration, their snakehead "db" logo patch now has fang-like eyes (Uni Watch hears through the grapevine that this change was made after magician David Blaine complained that the logo looked too much like his logo). And while we're at it, the back of the team's alternate jersey used to have black lettering over tan numbering, but now the colors have been swapped.
• Two memorial patches this year: The Reds have a "Nuxy" patch for broadcaster Joe Nuxhall, and the Braves will be wearing a patch for coach Jim Beauchamp (sorry, no photo yet).
• Two small changes for the Royals, who've gone back to wearing blue cleats and blue belts (instead of black) for the first time since 1999.
• Speaking of the Royals, Mike Sweeney is now with the A's, which means there's now only one MLBer wearing a captain's "C": Jason Varitek.
• No more sleeveless alternate jersey for the White Sox -- it's been mothballed.
• Camouflage jerseys -- at one time a once-a-year community gesture by the Padres -- are spreading. The Padres will now be wearing them for every Sunday home game, plus the White Sox will be wearing camouflage on July 4 and the Reds on July 5 because that's what the Minutemen wore while fighting the Brits. Or what the Founding Fathers wore while signing the Declaration of Independence. Or, uh, something like that.
• As you've probably noticed during spring training games, the first- and third-base coaches are now required to wear helmets (which Colorado's Glenallen Hill began doing on his own last summer). The helmets look dorky, plus the coaches don't like them, so here's Uni Watch's proposal: Have the coaches stand in a clear Plexiglas enclosure like the back of the Popemobile or something. Couldn't possibly look any worse than they do now.
• Speaking of helmets, Twins beat reporter Phil Miller recently posted this blog entry, which included the following passage: "There's a memo from Major League Baseball circulating through the clubhouse about uniforms and such. … The mandate that is getting the most skepticism is an order to clubhouse staff that helmets be wiped off every night, so the logo on the front is always visible. Haven't heard anyone yet who believes Manny Ramirez and Vladimir Guerrero will follow that one."
• And finally, here's something to ponder: You may not realize this, but not all road grays are the same shade of gray. As recently as a couple of years ago, there were about 11 different grays out there among the 30 MLB teams. Majestic has been working to streamline things, and now they're down to about five different grays. But here's the thing: This year, for the first time, Cool Base jerseys (which are lighter weight and have those annoying armpit ventilation gussets that look particularly bad with pinstripes) will be available for road games, and Uni Watch's understanding is that all the Cool Base grays will use the same shade. This means a player wearing a Cool Base road jersey might not have the same shade of gray as his teammate wearing a conventional road jersey. And since there are no plans to introduce Cool Base pants (the lightweight material would get torn up too easily), this also means a player could end up wearing two nonmatching shades of gray simultaneously -- Cool Base gray above the waist and his team's usual shade of gray below the waist. Ah, progress.
Chat-O-Rama
Got a burning uni-related question that you've been dying to ask? Looking to lower your Friday productivity level even more than usual? Then go to this page on Friday at 1 p.m. EDT, because Uni Watch will be doing a live web chat here on ESPN.com. See you then.
Paul Lukas will miss Shea Stadium, which used to have the best rain check design ever. His Uni Watch blog, which is updated daily, is here, his answers to Frequently Asked Questions are here, and his Page 2 archive is here. Want to learn about his Uni Watch membership program, be added to his mailing list so you'll always know when a new column has been posted, or just ask him a question? Contact him here.