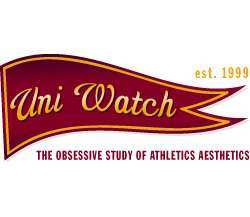 As you may have heard, the NFL is
considering a ban on long hair
. For now, the proposal has been
tabled until next month
, but it's kinda hard to get worked up one way or the other about football hairstyles, since the players' heads and faces are mostly obscured anyway (well,
usually
).
The NFL isn't the only league or sport in which hair and facial hair have come into play, of course. But in this category, as in so many others, the sport with the best-documented history is baseball, where the follicle follies have been a longstanding source of fascination -- hair, facial hair and probably other types of hair that we won't get into here. And with the MLB season just starting and things getting hairier by the minute, this seems like a good time for Uni Watch to present a survey of baseball's hairstyle history.
Some quick background: Mustaches were fairly common on baseball diamonds back in the 1800s, and are even shown on some early players' Hall of Fame plaques. But shifting codes of etiquette made baseball a clean-shaven sport by the early 1900s. Research by historian Bill Deane suggests that the last mustached player from this era was Philadelphia catcher Wally Schang in 1914, although the most readily available photos of him appear to be whisker-free. In any event, it's safe to say that most ballplayers from this period were well acquainted with the barber shop and the shaving mug.
Things have certainly evolved since then. With that in mind, here's Uni Watch's selective timeline of our national pastime's hirsute highlights (with a shout-out to historian Maxwell Kates, whose research on baseball beards and mustaches remains definitive):
1934: Minor league journeyman Allen Benson gets a cup of coffee in the majors, appearing in two games with the Washington Senators. He sports a full beard, making him the first bearded big leaguer in 50 years -- and the last one for nearly 40 more.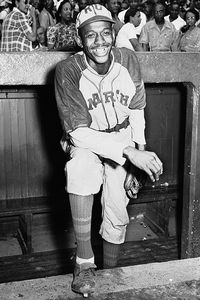 AP Photo
Satchel Paige, sporting a mustache in his Negro League days.
1948:
Satchel Paige, who often wore a mustache during his years in the
Negro Leagues
, signs with the Cleveland Indians and goes
clean-shaven
.
1963: Yankees first baseman Joe Pepitone becomes the first big leaguer to wear a hairpiece (which he later upgrades to two hairpieces -- a large one for off-field use and a smaller "game piece" that fits under his cap). His grooming habits soon become legendary, as he also becomes the first player to use a hair dryer in the clubhouse, the first to use hairspray and the first to carry his hair-care gear in a separate travel bag. At one point, teammates Fritz Peterson and Jim Bouton sneak into the clubhouse during a game and fill Pepitone's hair dryer with talcum powder, resulting in a scene that leaves Pepitone looking like, as Bouton later put it, "an Italian George Washington wearing a powdered wig."
1967: Reds GM Bob Howsam, alarmed by all those long-haired hippies listening to that dang rock 'n' roll music, decrees that all Reds players will have short hair and be clean-shaven, an edict that remains the team's official policy for more than three decades. Even the team's mustachioed logo character gets a shave.
1969: Seattle Pilots pitcher Jim Bouton begins keeping a diary, which will eventually become his landmark book "Ball Four." For the Feb. 28 entry, he writes: "Decided to get a haircut today. … You can never tell how spring training is going to go. I could be one of those borderline cases and the difference between making the club and not making it might be the length of my hair."
1970: Richie Allen of the Cardinals and Felipe Alou of the A's become the first modern ballplayers to wear mustaches (well, probably -- Cleveland's Richie Scheinblum may have worn a 'stache in 1969, but the jury's still out on that one).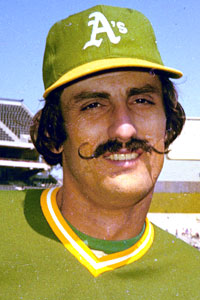 AP Photo
Best mustache of all time?
1972:
A's owner Charles Finley offers a $300 bonus to any player who grows a mustache by June 18, the date of the club's team photograph. Almost all of the players oblige, most famously reliever
Rollie Fingers
, whose visage is transformed from
dork-o-rama
to
Snidely Whiplash
-esque. The coaching staff and manager Dick Williams (who had previously banned facial hair while skippering the Red Sox) go bewhiskered as well. When the team portrait is eventually taken, Vida Blue is the only clean-shaven player. Naturally, the A's and Reds end up
facing each other
in the
'72 World Series
, which is quickly dubbed "The
Hairs
vs. the
Squares
."
1972-82: Pitcher Don Stanhouse charts what is arguably the most remarkable hair-related course in MLB history, an odyssey that sees him transmogrify from this and this to this and -- well, see for yourself.
1973: Felipe Alou and his mustache are traded to Montreal, where manager Gene Mauch doesn't allow facial hair. Expos president John McHale later recalls, "Felipe had this beautiful mustache, and Gene and I were going to let him keep it. But he had already shaved it before he arrived in Montreal."
1973: Pirates pitcher Dock Ellis gets in the habit of wearing curlers during pregame warmups but is ordered to desist when league officials deem him to be "out of uniform" (further details here). He later donates the curlers to the Baseball Reliquary.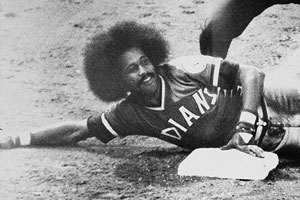 AP Photo
Oscar Gamble got a ton of attention for that hair.
1973-78:
The
afro
, often accompanied by a
full beard
, arrives in force on big league diamonds, courtesy of players like
Bake McBride
,
Garry Maddox
,
Nino Espinosa
and, of course,
Oscar Gamble
, who becomes the style's poster boy.
1974: As the trading deadline passes, Phillies infielder Billy Grabarkewitz is disappointed to learn he hasn't been dealt to the Astros, where manager Preston Gomez doesn't allow facial hair. As Grabarkewitz explains to Sports Illustrated, "I've been wearing this mustache, which I don't like but my wife does. She told me that if I shaved it off, she'd cut her hair real close. I figured if I was traded to Houston I'd have to get rid of the mustache because of Gomez's policy, but my wife would still have to keep her hair long because shaving wasn't my choice." Years later, a Philadelphia marriage counselor publishes a landmark paper about "Couple A," who "kept arguing about his mustache and her hair -- it was bizarre."
1976: Brewers manager Alex Grammas bans facial hair, much to the displeasure of George Scott, Gorman Thomas, Darrell Porter, Robin Yount, Kurt Bevacqua, Pete Broberg and Jim Colborn, who'd all worn Fu Manchu mustaches the previous season.
1976: On Opening Day, Yankees owner George Steinbrenner instructs team publicist Marty Appel to recall the club's yearbooks because several of the photographs show players with long hair.
1977: With the Blue Jays set to begin their inaugural season, team prexy Peter Bavasi bans mustaches, beards and blue jeans. The natives begin to get restless when Bavasi himself is spotted wearing jeans while accompanying the team during a road trip. "They were designer jeans," he insists, but by then the damage is done -- manager Roy Hartsfield begins allowing jeans and mustaches (although beards remain taboo until 1980).
1977: Noted disciplinarian Vern Rapp is hired to manage the Cardinals, and promptly bans facial hair. The new rule is particularly nettlesome to reliever Al Hrabosky, who'd credited his earlier success to his Fu Manchu 'stache and blames his ineffective '76 season on Rapp's whisker prohibition. Hrabosky is traded to the Royals in the subsequent offseason.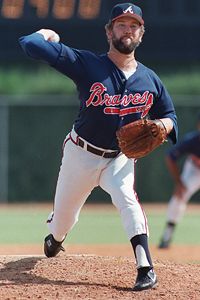 AP Photo/Richard Drew
When you think of Bruce Sutter, you think of the beard.
1981:
Bruce Sutter, who'd mostly gone
clean-shaven
and occasionally
mustache-clad
while pitching for the Cubs, is traded to St. Louis, where he grows the
mountain-man beard
that will become his
visual calling card
for the
rest of his career
. He's later elected to the Hall of Fame, where his beard is depicted
on his plaque
(and where his induction ceremony occasions some
whiskered shenanigans
by fellow inductees Ozzie Smith and Johnny Bench).
1984: Cubs first baseman Bill Buckner, upset with his lack of playing time and angling for a trade, announces that he will stop shaving until he plays two days in a row. A week later, he suddenly shaves between games of a doubleheader, which is widely interpreted to mean that a trade is imminent. He's dealt to the Red Sox the next day.
1986: Roger Clemens takes the mound for Game 6 of the World Series, sporting some clearly visible stubble and nascent sideburns. After pitching seven strong innings and then leaving the game, he showers and shaves, later appearing in the dugout clean-shaven, a little-noted development that may have provided the jinx for what happened next.
1987: After being traded from the notoriously conservative Reds to the Expos, Dann Bilardello quips, "In Cincinnati, you were lucky to survive if you had eyebrows" (which no doubt explains why Andy Etchebarren never played for the Reds).
1989: Bart Giamatti becomes the seventh commissioner of baseball -- and the first to wear a beard.
1991: Yankees first baseman Don Mattingly is fined $250 and benched for refusing to cut his hair. He eventually gets a haircut two days later, and the hair is auctioned off for $3,000 to benefit a children's charity.
1995-2006: While playing 12 seasons for six teams, pitcher Dustin Hermanson establishes himself as having the weirdest, most convoluted facial hair in MLB history.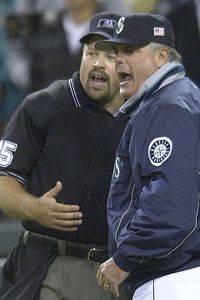 AP Photo/Kim D. Johnson
Wally Bell, shown here with Lou Piniella, hopped on the goatee bandwagon.
1997:
The
goatee craze
gets so out of hand that even umpires -- the last bastion of clean-shaven conservatism -- succumb to the trend. Or at least one of them does:
Ken Kaiser
, who even wears one in the
World Series
. Fellow umpire
Eric Gregg
goes the bearded route
in 1999
, and
Wally Bell
gets into the act during the
2001 postseason
(and has also showcased the goatee more recently, as seen in this
2006 shot
).
1999: Greg Vaughn, after being traded to the Reds, begs team management to let him keep his goatee, claiming his kids won't recognize him without it. Much to everyone's surprise, owner Marge Schott agrees to his request after Vaughn promises never to melt her by dousing her with water.
2000: Astros first baseman Jeff Bagwell auditions for ZZ Top grows a really hillbilly-ish beard during spring training and keeps it for the first week or so of the regular season. He eventually trims the whiskers back to a more manageable level, mainly to stay one step ahead of his copycat teammates.
2000: Brewers manager Davey Lopes grows a goatee, which apparently makes him the first bearded manager of modern times. Meanwhile, Mets GM Steve Phillips strikes a similar blow for the executive suite, growing a goatee of his own.
2001: In the eighth inning of a Mets-Cubs game at Wrigley Field, a stir runs through the crowd after Mets catcher Mike Piazza blocks a pitch in the dirt. Why? Because Piazza flipped off his mask and helmet while scrambling after the ball, revealing his new blonde dye job. Piazza, who's initially confused by the crowd reaction, later says, with no apparent irony, "When you see a quality hairdo like this, I guess the reaction is overwhelming."
2003: The do-rag makes its MLB debut, courtesy of Dmitri Young (whose hairstyle cred had already been well-established). The style quickly catches on with other players, including Reggie Sanders and Young's teammate Ugueth Urbina. Despite creating a weird double-logo effect, the do-rag earns its place in the MLB wardrobe simply because it's so amusing to imagine Bud Selig trying on a few of the prototypes that were no doubt presented for his approval.
2003: While the rest of his team is getting thumped by the Cardinals, Mets infielder Rey Sanchez reportedly retreats into the clubhouse and gets a haircut, although he later denies it. Manager Art Howe, when asked about the incident, says, "Haircut? What's a haircut?"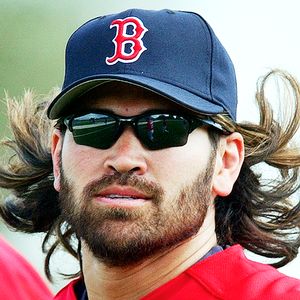 AP Photo/Robert F. Bukaty
Remember this guy?
2004:
After suffering a
brutal collision
with teammate Damian Jackson during Game 5 of the 2003 ALDS, Red Sox outfielder Johnny Damon is afflicted with such excruciating headaches that he stops shaving and having his hair cut, resulting in a
caveman/Jesus look
that becomes his
signature style
for the next two seasons. He's later forced to
lop it all off
after
signing with the hair-phobic Yankees
, leaving him
barely recognizable
.
2004: Red Sox pitcher Bronson Arroyo, apparently trying to channel Bo Derek, has his hair styled in cornrows, which poke out below his cap.
2005: With the Indians getting off to a slow start, some Cleveland fans decide to blame manager Eric Wedge's mustache for the club's sluggish performance, even launching a ShaveEricWedge.com Web site (now defunct). Two years later, Wedge grows a full beard during the ALCS and is named Manager of the Year shortly thereafter.
2006: Scott Spiezio, whose soul patch had looked pretentious but normal during his stint with the Mariners, is acquired by the Cardinals and promptly begins dying his whiskers red (leading at least one observer to wonder what would've happened if he'd been signed by the Rockies). After suffering an on-field breakdown in 2007 and subsequently undergoing rehab for substance abuse, Spiezio returns bare-chinned, confirming suspicions that the facial hair was the problem all along. Then again, maybe not.
2006: Big year for in-game shaving. First, on April 6, Jason Kendall, who usually wears a full beard or a goatee, is bored on the bench and begins shaving in increments, going down to a mustache and then a clean shave in the space of a few innings. Then, on June 27, Russell Martin starts a game with a mustache but later appears 'stache-free. And on Sept. 4, a slump-ridden Jason Giambi, after wearing a mustache while striking out in the first inning and flying out two innings later, heads to the clubhouse and tries to change his luck by going clean--shaven. Sure enough, he reaches base in the fifth (although he does so by getting plunked with a pitch, which is a dubious bit of good luck).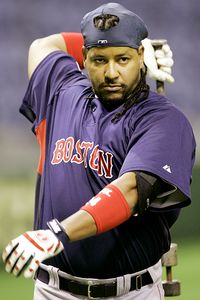 AP Photo/Shizuo Kambayashi
Manny Ramirez has hit 30 or more home runs in six of his seven full seasons with the Red Sox.
2007:
Manny Ramirez, who'd previously worn a
standard-issue do-rag
over his
dreadlocks
, with his ever-increasing hair
spilling out the back
, begins experimenting with new ways of taming his mane. First he tries
tucking the dreads
inside a
series
of
tams
, which alternately make him look like a
Rastafarian
, an
Orthodox Jewish woman
or just a
guy in a shower cap
. New Era eventually designs him a special do-rag with a
hole in the back
, although Manny, somewhat predictably, often insists on wearing it
backwards
(additional views
here
and
here
).
2007: The Mets, in a gesture of team stupidity solidarity, decide to shave their heads, leaving most of the players looking hair-brained. Afterward, Rey Sanchez holds a news conference and emphatically denies having participated in the mass-shearing ritual, until someone points out that he's no longer with the team.
Follow-Up Roundup
As you may have noticed Sunday night, the Braves used the first game of the season to do a surprise unveiling of a new blue alternate jersey and solid navy cap. Also, the team's memorial patch for coach Jim Beauchamp (mentioned but not shown in Uni Watch's last column) is a simple "Beach." Further details on all of this here.
There were also lots of notable uni-related developments on Monday, which was Opening Day for most teams. Full coverage here.
Meanwhile: Remember that newfangled football helmet that Uni Watch mentioned in a recent column about the history of helmet innovations? Uni Watch recently conducted an expansive interview with the futuristic helmet's designer, Bert Straus. You can check out the transcript here.
Paul Lukas finds it interesting that it took the shaving industry nearly 90 years to go from the first safety razor to the first twin-bladed razor, another 27 years to get to the first triple-bladed model, only five more years after that to get to the first four-bladed model and a mere three more years after that to get to the first five-bladed design (even though everyone knows the best shave still comes from one blade). His Uni Watch blog, which is updated daily, is here, his answers to Frequently Asked Questions are here, and his Page 2 archive is here. Want to learn about his Uni Watch membership program, be added to his mailing list so you'll always know when a new column has been posted, or just ask him a question? Contact him here.