Uni Watch: Ebbetts Field Flannels
When the Dodgers held their annual Opening Day ceremonies last week, they celebrated the 50th anniversary of the team's move to Los Angeles by bringing back a bunch of 1958 old-timers, who wore cream-colored flannel throwback uniforms for the occasion.
Those uniforms were made by Ebbets Field Flannels, the small Seattle operation that has carved out a niche over the past two decades by reproducing vintage jerseys, caps and jackets. Although the company occasionally outfits a pro team with throwback uniforms or provides old-timers' flannels like the ones prepared for the Dodgers, its core business is selling classic reproductions via mail order. But unlike the larger and better-known Mitchell & Ness, Ebbets Field doesn't have a merchandising license from any of the four major sports leagues, so it focuses on designs originally worn in the minor leagues, Negro Leagues, Cuban leagues and other obscure baseball circuits (along with some football- and hockey-related designs). The result is an eclectic mix of the historical and the arcane.
Uni Watch recently paid a long-overdue visit to the Ebbets Field headquarters. (There's a video report at the top of this page.) As you might expect, the place is pretty much a retro sports fan's wildest fantasy: Everywhere you look there are patches, T-shirts, more patches, jackets, caps, still more patches, photos and jerseys in various stages of production. A work room in the back is stocked with felt numbers and letters, spools of colored trim and piping, and even more patches (this time in boxes).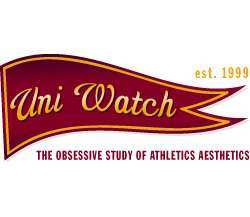 The man behind all this is Ebbets Field founder/owner
Jerry Cohen
(whose office, appropriately, features a
seat
from the
real Ebbets Field
). "I was sort of born to do this," he says. "When I was a kid, I'd look at baseball cards to see whose uniforms had changed, I'd read books about Babe Ruth to see old photos, and I'd be doodling logos in my notebooks."
Still, Cohen didn't plan on penciling himself into the entrepreneurial lineup. His initial plan was just to make a jersey or two for himself.
"Around 1987 I ordered an old-school flannel jersey from the back of a magazine or a catalog or something," he recalls. "It was a 1950s New York Giants' road uniform -- I was sort of obsessed with that arched 'New York' lettering, which I thought was an absolute thing of beauty. So I bought it, and it came, and it was horrible. It was this awful pajama fabric, and the felt lettering was a really lame attempt."
The retro jersey craze didn't yet exist (even contemporary jerseys weren't easy to find in 1987), so there was no place else for Cohen to go. Undeterred, he figured he'd make his own jersey. That meant he'd need some wool flannel fabric -- and that turned out to be trickier than he'd anticipated.
"I'd call places like Rawlings and ask for wool flannel, and they'd say, 'Ah, we haven't used that stuff in 20 years,'" he says. "There was no Internet back then, so I went to the library and got this directory of sporting goods manufacturers, and then I started calling them, one by one. Eventually I found a guy in upstate New York who had a bunch of flannel, so I bought a roll, found a cutting and sewing contractor, had a pattern made based on a shirt I'd found in a vintage store, and produced a few jerseys. Once I made those first ones and wore them, lots of people said, 'Hey, that's great -- can you make one for me?' That's how it went from being a personal thing to a business."
By 1988, Cohen had opened an office and placed his first ad in Baseball America. By 1990, he'd produced his first color catalog. And along the way, he was becoming a combination of a storyteller, a historian, an educator and a detective.
"I was learning as I was going, in terms of taking what I found interesting and conveying that to the customers," he explains. "Our basic attitude was, 'Look at this, isn't this interesting?' Because we didn't have the Yankees, we didn't have the Red Sox -- we had to educate the customer about these old teams and designs and sell the story to them at the same time. That's still our attitude, mainly. Meanwhile, there was no Internet, no Logoserver.com or anything like that, so I had to research all the logos and graphics to make sure we got them right."
The result of all that research now resides in a set of file cabinets, where Cohen keeps folders on each of the 1,000 or so designs the company has ever produced, along with files on countless other teams and leagues whose graphics he's come across during the course of his research.
This repository comes in particularly handy when, as occasionally happens, someone sends Ebbets a black-and-white photograph with a note that says something like, "This photo shows my grandfather wearing his minor league uniform in 1932. Can you make a reproduction of the jersey?" Incredibly, Cohen welcomes these one-off custom jobs. If the team in question is already represented in his files, that makes it easier; if it's not, he'll do the necessary research (calling local historical societies, checking with the Hall of Fame, etc.) to make sure the colors, fabrics, and so on are as accurate as possible.
But accuracy and authenticity can be relative concepts, especially when your client is a pro sports team -- with all its attendant bureaucracy -- instead of an individual customer. The Dodgers' original 1958 uniforms, for example, didn't have player names on the back, but the team instructed Cohen to include player names on those Opening Day throwbacks, so fans could easily identify the old-timers. The Red Sox made the same request last year, when they had Ebbets produce a set of flannel throwbacks to honor the 40th anniversary of their 1967 pennant-winning team.
Still, uniforms produced for a pregame ceremony are one thing; inaccuracies on uniforms worn in an actual game are something else. Case in point: Last year the Devil Rays hosted the Dodgers for an interleague series. With thousands of New York retirees living in the region, the Rays decided to do a throwback game honoring the Brooklyn Dodgers' 1955 championship team, with Tampa dressing up as the minor league St. Petersburg Saints (additional views here and here) and the Dodgers wearing old-school Brooklyn grays. Nice, right? Just one problem: The Dodgers' road jerseys didn't have a "Brooklyn" insignia in 1955 (the last time the borough's name appeared on the team's uni was in 1945).
"But using 'Brooklyn' was the whole point of the promotion, so that's what we gave them," says Cohen, an unspoken "Whaddaya gonna do?" clearly evident in his voice. "Some people probably saw that and said, 'Hey, that's not accurate,' and they don't realize that we, as the manufacturer, have to provide what the team asks us for, and it's not always based on authenticity."
All of which brings us to Uni Watch's biggest gripe about throwback games: Although the Dodgers-Rays game was played in real flannels, throwback uniforms are often rendered in modern double-knit polyester, which doesn't drape or move like flannel does. So even if the graphics and tailoring are executed perfectly, the end result often doesn't look right.
Cohen used to refuse to render older designs in polyester, but these days he's more willing to intermingle organic graphics with synthetic fibers, even though he thinks most of the anti-flannel bias -- especially the notion that flannels are too heavy for warm-weather games -- is unfounded.
"Look, if it's hot outside, it's hot," he says. "You normally wear a form-fitting polyester uniform that doesn't breathe -- you think that's not hot?"
Well put. For the most part, though, Cohen doesn't have to deal with such questions, because the bulk of his business involves filling mail orders for customers who, you know, get it. He also does a bit of walk-in business at his Seattle offices, but being a storefront retailer never has been his bag.
"Mail order suits my personality better," he says. "I'm not a good shopkeeper, and I'm not interested in standing around while nerdy people come in and talk about all the details of the product -- even though I'm one of those people myself."
Fair enough. But Cohen's no mere jersey geek. Thanks to his pioneering research efforts, he's made crucial contributions to the uniform world's historical record -- and has become a chapter in that record himself.
Hairy History Revisited
Last week's survey of baseball hair and facial hair resulted in lots of feedback, much of it taking Uni Watch to task for neglecting to mention baseball's original hairmeisters, the House of David. For those unfamiliar with the HoD, it was a religious commune that preached, among other things, abstention from shaving and haircutting, which gave the group's barnstorming baseball team a rather unusual visage (additional photos here, here, here, here, here and here, and there's a good essay here). Shame on Uni Watch for omitting this crucial chapter in baseball's hirsute history.
In addition, we can add the following entries to our follicle timeline:
1983: Mariners pitcher Bill Caudill shaves off half his beard between innings of a game. After pitching one inning half-bearded -- and taking a line drive in the chest off the bat of Toronto's Barry Bonnell, who'd told teammates he'd like to knock the other half of the beard off -- Caudill shaves off his remaining whiskers.
1994: The Mariners hold their first Buhner Buzz Night promotion, in which fans are admitted to the game for free (plus a $1 charity donation) if they shave their heads, ā la Seattle outfielder Jay Buhner. The event proves so popular that it becomes an annual event.
1995: Jack McDowell joins the Yankees, where owner George Steinbrenner temporarily lifts his longstanding ban on beards so McDowell can keep his familiar goatee. Other Yankees quickly grow beards of their own, but the ban is soon reinstated when the team underperforms.
1999: Mets manager Bobby Valentine is ejected from a game but reappears in the dugout wearing a "disguise" of dark glasses and a phony mustache made from eye black stickers.
2003: Matt Clement's beard inspires scores of Cubs fans to wear phony whiskers on days when he's slated to take the mound.
2003: In what probably seemed like a pretty safe bet, Devil Rays skipper Lou Piniella promises to dye his hair if the team can put together a three-game winning streak. The team calls his bluff three weeks later, so Piniella keeps his word and gets a dye job -- which, of course, brings the winning streak to an end.
2004: Kevin Millar tries to combine every possible hair faux pas simultaneously.
2006: Twins catcher Joe Mauer's sideburns become a local phenomenon, as they're featured in a team commercial. In addition, Twins hold a sideburn giveaway night (additional pics here, and here, and here). "There was even speculation that Minnesota governor Tim Pawlenty grew out his sideburns to become more popular before running for re-election," writes reader Mark Ryan. "He won, and the state now has a billion-dollar deficit, illustrating what can happen when the power of sideburns is used for the wrong reasons."
2007: Magglio Ordoņez's curly locks cause such a sensation in Detroit that the Tigers hold a promotion featuring giveaway caps with built-in hair, which are a big hit with fans.
(Special thanks to all who contributed info, including John Delgado, JD Hollomon, Steve Sayre, Terry Corby, Robert Stein, Grady Snyder, Mike Lyons, Tom Werner, Scott Dolan and Brad Clemente.)
Uni Watch Road Trip: Philly
The next Uni Watch party will take place on Saturday, April 19, in Philadelphia. We'll be convening at Bob & Barbara's Lounge at 5 p.m. Come on down and boo meet your fellow Uni Watch readers, wax prosaic over Jamie Moyer's Liberty Bell stirrups, and so on.
The reason Uni Watch will be in Philly, incidentally, is that there's another uni-related event of note taking place earlier that same day at the National Constitution Center (where the Hall of Fame's "Baseball as America" traveling exhibit is currently in residence): At noon, Peter Capolino and Jared Wheeler from Mitchell & Ness will present a display of Philadelphia's baseball uniform history, with lots of vintage jerseys and jackets from the Phillies and the old Philadelphia Athletics. Plus, several old ballplayers will be on hand. See you there.
Paul Lukas got that super-cool Kutztown jersey from a vintage shop in Brooklyn. His Uni Watch blog, which is updated daily, is here, his answers to Frequently Asked Questions are here, and his Page 2 archive is here. Want to learn about his Uni Watch membership program, be added to his mailing list so you'll always know when a new column has been posted, or just ask him a question? Contact him here.