Braves manager Bobby Cox routinely enjoys a postgame cigar. So he was surprised to learn the other day that he may have to forgo the stogie when the Braves visit New York, because Shea Stadium is now a smoke-free facility.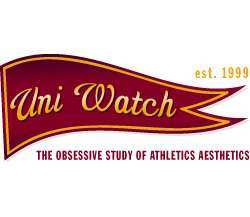 Welcome to the latest intersection between sports and smoking -- and a fairly predictable one, given the
anti-smoking fervor
that's
sweeping the land
. Still, a smoking manager or coach is one thing (especially when it's a crusty old-schooler like Cox), but you almost never see an athlete smoking -- which makes sense, since people who make their livings with their bodies are too smart to pollute those bodies with smoke, right?
Wrong. In fact, some of our most famous athletes and most hallowed records have been tinged with the distinct aroma of tobacco: Joe DiMaggio reportedly smoked heavily during his 56-game hitting streak in 1941, and Hank Aaron did likewise as he approached Babe Ruth's career home run record. Chasing the Babe also exacted a heavy toll on Roger Maris in 1961.
OK, but surely no modern-day athlete would fire up a coffin nail, right? Wrong again. Once you start looking around, it turns out athletes are just as prone to stupidity, delusions of indestructibility and nicotine addiction (or all three) as anyone else.
The fact of the matter is that sports and smoking have a long, intertwined history. Most early baseball cards were promotional giveaways to boost sales of tobacco products, and the most famous baseball card of all owes its scarcity to the fact that Honus Wagner was a nonsmoker and didn't want his likeness used to promote cigarettes, so he had the card taken out of production (or at least that's the prevailing rationale -- there are some competing theories as well). Later on, tobacco companies used sports imagery in their print ads -- sometimes just generic illustrations, but more often in the form of endorsements by famous players.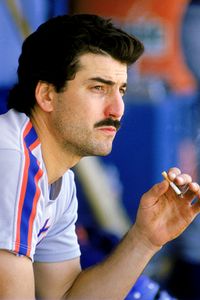 Andrew D. Bernstein/Getty Images
One of the little-known side effects of smoking is the desire to grow a mullet.
Such ads seems almost
quaint
today. But there's nothing quaint about, you know, a black spot on your lung, so it's a bit disconcerting to see just how many athletes have lit up over the years. Lately I've been intrigued (OK, obsessed) with documenting this phenomenon -- not out of a sense of either nostalgia or condemnation, but just to provide a glimpse at this little-noted sidebar. So here's a sport-by-sport breakdown of past and present puffers -- it isn't even close to being complete, but it at least offers a flue-cured snapshot of one of the sports world's most overlooked details.
Baseball: Everyone made a big fuss when the Rockies installed that humidor a few years back, but the Yankees already had one in their clubhouse decades ago, at least judging by the photographic record. The Bronx Bombers' smoking fraternity was led by the Bambino himself (who at one point actually rolled his own cigars). Other Bronx Bombers who appear to have been chummy with their local tobacconist include Jerry Coleman, Joe D. and Yogi Berra, Yogi again (this time with Phil Rizzuto), Roger Maris and Mickey Mantle. (The Mick, surprisingly, was also an early advocate of quitting smoking, although it's not clear if he actually practiced what he preached in that ad.)
As for other teams, the roster of nicotine-fueled ballplayers over the years has included Pee Wee Reese, Dizzy Dean, Bucky Walters and George Case, an unidentified member of the 1948 Indians, Nellie Fox (smoking and chewing at the same time!), Bo Belinsky, Willie Mays, Gil Hodges (who died of a heart attack -- his second in four years -- two days before his 48th birthday), Bill Mazeroski, Richie Allen, Bobby Bonds (a lung cancer victim), Dave Parker and Grant Jackson, Keith Hernandez, Chris Sabo and that bruiser who played against Bugs Bunny (that cartoon -- available in its entirety here -- even featured a smoking-related punch line). Plus there's a handful of mid-century players puffing away here, and 20 more are shown here.
And then there's the victory cigar. This is a slightly different category because lots of ballplayers who'd never smoke under normal circumstances will happily fire up a stogie after clinching a playoff spot, pennant or championship -- just ask Ugie Urbina, Octavio Dotel, Benji Gil, El Duque, Esteban Loaiza and Brad Fullmer, among countless others. Look, even Mr. Wholesome Boy Next Door himself, David Wright, likes to celebrate with a victory puff, so how bad could it be?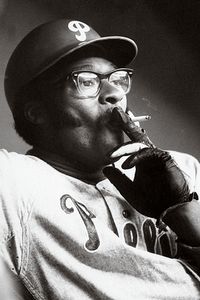 Charles Bonnay/Time Life Pictures/Getty Images
If you were paid Richie Allen's salary, you'd probably smoke, too.
Then again, maybe baseball players aren't the best gauge of sports-related smoking. Remember what happened when a woman once saw Phillies first baseman John Kruk smoking and told him that was no way for an athlete to treat his body? Bingo, Kruk had a
book title
.
Football: Quick, what's the first thing Don Meredith did after freezing his butt off in the Ice Bowl? He lit up a butt, of course. Other gridiron puffers have included Sherrill Headrick, Sammy Baugh, Paul Hornung and Fuzzy Thurston.
Basketball: NBA smokers -- or at least photos of them -- are rare. For now, I've documented only two examples, although they're both big names: Bob Cousy and Michael Jordan. According to an item buried deep on this page, Adam Morrison smokes, but photo documentation is lacking.
Hockey: Lots of NHL players have smoked, but photos are fairly scarce. The only confirmed cases so far: Terry Sawchuk, Derek Sanderson, Bobby Hull, and Miikka Kiprusoff and Dion Phaneuf.
Golf: An outdoor game with lots of down time, golf is ideal for furtive smokers. One of the sport's most iconic photos shows Ben Hogan and Arnold Palmer sharing a nicotine moment at the 1966 Masters (not that they weren't perfectly capable of smoking solo). Other smokers on the links: Thomas Bjorn, Darren Clarke, Nicolas Colsaerts, Miguel Ángel Jiménez, Angel Cabrera and, of course, chronic train wreck chain-smoker John Daly, among many others.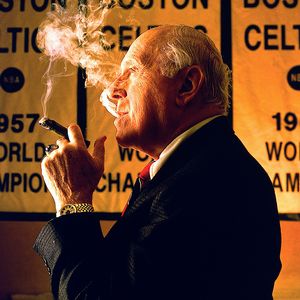 Greg Foster/NBAE/Getty Images
The victory cigar came from the legend himself.
And there have been plenty of smokers scattered among the other sports, including soccer star
Zinedine Zidane
, boxer
Ricardo Mayorga
, cyclist
Mario Cipollini
, Formula One driver
James Hunt
, Olympic diver
Marshall Wayne
and this
unidentified curler
(no wonder he's on broom duty -- he's gonna get ash all over the ice!).
Managers/Coaches: Bobby Cox is hardly the only smoking skipper out there. The undisputed champions in this category are the Baltimore Orioles, who for years have taken the extraordinary step of equipping their managers with a custom-tailored inner jersey pocket for stashing a pack of smokes. The most famous of these smokers was Earl Weaver (who nicknamed erratic 1970s closer Don Stanhouse "Full Pack" because that's how many cigs Weaver supposedly went through during one of Stanhouse's tight-wire appearances) -- you can see the secret compartment sewn into one of his jerseys here, and his not-so-hidden cigarette pack is clearly visible in this shot. Cal Ripken Sr.'s jerseys were similarly accessorized (which, unfortunately, might help explain why he died of lung cancer at the age of 63), and a game-worn Lee Mazzilli jersey that recently showed up for sale on eBay shows that Baltimore managers were still pulling the hidden Pall Mall trick just a few years ago. It's not clear whether current O's skipper Dave Trembley also has the inner pocket but, if so, he's part of a very long tradition: According to the next-to-last paragraph on this page, the practice might have originated with Jimmy Dykes, who managed the O's way back in 1954.
Expanding our parameters beyond Baltimore, this photo of Billy Martin has to rank among the all-time classic shots of uniformed smokers. The Tigers' current skipper also lights up (just as he did back when he managed the Pirates), and so did yet another Detroit manager. Others setting a bad example for their players have included Leo the Lip, Joe Torre, Jack McKeon, Yogi Berra yet again (that shot is from 1964, when he managed the Yankees, and note that he's smoking a cigar and has a cigarette burning away in the ashtray), Vince Lombardi, Phil Bengtson, Mike Ditka, Ricardo Lavolpe (whose puffery earned him a FIFA rebuke two years ago), and, of course, Red Auerbach.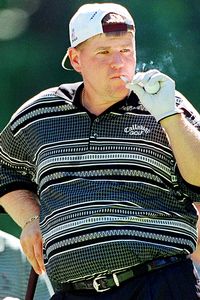 Doug Collier/AFP/Getty Images
No one ever accused Daly of taking care of himself.
Again, this is just a partial listing. Want to add to Team Tobacco? Send photos (no submissions without visual documentation, please)
here
.
Many of you are probably thinking, "Hey, what about baseball players chewing tobacco?" That's a worthy subject, but it deserves its own article -- stay tuned. And when that article eventually runs, expect it to make prominent use of this 1930 photo, which shows Washington Senators first baseman Arthur Shire and coach Nick Altrock preparing for -- get this -- a pregame tobacco spitting contest.
Speaking of tangential topics, it might shock you to learn that athletes have occasionally been known to smoke things other than tobacco. To my knowledge, however, only one of them has been foolish enough to be photographed in the act: former Mets reliever Grant Roberts, who apparently took the phrase "C'mon, suck it up!" a bit too literally back in 1998. (Roberts shouldn't be confused with his Mets teammates Mark Corey and Tony Tarasco, who had their own little smoking misadventure a few years back.)
But why dwell on such unpleasantries? Instead, let's put a nice capper on things with this shot of a very young Ernie Banks lighting his father's stogie. Heck, it's such a nice day, let's smoke two.
(Big thanks and an iron lung to the many Uni Watch blog readers who've recently contributed photos and info on this topic.)
Paul Lukas doesn't smoke, but he tries to make up for it with other vices. His Uni Watch blog, which is updated daily, is here, his answers to Frequently Asked Questions are here, and his Page 2 archive is here. Want to learn about his Uni Watch membership program, be added to his mailing list so you'll always know when a new column has been posted, or just ask him a question? Contact him here.