When jockey Kent Desormeaux saddles up on Big Brown for the Preakness Stakes on Saturday, he'll be wearing white silks with blue stars and red stripes, just as he did for the Kentucky Derby two weekends ago. But that particular arrangement of stars and bars isn't unique to Desormeaux or to Big Brown -- it's also been worn in recent years by the jockeys atop Benny the Bull, Kip Deville, Subtle Aly, Willy o'the Valley and Ariege, among dozens of others.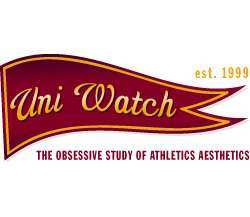 That's because all those horses are owned by
IEAH Stables
, which also owns the racing rights to the blue stars and red stripes design. That's how it works in horse racing -- a stable or ownership group has to register its silks design with racing authorities, and any jockey riding one of the stable's horses will wear that design. So it's sort of like a team with a uniform, except the jockeys are constantly changing teams: A typical jockey will ride several horses, each one from a different stable, during a single day at the track, which means he changes silks again and again during the course of the afternoon. A top jockey like Desormeaux (shown here wearing various designs while riding
Serena's Tune
,
Saada
and
Fusaichi Pegasus
) will wear literally thousands of patterns during his career.
If that's news to you, no worries. Until very recently, Uni Watch didn't know much about racing attire, either. But with Big Brown being touted as a legitimate Triple Crown candidate, this seems like a good time to get better acquainted with the silks scene. So over the past few weeks, Uni Watch has embarked on a crash course to learn more about jockeywear -- and it turns out there's a lot to learn.
Triple Crown coverage
Preakness post positions, NTRA past performances, analysis and more are available at ESPN.com's
Triple Crown index
.
Case in point: While the rise of brightly colored sports uniforms is usually credited to Charlie Finley and the advent of color television, horse racing was a few centuries ahead of that curve. The use of distinctive colors to differentiate various riders dates back at least to the Middle Ages, and maybe earlier. Racing silks as we know them today can be traced to the Newmarket Resolution of 1762, in which the English Jockey Club declared, "For the greater convenience of distinguishing the horses in running, and also for the prevention of disputes arising from not knowing the colours of each rider, the under-mentioned gentleman have come to the resolution and agreement of having the colours annexed to their names, worn by their respective riders."
At first, silk "designs" consisted of little more than proprietary colors -- crimson for the Duke of Snootingdale, green for the Earl of Aristocrashire, and so on. Nowadays, with tens of thousands of stables mixing and matching various design elements, you've got a crazy quilt of silks, each one logged in one or more of the major silks registries. In England, silks have to be registered with Weatherbys; there are several different American registries, but the primary one is the Jockey Club. Uni Watch doesn't own a horse, but it's tempting to register a design with the Jockey Club anyway, if only because the application form features such an endearingly dinky blank template. Like, who drew that, someone's kid?
Jockeys aren't expected to have separate silks for all the different owners they ride for. Instead, the silks are kept at the track and prepared for the jockeys before each race. Since most of the jockeys are of similarly diminutive stature, the silks are pretty much one-size-fits-all. If a shirt assigned to a jockey for a given race turns out to be a little baggy or a little snug, he has to live with it.
The key figure in all of this is the keeper of the silks, or the "colors man," who cleans, stores, and coordinates all the silks at the track. At Belmont Park, colors man Louis Olah was such legendary figure that he merited a New York Times obituary when he died earlier this year. Today the 3500 designs in the Belmont silks room are maintained by Olah's protégé, Walter Arce, a soft-spoken Argentine who recently gave Uni Watch a tour of his inner sanctum (and was a good enough sport to engage in an impromptu Uni Watch modeling session).
If you had to locate a specific design in this room, you'd probably throw up your hands and give up, but Arce knows where everything is. "My system is to keep the colors together," he explains. "Whites, golds, greens, burgundies. I know where to find everything." Asked if he knows where IEAH's blue stars and red stripes are stashed, he nonchalantly produces the design in no time flat, as if a child could have located it.
Armed with this encyclopedic knowledge of his inventory, Arce sets up each day's silks on this rack. Each row of hooks is numbered (for the day's first race, second race, and so on), and so is every hook within each row (for horse No. 1 in that race, horse No. 2, etc.). If an owner's silks are missing or haven't shown up yet, which occasionally happens, the jockey will wear Belmont's green house silks (dig those horse-patterned buttons!). If more than one set is missing, the next backups are Belmont's white house silks, followed by Saratoga's house design.
Some silks (most of which are actually made of nylon, the standard fabric since the late 1940s) include a little bow tie that's attached just below the collar. Uni Watch had assumed that this was a vestigal remnant from an earlier era when jockeys wore real ties, but that turns out not to be the case. "The bow tie isn't traditional at all, and most classic silks don't have them," says Rosella McQuain, owner of the well-regarded manufacturer Victory Silks. "I think it started about 20 or 25 years ago with a silk maker somewhere who wanted to do something a little jazzier, and then it caught on with a few folks. Some of the owners like to have it on there."
The ties appear to be less of a hit with the jockeys, however. "At this one track I rode at, it was a custom to pull them off," says longtime jockey Michael Luzzi. "There was actually a collection bag in the jocks' room -- we had a big pile of them."
That hints at a larger question: What if a jockey doesn't like the design he's slated to wear in a given race? After all, some silks are a lot cooler-looking than others. "I never mind," says Luzzi. "It's their silks, we're just wearing 'em. Some of them you want to put on -- it means you're riding for somebody good, like wearing a Yankees uniform."
Technically speaking, the design of the jockey's cap (which ends up being stretched over a helmet) is part of the silks specifications too, but the caps at Belmont aren't quite as organized as the shirts. Headwear rules can be bent, too: If a stable happens to have two horses running in the same race, Arce will differentiate them by having them wear different caps.
While the silks are maintained by the track, jockeys are responsible for their own white pants, which usually have their names on the back. Each jock keeps two kinds on hand: a knickers-ish set for normal conditions (seen in the foreground here -- the little cuffs tuck into the jockey's boots), and a more trousers-ish set for rainy conditions (the longer pant legs go over the boots).
Speaking of the boots, they're made of super-lightweight vinyl and usually have horseshoe-patterned heels. Underneath the boots, no socks for the jocks. "It's all about being as lightweight as possible," explains Tim Kelly, Belmont's Clerk of Scales (now there's a great job title), "so they basically wear nylon stockings -- what a woman would wear."
Other tools of the trade: a flak jacket (worn under the silks); a helmet (don't forget to buckle up); plastic goggles (which are typically nested together and worn several at a time, so the jockey can begin the race wearing all of them at once over his eyes and then pull them down around his neck, one at a time, as they get dirty during the race); and, of course, that other piece of equipment (for a good source, call these guys).
Racing culture tends to be pretty set in its ways, but there's a uniform-related change in the air these days: sponsorships. The silks themselves appear to be safe, at least for now, but the Kentucky Derby jockeys all wore the NetJets wordmark on their pants, plus Desormeaux wore the UPS logo (Big Brown, UPS, get it?).
"We're pretty conservative about that kind of thing," says John Lee, director of communications for the New York Racing Association. "Also, we're trying to keep some control of the sponsorships here. What if we've got a FedEx sign down on the track, and then the jockey has UPS? We want to avoid that sort of situation." So will Desormeaux and other jockeys be able to wear corporate logos at the Belmont Stakes next month? "Probably, but there'll be some push and shove on it. It's a tricky issue."
At least nobody's trying to slap an ad on the bugler's uniform. At Belmont, that uniform is worn by the aptly named Sam the Bugler (ask him his real last name and he deadpans, "Bugler -- B-u-g-l-e-r"), who's been on the job for over 15 years. "I wear a traditional fox hunt costume," says Sam, who appears to have a rather modern concept of fox hunting. "Britches, boots, shirt, and tie. And a top hat, which I hate, but that's the tradition."
But when Uni Watch caught a side view of Sam the other day, it turned out that his "britches" were actually Wrangler jeans -- scandalous! "If you really want to know, the track didn't want to spend two or three hundred bucks a pair for britches anymore," he says. "These are a lot more comfortable, frankly. Usually I wear white ones, but they sent me four pairs of oatmeal ones the last time I ordered them, so I said, 'The hell with it, I'll wear oatmeal.' But they're supposed to be white."
In the midst of all this, the most fascinating thing about horse racing garb turns out to be the merchandising -- there isn't any. While other sports sell authentic jerseys, replica jerseys, throwback jerseys, and all the rest, horse racing fans can't even buy a T-shirt with their favorite stable's colors, much less an authentic set of silks. Is it because many tracks still adhere to the quaint notion of a dress code? Is it that the stables don't want to water down their iconic designs by letting any old shmoe wear them? Or is it just that there's no need to bother with a product-driven revenue stream when your business model is based on gambling? Whatever the rationale, in a sport that talks a lot about tradition and heritage, keeping the uniforms on the jockeys and out of the gift shop may be the most old-school gesture of all.
(Extra-special thanks to the Belle of Belmont, Kirsten Hively, for her ace photographic services at the track.)
Smoke Gets in Your Eyes
Last month's survey of smoking athletes prompted a small tsunami of reaction but only a handful of photos. Yes, Uni Watch knows Mark Grace and Vlade Divac were veritable chimneys during their playing days -- everyone knows that -- but documentation is the name of this particular game, and Uni Watch hasn't yet found any shots of Grace or Divac lighting up.
We do have a few additions to the visual record, however. Here they are, broken down by sport:
Baseball: Lou Boudreau and Juan Uribe. And although Marge Schott was an owner, not a player, has a sports-related cigarette ever been put to more evocative use than this one?
Football: Dick Stanfel.
Basketball: Larry Bird.
Golf: Ben Hogan, Sam Torrance, Fuzzy Zoeller (who obliged when a fan asked him for a cigarette during the 2007 Masters -- for details, see the middle column of this page), and Jack and Arnie.
Auto racing: Dick Trickle (who supposedly had cigarette lighters installed in his race cars and had holes drilled into his racing helmet so he could smoke during caution laps), Patrick Depailler, and Jean-Pierre Beltoise and Francois Cevert.
Cycling: Unidentified 1920s Tour de France riders.
Cricket: Phil Tufnell.
Polo (yes, polo): Cecil Smith.
Uni Watch also got a communiqué from one Patrick Wilson, who was a visiting dugout batboy at Philadelphia's Veterans Stadium in 2001. Although he didn't contribute any photos, he had a few anecdotes that are too good not to share:
"MLB had passed a rule in 2000 forbidding clubhouses from carrying tobacco products. (They used to carry every kind imaginable -- just picture the tobacco rack in a 7-11.) So players would keep packs of cigarettes and dip in the dugout bathrooms, just out of camera view. When Mark Grace was with Arizona at the end of his career, he used to sit in the bathroom between EVERY INNING with Bob Melvin and puff away. Every inning they would both go smoke and talk defense and hitting. He would even leave cigs burning, go walk up and down the dugout, then go back in to finish one. "As for Bobby Cox, he not only enjoyed post-game cigars, but also pregame and during the game. The Braves came in three or four times that year and he always had a lit cigar in his mouth. He would go light it up between EVERY INNING of every game they played. (He was also revered as the nicest, most genuine, most foul-mouthed skipper in the game. Good guy.



"Relievers were also notorious for lighting up. I can't recall most of those names, but I do remember Mike Remlinger on the Braves, Joey Eischen of the Expos, and David Weathers on the Mets.

"There are a few other players I remember, including Tino Martinez on the Cardinals, Jeromy Burnitz on the Mets, and Larry Walker, who used the bathroom for smoking and for destruction when he popped out in the 9th to end a game. He smashed the urinal, sink, and the divider outside the toilet. And what did he do after that? Lit up a smoke."
Nice. Big thanks to Patrick for his first-hand report, and thanks also to everyone who contributed photos, including Doug Mooney, James Welham, Kirk Graven, Jeff Eyamie, Kristofer Trujillo, Matt Golden, Robert White, Zach Iwler, Gregg Kline, Mike Mackler, David Fennig, Jim Wooley, James Gaines, Brian Giuffra, and Taha Jamil.
Paul Lukas will cover what the horses wear -- blinkers, striped leg wraps, and so on -- at a later date. His Uni Watch blog, which is updated daily, is here, his answers to Frequently Asked Questions are here, and his Page 2 archive is here. Want to learn about his Uni Watch membership program, be added to his mailing list so you'll always know when a new column has been posted, or just ask him a question? Contact him here.