You know how you'll sometimes hear that a pitcher "undressed" a batter with a devastating pitch? That description was particularly appropriate a few weeks ago, when Jason Michaels of the Pirates stepped in against Atlanta's Jeff Bennett:
That incident came less than a year after an interleague game in which Franklin Gutierrez of the Indians hit a routine ground ball to third. Except it turned out not to be so routine for Nationals third baseman Ryan Zimmerman:
Zimmerman's misadventure echoed a similar play that took place in 2000, when Astros third baseman Chris Truby lost a ground ball in his jersey (details here). And eight seasons before that, Mets outfielder Daryl Boston came to bat with the bases loaded in the bottom of the 13th of a scoreless game and was "hit" by a pitch that lodged inside his jersey. He fished the ball out from his midsection, flipped it to the umpire, and trotted off to first base with one of history's strangest game-winning RBIs. (An account of that game is here.)
Plays like these could never happen in any other sport, and not just because there's no such thing as a ground ball to third in the NFL or a hit batsman in the NBA. The key element here is that baseball jerseys use buttons, a closure format that leaves gaps -- gaps that can occasionally be found by a wayward ball.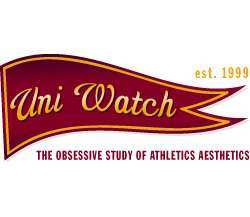 Once you stop and think about it -- as Uni Watch has done, at considerable length -- a button-front format doesn't make much sense for a sports uniform. For starters, a button-up shirt is more awkward to move around in, plus it's more formal, less sporty. That's why you wear a button-front shirt to work and some sort of pullover (T-shirt, sweatshirt, tank top, whatever) at home and on the weekend.
And besides, breaking up a team's insignia into two halves is asking for trouble. Either the two sides don't align properly, or they separate, or you end up with the illusion of typos or double-vision -- it's a mess.
Of course, that's assuming the player hasn't already ruined his chest insignia (or created a new one) by unbuttoning his jersey. And even if you don't mean to go unbuttoned, every button on the jersey is one that you might forget to fasten (a problem that apparently dates back to antiquity).
Despite these shortcomings, buttons remain the contemporary standard for baseball jerseys. Buttons were also used on many of the earliest 19th-century jerseys, which often featured bib-like button-on shields. But that's not to suggest that we've had 150 years of button-up hegemony between then and now. Here's a rundown of other formats that have been tried over the years:
Laces: Everyone knows hockey jerseys sometimes feature a lace-up collar. But you might not realize that baseball players often laced up their jerseys back in the day (i.e., from the late 1800s until about 1910). The extent of the lacing could vary: Sometimes it was just at the collar, sometimes it went a bit farther down, and sometimes it extended the full length of the jersey (great if you were in the laces industry but probably a major pain for everyone else).
Yeah, this style looked a little dorky (all the more so when periodically resurfacing as a throwback), but you've gotta admit there's no way a ground ball could've wedged its way between those laces. Maybe Ryan Zimmerman should get the Nats' equipment manager to look into this, no?
Henleys: The earliest button-front jerseys didn't button all the way from top to bottom. Instead, they had a shortened placket with three or four buttons, so they were essentially glorified pullovers, kind of like a nightshirt.
Henleys were the dominant jersey style from the late 1800s through about 1915, when full-length buttons started becoming more popular. By 1929, the last two henley holdouts were the Cubs and Cardinals, and the style disappeared altogether soon after that. There was a brief henley revival in 2006, when the White Sox unveiled a throwback design that was supposed to be worn for all Sunday home games, but they only wore it a couple of times.
Zippers: The earliest baseball jerseys couldn't use zippers, because the zipper wasn't even invented until 1891 and wasn't perfected until 1914. According to this old Sporting News article, the first MLBer to zip up was White Sox player/manager Jimmy Dykes, who supposedly switched from buttons to a zipper in 1936 because it allowed him to remove his jersey more easily and "get away to his after-dinner speaking much earlier." A year later came the first fully zippered team, the 1937 Cubs, and the trend began taking off from there. Three more big league teams got zippified in 1938 (the White Sox, Tigers, and Dodgers), another four in '39 (the Senators, Browns, Pirates, and Cardinals), and one more in 1940 (the Giants). That was also the year the Cubs wore history's first zippered vest (a style later worn by the 1963-69 Indians). When the dust settled in 1941, half of the 16 teams in the bigs were zipping up, giving the game a more hardware-ish look.
While zippers never revisited that high-water mark, there was at least one zipper-clad team -- and often three or four -- for 44 of the next 45 seasons. The zippered era finally came to a close in 1987, when the Phillies, who'd been zipping up since 1973, went back to buttons.
Pullovers: Laces, buttons, zippers -- why bother with any of 'em when you can just wear a pullover? It's not clear why baseball took so long to go this route (pullovers had long been the standard for football, hockey, soccer and almost every other sport), but it finally happened in the middle of the 1970 season, when the Pirates moved from Forbes Field to Three Rivers Stadium and marked the occasion by trading in their button-front flannel vests for sleeved polyester pullovers. At first the trend was slow to catch on -- only one team, the Cardinals, got on board in 1971 -- but then the dam broke. Eight teams switched to pullovers in 1972 (the Red Sox, Indians, Tigers, A's, Brewers, Reds, Cubs and Braves, whose design featured a tiny two-button collar, a vestigal remnant of the button era), and more teams soon followed. By 1978, pullovers had become more the rule than the exception, worn by 22 of the 26 MLB teams (the traditionalist holdouts: the Yankees, Dodgers, Expos and Phillies).
Uni Watch's feeling is that pullovers probably make more sense than any other format, at least from a practical standpoint, but they arrived so late in the baseball timeline that they just don't look very baseball-y (especially since almost every team wearing them chose to pair them with those miserable elastic waistband pants). And because they rose to prominence in the 1970s, they'll forever be associated with some of that era's more regrettable design decisions. In the mid-1980s, a back-to-basics movement began to take hold, and buttons started reappearing. By 1989, only six pullover teams remained (the Brewers, Reds, Pirates, Mets, Cubs and Cards), and by 1992 the Reds were the only ones left. They finally returned to the buttoned camp the following year.
But pullovers are back this year, if just barely: The Blue Jays are wearing pullover throwbacks for Friday home games. Aside from that, pullovers have been relegated to the realm of batting practice jerseys, cementing their status as second-class citizens of the uniform world. But every now and then a team will wear its BP jerseys for a game (the Rays did this in an interleague game earlier this month, in fact), temporarily breathing new life into the pullover corpse.
Velcro: No team has ever gone with a full-on Velcro closure. But Velcro is used on more MLB jerseys today than you probably realize, usually between the second and third buttons. See that little rectangle of stitching between "New" and "York," to the left of the "S," and between the "O" and the "R"? That's where a little Velcro "hooks" patch has been sewn onto the inner jersey flap. You can see the "loops" half of the patch peeking out here and here.
Why do they add the Velcro? Because most jerseys today have extra space between the second and third buttons, which can lead to billowing. This configuration is called the "pro button" style. It was originally devised to provide a clear path for lettering going across the chest, but these days it's used on almost every MLB jersey, including those that are blank across the chest (additional examples here, here, here, here, here, and here). In fact, the only MLB jerseys that don't currently use the pro button style are the Cubs' home pinstripes and blue alternates, and the Nationals' red alts (although last year we could have added Tampa's green alts to this list).
It's not clear exactly when the pro button style debuted, but the concept of adjusting the button spacing to make room for lettering has clearly been around for a long time. On the other hand, lots of teams over the years -- or, more likely, lots of uniform manufacturers -- have preferred to leave the buttons evenly spaced. This can lead to some unusual situations, whether it's a chest insignia that just barely winds its way through the conventional button spacing or a button that's perilously close to the lettering -- or even smack-dab in the middle of no man's land (another problem that apparently has a long history).
Think this seems like a lot of attention to be paying to something as innocuous as buttons? Think again, because Uni Watch is just getting started. Once you begin looking, it turns out there's a near-endless supply of button arcana floating around out there. For example:
• The Cardinals use pro spacing -- sort of. Due to the positioning of their logo, they have an extra-large space between the second and third buttons.
• Instead of Velcro, this vintage Japanese jersey has a snap hidden between the second and third buttons.
• Speaking of incognito closure devices, at first glance it looks like the insignia on this jersey goes in between the second and third buttons. But it turns out that there's actually a hidden button that goes through the jersey material but not through the felt lettering. Uni Watch has seen a handful of vintage jerseys styled like this over the years. Not sure if a big league team ever used this button format, though.
• Here's a Ted Williams jersey with the top two buttons unusually close together.
• Sometimes the chest insignia includes elements that have to cross in between two pairs of buttons.
• At least one team has positioned its logo between the third and fourth buttons: the mid-1970s Mets (additional photos here, here, here, and here). Looks really weird after looking at all those other photos, right?
• All those Mets jerseys had seven-button fronts, which is the MLB norm. But this 1970 Nolan Ryan jersey had eight buttons. If you break it down, you can see that it's basically a standard seven-button model with a rogue button added near the top. Here's another unusual eight-button specimen, with some really unfortunate button placement.
• Eight-button jerseys have also been used occasionally for XXXXXL-sized players. Frank Thomas merited eight buttons while with the White Sox (or at least he did when wearing this jersey), and David Wells' belly earned him an extra button in Toronto.
• Small players can have an unorthodox numbers of buttons too, as seen in this five-button Ozzie Smith jersey.
• If you look at that last photo again, you'll see that the buttons are red (here's another example). Colored buttons are pretty standard these days for solid-colored alternate jerseys, but team-colored buttons on home whites or road grays have been pretty rare. One recent exception: the Dodgers, who wore blue buttons on their road jerseys until 2005, when they switched to gray.
• Here's something you won't often see: a zipper-front jersey paired with a button-collar undershirt.
• Another unusual sight, at least for a baseball jersey: buttons with only two holes (as compared to the much more common four-hole variety).
• Buttons aren't just for keeping the jersey fastened. Some early jerseys actually had detachable button-on sleeves, as you can see in this photo.
These variations have rarely been based on team preference -- they've mostly been due to differing styles favored by the various uniform manufacturers (Wilson, Russell, Spalding, Rawlings, Goodman, McAuliffe, Sand-Knit, AIS, Descente, Capital Ace, etc.) that used to supply MLB teams. Nowadays, all MLB uniforms are made by Majestic, so button formats have become much more standardized.
Meanwhile, at the risk of opening up an entirely new avenue of minutiae, check out this photo. If you look closely, you'll see that the top buttonhole is horizontal while the others are vertical. This buttonhole format, which is designed to keep the top button from coming undone, is standard-issue today and dates back at least several decades. But it's not universal: Other buttonhole formats over the years have included all-vertical and all-horizontal, and sometimes the top buttonhole is even diagonal.
And of course buttonholes can be stitched in lots of different shapes and styles. Back in baseball's early da--
OK, OK. We'll save that weighty topic for another time. Meanwhile, someone send a few industrial-strength Velcro patches to Jason Michaels and Ryan Zimmerman, pronto.
(Special thanks to Jared Wheeler, Peter Fahey, David Soline and Uni Watch bench coach Bryan Redemske for their invaluable research contributions.)
Uni Watch Night at the Ballpark
Big doings afoot in Camden, N.J., where the minor league Camden Riversharks are holding an "Old-School Baseball Night" promotion next Thursday, June 5. Among other things, the entire Riversharks roster will be wearing striped stirrups, and your favorite Page 2 uniform columnist will be throwing out the first ball. As a special bonus, box seats (normally priced from $11 to $20) are being made available to Uni Watch readers for $8 apiece. For details, look here.
Paul Lukas will not be writing a column about button-fly vs. zipper-fly baseball pants. Probably. His Uni Watch blog, which is updated daily, is here, his answers to Frequently Asked Questions are here, and his Page 2 archive is here. Want to learn about his Uni Watch membership program, be added to his mailing list so you'll always know when a new column has been posted, or just ask him a question? Contact him here.